Comera Life Sciences (NASDAQ:CMRA) is using a proprietary excipient formulation platform, known as SQore, to potentially transform intravenous (IV) biologics into subcutaneous (SQ) versions that patients can self-administer in a single dose.
"IV treatments can cause patients to endure significant disruptions to their lives," Jeffrey Hackman, chairman and CEO of Comera, says in an interview with BioTuesdays. "They require frequent and time-consuming visits to infusion centers for costly treatments, which may also lead to reduced compliance, risk of infection and a lower quality of life."
SQ administration, on the other hand, causes less pain and discomfort because SQ needles are smaller than IV, resulting in higher patient and physician satisfaction, and reduced costs for the healthcare system, he adds.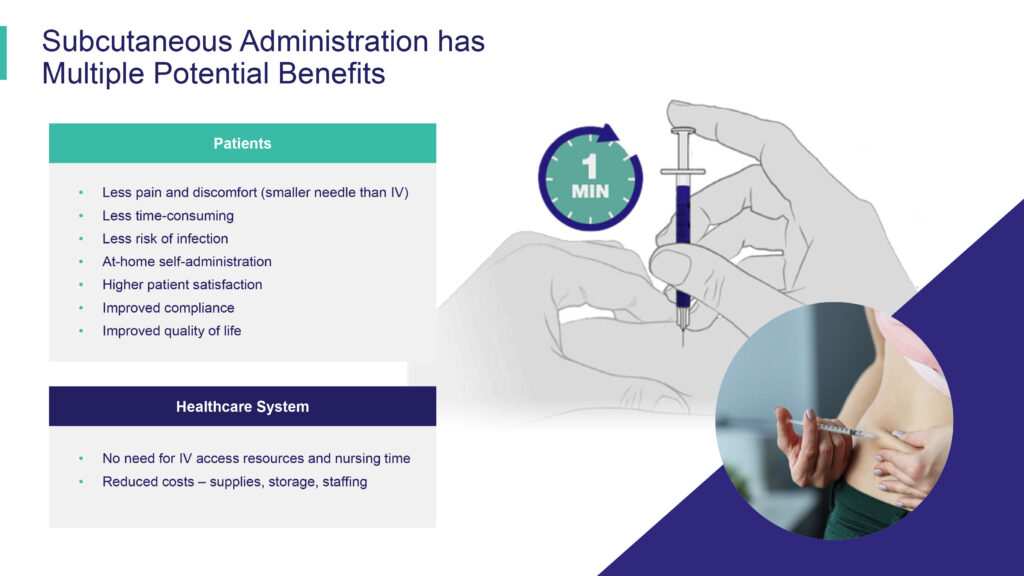 "You might say we're leading a compassionate new era in medicine, which is where the Comera name originates."
Comera has two pipeline drugs – one that addresses ulcerative colitis and Crohn's and another that tackles immuno-oncology in early development. The company also is leveraging the platform in partnerships with biopharmaceutical companies to move IV biologic drugs to SQ injections.
Mr. Hackman explains that Big Pharma has been unable to administer biologics in a syringe due to viscosity caused by a high concentration of proteins needed for smaller dosing volumes.
"When you put all that protein into a small syringe, the antibodies stick together and there's no way to push it through a syringe, which has kept a lot of companies from pursuing this," he contends.
Despite decades of research, the pharma industry has been unable to develop effective excipients to reduce the viscosity of antibodies in a syringe. Excipients are substances added to a therapeutic agent in a drug formulation to aid in manufacturing, delivery, stability and patient acceptance. Suboptimal excipients fail to reduce viscosity sufficiently, can destabilize the biologic protein, increase injection pain and lead to other side effects.
Mr. Hackman says the lack of innovation prompted the FDA in December 2021 to launch an excipient review pilot program, which is intended to allow excipient manufacturers to obtain FDA review of certain novel excipients prior to their use in drug formulations. "This is going to stimulate companies like ours to get into the business," he suggests.
Mr. Hackman, who moved into the executive suite at Comera in 2021, says his goal is to make Comera a highly profitable biotech company by giving families and patients the freedom to self-administer life-saving products at home. "We think that's a significant opportunity for formulation conversion improvements."
Mr. Hackman has skin in the game. His wife passed away three years ago after a 10-year battle with breast cancer. "Watching her suffer through various therapeutic regimes, like IV chemo, had a profound impact on me and our kids. My mission is to see if we can change that so that other families don't have to see a loved one suffer. That's why I'm here."
Comera went public in May 2022 through a business combination with a publicly-listed special purpose acquisition company to enter a massive and growing biologics market.
Forecasts predict the global biologics market is expected to total more than $400-billion in 2025, compared with about $286-billion in 2020. Seven of the top 10 global medicines are biologics.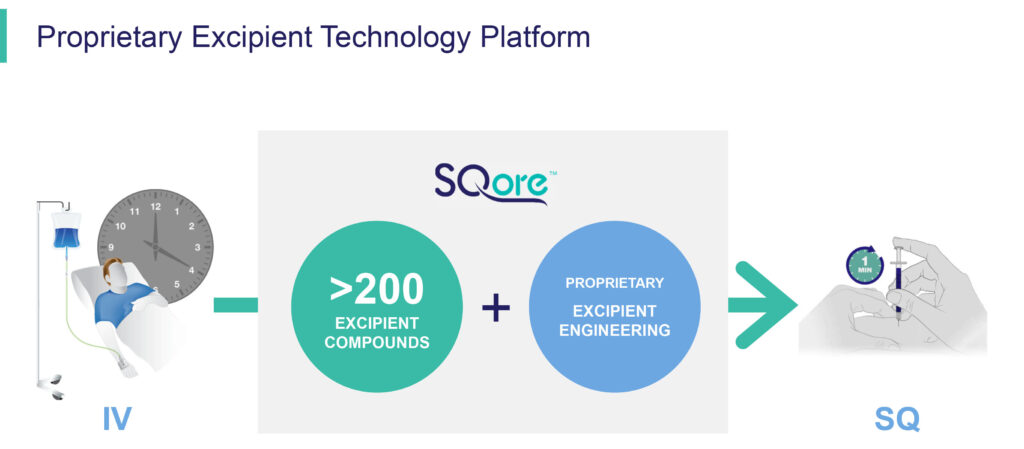 Mr. Hackman says Comera has a library of more than 200 excipient compounds and proprietary excipient engineering technology to potentially convert biologics to SQ administration. The SQore technology is protected by seven U.S. patents, five international patents and 35 pending patents.
In a study published in the Journal of Pharmaceutical Sciences in 2021, Comera researchers demonstrated that the company's most advanced caffeine-based excipient reduced viscosity in two monoclonal antibodies – ipilimumab, which is sold as Yervoy, and infliximab, or Remicade.
In addition, the study confirmed that caffeine-containing formulations met target stability requirements for a viable drug product and there was no loss of biologic activity for either molecule in the presence of caffeine.
In four preclinical studies to date, Comera further validated to use of a caffeine-based excipient formulation to deliver monoclonal antibodies subcutaneously without any evidence of local or systemic toxicity.
Mr. Hackman explains that Comera's business model consists of a long-term partnership strategy to develop IV biologic drugs into SQ formulations with its SQore platform and proprietary development on reformulating existing biologics. "Partnerships provide near-term revenue while we have the option to out-license rights to those products."
Comera currently is working with a leading U.S. biotech company on the conversion of some of its high-priority assets and a biologic drug of a top 10 global pharma company. The identities of the two companies has not been disclosed but both accords have licensing options after further technical evaluation has been completed.
In April 2022, Comera signed a research collaboration with Intas Pharmaceuticals of India to develop a SQ formulation of an IV biosimilar product in oncology, again with an option to license the product after further technical evaluation.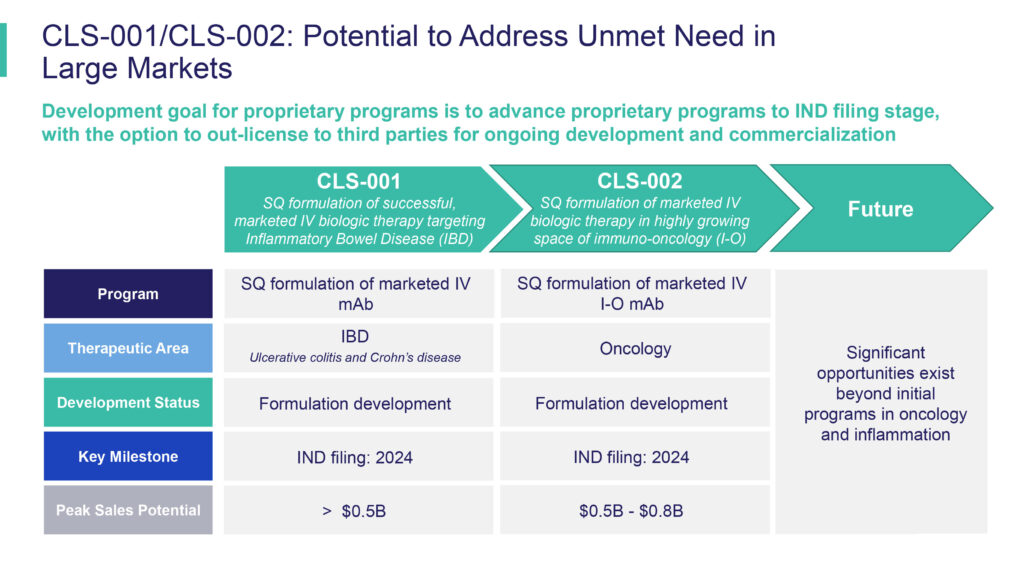 For its own account, Comera is developing CLS-001 as a SQ formulation of a successful marketed IV monoclonal antibody targeting inflammatory bowel disease, such as ulcerative colitis and Crohn's disease, and CLS-002 as a SQ formulation of a marketed IV biologic therapy in immuno-oncology.
"Reformulating existing approved IV biologic drugs lowers our clinical development risk and costs," according to Mr. Hackman. CLS-001 and CLS-002 are currently in formulation development, with IND filings expected in 2024. "Our plan is to out-license development and commercialization to third parties at the IND or later stages."
Mr. Hackman estimates CLS-001 could have a peak sales potential of more than $500-million while CLS-002's peak sales potential is $500-million to $800-million. He says there are many IV biologics coming off-patent in the next five-to-10 years and Comera is evaluating significant opportunities beyond its initial programs in oncology and inflammation.
"Moving from IV to SQ is a large market opportunity that can accommodate other companies and other technologies but we think our SQore platform, which has been scientifically validated with compounds previously used in humans, is well positioned against the competition," Mr. Hackman says.
• • • • •
To connect with Comera Life Sciences or any of the other companies featured on BioTuesdays, send us an email at [email protected].