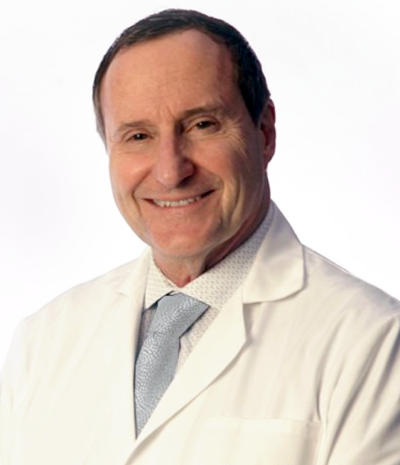 With widespread availability of SARS-CoV-2 vaccines and other therapies now approved to treat COVID-19, Atossa Therapeutics (NASDAQ:ATOS) has pivoted development of its AT-H201 inhalation therapy to cancer patients with compromised lung-function resulting from radiation treatment.
"This indication may fill a compelling unmet medical need because radiation treatment can lead to radiation-induced lung injury, which is poorly treated with current therapies and is often irreversible," Steven Quay, M.D., president and CEO of Atossa, says in an interview with BioTuesdays.
"Radiation damage also can limit the overall success of lung cancer treatment, leading to reduced efficacy and poor disease control," he adds.
In addition to AT-H201, Atossa is developing an investigational drug candidate, endoxifen, to reduce mammographic breast density and for patients who have been recently diagnosed with the most common type of breast cancer to reduce tumor activity prior to surgery.
Dr. Quay says that based on work to date with AT-H201, "we believe we can quickly initiate a clinical study in this setting and we plan to announce our next steps in the fourth quarter."
Dr. Quay explains that AT-H201 has pharmacological properties to potentially curtail excessive radiation-induced lung injury without compromising standard of care for cancer patients.
AT-H201 consists of two drugs previously approved by the FDA and is intended to be inhaled via nebulizer to improve compromised lung function. It is designed to prevent and reduce dose-limiting toxicities, and enable a more durable therapeutic tumor response for cancer patients receiving pulmonary radiation, he points out.
Atossa, which has discontinued its COVID-19 program, previously completed parts A, B and C of a Phase 1/2a COVID-19 study with AT-H201 in Australia. The study originally included a Part D, which was designed to assess the effects of the treatment regimen in hospitalized COVID-19 patients with moderate illness. Rather than conduct Part D, Atossa made the decision to align AT-H201 with its oncology focus.
Clinical research suggests that lung injury caused by radiation treatment affects 30% to 40% of lung cancer patients, and about 35% of esophageal cancer patients. In non-small cell lung cancer patients receiving concurrent chemotherapy and radiation therapy, the incidence of lung injury is estimated to be greater than 60%.
The company in August appointed Paul Wabnitz, M.D., to its scientific advisory board. He played a key role in repositioning AT-H201 to potentially treat lung injury caused by cancer treatment.
Dr. Quay says ongoing steps with AT-H201 include further defining a target population, developing a clinical study protocol, refining the active pharmaceutical ingredient and developing manufacturing, identifying a location for the next clinical study and filing with regulators to begin testing.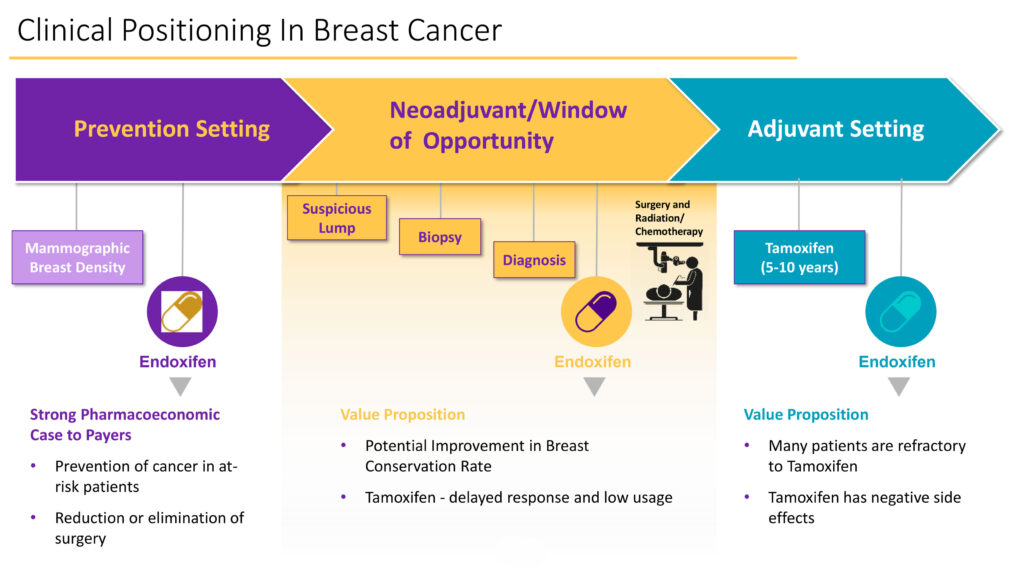 In its established breast cancer program, Atossa is focused on three areas: in the prevention setting of mammographic breast density; as a neoadjuveant/window of opportunity between diagnosis, surgery and chemotherapy; and in the adjuvant five-year setting to prevent local recurrence of cancer.
Dr. Quay says the company is developing endoxifen in two clinical settings: to reduce dense breast tissue in women and reduce tumor cell activity in at-risk breast cancer patients in the neoadjuvant setting.
A Phase 2 study is currently underway with 240 pre-menopausal women with measurable breast density at the South General Hospital in Stockholm. The randomized, double-blind and placebo-controlled pharmacodynamics study is designed to determine the dose relationship of daily endoxifen on measurable breast density reduction, as well as safety, tolerability and durability of the breast density changes.
"The importance of this study is that measurable breast density can mask tumors," Dr. Quay points out.
In an earlier Phase 2 open label study of endoxifen in Australia with estrogen receptor positive, HER2-invasive breast cancer patients, favorable results allowed the study to end early in February 2021. Human epidermal growth factor receptor 2 (HER2) is a protein that promotes the growth of cancer cells.
Dr. Quay says six-of-seven patients in the study had a 65% reduction in a key biomarker signal of cell division, Ki-67, and all seven women had a Ki-67 reduction below 25% at surgery, which is considered the gold standard for preventing launch and recurrence.
An estimated ten million women in the U.S. have mammographic breast density, for which there is no FDA-approved treatment. Research has shown that mammographic breast density increases the risk of developing breast cancer and that reducing mammographic breast density can reduce the incidence of breast cancer.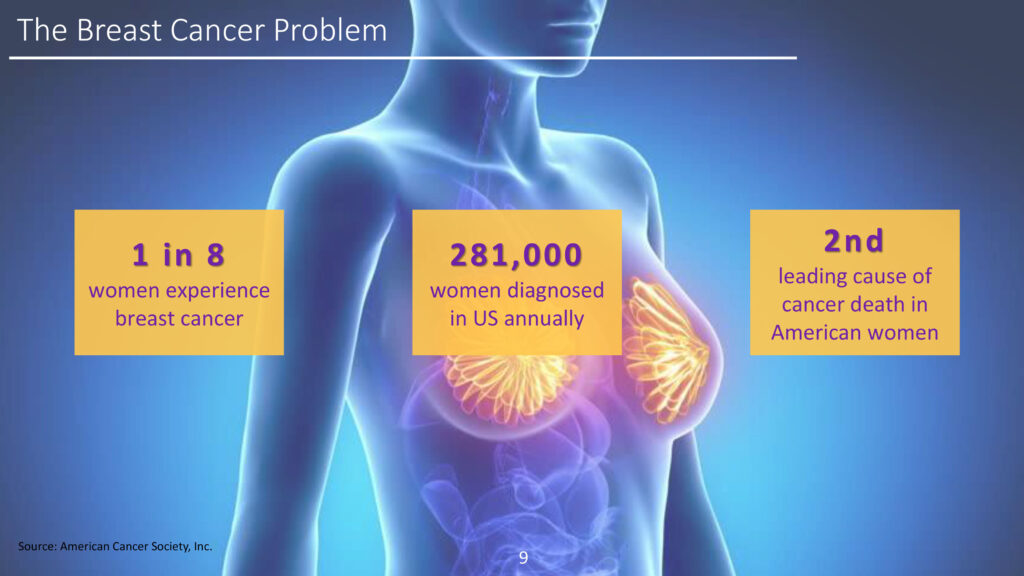 The American Cancer Society estimates that 287,850 women will be diagnosed with breast cancer in the U.S. in 2022, of which 47,550 will be under the age of 50 and 43,250 of which will die from the disease.
Atossa yesterday received FDA clearance for a Phase 2 study with endoxifen in the neoadjuvant setting later this year. Additional information requested by the FDA is being gathered for resubmission, with the company hoping to begin the study before the end of 2022, he notes.
The neoadjuvant program is focused on breast cancers that are classified as estrogen receptor positive (ER+). While there are neoadjuvant treatments for breast cancers that are not ER+, there are few neoadjuvant treatments for ER+ breast cancer, which makes up about 78% of all breast cancers.
"We believe there is a compelling need for therapy with our endoxifen in this setting," Dr. Quay contends.
Earlier in 2022, Atossa entered into an agreement to negotiate the acquisition of a private U.S. company that is in the preclinical development of novel chimeric antigen receptor (CAR) T-cell therapies based on technology licensed from a leading U.S. adult and pediatric cancer treatment and research institution.
Under the accord, the CAR-T company will negotiate exclusively with Atossa until Nov. 1, 2022 to close the acquisition.
Cell-based therapies, which include CAR-T therapies, involve genetically engineering a patient's T-cells so they will attack cancer. The process involves using the gene for a special receptor that binds to a certain protein on a patient's cancer cells and adding it to T-cells in the lab.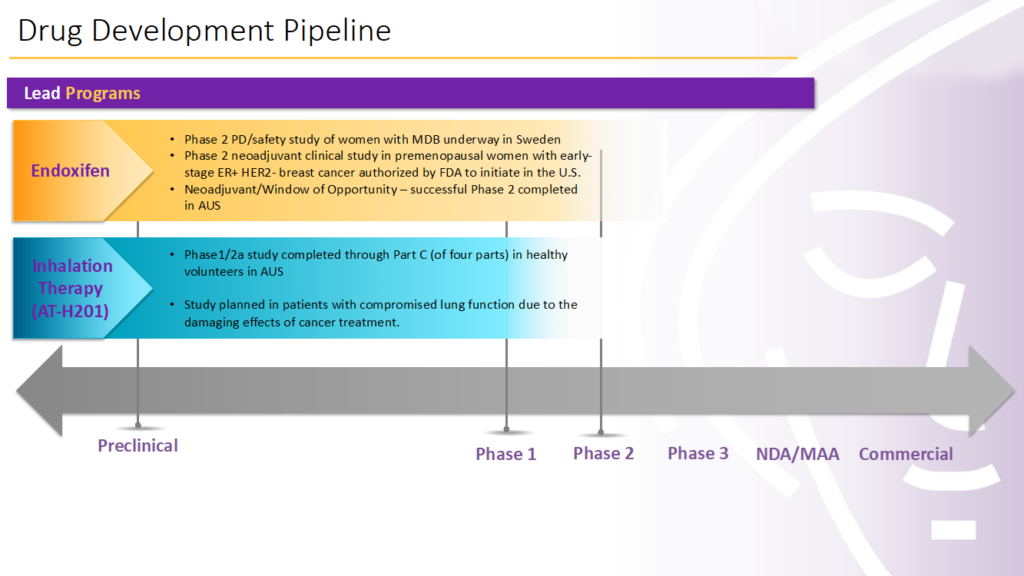 • • • • •
To connect with Atossa Therapeutics or any of the other companies featured on BioTuesdays, send us an email at [email protected].