Sigyn Therapeutics (OTCQB:SIGY) has transitioned its Sigyn Therapy blood-purification device from conceptual design two years ago to preparing to initiate its first-in-human studies in end-stage renal disease patients suffering from excess inflammation and/or endotoxemia.
"Since December of 2020, we reported the completion of in vitro studies that validated 13 relevant therapeutic targets and we subsequently completed animal safety studies, which provides us a foundation to investigate multiple treatment indications," Jim Joyce, co-founder, chairman and CEO of Sigyn Therapeutics, says in an interview with BioTuesdays.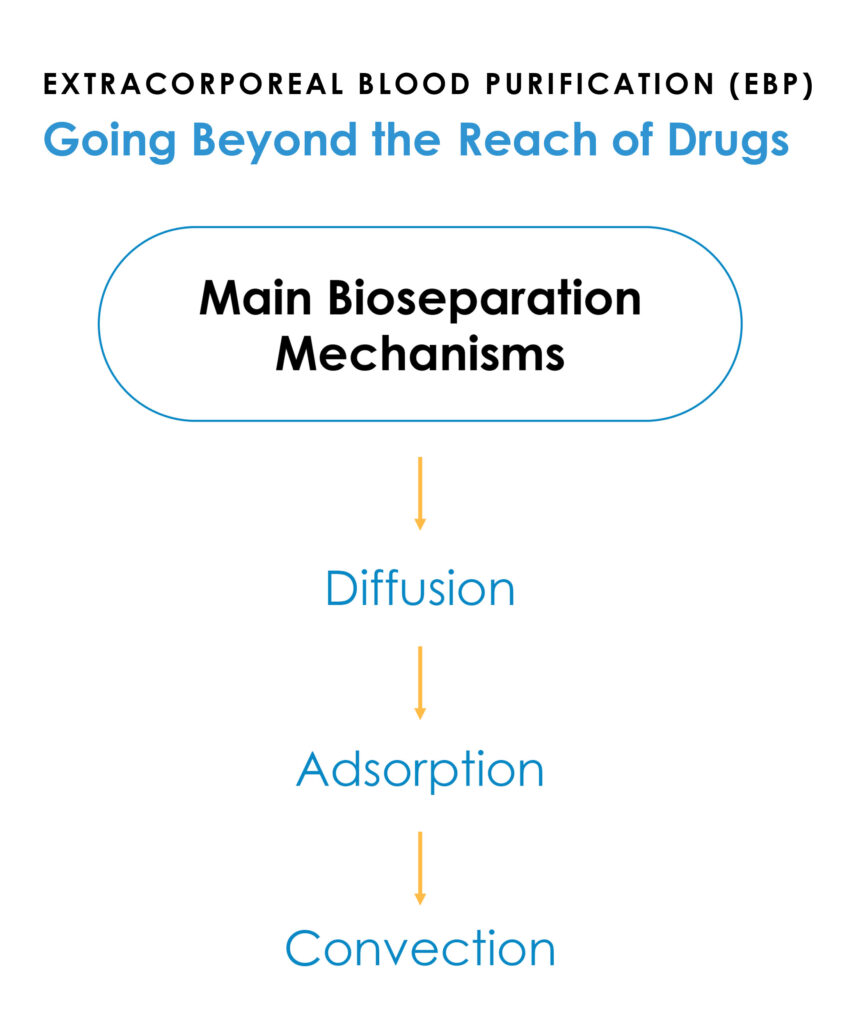 Mr. Joyce explains that Sigyn Therapy is a broad-spectrum blood purification device designed to address pathogen-associated inflammatory disorders that are not addressed with approved drug therapies.
"To overcome the limitations of previous therapies, we designed Sigyn Therapy to extract pathogen sources of life-threatening inflammation in concert with dampening down the dysregulated overproduction of inflammatory cytokines," he adds.
The single-use disposable device is designed for use on existing hemodialysis and continuous renal replacement therapy machines that are already located in hospitals and clinics.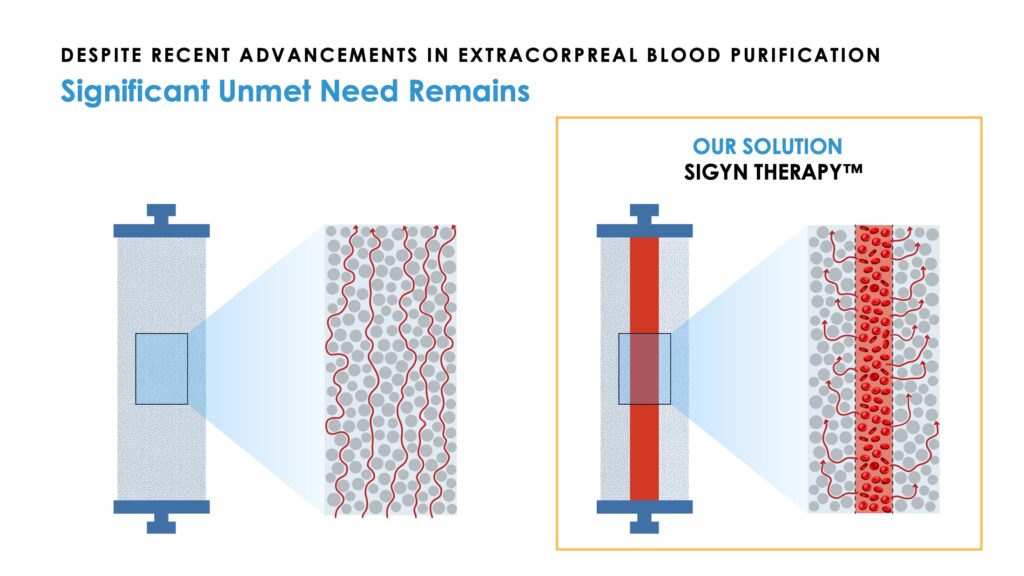 Its filter incorporates a formulation of adsorbent components that provide some 50 acres of surface area on which to adsorb or bind therapeutic targets and unlike devices that concentrate targets in the blood-path, Sigyn Therapy extracts these targets out of the bloodstream, which eliminates their ability to interact with blood cells during treatment.
Mr. Joyce says Sigyn Therapy "performs functions that are beyond reach of drugs" as a means to address unmet needs in global health. Beyond the clinical opportunity to treat end-stage renal disease patients on dialysis, the company also recognizes the possibility of Sigyn Therapy being a future candidate to treat sepsis, community-acquired pneumonia and emerging pandemic threats.
"Each of these candidate indications are tied together by our decision to initially treat end-stage renal patients," he adds. "Extracting pathogen sources of life-threatening inflammation in concert with dampening down the cytokine storm play a prominent role in each of our candidate treatment indications."
Sigyn Therapeutics plans to submit an investigational device exemption to the FDA, with the goal of initiating a feasibility study in 2023 to demonstrate safety in end-stage renal disease patients with endotoxemia and/or elevated inflammatory cytokine production.
In the proposed study, Sigyn Therapy would be administered in combination with patient's regularly scheduled dialysis treatments. In addition to the primary safety objective, a secondary endpoint would quantify changes in circulating levels of endotoxin, tumor necrosis factor-α (TNF-α), interleukin-1β (IL-1β), and interleukin-6 (IL-6) before and after each administration of Sigyn Therapy.
Earlier in vitro studies validated the ability of Sigyn Therapy to address each of these therapeutic targets, which are also associated with sepsis, a leading cause of hospital deaths worldwide; community-acquired pneumonia, a leading cause of death among infectious diseases; and emerging pandemic threats.
The planned feasibility study expects to enroll 15 patients at two or three dialysis sites in the U.S. in a two-week study. In week one, the company would measure changes in cytokine and endotoxin levels during regular dialysis, which involves four-hour treatments, three times a week. In week two, the company would add Sigyn Therapy during dialysis and collect the same data points.
"While this is not an efficacy study, we do hope to inhibit or potentially reduce circulating levels of inflammatory cytokines and endotoxin during the study," Mr. Joyce suggests. "Assuming safety is demonstrated, we would then work with FDA to design a pivotal study that might optimize efficacy."
According to the United States Renal Data System, there are more than 550,000 individuals with end-stage renal disease, which results in approximately 85 million dialysis treatments being administered each year.
As there are no approved drugs to treat end-stage renal disease-related inflammation and endotoxemia, "we have a unique opportunity to improve the health and quality-of-life of this patient population," Mr. Joyce contends. "End-stage renal disease a substantial market opportunity that could help to bridge us into addressing other unmet needs in global health."

For example, sepsis is a medical emergency caused by a severe pathogen-associated infection that triggers a life-threatening immune response. Without timely treatment, sepsis can lead rapidly to tissue damage, organ failure and death.
According to the CDC, at least 1.7 million adults develop sepsis in a typical year in the U.S., leading to at least 350,000 deaths. In addition, one-in-three people who die in hospital had sepsis, with an annual financial burden that exceeds $24-billion to the healthcare system. Globally, five million children die from sepsis annually. There are no approved drugs to treat sepsis, which is commonly caused by a viral or bacterial infection.
In addition, community-acquired pneumonia is a catalyst for about 50% of sepsis and sepsis shock cases in the U.S. It accounts for more than 4.5 million U.S. outpatient and emergency room visits annually, is a leading cause of death among infectious diseases and a leading cause of death in children under five years of age. The annual financial burden to the healthcare system exceeds $10-billion.
"Antibiotics are often administered to these patients even when doctors haven't identified the pathogen source that induced pneumonia," Mr. Joyce points out. "We envision the possibility of treating even before the pathogen source has been identified as a strategy to reduce the incidence of sepsis in pneumonia patients."
Mr. Joyce adds that COVID-19 affirmed the use of extracorporeal blood purification devices as a first-line countermeasure to treat an emerging pandemic threat. Within a month of the U.S. Department of Health and Human Services declaring COVID-19 a health emergency in March 2020, the FDA awarded emergency use authorizations to four different blood purification therapies.
In connection with these emergency use authorizations, the FDA published a statement that blood purification devices may be effective at treating patients with confirmed COVID-19 by reducing various pathogens, cytokines, and other inflammatory mediators from the bloodstream.
Prior to establishing Sigyn Therapeutics, Mr. Joyce testified before Congress and lobbied Capitol Hill to promote the use of medical devices as a broad-spectrum countermeasure against bioterror and pandemic threats. His efforts contributed to expanding the government-wide definition of a treatment countermeasure to include medical devices along with drugs and vaccines.
The threat is real. Only a fraction of the nearly 300 human viruses are addressed with an approved drug therapy, and three-to-four new human viruses are discovered each year, accentuating the challenge of developing a post-exposure antiviral drug agent. According to the CDC, there are also more than 2.8 million infections caused by antibiotic-resistant bacteria a year in the U.S.
"Beyond its potential to treat life-threatening inflammatory conditions, Sigyn Therapy provides a candidate strategy to address future pandemic outbreaks, which are increasingly being fueled by a confluence of global warming, urban crowding, and intercontinental travel."
• • • • •
To connect with Sigyn Therapeutics or any of the other companies featured on BioTuesdays, send us an email at [email protected].