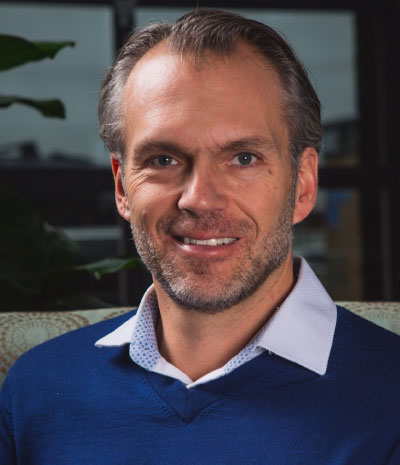 VoxNeuro's software as a medical device (SaMD) is transforming cognitive health assessment as it pushes the boundaries of our understanding of the brain to improve decision-making by clinicians and patients.
"Our breakthrough SaMD technology uses validated brain biomarkers, not behavior, to compare a patient's performance against a normative database. The output is objective, biological scores that are applicable to a range of neurology and psychiatry conditions that impact cognitive health," Jason Flowerday, CEO of closely-held VoxNeuro, says in an interview with BioTuesdays.
"Our instantly-generated reports provide clinicians and patients with a comprehensive understanding of how a brain is functioning in attention and concentration, information processing and memory," he adds.
VoxNeuro's SaMD is FDA-registered and Health Canada cleared as a class II medical device to evaluate cognitive function from electroencephalogram (EEG) data during neuropsychological and cognitive testing. Unlike traditional cognitive health assessments, this proprietary process yields results that are independent of symptoms, biases, or behaviors.
"With our SaMD we are leveraging data that is gathered from EEG devices. In our case, we specifically use event-related potentials (ERPs) that occur throughout brainwaves during active patient testing, as opposed to resting state," Mr. Flowerday explains.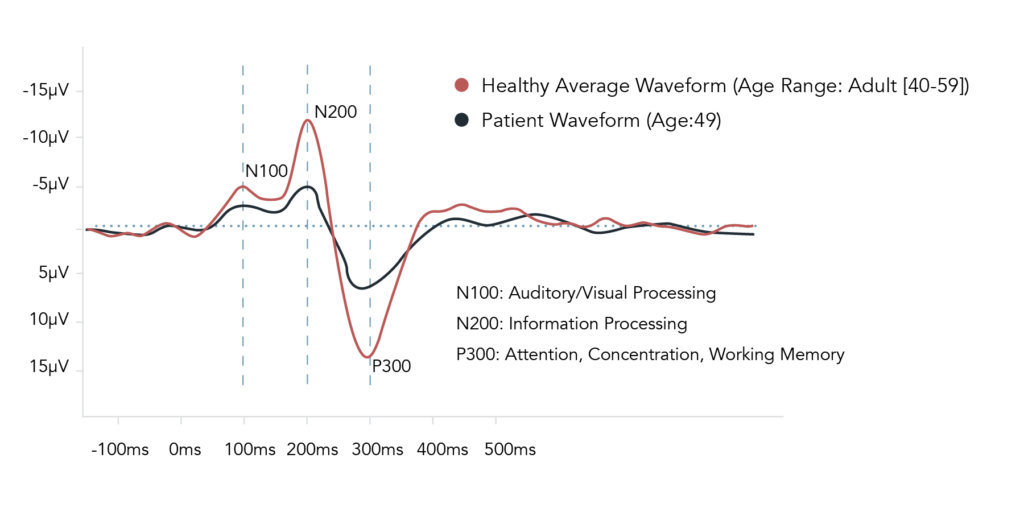 The figure above shows example brain waveforms recorded by VoxNeuro. The figure compares the averaged brain responses of neurologically healthy controls (Red) within a specific age range, to that of an individual's brain responses (Blue) suffering from an undisclosed neurological pathology. The figure demonstrates a reduction in response size in each of the event-related potential (ERP) components, indicating reductions in cognitive ability. The N100 ERP brain biomarker is indicative of auditory and visual processing, the N200 ERP brain biomarker is a measure of cognitive control through conflict monitoring in information processing, and the P300 ERP, a task-dependent brain response, is reflective of attention, concentration, and working memory.
"We're analyzing these ERPs from individual patient assessments and looking for discrepancies and similarities against a normative database."
Mr. Flowerday notes that competitive approaches are based on either traditional survey-based assessments, digital surveys or EEG-based assessments, which represent next generation technology. "VoxNeuro's IP combines all three methods of cognitive assessment to deliver the most objective and actionable data available."
EEG electrodes are placed on a patient's scalp to measure brain activity while they are presented with a series of computer-based visual and auditory stimuli over approximately 30 minutes of testing. Using the data, VoxNeuro measures their brain's ability to take in and use information, as well as its ability to hold that information for processing.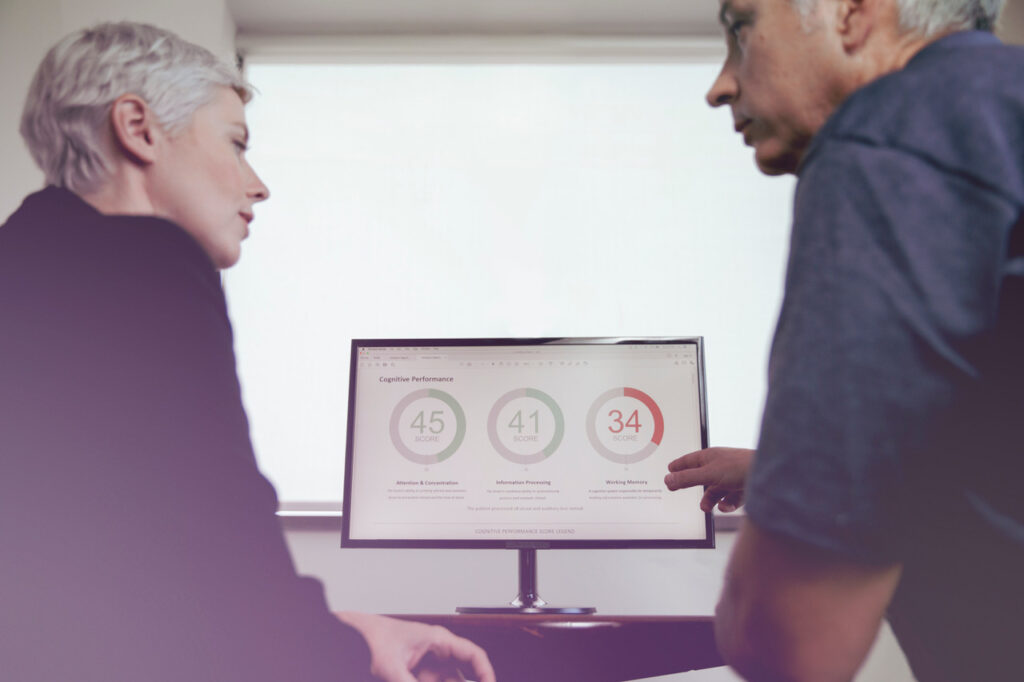 "The EEG captures the patient's brain activity to provide the data inputs that are analyzed by our software, which can be integrated with any clinical-grade EEG manufacturer," he adds.
Mr. Flowerday says VoxNeuro is not an app that measures subjectivity, or the perception of a patient's behavior. "We are an IP-based combination of current gold-standard cognitive testing in conjunction with EEG-based measurement to unlock the power of event-related potentials, which are biomarkers of cognitive function."
VoxNeuro is the brainchild of John Connolly, Ph.D. and CSO of the company, who has more than 40 years of research in the field. Widely published, Dr. Connolly is a pioneer of EEG and event-related potentials in cognitive neuroscience.
Mr. Flowerday, who moved into the executive suite in March 2022, says VoxNeuro has two priorities: drive commercial traction of its first-generation SaMD product, which is an adjunct cognitive tool for clinicians, and expand its clinical trials with partners to develop second-generation products to aid in the diagnosis and treatment of specific indications, such as concussion and Alzheimer's disease.
"Our commercial strategy is balanced across our direct selling efforts and select channel partners in the U.S. that have relationships with networks of clinics and neurologists' practices," he adds.
Over the last quarter, the company has identified a number of clinical partners and has begun piloting its general cognitive health assessment software with the goal of optimizing installations, training, and reimbursement for its first-generation product.
Last month, VoxNeuro announced a collaboration with Boston University for two studies to evaluate the company's cognitive health assessment software in an outpatient setting to assess diagnostic accuracy. The studies will focus on patients suffering from mild-traumatic brain injury (mTBI)/concussion and Alzheimer's disease, and are expected to enrol 500-to-750 patients, respectively.
The concussion study is expected to be completed in early 2024, while the Alzheimer's study is scheduled for completion in early 2025, with both studies supporting new regulatory filings with the FDA and Health Canada.
"We are excited to test the hypothesis that by combining EEG brainwaves and cognitive testing, clinicians may be able to diagnose correctly who is suffering from Alzheimer's disease or a brain injury in a manner that may not require a research laboratory to interpret the data," Dr. Andrew Budson, M.D., Prof. of Neurology at Boston University School of Medicine and Associate Director of Boston University's Alzheimer's Disease Research Center, said in a statement.
On a combined basis, mTBI/concussion and Alzheimer's disease affect more than 10 million people in the U.S. annually. Inefficiencies of current behavior-based screening methodologies result in considerable excess cost and time to patients, clinicians, and the healthcare system.
VoxNeuro also has announced a collaboration with the Canadian Armed Forces to study the cognitive effects following intense military training regimens designed to reflect a combat environment and blast exposure.
The goal is to understand how to best improve the diagnosis of brain injuries in active military personnel that experience repetitive, sub-concussive exposure and to use this information to refine VoxNeuro's existing in-market testing platform. VoxNeuro and the Canadian Armed Forces intend for this study to lay the foundation for future collaborative research.
The company also plans to expand its research and development with other leading U.S. hospitals and conduct clinical trials over the next one-to-three years to study major depressive and bipolar disorders, as well as schizophrenia, which combine to affect more than 30 million people in the U.S.
Mr. Flowerday figures VoxNeuro's first-generation product has a total addressable market potential of $1.7-billion. This number climbs to $7.9-billion when factoring in its second-generation products. "A 5% market share equates to more than $395-million annual revenue opportunity," he adds.
"A small amount of success equates to a large market opportunity that can be accessed through a per-assessment and a software-as-a-service business model," Mr. Flowerday contends.
"The ultimate goal is to become The Brain Company by having a recognized database that will eventually become predictive of a patient's trajectory, and how their cognitive brain health will likely track based on embedded AI and predictive models within our database," Mr. Flowerday says.
• • • • •
To connect with VoxNeuro or any of the other companies featured on BioTuesdays, send us an email at [email protected].