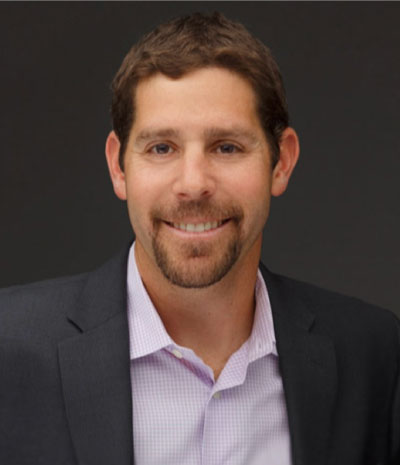 Kiora Pharmaceuticals (NASDAQ:KPRX) expects to release Phase 1b interim data at the beginning of 2023 from its flagship intravitreal injection to potentially restore vision in patients with retinitis pigmentosa, a rare genetic eye disease where cells in the retina breakdown over time, causing vision loss.
"We are focused on rare, underserved ophthalmic diseases to help patients improve their ocular health and restore vision," Brian Strem, Ph.D., president and CEO of Kiora, says in an interview with BioTuesdays. "I view retinitis pigmentosa as one of the largest unmet needs in ophthalmology today."
In addition to retinitis pigmentosa, Kiora is in clinical development with two eye drops for the treatment of ocular presentation of rheumatoid arthritis (OPRA) and persistent corneal epithelial defects; and to accelerate ocular wound healing, respectively.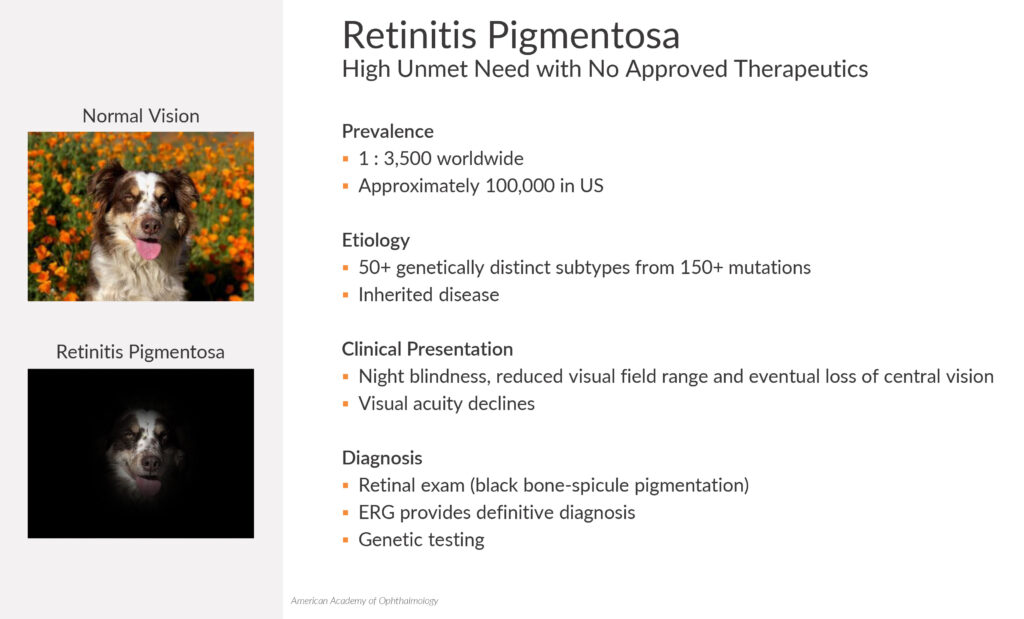 Dr. Strem explains that retinitis pigmentosa is a group of eye diseases that can be caused by more than 150 genetic mutations that a patient is born with. There are approximately 100,000 patients in the U.S. and no FDA-approved therapeutics.
The first symptom of retinitis pigmentosa is difficulty seeing in the dark and loss of peripheral vision. This disease progresses with a worsening of peripheral vision that causes tunnel vision, followed by a gradual loss of central vision that ultimately leads to complete loss of vision.
"While there are some companies developing treatments to slow disease progression, our approach is designed to restore vision that was lost by trying to take parts of the retina that are dead and giving them the ability to see light again," he contends.
In a normal eye, photoreceptor cells (rods and cones) sense light and pass it to bipolar and retinal ganglion cells, which transmit electrical signals to the brain to be processed. A normal human retina has about 120 million rods, which are responsible for vision at low light levels and periphery, while some six million cones are active at higher light levels and capable of color vision and spatial acuity.
Based on the patient population and lack of existing treatments for retinitis pigmentosa, "our KIO-301 molecule easily could transform patients' lives," Dr. Strem suggests.
Formerly EyeGate Pharmaceuticals, Kiora sharpened its development strategy in 2021 to focus on its core expertise along with a management shuffle that brought Dr. Strem into the executive suite.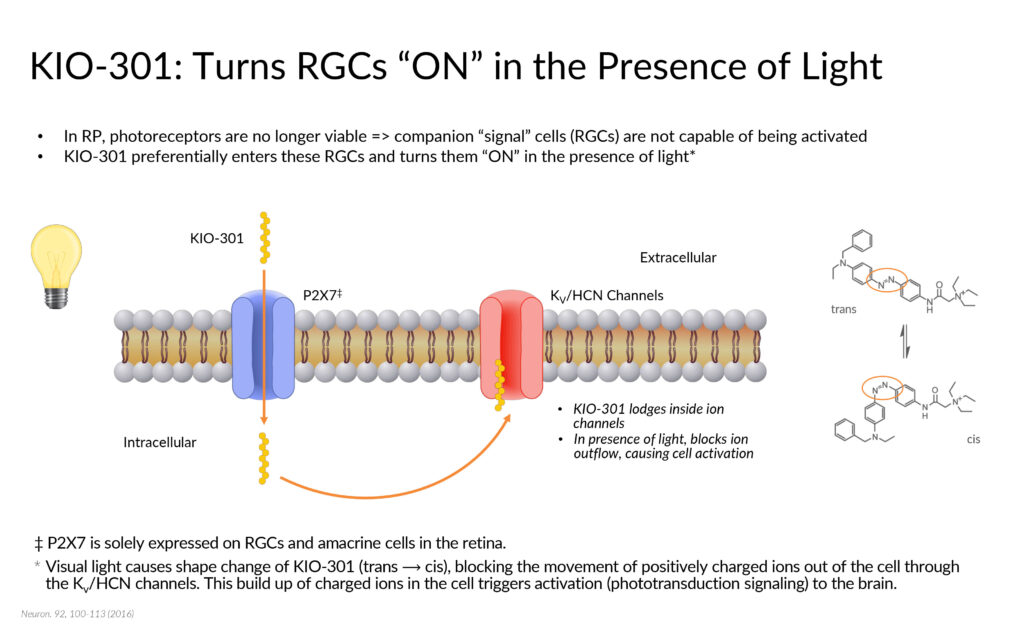 Kiora's flagship KIO-301 is a light-sensitive small molecule that acts as a reversible "photoswitch." By selectively entering retinal ganglion cells that are downstream of degenerated rods and cones, KIO-301 is being developed to convert them into light-sensing cells, capable of signaling the brain to the presence or absence of visible light.
KIO-301 received orphan drug status from the FDA in March 2022, which includes seven years of regulatory exclusivity. Kiora's IP for KIO-301 is expected to extend through 2041.
In preclinical studies published in 2017, it was demonstrated that there is no difference in the electrical output from the retina in a diseased animal model when light Is cycled through light and dark. But when KIO-301 is added to the experimental setup, Dr. Strem points out that distinct electrical output was observed in the presence of light, but in the dark, electrical output returned to baseline.
Preclinical work also demonstrated that KIO-301 is selective to enter retinal ganglion cells in degenerating retinas, without interfering with residual healthy regions, and is sensitive to a broad spectrum of light intensity and wavelengths, he adds.
The company plans to begin dosing its Phase 1b open-label, single ascending dose ABACUS study in the fourth quarter of 2022 at The Royal Adelaide Hospital in Australia. Up to six patients with retinitis pigmentosa will be divided into two cohorts of three patients each.
Cohort 1 will consist of patients with no light or bare light perception while Cohort 2 will consist of patients that can see hand motions or count fingers but otherwise, have no functional vision. Patients will receive a single intravitreal injection of KIO-301 in one eye and assessed for 28 days. After a wash-out period, they will receive a higher dose of KIO-301 in their second eye.
"The study is designed to obtain an assessment and understanding how KIO-301 can help restore meaningful vision in patients as well as safety," Dr. Strem says.
"Proof of concept [in this study] with patients who are blind or who are going blind could open the door to study KIO-301 in other disorders, such as age-related degenerations and late-stage geographic atrophy. It could be incredibly impactful."
If the Phase 1b is successful, Kiora would likely perform a "repeat injection study" with monthly injections of KIO-301 that would likely align with a potential treatment regimen before moving into a pivotal registration trial.
In its front of the eye programs, the company is developing KIO-101, an eye drop formulation of a DHODH inhibitor for the treatment of the ocular presentation of rheumatoid arthritis. Beyond the disease in the joints, ocular surface discomfort is one of the most common complaints of patients with rheumatoid arthritis.
There are about 100,000 people in the U.S. with ocular presentation of rheumatoid arthritis and Dr. Strem says "other autoimmune diseases have ocular manifestations potentially addressable by KIO-101," which is the only DHODH inhibitor in ocular development.
According to Dr. Strem, systemic DHODH inhibitors are now on the market for autoimmune diseases, such as rheumatoid arthritis and multiple sclerosis, so the DHODH target has been heavily validated in these patients. "Knowing that a lot of autoimmune diseases also present on the ocular surface, we are going very specifically with an eyedrop formulation of our DHODH inhibitor," he adds. "That's what differentiates us."
In an earlier Phase 1b study in patients with ocular surface inflammation, KIO-101 posted statistically significant improvements in conjunctival hyperemia, or eye redness, compared with a vehicle control, as well as safety. Conjunctival hyperemia was a key inclusion criterion for the enrollment of patients with ocular surface inflammation and is a recognized FDA clinical sign in patients with ocular surface inflammation and associated dry eye.
Dr. Strem says a multiple ascending dose Phase 2 study with KIO-101 is slated to begin later in 2022 with up to 120 patients in three cohorts. Two cohorts will receive one of two doses of KIO-101 and placebo in a 90-day topical dosing protocol. Clinical sites are in Australia, Europe and Canada. The company expects to release trial data in the first quarter of 2024.
Kiora also is developing KIO-201, an ocular bandage containing synthetic modified hyaluronic acid formulated as an eyedrop to promote reepithelialization in patients with persistent corneal epithelial defects.
KIO-201 is a chemically-modified and cross-linked form of the natural polymer, hyaluronic acid, which has improved viscoelastic properties, enabling a higher concentration of hyaluronic acid without causing blurring to be delivered to the ocular surface to promote wound healing by enabling cell migration and providing a barrier from the shear forces caused by blinking or external pathogens. KIO-201 has completed five clinical studies: three in patients with a type of laser vision correction eye surgery and two in dry eye disease.
Dr. Strem says the company is pursuing KIO-201 for use as a wound healing agent in patients with persistent corneal epithelial defects, which is a failure of rapid epithelialization and closure of a corneal injury within 10-to-14 days, despite supportive treatment.
A 28-day Phase 2 single arm, open label trial is underway at one site in Mexico with 10 patients with persistent corneal epithelial defects. In addition to safety and tolerability, the study will measure the percentage of patients healed at week four and time to complete healing. The company expects to release top line data in the first quarter of 2023.
There are no drugs available for direct wound healing in these patients, Dr. Strem points out, adding that the company hopes to receive orphan drug designation for KIO-201 before the end of 2022.
"We think all of our programs have the potential to make an important impact in patients' lives, but we're incredibly excited with our KIO-301 program that could give patients that are blind or going blind, the ability to have clinically meaningful vision again."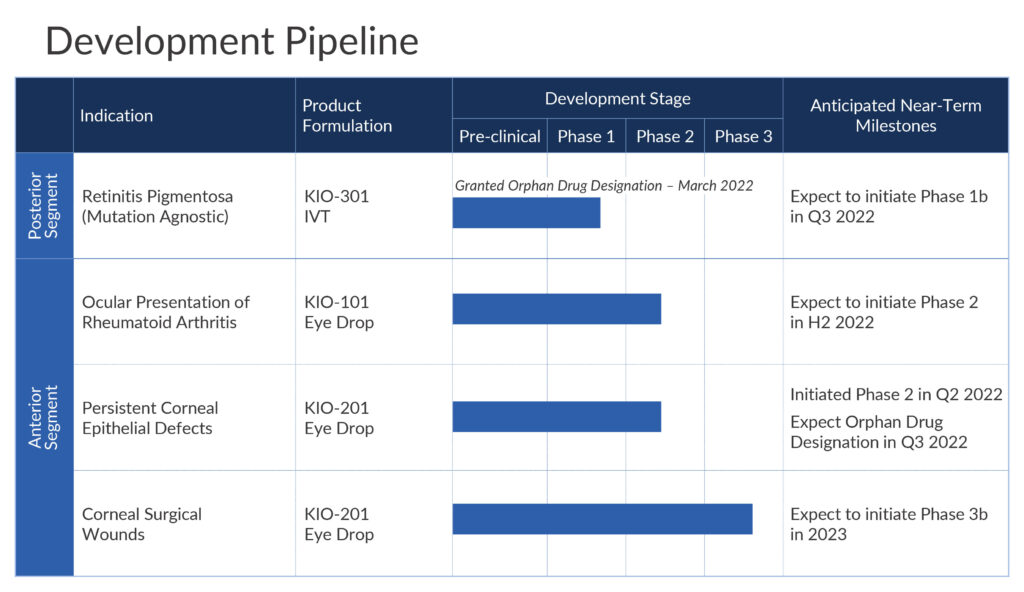 • • • • •
To connect with Kiora Pharmaceuticals or any of the other companies featured on BioTuesdays, send us an email at [email protected].