Blue Water Vaccines (NASDAQ:BWV) is building an early-stage pipeline of six transformational vaccine candidates targeting important infectious diseases, including inner ear infections, influenza, norovirus, rotavirus, malaria and monkeypox.
"Our novel shell and protrusion nanoparticle virus-like particle platform (VLP) platform has the potential to develop multiple vaccine candidates targeting high-burden diseases, such as those impacting children and those without available efficacious or cost-effective vaccines," Joseph Hernandez, founder, chairman and CEO of Blue Water, says in an interview with BioTuesdays.
Blue Water, which went public in February 2022, holds the rights to proprietary technology developed at The University of Oxford, Cincinnati Children's Hospital Medical Center, and St. Jude Children's Hospital. Blue Water is a spin-out from The University of Oxford.
The company is developing a vaccine candidate targeting Streptococcus pneumoniae (S. pneumo), BWV-201, designed to specifically prevent middle ear infections, known as acute otitis media (AOM), in children. S. pneumo is a nasal pathogen, so "creating a vaccine that provides mucosal immunity as a first line of defense is important in protecting individuals against bacterial-induced AOM," Mr. Hernandez contends.
Mr. Hernandez explains that BWV-201 is a live, attenuated, intranasally delivered, genetically modified strain of S. pneumo that is "capable of colonization in the nasal cavity, but not able to cause invasive disease. Our hypothesis is that the vaccine could protect against all AOM-causing strains. We also have signed a sponsored research agreement with St. Jude to explore the potential to present antigens from other AOM-causing pathogens on the surface of our vaccine candidate, potentially providing additional protection."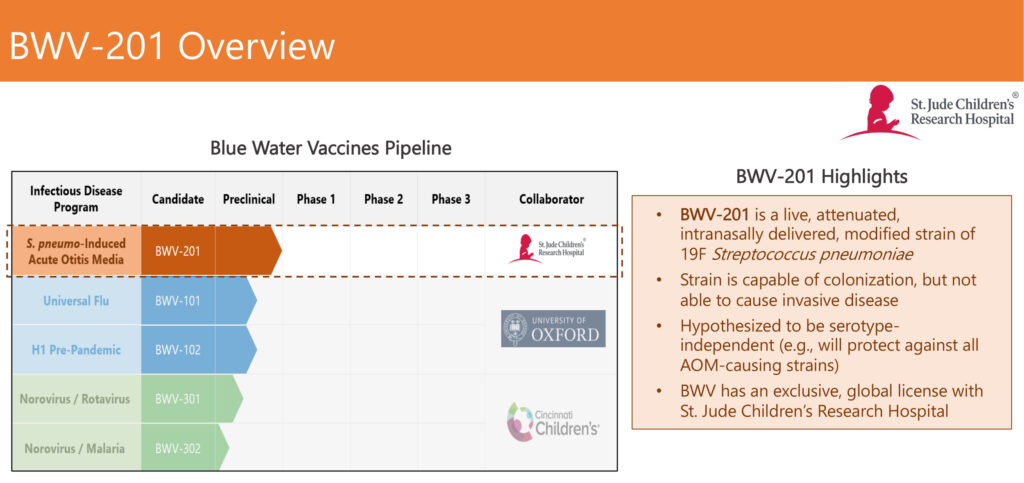 Blue Water hopes to begin a Phase 1 study with BWV-201 in collaboration with St. Jude in the second half of 2023.
In an earlier preclinical mouse study, the incidence of otitis media and sinusitis was significantly lower in BWV-201 vaccinated mice, compared with a mock group.
And in a chinchilla model, a reduction in the number of culture positive ears in the vaccinated group, compared with mock animals, was observed following vaccination, as well as a significant reduction in colony forming units from the middle ear after seven days.
AOM affects children between the ages of six-and-24 months, and about 90% of all children will have at least one episode of S. pneumo before school age. According to research studies, more than 80% of middle ear infections result in antibiotic prescriptions in the U.S. and, with the possibility of reinfection post-treatment, antibiotic resistance is a major concern.
Complications of AOM include infection of the mastoid bone, inflammation of the inner ear, and sensorineural hearing loss. Insertion of tympanostomy tubes for recurrent AOM is the most common pediatric procedure in the U.S., with approximately 667,000 children under the age of 15 undergoing the procedure each year.
Mr. Hernandez points out that current pneumococcal vaccines are serotype-dependent and may not protect against AOM caused by serotypes not included in the vaccine. "BWV-201 is serotype-independent and could provide protection against all S. pneumo-induced AOM, as well as AOM caused by other bacterial pathogens to provide broad protection for vaccinated individuals."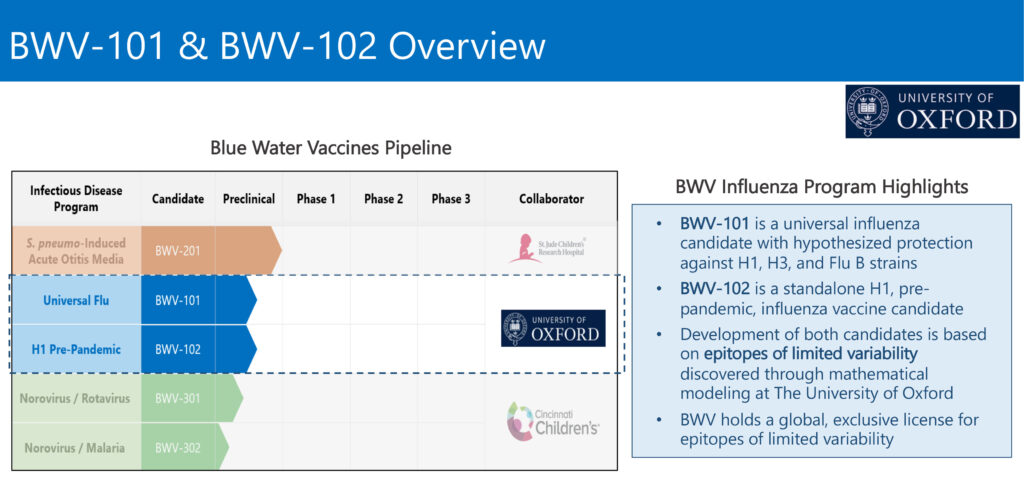 In 2021, Blue Water licensed a novel norovirus shell and protrusion nanoparticle VLP vaccine platform from Cincinnati Children's to develop vaccines for multiple infectious diseases, including BWV-101 for influenza, BWV-301 for gastroenteritis via norovirus or rotavirus infection, BWV-302 for malaria, and mostly recently for monkey pox.
BWV-101 is a universal flu vaccine candidate that has the potential to provide protection from all virulent strains, including H1, H3, and influenza B strains, and BWV-102, as a H1 pre-pandemic influenza vaccine candidate.
Mr. Hernandez says development of both vaccine candidates, currently in preclinical studies, is based on epitopes of limited variability discovered through mathematical modeling at The University of Oxford, which has shown that the antigenic evolution of influenza was driven by regions of the virus that were of limited variability.
Blue Water has identified a number of regions of limited variability which, if formulated into a vaccine and administered, could enable protection against all influenza strains. The vaccine itself requires two doses to focus the immune response on the regions of limited variability, providing potentially life-long protection against flu.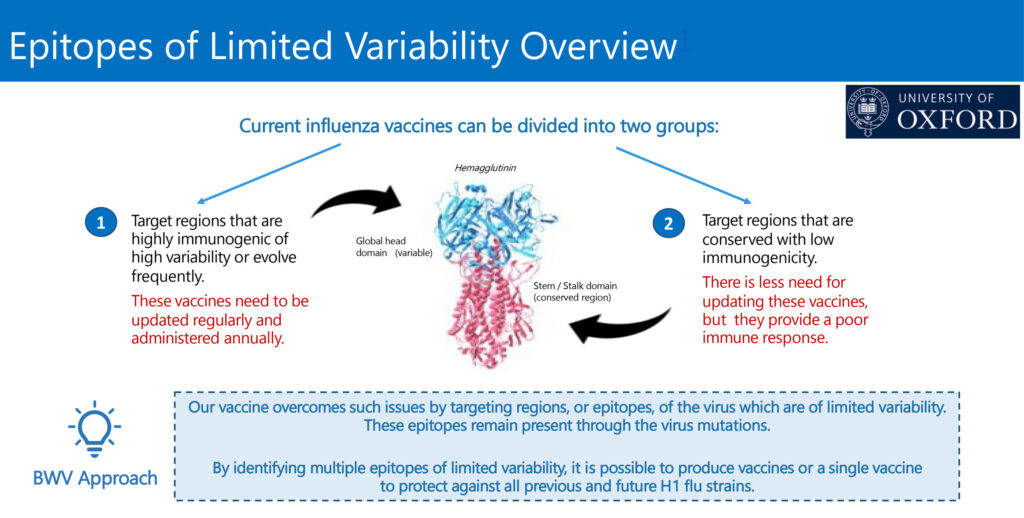 Current influenza vaccines can be divided into two groups, Mr. Hernandez says. Vaccines that need to be updated regularly and administered annually are characterized by target regions that are highly immunogenic, with high variability or evolve frequently. There is less need to update other vaccines with target regions that are conserved with low immunogenicity, but these vaccines provide poor immune responses.
"Our vaccine has the potential to overcome these issues by targeting epitopes of the virus that are of limited variability," Mr. Hernandez suggests. "These epitopes remain present and consistent, even as the entire virus evolves over time. By identifying multiple epitopes of limited variability, it's possible to produce vaccines or a single vaccine to protect against all previous and future H1 flu strains."
In a preclinical study, vaccination of mice with epitopes from H1N1 influenza virus circulating in 2006 and 1977 provided protection against a strain that last circulated in 1934, he adds.
According to the WHO, there are one billion influenza infections globally each year, resulting in 290,000-to-650,000 deaths. The CDC estimates that in the U.S. alone, there are about 30 million cases each year, and 30,000-to-50,000 related deaths.
In addition, there were about 194 million flu shotes given in the 2020-2021 season. And at an average CDC cost of slightly less than $15 per adult dose, about $2.8-billion was spent on flu shots in the U.S. alone from 2020 to 2021.
The company also is aiming its shell and protrusion nanoparticle VLP platform to develop vaccines against other infectious diseases, such as norovirus and rotavirus.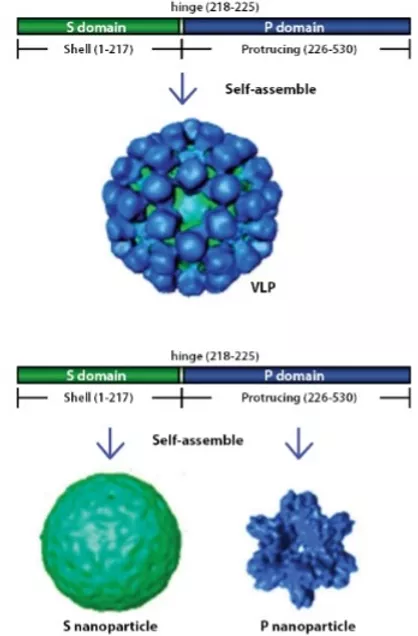 The platform is comprised of two nanoparticles, with the ability to present antigens on either particle from multiple infectious diseases in a cost-effective process. "Proof of concept in animal models has shown strong and enhanced immunogenicity," Mr. Hernandez contends.
According to the CDC, norovirus is the most common cause of acute gastroenteritis, with about 700 million cases each year worldwide. About 200 million cases are in children under five years of age, leading to an estimated 50,000 child deaths each year. There are no commercially-available norovirus vaccines despite high disease burden in developed and developing countries.
Rotavirus causes an estimated 111 million cases of gastroenteritis each year, leading to two million hospitalizations along with 122,000-to-215,000 deaths annually, according to the WHO. While there are several available rotavirus vaccines, efficacy in low-income countries is poor and more efficacious vaccines are needed, Mr. Hernandez says.
In a gnotobiotic pig model, vaccinated animals with Blue Water's BWV-301 norovirus/rotavirus vaccine showed significantly reduced duration of diarrhea, lower mean diarrhea scores, and lower cumulative fecal consistency scores. Mr. Hernandez says vaccinated animals also showed significantly less overall virus shedding, compared with unvaccinated animals, indicating neutralization of the virus.
Blue Water also is developing BWV-302 with its shell and protrusion nanoparticle VLP platform for the treatment of malaria, which is caused by protozoan parasites from the plasmodium family. The WHO reported about 219 million cases of malaria in 2019, leading to an estimated 409,000 deaths.
In early preclinical work, Mr. Hernandez says the company has demonstrated that plasmodium sporozoites that cause infection can be attached to the protrusion-particle in the shell and protrusion platform and "may represent a novel malaria vaccine candidate."
Last month, Blue Water announced plans to explore the potential of its shell and protrusion nanoparticle VLP platform to develop a novel monkeypox vaccine. "Our VLP platform has previously demonstrated versatility across multiple infectious diseases, and we are excited to initiate this research to understand the potential to create another vaccine to fight this outbreak," Mr. Hernandez says.
• • • • •
To connect with Blue Water Vaccines or any of the other companies featured on BioTuesdays, send us an email at [email protected].