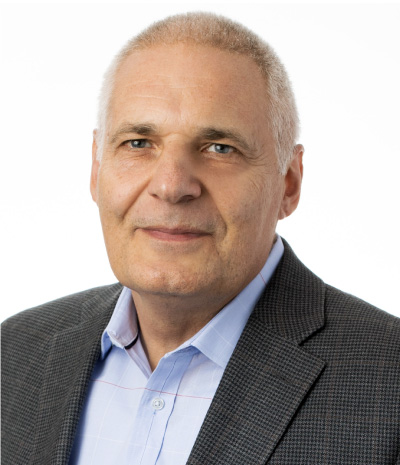 Closely-held Aristea Therapeutics is pursuing four rare inflammatory diseases with its oral, once-daily, small molecule drug candidate, RIST4721: palmoplantar pustulosis, familial Mediterranean fever, Behcet's disease and hidradenitis suppurativa.
"RIST4721 is a highly selective and potent CXCR2 antagonist that works by stopping neutrophils from traveling from bone marrow to the site of inflammation," James Mackay, Ph.D., president and CEO of Aristea, says in an interview with BioTuesdays, adding that RIST4721 has potential across a range of neutrophil-mediated diseases.
"We have demonstrated clinical activity via our clinical endpoints, dose-related reductions in peripheral blood neutrophils and impacts on CXCR2-related cytokines," he adds. More than 175 subjects have been treated with RIST4721, with no significant safety signals identified.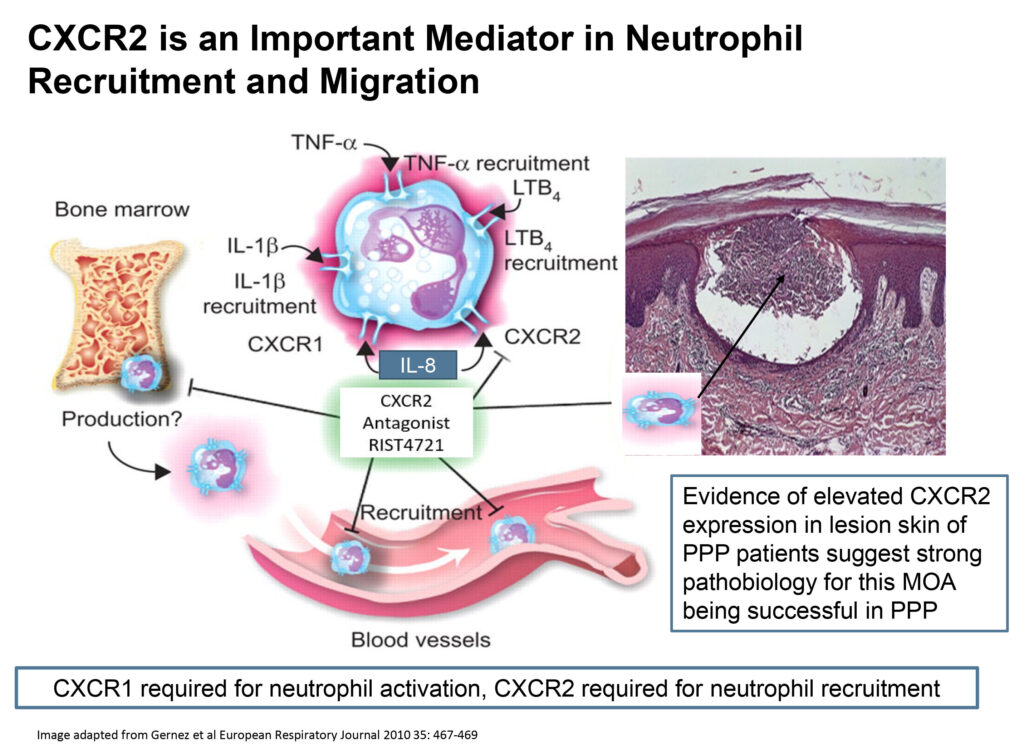 CXCR2 plays an important role in neutrophil recruitment to inflammatory sites and represents a promising therapeutic target for the treatment of a range of neutrophil-mediated inflammatory diseases.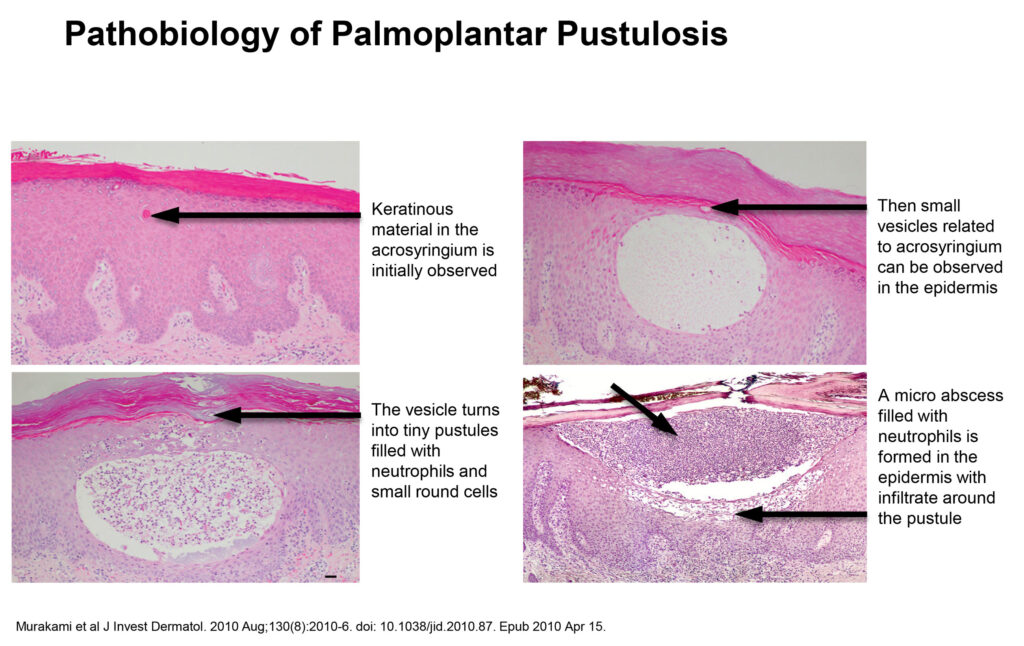 Aristea's lead program with RIST4721 is a rare chronic skin condition, palmoplantar pustulosis (PPP), which is characterized by repeated flares of sterile neutrophil-filled pustules that lead to redness and thickening on the palms of the hands and/or the soles of the feet and associated pain, itching and burning sensations.
Dr. Mackay says there are about 170,000 PPP patients in the U.S., of which more than 100,000 have moderate-to-severe disease and represent Aristea's target population. Patients typically have four-to-six PPP flares a year. PPP predominately affects females with a history of smoking.
While there are no approved therapies for PPP in the U.S. and EU, mild PPP tends to be treated by topical corticosteroids. Moderate-to-severe disease requires systemic treatments, including the use of psoriasis-approved biologics used off-label. "Patients typically cycle through multiple biologics to potentially achieve response," he says, adding that no off-label biologic has a dominant patient share.
"Our position is that targeting any individual cytokine involved in PPP is unlikely to have a major impact on the disease because of the complex nature of the immune system, where if you block one pathway, another will take over," according to Dr. Mackay.
"We believe going upstream of any individual cytokine and targeting the neutrophils is likely to be more successful in treating this recalcitrant disease."
Aristea, which means perfection in Greek, was a spin-out from AstraZeneca in 2018 with Denmark's Novo Holdings as the founding investor and a mandate to target rare inflammatory diseases where there are no currently approved therapies. Aristea has completed optimization of the active pharmaceutical ingredient in RIST4721 and is ready to initiate manufacturing at registration scale, Dr. Mackay points out.
In 2020, Aristea reported results of a 28-day Phase 2a exploratory study, with 15 PPP subjects receiving RIST4721 and 19 subjects on placebo.
Dr. Mackay explains that the study did not meet its primary endpoint of a statistical change from baseline and either fresh or total pustules as investigators had difficulty distinguishing between pustules that were fresh and those that were old, something that they do not routinely have to do in clinical practice.
"We were limited to a 28-day study because we only had 28-day animal toxicology data at that time and we recognized that it would be very challenging to see a real impact on the disease over a short treatment time," he suggests. "On the other hand, we knew going into the exploratory study that the data would help us design longer studies with RIST4721."
Dr. Mackay also notes there was a mixed population of PPP patients in the study, with 20 having active disease and 14 with PPP flares, which were getting better at enrollment. "Unfortunately, this masked the impact in patients with active disease," he adds.
The study did, however, demonstrate a number of favorable trends. For one thing, Dr. Mackay points out that a majority of patients in the treatment arm achieved a 50% reduction in the severity of the disease. In addition, peripheral blood neutrophil counts decreased over the course of the study and a correlation was found between neutrophil count and reductions in disease severity.
In March 2022, Aristea initiated a Phase 2b dose-ranging study with 52 patients in each of three arms: 400 mg and 200 mg of RIST4721 and placebo. Part A of the study in the U.S., Canada and EU consists of up to 20 weeks of screening, treatment and follow-up, with an open-label extension part B consisting of up to 76 weeks of treatment and follow-up.
The trial's primary endpoint is the proportion of subjects achieving a 50% or more reduction in a PPP severity index score at week 12. The company expects to release data in the second half of 2023.
Aristea closed a $63-million series B financing in July 2021, led by Fidelity Management & Research, and including participation by existing investor Novo Holdings and new investors, Arena Pharmaceuticals and funds managed by Tekla Capital Management.
Proceeds are earmarked for the Phase 2b trial in PPP as well as Phase 2a studies with RIST4721 in familial Mediterranean fever (FMF) and Behcet's disease, two additional inflammatory diseases where neutrophils play important roles, plus support for manufacturing controls, toxicology and clinical pharmacology studies. The Phase 2a studies also are expected to read out in the second half of 2023.
Dr. Mackay says FMF is characterized by sporadic attacks of fever and painful inflammation of the abdomen, chest and joints. Fewer than 20,000 people in the U.S. suffer from FMF, with a higher prevalence in Turkey, Israel, Armenia and other countries in the Middle East.
Dr. Mackay explains that treatment of FMF aims to prevent acute flares and minimize inflammation between flares in order to prevent the progression of amyloidosis, a primary cause of morbidity and mortality due to cardiac amyloidosis and renal failure.
Colchicine is the first-line therapy for FMF but 30% to 40% of patients continue to have attacks despite receiving maximum doses of colchicine.
Aristea is enrolling about 20 FMF patients in its 12-week Phase 2 proof-of-concept trial in Turkey and Israel to receive 400 mg of RIST4721 once daily. The primary endpoint is treatment-emergent and serious adverse events.
Dr. Mackay explains that Behcet's disease is an inflammatory disorder that causes blood vessel inflammation or vasculitis, and the most common disease manifestations include oral and genital ulcers and eye abnormalities. Fewer than 20,000 people in the U.S. suffer from Behcet's disease, with a far greater prevalence in Turkey, Japan and other Asian countries.
Colchicine also is a first-line therapy for Behcet's disease that involves both typical skin and mucous membrane and has also been used in combination with dapsone, an antibiotic, in studies at the Mayo Clinic. "Data suggest that combination therapy of colchicine with a molecule that impacts neutrophil migration (dapsone) can lead to substantial therapeutic benefit in a moderate-to- severe Behcet's disease population that do not respond to colchicine alone," he adds.
Aristea is enrolling 80 Behcet's patients to receive either 400 mg of RIST4721 or placebo plus colchicine in a 12-week primary treatment period. Thereafter, subjects will be offered to participate in a 12-week open-label extension to receive RIST4721 plus colchicine, with a data readout in the second half of 2023.
Along with the $63-million financing last year, Aristea inked a collaboration and acquisition option with Arena Pharmaceuticals, consisting of $60-million upfront and $10-million of additional R&D, to advance RIST4721 into another neutrophil-mediated disease, hidradenitis suppurativa (HS). Pfizer acquired Arena in March 2022.
HS is a chronic and progressive dermatological condition caused by inflammation of the sweat gland that results in nodules, abscesses and scarring on the skin, along with significant pain. Antibiotics, steroids and immunosuppressive biologics are used to control symptoms of HS with limited success.
The companies are enrolling about 33 patients with moderate-to-severe HS in a Phase 2a study in the U.S. and Canada to receive either 400 mg of RIST4721 or placebo. The primary endpoint is the incidence of treatment-emergent and serious adverse events.
Aristea's patent portfolio runs through 2036 but Dr. Mackay said multiple use patents as monotherapy and in combination with colchicine will extend the company's patent protection.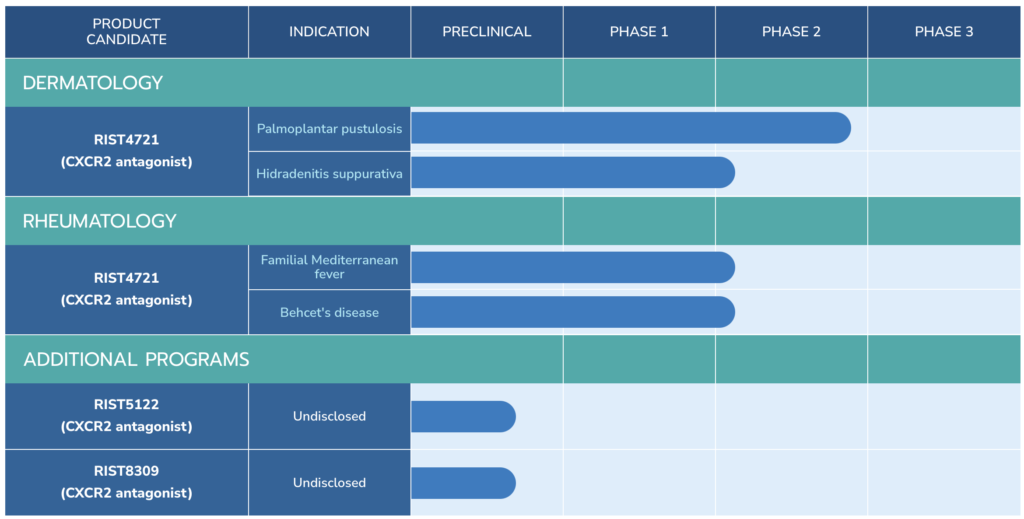 • • • • •
To connect with Aristea or any of the other companies featured on BioTuesdays, send us an email at editor@biotuesdays.com.