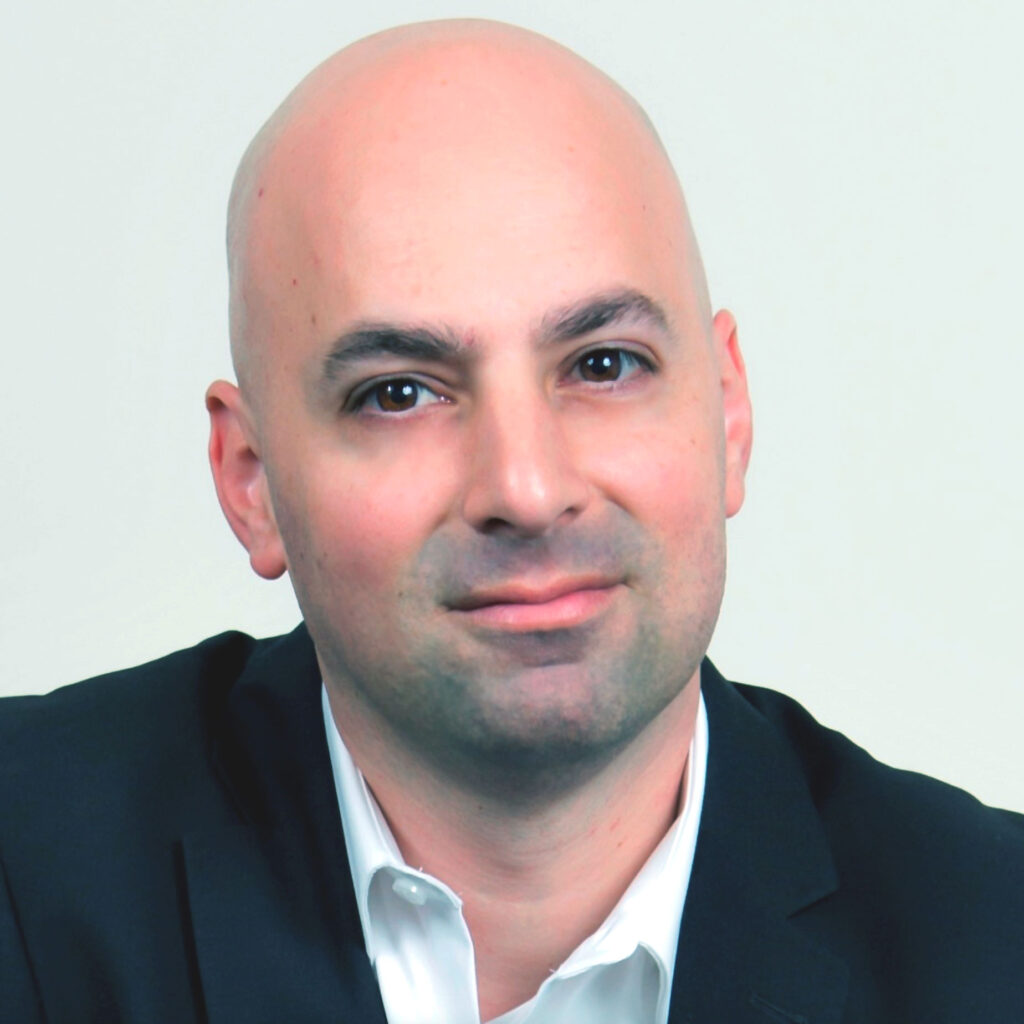 NeuroSense Therapeutics (NASDAQ:NRSN) is developing a novel fixed dose combination of two FDA-approved drugs for a multi-targeted approach against the potential pathways responsible for ALS, or amyotrophic lateral sclerosis.
"We believe our oral formulation of these two drugs, known as PrimeC, act synergistically on various crucial mechanisms of ALS that cause degeneration of motor neurons, inflammation, iron accumulation, and impaired regulation of RNA," Alon Ben-Noon, CEO of NeuroSense, says in an interview with BioTuesdays.
"Phase 3 ALS trials in the past 15 years have failed, we believe, mainly due to drug candidates aiming at only one target in this complex disease with multiple mechanisms. A new approach with a combined therapeutic strategy, targeting multiple pathways is needed."
ALS is an incurable neurodegenerative disease that causes complete paralysis and ultimately death within two-to-five years from diagnosis. More than 5,000 people are diagnosed with ALS in the U.S. a year and more than 80,000 in NeuroSense's planned target market, Mr. Ben-Noon suggests.

In addition, NeuroSense is advancing its pipeline, with early programs in Alzheimer's disease (AD) with its drug candidate, CogniC, and in Parkinson's disease (PD) with StabiliC. Data from these preclinical programs are expected in mid-2022. The company expects both products will be IND-ready for clinical studies by the end of 2022.

Mr. Ben-Noon founded NeuroSense in 2017 following a chance meeting with Shay Rishoni, an ALS patient and CEO of a non-profit organization for people suffering from ALS. Mr. Rishoni was paralyzed and was only able to communicate through eye movements and computer software.
"Shay was a major inspiration to me and we became good friends as I learned how much a person can do for a cause no matter what condition they are in.
Along with some colleagues, Mr. Ben-Noon set out to find a treatment to halt the progression of ALS. "First, we established which pathways we needed to tackle and then identified molecules that could affect these targets."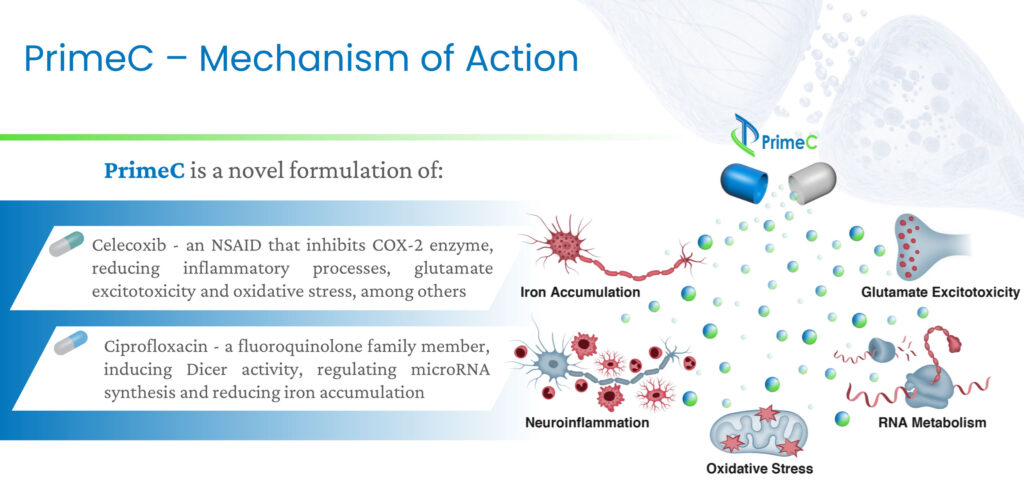 Mr. Ben-Noon explains that PrimeC is a novel oral formulation of ciprofloxacin and celecoxib, which is an NSAID that inhibits a COX-2 enzyme, reducing inflammatory processes and oxidative stress, among other things. Ciprofloxacin is a fluoroquinolone family member that regulates microRNA synthesis and reduces iron accumulation.
Utilizing a zebrafish model of ALS Mr. Ben-Noon Alon states that PrimeC improved motor performance and recovered impaired motor neurons, resulting in zebrafish swimming patterns post-treatment that resembled healthy fish.
In 2021, NeuroSense reported on positive results from a 12-month Phase 2a trial with PrimeC in 15 ALS patients in Israel. The trial met its safety and efficacy endpoints, including a reduction in functional and respiratory deterioration, as well as statistically significant changes in ALS-related biomarkers. PrimeC was well tolerated, with no drug-related serious adverse events.
"All of the patients completing the Phase 2a trial opted to continue in an extension study with PrimeC, which is unusual," he points out. "And half of the patients are still receiving PrimeC after 2 1/2 years, which is significant in ALS," he adds. PrimeC has received orphan drug designation from the FDA and European Medicines Agency.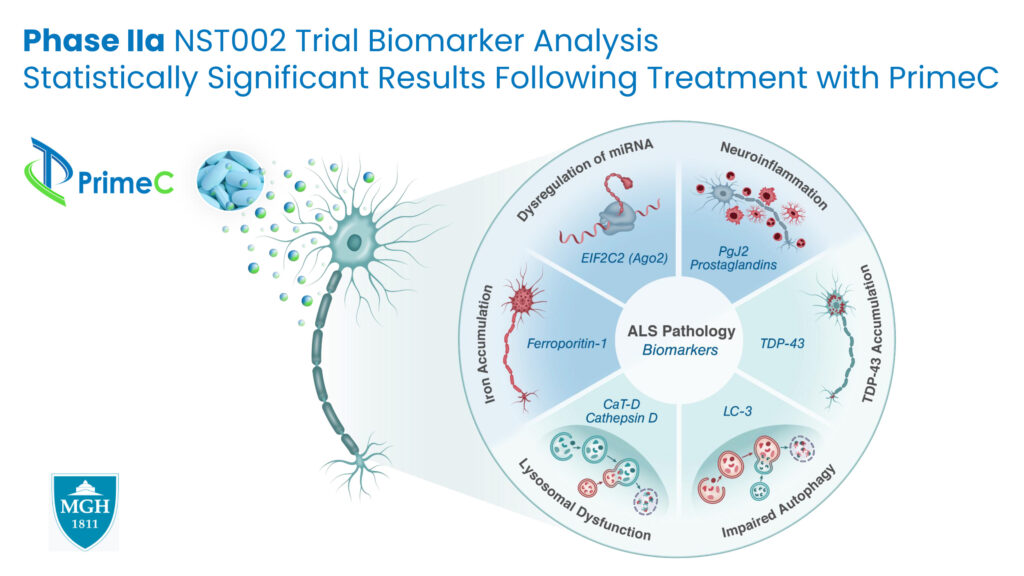 Mr. Ben-Noon describes a substantial outcome of the Phase 2a trial was carried out in collaboration with Massachusetts General Hospital, where an evaluation of biomarkers revealed alterations in novel ALS-related biomarkers, and more importantly, statistically significant changes in those biomarkers when PrimeC was administered.
"To our knowledge, no other company in this domain has shown an effect of this kind on an extensive panel of biomarkers," Mr. Ben-Noon contends. "The biological activity observed may indicate future clinical outcomes in the form of slowing disease deterioration."
Earlier this month, the company enrolled the first patient in its Phase 2b PARADIGM trial with PrimeC for the treatment of ALS. The double-blind, placebo-controlled, multicenter trial will enroll 69 people living with ALS in Israel, Italy, and the U.S.
Clinical trial endpoints include assessment of ALS-biomarkers, evaluation of clinical efficacy and improvement in quality of life, to demonstrate an attenuation in disease progression. NeuroSense expects to complete enrollment by the end of 2022 and report top-line results in the second quarter of 2023.
Mr. Ben-Noon says the Phase 2b study also is designed to utilize an optimized dose and improved formulation of PrimeC, which aims to maximize the synergistic effect between the compounds in the combination drug, relative to the formulation used in the prior Phase 2a study.
"NeuroSense is pioneering the ALS biomarker space, working in collaboration with cutting-edge technology partners on an extensive panel of biomarkers to elucidate PrimeC's mechanism of action, as we believe this could enable patient stratification and increase likelihood of success in a pivotal trial. Targeting multiple pathological pathways in ALS, synergistically, is a paradigm shift in ALS therapy."
NeuroSense also plans to conduct toxicology and pharmacokinetics studies with CogniC and StabiliC in AD and PD, respectively, this year, which could lead to potential proof-of-concept studies in 2023.
Mr. Ben-Noon notes that NeuroSense has worldwide patents running through 2038 that cover the methods for treating ALS and neurodegenerative disorders using combinations of ciprofloxacin and celecoxib; their composition; as well as compositions comprising anti-inflammatory drugs and a dicer activator for use in treating neuronal diseases.
NeuroSense's novel approach to ALS also extends to its management team, Mr. Ben-Noon says. "More than 70% of our team are women and 50% of board members are women. And 66% of board members are U.S.-based with vast experience in public biotech companies." The company has offices in Cambridge, Massachusetts and in Herzliya, Israel, as well as representation in Germany.
• • • • •
To connect with NeuroSense or any of the other companies featured on BioTuesdays, send us an email at [email protected].