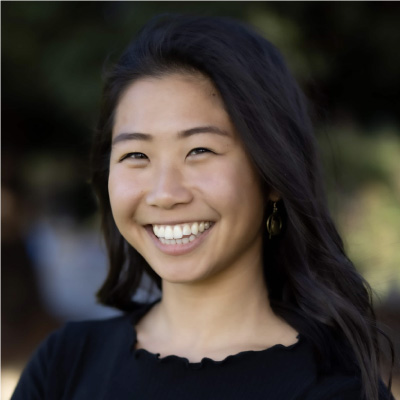 As co-founder and CEO of Shimmer, a provider of a science-backed process to reduce stress and anxiety, Chris Wang took an early interest in social impact consulting at her first job with Bain & Co. But a close family friend's struggles with mental health issues propelled her into the field, including an MBA/public health at the Haas School of Business at the University of California, Berkeley, where she met another Shimmer co-founder, Jonathan Wang, who was attending medical school at UCSF. Together, they interviewed hundreds of individuals suffering from mental health challenges as well as primary care physicians and psychiatrists. In this interview with BioTuesdays, Ms. Wang discusses the 12-week Shimmer Process and its skills model delivered through peer groups.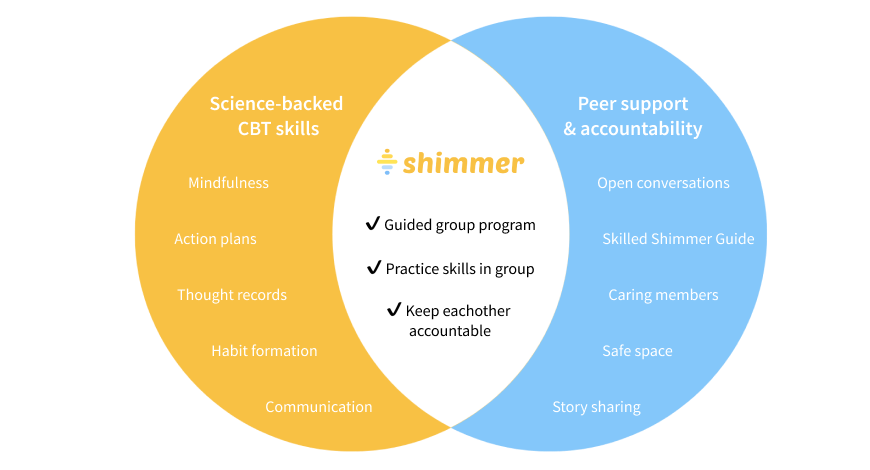 Let's begin with a brief history of Shimmer.
We were setup on Jan. 1, 2021 and we have about 11 full time and part time employees, including five guides, who are trained to teach the Shimmer Process to groups of six-to-eight members via a video link up. The Shimmer team also includes a clinical advisor, Amin Azzam, M.D., a professor, researcher and psychiatrist at UCSF and UC Berkeley with 27 years in medicine and curriculum development. He remains clinically active, running long-term psychotherapy groups for patients with chronic illnesses.
What's the problem Shimmer is trying to solve?
The first problem is structural. There are 110,000 therapists in the U.S. trying to serve 15 million people seeking some sort of mental health care. And 80% of therapists are white, and have an average age of 50. So, it can be difficult relating to issues of LGBTQ and young people coming out, for example. Also, unless you have a good health plan, many people are unable to afford sessions with a therapist that can cost $150-to-$250 an hour.
The other problem we are trying to solve involves connections. Rather than one-on-one sessions with a therapist, we employ small groups of about seven people who have similar issues. That improves the quality of discussions and creates hope and understanding because if you see other people in your group, with similar issues and, if they are getting better, you can also see hope that you'll get better. Highly trained therapists likely haven't experienced the same mental health issues as their patients, so our peer group approach gives our members connections and hope. We believe that learning and growing with a peer group, where you feel safe to share your most vulnerable thoughts, is the core missing piece to lasting change.
Who is the customer you are serving?
Our customer base generally are younger and more diverse people, with an average age of 25-to-35, who suffer from mild mental health issues related to anxiety, depression and attention deficit hyperactivity disorder (ADHD). Our focus is prevention and education. So, we deal with individuals who are able to perform daily tasks and may not rely on medication or hospitalization.
What is the Shimmer Process?
The Shimmer Process is a modern, 12-week, science-backed program that helps you stress less and worry less. It was designed by Dr. Azzam, with methods recommended by Harvard Medical School and National Institute of Mental Health. We begin with a one-on-one consultation to get to know you better so that we can match you in a small Shimmer group of six-to-eight people. One of our Shimmer guides leads the 75-minute video chats and leads members in a group through our stress and anxiety program. We also offer continuing membership for a small monthly fee so members in a group can stay accountable to each other. What makes Shimmer unique is the delivery method, where we drive lasting change through the power of experience sharing and mutual motivation to gain the knowledge, skills, and support to lead a life you'll love.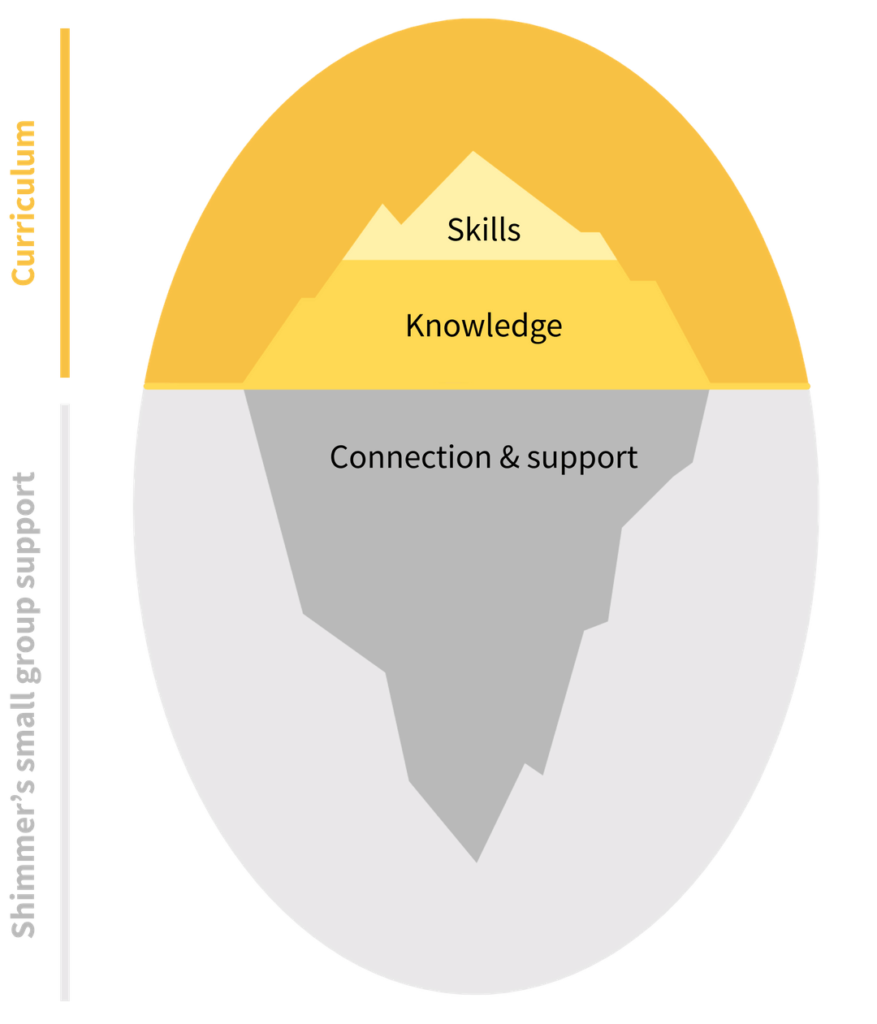 What do you mean by a teaching a science-backed program?
We use the same methods as CBT, which stands for cognitive-behavioral therapy, that therapists use in their practices. In controlled clinical studies, CBT and peer group support have been shown effective at treating anxiety-related disorders as well as reducing re-hospitalization rates and in-patient services.
How does peer support work and is it effective?
Structurally, a peer group allows members to share stories about themselves with others, learn new interpersonal skills and practice them. In a peer group, you learn more about your condition. Peer-reviewed articles in scientific journals have shown that peer group interactions can make you less lonely as you learn new skills and stay motivated and accountable to the group and improve whole health and quality of life. We use the Perceived Stress Scale (PSS), which is the same scale that the Headspace meditation app uses. The PSS is the most widely used psychological instrument for measuring the perception of stress. It is a measure of the degree to which situations in one's life are appraised as stressful. The questions in the PSS ask about feelings and thoughts during the last month. By the half-way point in the Shimmer Process, so, after five-or-six weeks, we've seen an average of 18% reduction in members' stress scale.
What are some alternative treatments in the market?
Three popular ones are: therapy, free drop-in groups, and asynchronous apps online. As I've mentioned, there are no peer connections within therapy and it is expensive. There are no cohorts within drop-in groups to build trust in, compared with the Shimmer Process where you see the same people every week for 12 weeks. That builds trust and allows people to open up. We usually find that by the half way point in the Shimmer Process, people are beginning to trust other members in their group. And with online apps, there is no motivation and accountability because you are working by yourself and nobody is pushing you. It's like staying home and doing a fitness course on your own. For most people, it is harder to succeed.
How has the pandemic impacted mental health?
For our demographic, young adults, anxiety levels have increased threefold in the U.S. Many worries came with the pandemic, and most have not yet left, even as we open back up. Fear of getting sick, fear of weakened relationships due to social distancing and miscommunication, uncertainty around job and financial security, grief around loss, to name a few. For many, these levels of anxiety are new to them and they don't have the culture, coping skills, or support to deal with it effectively. At Shimmer, we offer an easy entry into the world of mental health while bypassing some of the cultural stigma and affordability issues surrounding traditional treatment methods.
What has been your biggest challenge building and growing Shimmer?
For us, the biggest challenge to our growth is the stigma of mental health services, especially around anxiety and depression. A lot of our members join because they can't talk to their family and friends about mental health issues. So, we have the added task of helping with destigmatizing mental health and helping people develop the right language to communicate about mental health and make them comfortable doing so.
The second major challenge is around credibility. We use peer-support specialists, which are far less known than therapists, but there are a lot more of them. The training is less intensive than that of a therapist but they are getting more well known. In the State of the Union, President Biden proposed legislation to approve the Unity Agenda. One of its pillars has to do with increasing the supply of mental health providers, and certification of peer-support specialists, which could make the service reimbursable and solve the credibility issue in the next year or so.
Where would you like Shimmer to be in five years?
We'd like people to think of Shimmer as one level below professional coaching and individual therapy. Members come to Shimmer to gain the skills and confidence to tackle anxiety and depression so that they may not have to seek more intensive therapy or medication. They've taken the first step and we're able to intervene early.
• • • • •
To connect with Shimmer or any of the other companies featured on BioTuesdays, send us an email at editor@biotuesdays.com.