As president and CEO of closely-held Cartesian Therapeutics, Murat Kalayoglu, M.D., Ph.D., has made a smooth transition over the years from a board-certified ophthalmologist to a healthcare IT entrepreneur to a medical aesthetics developer and now to advancing RNA cell therapies in and beyond oncology. In addition to his medical pedigree, which includes a research fellowship at Harvard and Ph.D. in immunology, Dr. Kalayoglu obtained an MBA from the MIT Sloan School of Management, setting the stage for a career outside of medical research. Cartesian's founders previously started and sold two life sciences companies – HealthHonors and Topokine – to Healthways/Tivity in 2009 and Allergan/AbbVie in 2016, respectively. In this interview with BioTuesdays, Dr. Kalayoglu discusses Cartesian's mission to unleash the full potential and reach of cell therapy through RNA engineering.
Let's begin with a brief history of Cartesian.
Michael Singer, M.D., Ph.D., a long-time friend and business partner, who is now CSO of Cartesian, and I sold our last company on April 26, 2016, and started Cartesian a week later. A few months later, we brought in our third founder and COO, Metin Kurtoglu, M.D., Ph.D., to round out our original management team. We currently have 22 employees, of which about one-third are M.D.s and 80% to 90% are Ph.Ds. The mission is to develop potent yet safer cell therapies through RNA engineering to intervene at an early stage and potentially cure diseases.
How would you describe your technology?
Our technology, the RNA Armory, enables us to manufacture cells at a very large scale—in the tens-of-billions of functional cells—that we engineer with RNA to extend their half-life. These therapies demonstrate distinct advantages over existing conventional RNA therapies, like vaccines, that use RNA encapsulated within a nanoparticle. Cartesian's RNA therapies also demonstrate distinct advantages over conventional DNA-based adaptive therapies, in which cells are engineered outside the body, either through CRISPR or viral vectors, and then these modified cells are infused back into the body.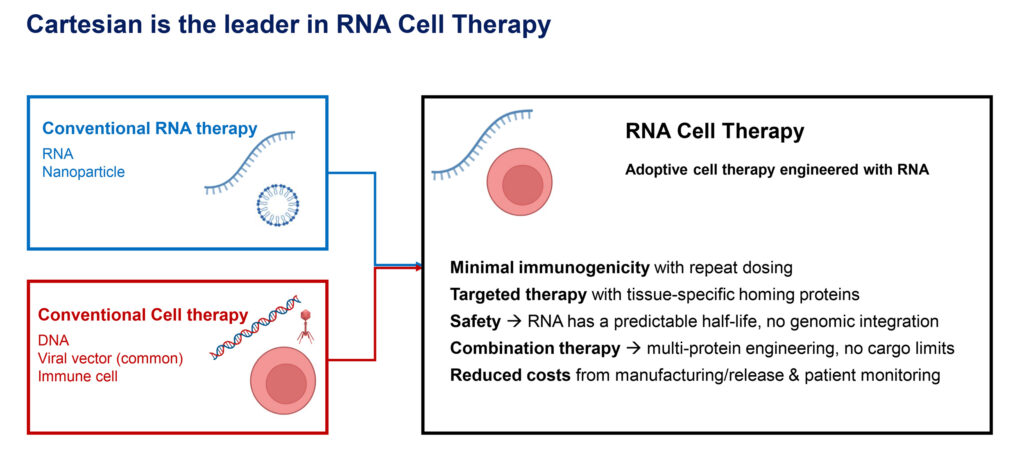 Can you explain the RNA Armory?
The RNA Armory is our proprietary cell engineering platform that generates large-scale, potent RNA cell therapies with extended protein expression. The RNA Armory is currently focused on RNA engineering two types of cells: T-cells and human mesenchymal stem cells (MSCs). Our chimeric antigen receptor, or CAR T-cell, programs harness the safety of RNA and autologous engineering to target autoimmune diseases and frontline cancer, without lymphodepletion. Our off-the-shelf MSC programs leverage these cells' clinical safety profile and excellent capacity for protein secretion to deliver synergistic combinations of therapies.
What indications are you going after with these programs?
We have three clinical and three preclinical assets in our pipeline to bring RNA cell therapy to indications in and beyond oncology. Our CAR-T program is targeting patients with myasthenia gravis as well as newly diagnosed multiple myeloma patients. Descartes-08 is the first CAR T-cell therapy for autoimmune disease and is in a Phase 1/2 study in patients with generalized myasthenia gravis. Descartes-08 contains autologous CD8+ T-cells engineered with RNA CARs that bind B-cell maturation antigen, or BCMA, which is expressed by plasma cells that produce pathogenic autoantibodies. Descartes-08 has the potential to bind and kill these cells, eliminating the autoantibody source.
Descartes-08 also is the first CAR T-cell therapy designed specifically for frontline cancer. The lead indication is newly diagnosed patients with multiple myeloma. Descartes-08 contains autologous CD8+ T-cells also engineered with RNA CARs that bind BCMA, which is highly expressed in all myeloma cells. Descartes-08 has the potential to bind and kill BCMA+ myeloma cells. This program is in a Phase 2a study with topline data expected this year.
Our MSC programs are targeting patients with respiratory disease as well as advanced multiple myeloma. Descartes-30 is the first engineered cell therapy for respiratory diseases and is in a Phase 1/2 study for patients with acute respiratory distress syndrome (ARDS), a severe disease caused by a lung injury, such as infection with bacteria, influenza or COVID-19. Descartes-30 contains allogeneic, or off-the-shelf, human mesenchymal stem cells engineered to secrete two human DNAs that specifically degrade neutrophil extracellular traps that are a key, as yet unaddressed mediator of ARDS.
Descartes-25 is the first off-the-shelf RNA cell therapy with three components and a lead indication of relapsed/refractory multiple myeloma. Descartes-25 is designed to deliver two antitumor proteins directly to the tumor: a novel bispecific antibody and the potent antitumor cytokine, interleukin-12. Descartes-25 cells also are engineered with a membrane-bound homing protein that directs the cells to the tumor microenvironment for local delivery of their antitumor cargo.
So, can you summarize your clinical status?
Our three clinical assets are Descartes-08, 25 and 30 and our four indications are myasthenia for autoimmune disease, multiple myeloma in both frontline and relapsed/refractory cancer and acute respiratory distress syndrome for respiratory diseases.
What's in your preclinical pipeline?
As our mission is to expand the breadth and depth of RNA cell therapy, we have preclinical assets targeting indications such as osteoarthritis, cardiovascular diseases and diabetic wounds. Once we establish Phase 1 safety and tolerability, we can leverage that data to pursue an array of different diseases.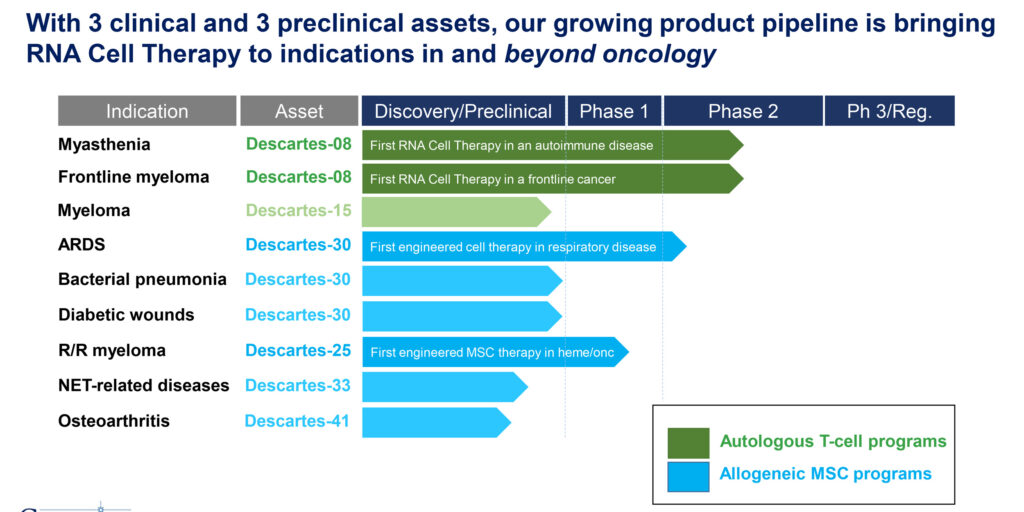 What are the benefits of your RNA cell therapy?
We're not satisfied to just make incremental differences in patients' lives. Our RNA cell therapy has the potential to make dramatic differences in many indications in a way that other therapies can't. So, there are some real benefits of RNA cell therapy, compared with RNA therapeutics. For example, our approach is with allogeneic and autologous cells, rather than nanoparticles. We engineer our assets for precise targeting to avoid toxicity and can deliver a combination of RNAs packed in a single cell. Compared with conventional DNA-based cell therapies, RNA cell therapy has a predictable half-life and avoids the risk of genomic integration: two attributes that are expected to make it safer. RNA cell therapy also is less expensive and enables true combination therapy without vector cargo limits.
What is the value of having in-house R&D and manufacturing?
We are a fully integrated company in that we do everything in-house, from discovery through GMP manufacturing and quality controls, all the way to coordinating clinical trials. Our small and dedicated team does everything together, so the degree of coordination we are able to achieve is invaluable.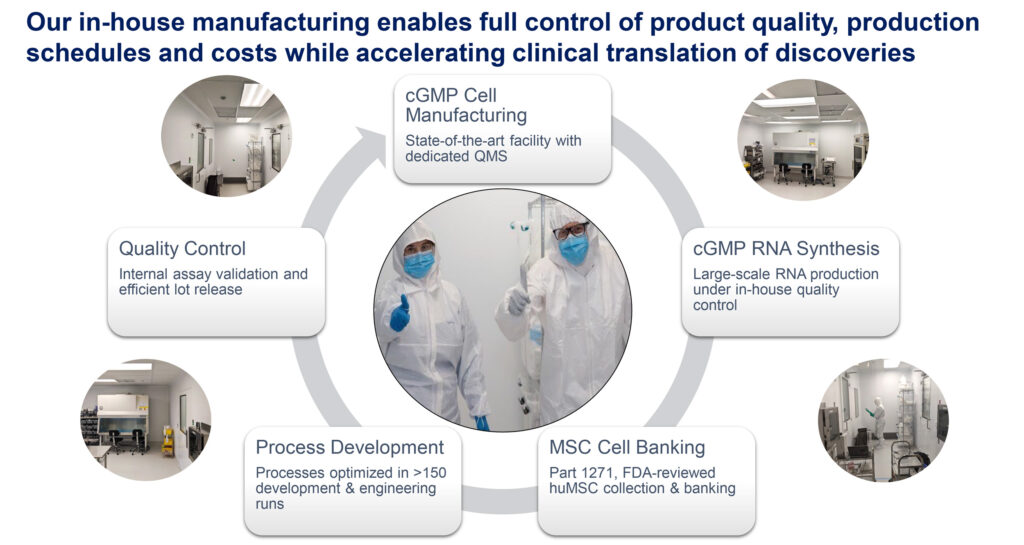 Where do you see Cartesian in five years?
We have multiple irons in the fire across various approaches that I would expect one of our assets to be commercially available in five years. But even more important, we believe RNA cell therapy will be a fully validated category in five years, not only in our hands but in the hands of other companies to offer their own treatments. We believe RNA cell therapy is the future because it strikes the right balance between safety and potency in the earlier treatment of disease.
• • • • •
To connect with Cartesian Therapeutics or any of the other companies featured on BioTuesdays, send us an email at [email protected].