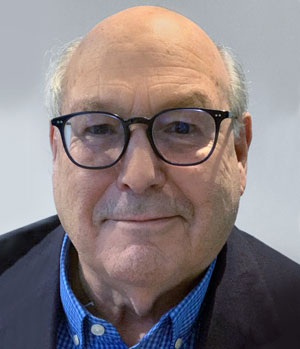 180 Life Sciences (NASDAQ:ATNF) has three families of novel biologic drugs in synchronized stages of development, addressing separate areas of inflammation, fibrosis and pain, for which there are no effective therapies.
"There are some 60 million people in the U.S. suffering from inflammatory diseases and the pain that goes along with them," James Woody, M.D., Ph.D., and CEO of 180, says in an interview with BioTuesdays.
The list of inflammatory diseases includes the likes of rheumatoid arthritis, ulcerative colitis, Crohn's disease, systemic lupus, multiple sclerosis, psoriasis, Type 1 diabetes, NASH, or non-alcoholic steatohepatitis, endometriosis and fibromyalgia.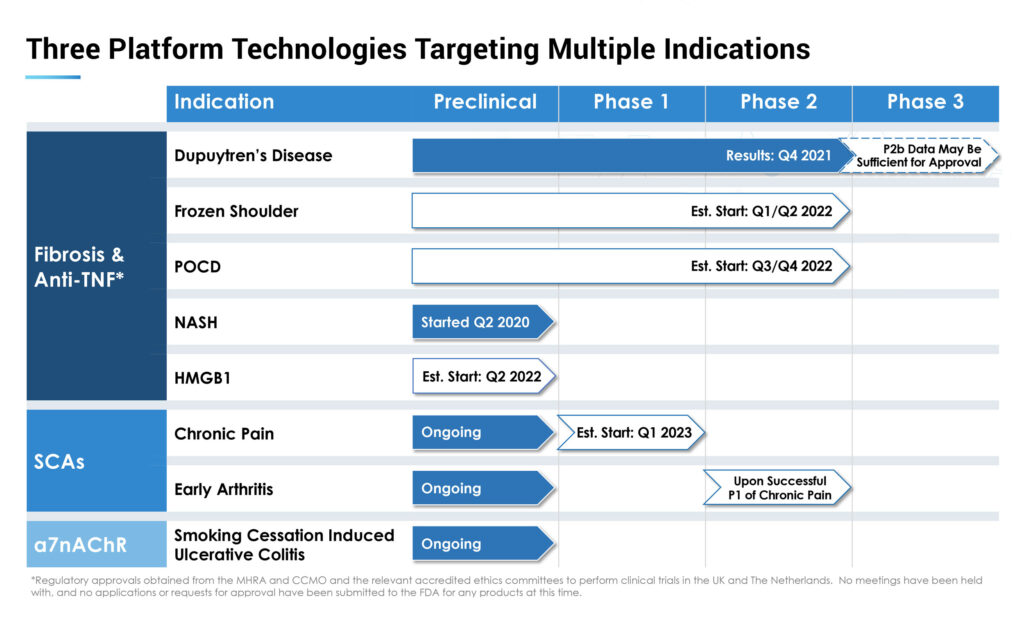 "There are thousands of proteins circulating in the blood stream and those that impact inflammation and the immune system are generally known as cytokines. One of the bad actors is TNF, or tumor necrosis factor, which drives the most progressive types of inflammation," Dr. Woody says. "That's why we went after it as a target."
TNF is an essential part of the immune system, helping the body mount attacks against invading bacteria and viruses and heal damaged tissues. In people with autoimmune diseases, excess levels of TNF in the blood can lead to unnecessary inflammation.
"One of our competitive advantages is our use of human tissue, which makes preclinical discovery more relevant and accurate, mitigating risk at the clinical stage," Dr. Woody contends, adding that competitors' use of animal tissue or late-stage cells in culture does not always reflect human disease.
"Also, we are developing the only treatment for early-stage fibrosis, where there is currently no competition," he adds. "Our short-term approach is to early preventative treatment, to halt disease progression and subsequent disabilities."
180 Life Sciences was created in November 2020 through a merger of three closely-held companies: 180 Therapeutics, Katexco Pharmaceuticals and CannBioRex Pharmaceuticals, as part of an IPO in the same month.
The new company boasts a top tier team of founding scientists. Dr. Woody and Sir Marc Feldmann were inventors of the rheumatoid arthritis blockbuster, Remicade; Prof. Lawrence Steinman, who invented Tysabri, a highly effective treatment for multiple sclerosis and inflammatory bowel disease; Prof. Jagdeep Nanchahal, who pioneered the treatment of fibrosis of the hand, or Dupuytren's disease, by identifying TNF-alpha as a target; and Profs. Jonathan Rothbard, 180's CSO, and Raphael Mechoulam, who discovered the human endocannabinoid system.
180's primary platform is a novel program to treat fibrosis with a repurposed anti-TNF biologic antibody, adalimumab, the active ingredient in Humira. The company also has early-stage development programs with synthetic cannabinoid analogs for the treatment of arthritis and pain/inflammation, and alpha-7 agonists designed for smoking cessation-induced ulcerative colitis.
The company's IP portfolio includes seven granted patents and 12 filed patents, with a lifespan that expires between 2031 or later in fibrosis and anti-TNF; 2036 or later in synthetic cannabinoid analogs; and 2031 or later in alpha-7 agonists.
The near-term target of the fibrosis and anti-TNF program is the prevention of Dupuytren's disease, treatments for frozen shoulder, and prevention of post-operative delirium/cognitive deficit. A longer-term target is the fibrosis of NASH.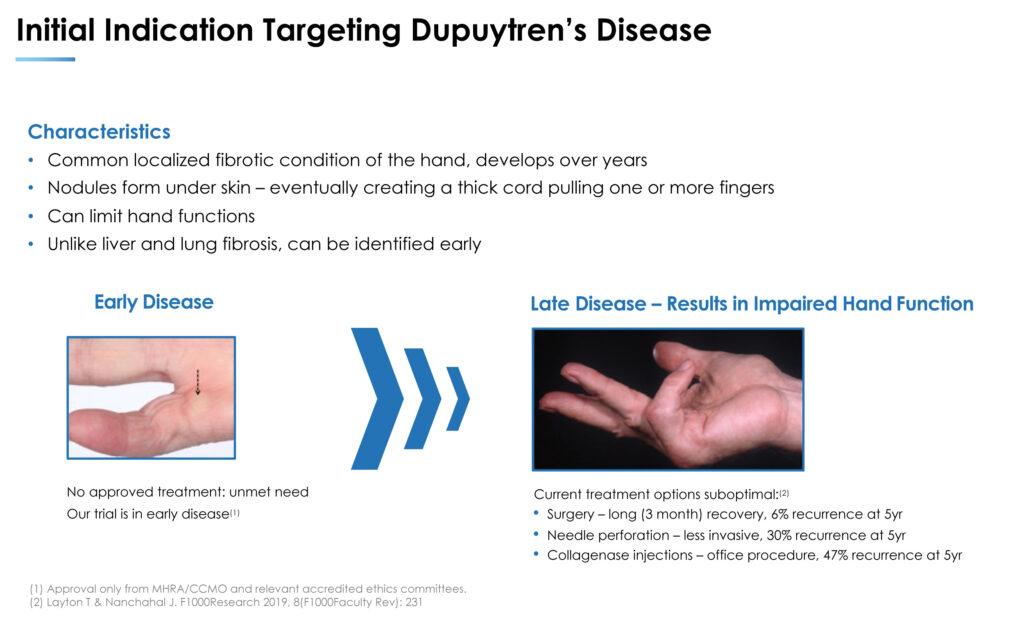 Dupuytren's disease is a localized fibrotic thickening of the skin in the palm of the hand at the base of the fingers. Over time, these nodules create a thick cord, pulling on one or more fingers, which can cause the fingers to curl towards the palm. "Unlike liver and lung fibrosis, these nodules can be identified early, prompting our focus on early Dupuytren's," Dr. Woody points out.
In December 2021, the company reported that adalimumab met both primary and secondary endpoints in a Phase 2b trial by significantly diminishing the hardness and size of Dupuytren's nodules.
"These results were a significant achievement for a new company just over a year old, and position us to be a major leader in fibrosis therapies," he adds. "To our knowledge, this was the first randomized, placebo-controlled, double-blinded trial for preventing the progression of Dupuytren's disease."
The Phase 2b study randomized 181 patients at three sites in the UK and Netherlands, with injections of adalimumab every three months for a year, with an 18-month follow up. Dr. Woody says almost all patients returned for all their injections and there were no related serious adverse events. Full data are being submitted to a medical journal for publication later this year.
Dr. Woody says 180 is working with Kinexum, a regulatory consulting firm, to assist 180 in discussions with the FDA and UK's Medicines and Healthcare Products Agency to help determine the best path forward for commercialization, with initial meetings planned for the first half of this year.
The U.S. prevalence of Dupuytren's disease is about 16 million people, with a similar number in Europe. In any given year, Dr. Woody suggests the actual treated population could be between 10% and 20% or approximately three million people with early-stage nodule formation in the palm, before any finger contracture develops.
He contends that current treatment options are suboptimal and only begin once a person has the contracted fingers and the concomitant functional disability. These include needle perforation to disrupt the cords, which has a 30% recurrence rate after five years; and collagenase injections, which have a 47% recurrence rate after five years, or eventually surgery, which comes with a three-month recovery period and a 6% recurrence rate after five years.
"Our approach is to prevent the disability and surgery for Dupuytren's disease would have positive quality-of-life improvements for people with a series of injections and also be far less costly to the healthcare system," Dr. Woody points out.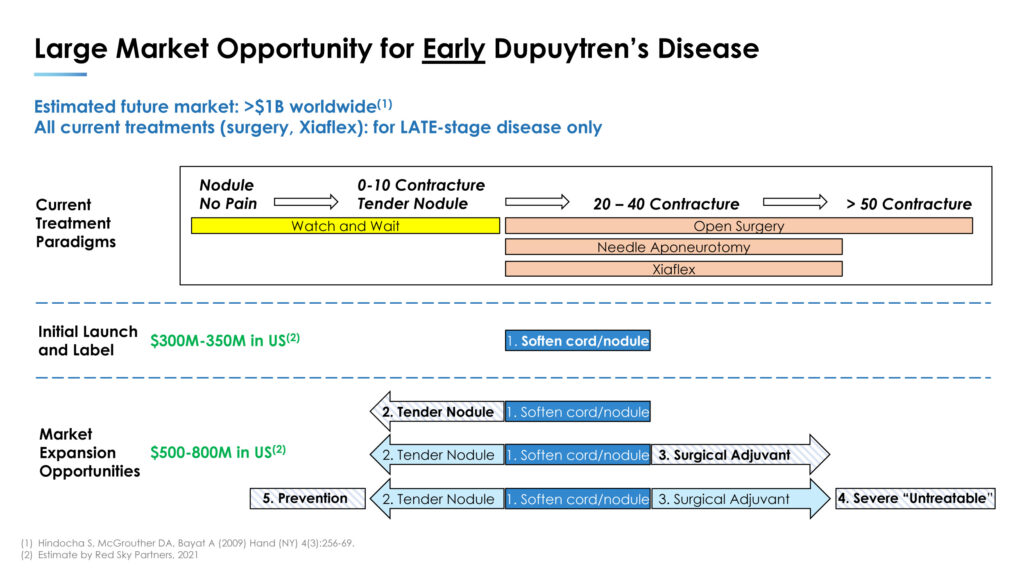 According to a market survey by Red Sky Partners in 2021, a treatment for early Dupuytren's disease could have a potential value at launch of $300-million to $350-million in the U.S. alone, with market expansion opportunities valued at $500-million to $800-million in the U.S. without considering the UK and EU markets.
180 also is in clinical development for the treatment of frozen shoulder and post-operative delirium/cognitive deficit (POCD) with its fibrosis and anti-TNF platform.
"We think the fibrosis in the shoulder involves the same process as Dupuytren's disease as about half of the patients also have Dupuytren's. There are no effective non-surgical therapies to prevent or treat frozen shoulder, which is often caused by inflammation of the capsule tissue surrounding the shoulder joint. Steroid injections can provide short-term pain relief but patients eventually move on to surgery."
Frozen shoulder affects about 9% of the population aged 25-to-64 years and is more common in people with diabetes.
Dr. Woody says the company has obtained regulatory approvals and plans to begin an anti-TNF Phase 2 study in frozen shoulder in the UK in the second quarter.
180 also plans to use an anti-TNF therapy in a Phase 2 multi-center trial in hip surgery slated to begin late in the second half this year also in the UK. Patients will receive a single anti-TNF injection just prior to surgery in the study to be completed over two years.
There are more than 300,000 hip fractures each year in the U.S. and seniors recovering from hip surgery often suffer from dementia, which can be long lasting and may require nursing home care. With the increase in coronary artery bypass graft surgery, in older populations, the problem is becoming more prevalent.
"We have clinical evidence that following surgery, TNF is released from the tissue damage, that opens the blood-brain-barrier to cytokines and other inflammatory mediators that collect in the cognitive area of the brain and bring on this dementia," Dr. Woody says. "We hope we can block TNF with a single anti-TNF infusion as a preventative therapy. If successful, we would have the first effective treatment for this condition." 
In its synthetic cannabinoid analog program, Dr. Woody says the company is developing proprietary compounds that are safe, non-addictive, and non-psychoactive, more than 99.5% pure, offer improved oral bioavailability and are rigorously tested for relief of inflammatory pain. "Our goal is to develop an effective pain therapy alternative to unregulated consumption of medical cannabis and over-the-counter cannabinoid."
The company has identified a potential lead analog and formulation and plans to initiate a Phase 1 study in chronic pain by the first quarter of 2023, moving to early arthritis and pain in a Phase 2 study, if successful.
180 also is optimizing new compounds based on safe alpha-7 agonists. Alpha-7 is a nicotine acetylcholine receptor in the brain and a central factor to control inflammation. While Big Pharma initially touted alpha-7 as a pharmaceutical target for Alzheimer's disease and schizophrenia, 180 aims to repurpose alpha-7 for inflammation, Dr. Woody says.
"A subgroup of patients who cease smoking subsequently develop ulcerative colitis," he adds. "Treatment has a high probability of therapeutic success and can be viewed as nicotine replacement therapy without issues of addiction."
• • • • •
To connect with 180 Life Sciences or any of the other companies featured on BioTuesdays, send us an email at editor@biotuesdays.com.