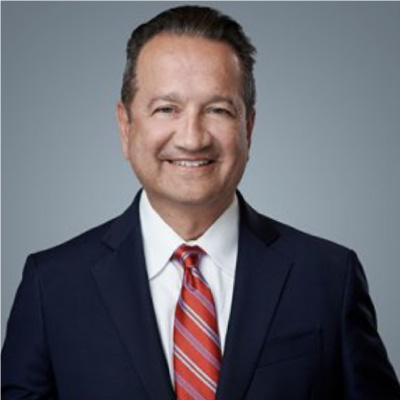 First Wave BioPharma (NASDAQ:FWBI) is advancing multiple clinical-stage programs built around its two proprietary technologies: niclosamide, an oral small molecule with anti-viral and anti-inflammatory properties, and a biologic, adrulipase, a recombinant lipase enzyme designed to enable the digestion of fats and other nutrients.
"Our assets leverage the company's core competencies and expertise in developing targeted, safe and non-systemic oral GI therapies," James Sapirstein, CEO of First Wave, says in an interview with BioTuesdays.
"Our pipeline of gut-targeted GI therapies address significant unmet medical needs, in billion-dollar markets, with patent protection for the next 15-to-20 years," he adds.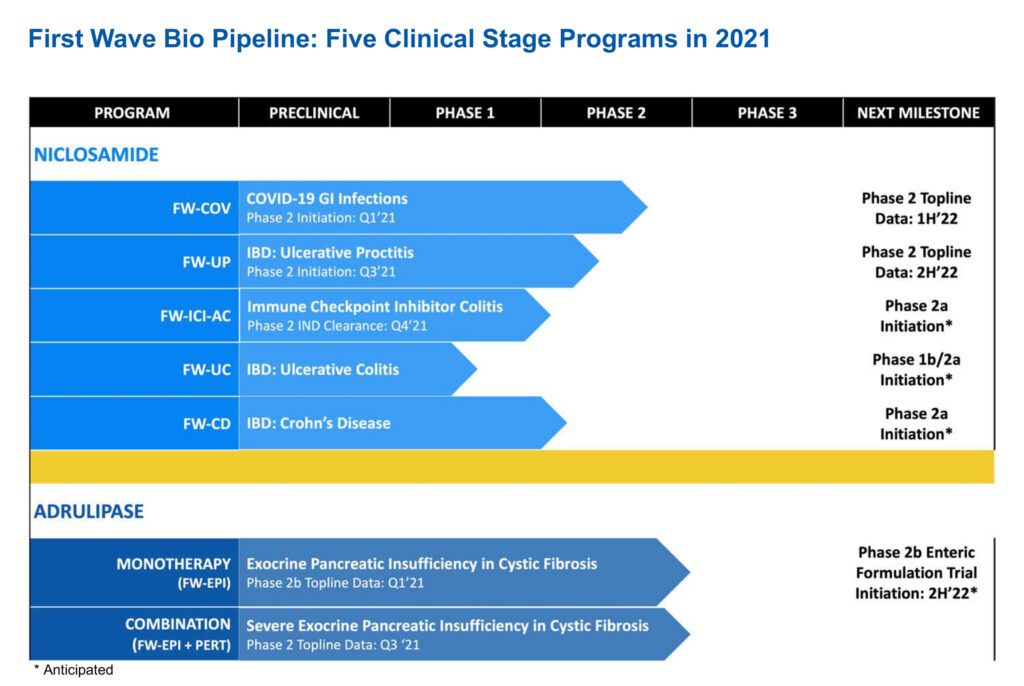 The company's niclosamide portfolio is led by two clinical programs in Phase 2 clinical trials: FW-COV for COVID-19 GI infections and FW-UP in ulcerative proctitis and ulcerative proctosigmoiditis, two forms of ulcerative colitis.
Three additional indications of niclosamide include FW-ICI-AC, for Grade 1 and Grade 2 immune checkpoint inhibitor-associated colitis and diarrhea in advanced oncology patients; FW-UC for ulcerative colitis (pancolitis); and FW-CD for Crohn's disease.
The company also is advancing FW-EPI, or adrulipase, for the treatment of exocrine pancreatic insufficiency in patients with cystic fibrosis and chronic pancreatitis.
At the end of March, First Wave expects to report top-line data and final data at the end of April from a Phase 2 study with its lead niclosamide program to prevent COVID-19 GI infections. Positive data would allow First Wave to seek emergency use authorization from the FDA for niclosamide.
"There is an urgent need to develop treatments for acute and long COVID-19 GI infections," Mr. Sapirstein contends, pointing to symptoms that include severe diarrhea, vomiting and abdominal pain. There is no treatment for COVID diarrhea.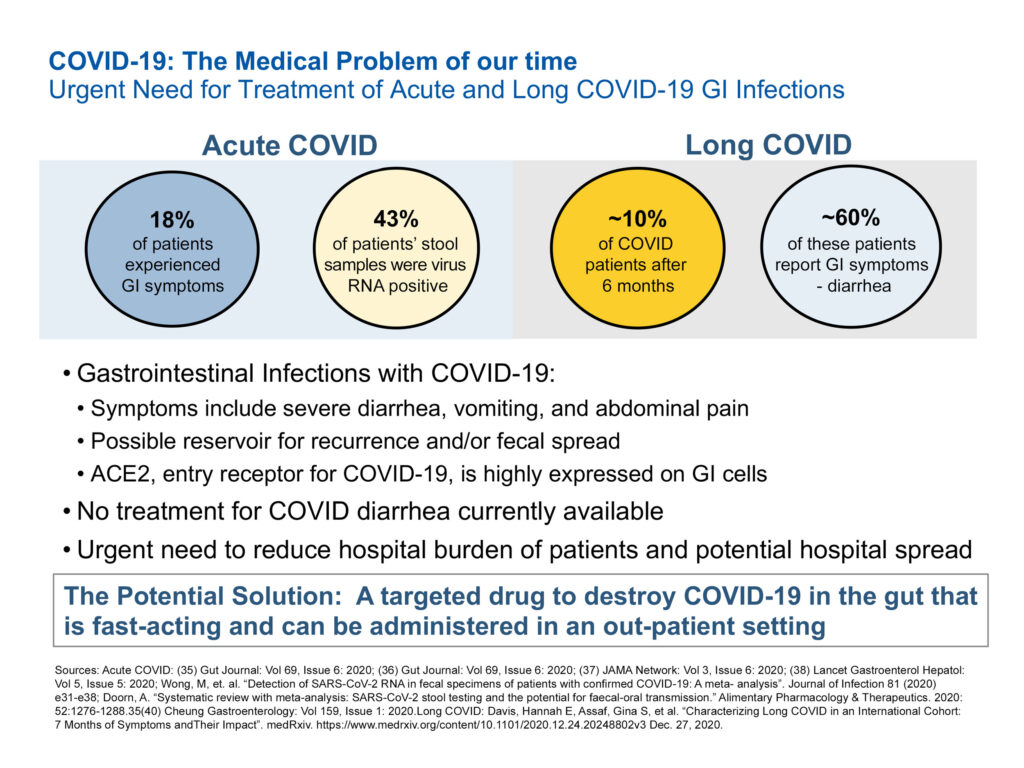 In acute COVID, for example, he says studies have shown that 43% of patients' stool samples were virus RNA positive and, in long COVID, about 60% of these patients reported GI symptoms, such as diarrhea.
"What's needed is a targeted therapy to destroy COVID-19 in the gut that is fast-acting and can be administered in an out-patient setting."
Mr. Sapirstein explains that when the pandemic hit, Institut Pasteur Korea began looking for older drugs to repurpose what might work against the SARS-Cov-2 virus and found that niclosamide had the best activity.
Niclosamide was cleared by the FDA in 1982 for the treatment of intestinal tapeworm infections. While it is no longer used in the U.S., it continues to be used in developing world countries where tapeworm infections persist.
First Wave has developed an oral micronized formulation of niclosamide, with a reduced particle size, compared with non-micronized niclosamide. "Because of these smaller particles, we can achieve improved distribution and higher GI concentrations, coating the stomach and intestinal areas, and working on whatever infection is laced in the GI tract," he adds.
According to Mr. Sapirstein, niclosamide, which has a 50-year safety record, features minimal systemic exposure and works by inhibiting pro-inflammatory pathways, such as the cytokine storm, which has been linked to COVID-19 infections. "Niclosamide has the potential to prevent people using steroids to treat inflammatory conditions."
Mr. Sapirstein also notes that niclosamide is unaffected by COVID-19 variants. "While vaccines attack the spike protein of the virus, we move niclosamide into the cell wall and through autophagy, degrade the virus from within."
First Wave also is evaluating niclosamide in Europe in the first ever proof-of-principle trial for the treatment of inflammatory bowel disease (IBD).
There are two types of IBD: ulcerative colitis and Crohn's disease, which affect some three million people in the U.S.
Mr. Sapirstein points out that while both disorders share similar signs and symptoms, such as diarrhea, abdominal pain, fever, anemia and weight loss, ulcerative colitis is more limited to the colon and is more responsive to medical treatment, while Crohn's is patchy throughout the colon and small intestine and requires surgery more often.
"Our focus is on mild-to-moderate ulcerative colitis as a way to prevent patients advancing to steroids if their disease becomes severe. You don't want to go on steroids and if you do, you want to get off them as soon as you can because they lower your ability to fight infections and develop complications, such as bleeding, nausea, heartburn and headaches."
In an earlier Phase 1b study, Mr. Sapirstein says niclosamide achieved clinical remission efficacy of 59%, which compares favorably to steroids as a second line therapy in mild-to-moderate patients with ulcerative colitis.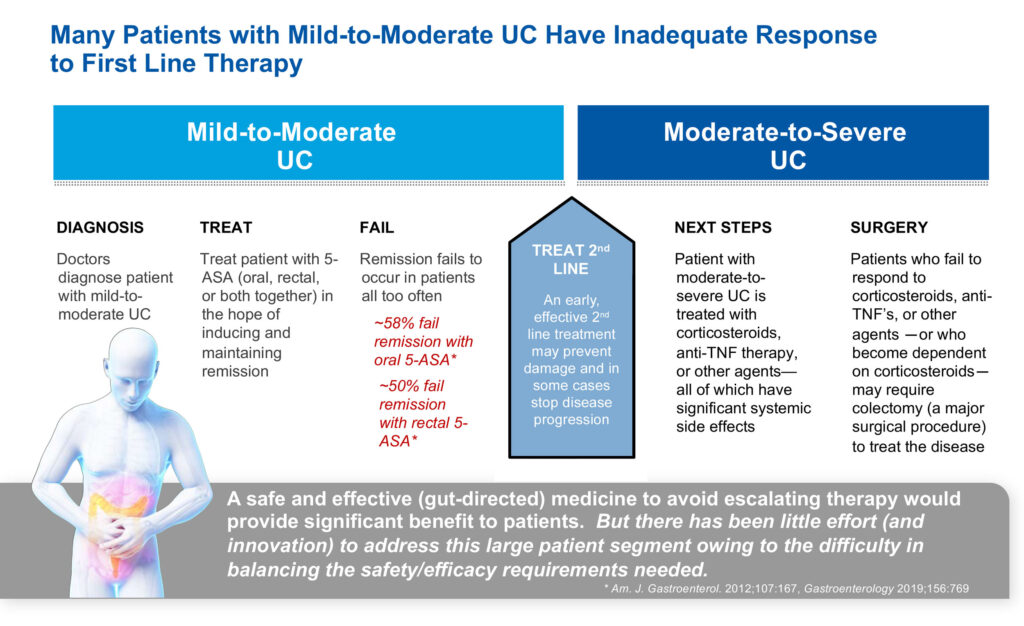 Studies suggest there are 830,000 individuals with ulcerative colitis in the U.S., of which 700,000, or 84%, are considered mild-to-moderate, representing a market opportunity of $4.6-billion. Crohn's disease patients are said to number 600,000 in the U.S., of which 500,000, or 76%, fall into the mild-to-moderate category, representing a market opportunity of $4.3-billion.
Another niclosamide program is targeting ulcerative proctitis, which is a form of ulcerative colitis. In this form of colitis, the inflammation begins at the rectum, and spreads no more than about eight inches into the colon.
More than 60% of patients with ulcerative proctitis can be treated rectally, which "provides a rapid path to evaluate proof-of-concept," Mr. Sapirstein suggests. In addition, about 25% to 30% of people diagnosed with ulcerative colitis might actually have ulcerative proctitis.
First Wave expects to report top-line data in the second half of 2022 from a Phase 2a study in Europe with niclosamide in patients with ulcerative proctitis.
The company has completed stage one of the Phase 2a trial with 17 patients that had relapsed on 5-ASA, a first line therapy for inflammatory bowel diseases. Patients were treated with a niclosamide enema twice daily for six weeks and 10 of 17 patients, or 59%, achieved clinical remission.
In stage two, the company has raised the niclosamide enema dose to 450 mg twice daily, up from 150 mg twice daily in stage one, and this dosage is compared with a placebo enema. Mr. Sapirstein says niclosamide was well tolerated in the first four patients in the higher dose cohort.
The U.S. prevalence of ulcerative proctitis is estimated at 200,000 people, representing about 25% of the $5-billion total market size for the disease.
Beyond niclosamide, First Wave's second platform is adrulipase, a recombinant lipase treatment for exocrine pancreatic insufficiency, targeting patients with cystic fibrosis and chronic pancreatitis.
Exocrine pancreatic insufficiency is a chronic nutritional deficiency where the pancreas is damaged and doesn't produce digestive enzymes needed to break up food in the GI tract so nutrients can be absorbed. As a result, patients are unable to gain or retain weight, have frequent bowel movements and diarrhea, and abdominal discomfort and pain.
There are about 30,000 patients with cystic fibrosis and 90,000 patients with chronic pancreatitis in the U.S. In addition, there are approximately 100,000 patients with CF globally and in Asia, there is a significant population afflicted with chronic pancreatitis.
In addition to lung issues, a "majority of these kids with cystic fibrosis also have exocrine pancreatic insufficiency, which is where we are focusing adrulipase, even though we've completed a successful proof-of-concept study in chronic pancreatitis," Mr. Sapirstein says.
He explains that existing treatments use porcine pancreas, which is crushed into powder and delivered in capsules. "We are using recombinant yeast cells, which is the closest thing we have to human therapy."
Mr. Sapirstein says porcine-derived pancreatic enzyme replacement therapy has limited GI stability, carries a black box warning from the FDA, requires taking 25-to-40 pills for cystic fibrosis a day and risks transmission of animal pathogens. "Our therapy is more stable in the gut, is safe and well tolerated, requires eight-to-16 pills a day and has manufacturing and supply chain consistency."
First Wave has conducted four Phase 2 studies to date with adrulipase, including one in chronic pancreatitis, two cystic fibrosis monotherapy trials and one combination of adrulipase and a pancreatic enzyme replacement therapy.
"We had mixed results as a monotherapy but the combination study achieved a clinically meaningful improvement for less controlled patients with severe exocrine pancreatic insufficiency in cystic fibrosis," Mr. Sapirstein notes.
First Wave is developing a new enteric granule formulation of adrulipase with greater consistency of absorption rates. It plans to take the new formulation into Phase 2b monotherapy and combination studies in the second half of 2022, and if successful, conduct a bridging study at the end of 2022, prior to considering a pivotal trial.
• • • • •
To connect with First Wave or any of the other companies featured on BioTuesdays, send us an email at [email protected].