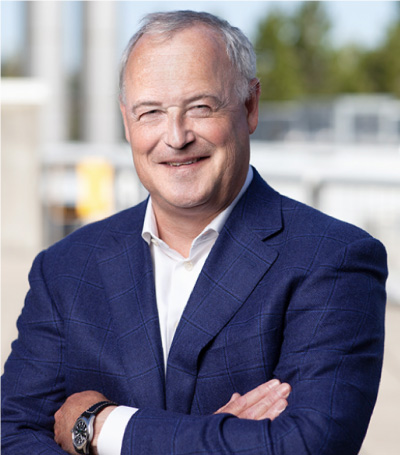 Athira Pharma (NASDAQ:ATHA) is in late- and mid-stage clinical development of small molecules to restore neuronal health and slow neurodegeneration of diseases, such as Alzheimer's, Parkinson's and Dementia.
"Our late-stage asset, ATH-1017, is designed to act on a naturally occurring mechanism, known as hepatocyte growth factor (HGF) and its receptor, MET, to restore, rebuild and retain nerve connectivity in the brain," Mark Litton, Ph.D., president and CEO of Athira, says in an interview with BioTuesdays.
"The well-established HGF/MET pathway is critical to normal brain function and is compromised in Alzheimer's and other neurological diseases." While stable MET expression is a signature of a healthy human brain, numerous studies have shown that dysregulation of HGF/MET could be implicated in brain pathologies.
"Our biology represents a novel approach to improving the connection between nerve cells," he adds.
Dr. Litton says ATH-1017 is a small molecule prodrug, administered via subcutaneous injection. It is immediately converted into an active metabolite in the plasma that crosses the blood-brain-barrier and has the potential to positively modulate HGF/MET. ATH-1017 has a half-life of about 90 minutes, "yet we still see pharmacodynamic effects after the drug is gone," he adds.
"In non-clinical studies, when you add HGF to nerve cells, studies have shown that nerves immediately start branching out in a process called neurogenesis, which is important in Alzheimer's disease (AD). HGF also can protect nerve cells from dying and has anti-inflammatory properties. Another benefit of HGF is that it modulates the NMDA neurotransmitter, including improving the synaptic current."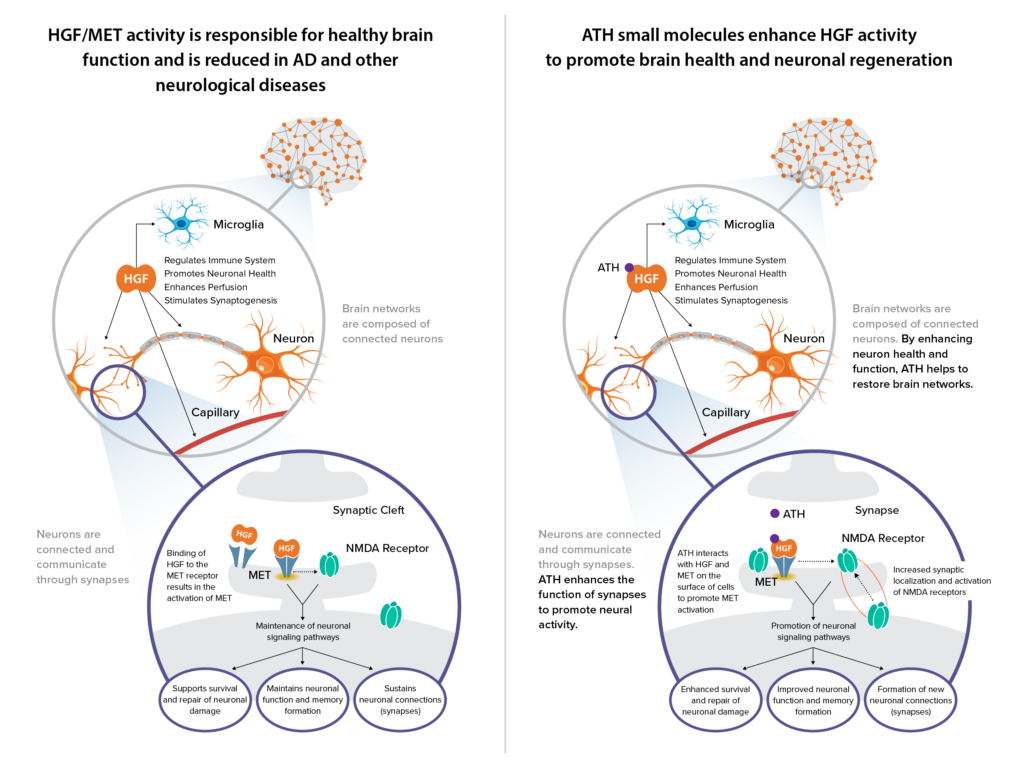 In 2019, Athira reported results from a Phase 1 study that included a cohort of 11 AD patients, of which seven treated with ATH-1017 demonstrated a statistically significant improvement of event-related potential (ERP) P300 latency, a functional measure of working memory processing speed, over eight days. Athira went public in 2020.
"Our strong balance sheet, with cash of $339.4-million as of Sept. 30, 2021, will support our clinical programs through upcoming key inflection points," Dr. Litton contends.
Athira is currently evaluating ATH-1017 in the ACT-AD Phase 2 study in mild-to-moderate AD dementia. Enrollment was completed in October 2021 with 77 participants at 14 sites in the U.S. and Australia. Participants were randomized to receive doses of either 40 mg or 70 mg of ATH-1017 or placebo. The primary endpoint is working memory processing speed, while secondary endpoints will measure cognition, function and behavior.
"Our goal is to rapidly improve cognition rather than wait years for slowing down disease progression," he adds. The company is on track to report top-line data from ACT-AD in the second quarter of 2022.
ATH-1017 also is being evaluated in the LIFT-AD Phase 3 study in mild-to-moderate AD, which may provide statistical evidence to support a registration application. "We hope to leverage insights from the ACT-AD trial results this year to optimize the analysis plan for LIFT-AD," Dr. Litton says.
He points out that enrollment in the LIFT-AD study is progressing well, with more than 200 participants currently enrolled. The 26-week study is randomizing subjects to receive doses of either 40 mg or 70 mg of ATH-1017 or placebo. "We are increasing enrollment to 420 participants from 300 in order to strengthen the statistical power of key secondary endpoints, which include cognition, function and behavior."
The primary endpoint is the Global Statistical Test, which is a composite score that combines evidence from two key endpoints to determine if treatment with ATH-1017 is working. One potential pathway for success of LIFT-AD is statistical significance on the primary endpoint and on two of the secondary endpoints.
Athira expects to complete enrollment of the LIFT-AD study in the third quarter of 2022, with a top-line data readout in the first half of 2023.
In July 2021, Athira began enrolling patients from its ACT-AD and LIFT-AD trials into a six-month open label extension study with ATH-1017 to further assess safety and efficacy. Study participants previously on placebo will now be able to receive up to 26-weeks of therapy with ATH-1017.
Dr. Litton says Athira is focusing on mild-to-moderate AD rather than pre-dementia because patients with mild disease are known to decline rapidly into moderate disease. That's not always the case with pre-dementia patients, where there is less certainty about their progression into mild AD, he adds. In addition, currently marketed drugs in mild-to-moderate AD demonstrate only modest efficacy improvement.
According to the Alzheimer's Association, more than 2.5 million mild-to-moderate AD patients in the U.S. are being treated with therapies. Approximately, 900,000 new AD patients are diagnosed annually in the U.S. alone.
A market research analysis by ClearView Healthcare Partners suggests favorable reaction and receptivity to ATH-1017 base case target product profile as a potential "first-line therapy to improve cognition."
Beyond Alzheimer's, Athira also is evaluating ATH-1017 in the Phase 2 SHAPE trial in mild-to-moderate Parkinson's disease dementia (PDD) and dementia with Lewy bodies (DLB), a disease associated with abnormal deposits of a protein called alpha-synuclein in the brain. These deposits, called Lewy bodies, affect chemicals in the brain whose changes, in turn, can lead to problems with thinking, movement, behavior and mood.
Athira initiated dosing of the SHAPE study at the end of January 2022, with plans to enroll up to 75 mild-to-moderate PDD or DLB subjects. The 26-week study will randomize subjects to receive doses of either 40 mg or 70 mg of ATH-1017 or placebo. "This is a proof-of-concept trial to understand the potential of ATH-1017 beyond Alzheimer's disease," Dr. Litton suggests.
SHAPE's primary endpoint is achieving statistical significance on the Global Statistical Test, by combining ERP P300 latency and the Alzheimer's disease assessment scale-cognitive 13 test, and safety. The study also is designed to show trends on either cognition and/or motor function.
Nearly one million people in the U.S. are living with PD and approximately 50% of PD patients experience dementia symptoms, according to the Parkinson's and Alzheimer's associations. DLB is the third most common cause of dementia, accounting for 5% to 15% of all dementia cases globally. And the economic burden of PD was $52-billion in the U.S. as of 2017.
ClearView Healthcare Partners' initial market research also suggested that ATH-1017 base case target product profile has the potential to "address an overlooked and underserved PDD and DLB patient population."
Beyond ATH-1017, Athira has two early-stage programs – ATH-1020 and ATH-1019 – in neuropsychiatric disorders, including depression and schizophrenia; and peripheral indications, including neuropathic pain, respectively.
The company submitted an IND for ATH-1020 in the fourth quarter of 2021 and hopes to dose the first volunteer in a Phase 1 study in the first quarter of 2022. The study will evaluate safety, tolerability and pharmacokinetics in about 68 healthy young and elderly subjects.
Dr. Litton says ATH-1020 is a once-daily, oral formulation of a brain-penetrant small molecule that is also a positive modulator of HGF/MET. Preclinical data have demonstrated that enhancing HGF/MET activity has anti-depressant and anti-anxiety effects.
"Our novel approach is focused on restoring and repairing neuronal connections that are not functioning properly in a variety of neurological and neuropsychiatric diseases," he adds.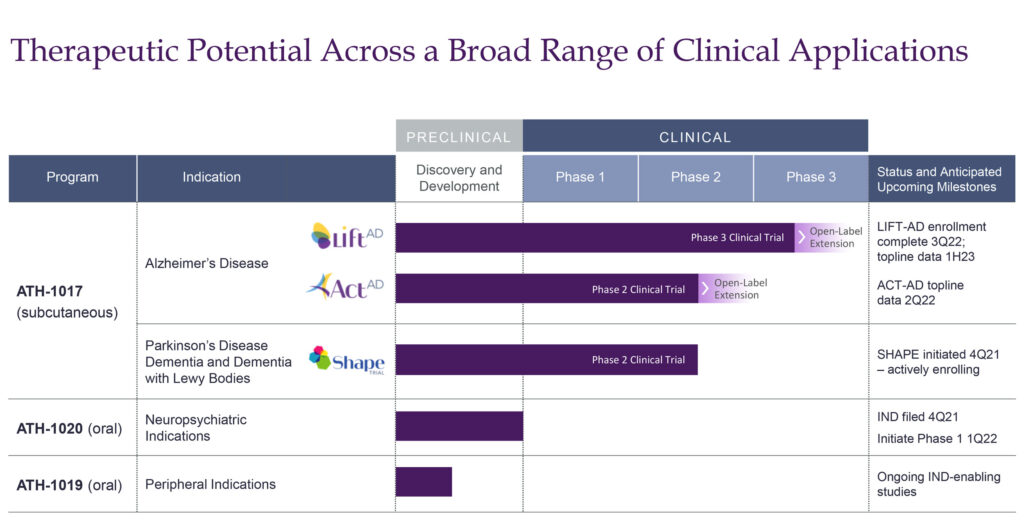 • • • • •
To connect with Athira or any of the other companies featured on BioTuesdays, send us an email at editor@biotuesdays.com.