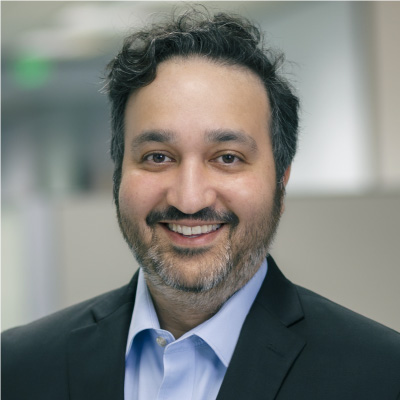 Rani Therapeutics (NASDAQ:RANI) is developing a disruptive technology to solve the problem of converting biologic injectable drugs, including antibodies, peptides and proteins, into oral therapies with its RaniPill that bypasses destruction in the stomach to deliver its payload to the vascular intestinal wall in the GI tract.
"This is not a new idea, although previous attempts were based on chemistry and about 99% of the drug was destroyed before it achieved any meaningful absorption," Talat Imran, CEO of Rani, says in an interview with BioTuesdays.
"We have taken a different approach, using technology with the RaniPill, instead of chemistry and we are getting bioavailability and absorption rates that rival subcutaneous injection of biologics," he adds.
Mr. Imran, a former venture capitalist and former VP of corporate strategy for Rani, says patients prefer pills over injections.
According to a Frost & Sullivan research report commissioned by Rani, 88% of rheumatoid arthritis patients would prefer a daily pill to a bi-weekly injection of Humira and 38% of diabetes patients miss four or more injections per week.
Other studies have found similar concerns. For example, the most commonly reported barrier to maintaining an injectable medication is injection concerns, such as aversion to needles, pain, or needle size. "We see the potential to take meaningful market share, moving patients to the convenience of a pill," he adds.
Rani, which went public in August 2021 has a strong IP portfolio for its technology, with more than 270 patents filed and more than 160 patents issued or allowed as of March 2021.
The company has five core early programs with its RaniPill capsule, which is similar in size to a fish oil or calcium pill, and two diabetes programs that are targeted for partnerships.
The core programs include:
Octreotide for acromegaly or neuroendocrine tumors in the GI tract. Acromegaly is a hormonal disorder that develops when the pituitary gland produces too much growth hormone during adulthood.
TNF-alpha inhibitors for psoriatic arthritis.
Parathyroid hormone for osteoporosis.
Human growth hormone for its deficiency.
And parathyroid hormone for hypothyroidism, a condition where the body produces abnormally low levels of the hormone, which regulates and maintains a balance of calcium and phosphorus.
Biologics are among the top-selling therapeutics on the market, making up eight of the top 10 selling drugs. All biologics are injected using either subcutaneous, intramuscular or intravenous routes.
The global biologics market reached sales of $250-billion in 2020, of which the total addressable market for Rani's pipeline is $56-billion plus initial market opportunities targeting multiple markets across multiple diseases.
Mr. Imran explains that RaniPill is protected by a polymer coating that prevents disintegration by highly acidic gastric acid in the stomach. After passing through the stomach and arriving in the small intestine, the coating and capsule begin to break down in response to the more alkaline intestinal fluid. The capsule fully dissolves by the time it reaches the second segment of the small intestine.
Mr. Imran says the delivery mechanism is composed of a balloon containing two reactants separated by a pinch-valve. The valve dissolves when it makes contact with intestinal fluid, enabling the reactants to mix and generate CO2 gas, which inflates the balloon and orients the device.
Pressure inside the balloon rises high enough to depress the plunger of a micro-syringe embedded within the balloon and inject a drug-filled needle composed of a dissolvable polymer directly into the intestinal wall, he adds.
After the drug is injected, the balloon deflates and the remnants of the delivery mechanism are passed through the rest of the GI tract and excreted. The needle dissolves within 10 minutes in the moist tissue environment and releases the contained drug to be absorbed by the highly vascularized intestinal wall.
"There are no sharp pain receptors in the gut so you don't feel the injection and we confirmed this in our Phase 1 study with octreotide," Mr. Imran adds.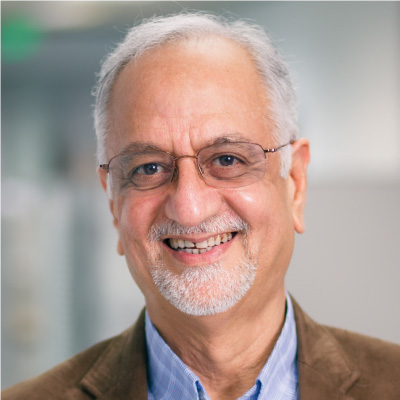 Mir Hashim, SCO of Rani, says the microinjector technology has been assessed in multiple preclinical studies, with canines and pigs, and three endoscopic studies in the small intestine between the duodenum and ileum. Repeat safety studies also have been conducted for daily delivery up to seven days, with no evidence of tissue damage.
In its preclinical program, the company has assessed five peptides, four antibodies and one large protein in single- and-repeat-dose studies, achieving high bioavailability and no serious adverse events. In addition, there were no GI abnormalities associated with oral administration of the RaniPill capsule, Mr. Hashim points out, adding that the "preclinical data from the canine model may translate well to human clinical development."
The company also has assessed two peptides and one antibody in five human studies with healthy volunteers, again finding high bioavailability and no serious adverse events, Mr. Hashim says. "Most importantly, we met all safety endpoints, including the ability to swallow RaniPill, no sensation when RaniPill deployed, and the ability to pass the capsule remnants.
Rani will be initiating a repeat dose platform study in 2022 to establish the bioavailability of RaniPill and two Phase 1 studies in healthy volunteers with osteoporosis and growth hormone deficiency. In 2023, the company plans to conduct two Phase 1 studies in psoriatic arthritis and hypo-parathyroidism.
Mr. Imran says Rani also is pursuing an investigational device exemption (IDE) study to establish a RaniPill master file with FDA for its platform technology to be incorporated in future IND applications.
The IDE study, which is based on a pre-submission meeting with the FDA's Center for Devices and Radiological Health, is designed to evaluate the safety and reliability of the RaniPill, using a non-drug tracer with 40 healthy adults aged 18-to-50 dosed for eight weeks.
"If we get any of our assets across the finish line, we'll be in great shape because the market potential is huge," Mr. Imran says. "There are more drugs out there that we could possibly put on the platform, so some of that will happen with partners or down the road."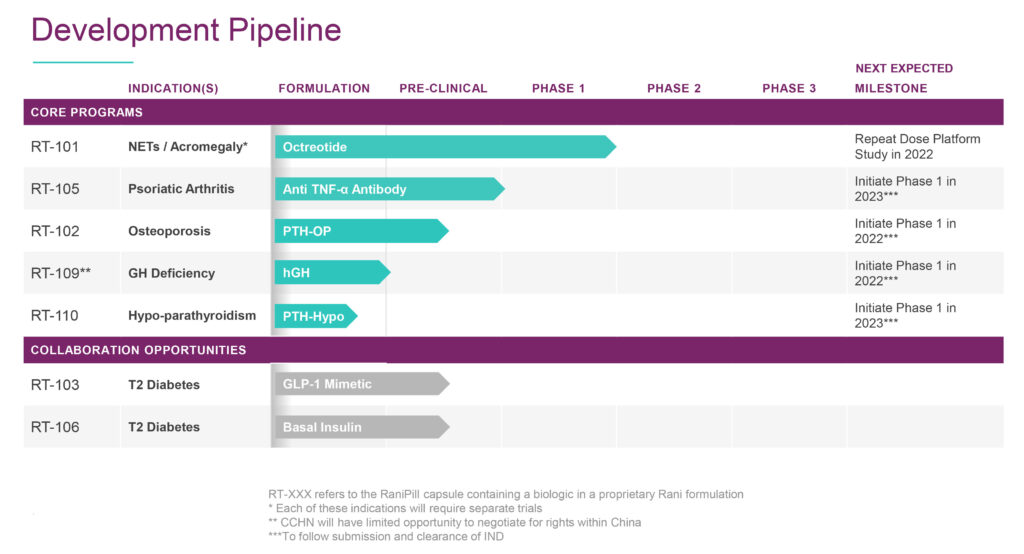 • • • • •
To connect with Rani Therapeutics or any of the other companies featured on BioTuesdays, send us an email at [email protected].