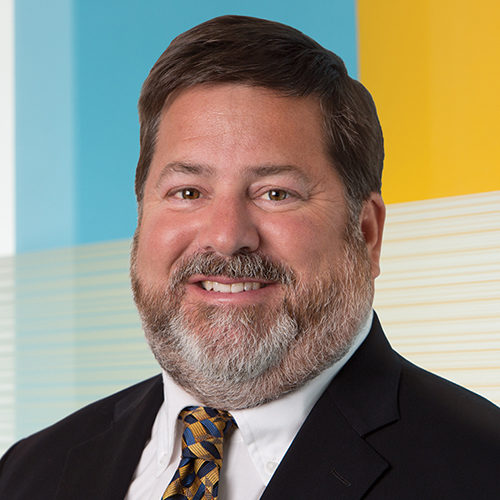 Recently launched Lanier Biotherapeutics is developing specialty biologic treatments for indications in multifunctional retina, dermatology and Type 2 inflammation diseases.
"We were born out of an antibody drug discovery platform where angels had invested $12-million to uncover multiple proprietary antibody families, with the ultimate goal of improving the way we survive, age, and live," Daniel White, president and CEO of Lanier, says in an interview with BioTuesdays.
"Our portfolio is focused on two lead programs – a bio better of anti VEGF antibody like aflibercept combined with our proprietary anti IL-17A; and a first-in- class anti IL-25 that no other company has targeted to date – that reach into many different platforms to give us multiple shots on goal," he adds.
Lanier's drug candidates include LNR 653.1, a fully humanized anti-VEGF/IL-17A multifunctional antibody for the treatment of retinal neovascularization diseases while at the same time treating underlying inflammation and provided protection to the retinal nerve layer; and LNR 125.38, a fully humanized anti-IL25 monoclonal antibody for the treatment of Type 2 Inflammatory diseases like asthma, atopic dermatitis, chronic rhinosinusitis with nasal polyps, and eosinophilic esophagitis.
"We are also prioritizing a portfolio of nine additional proprietary antibody families supported by a novel antibody discovery platform," he adds. "And we are maximizing current partnerships and future collaborations with our immuno-oncology platform."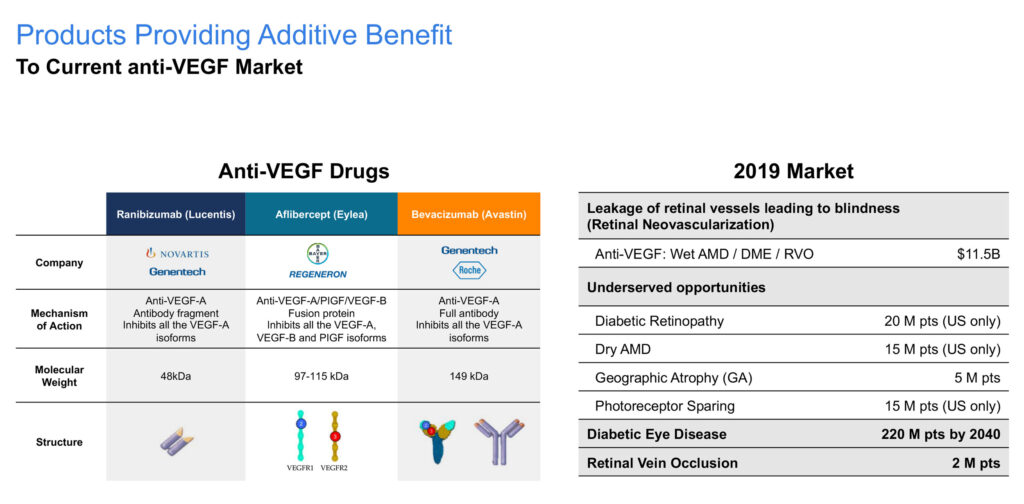 Mr. White explains that in Lanier's multifunctional retina program, combining IL-17A, which Lanier discovered, with Regeneron Pharmaceuticals' aflibercept, or Eylea, has opportunities in wet age-related macular degeneration (AMD), diabetic macular edema (DME) and retinal vein occlusion (RVO).
"IL-17A also has shown promise in dermatology, including psoriasis, atopic dermatitis and chronic urticaria," he adds.
In its Type 2 inflammation program, Mr. White says the company's anti-IL25 monoclonal antibody has opportunities in moderate-to-severe bronchial asthma rhinovirus, chronic sinusitis and nasal polyps, and eosinophil esophagitis and gastritis.
Lanier also has a library of immuno-oncology programs, including a current license relationship with Molecular Templates (NASDAQ:MTEM), which is in the clinic testing Lanier's antibody-drug conjugate (ADC) PDL1 checkpoint inhibitor in positive tumors. The company also has partnered two other immuno-oncology antibodies.
Lanier, which was founded by combining the businesses of two closely-held companies, Biophtha and Abeome, with bridge financing from investors, including founders Kirby Alton, Ph.D., a former SVP of development at Amgen, and Mr. White, the former CEO of Clearside Biomedical.
After closing a $1-million bridge round and receiving a $1-million in milestone payments from multiple license partners to launch Lanier, the company now is seeking to raise $20-million in a B round to scale up LNR 653.1 and LNR 125.36, build an executive team and continue research and development of the two compounds.
Additional financing could be required in late 2022 or early 2023, followed by a possible IPO at the end of its first Phase 1/2 trial in 2024, if all goes according to plan, Mr. White suggests.
Mr. White considers aflibercept injections to be the current gold standard for the treatment of AMD. However, he points to problems with anti-VEGF (vascular endothelial growth factor) injections. Among other things, he notes that only 30% of wet AMD patients gain superior vision of three lines, while the true gain is four-to-six letters.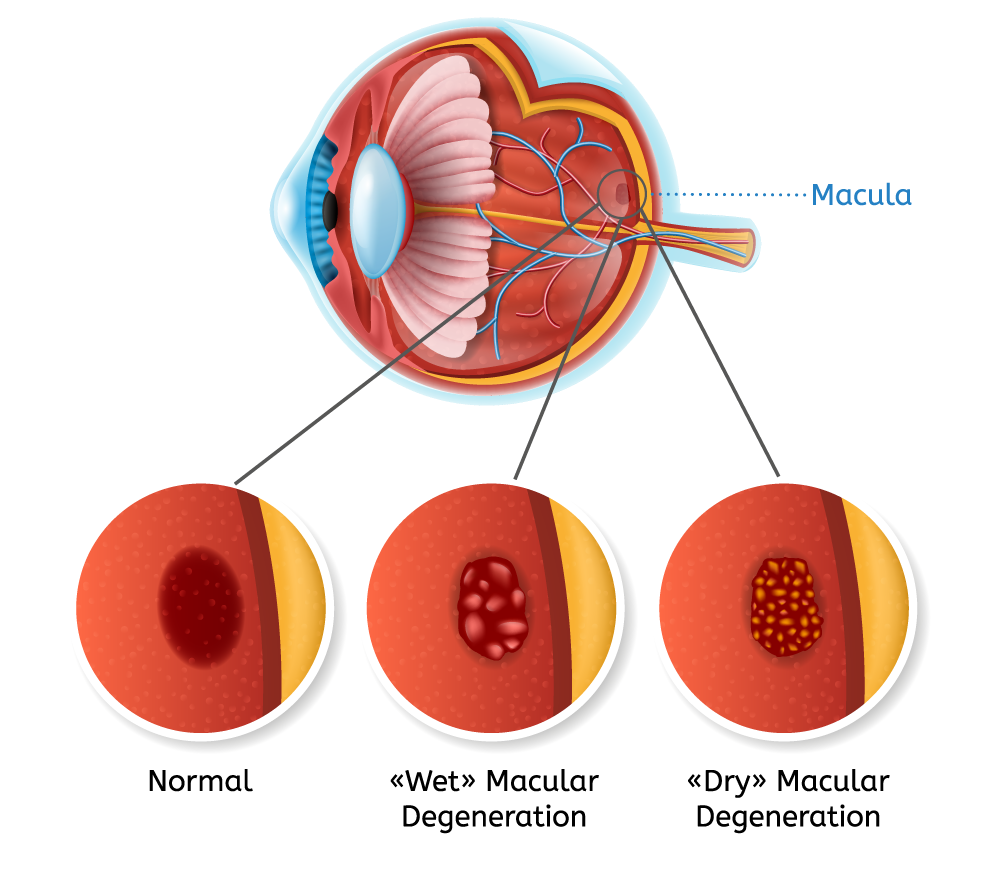 In addition, 50% of wet AMD patients develop geographic atrophy (or dry atrophic AMD) over multiple injections. And in DME, only 50% of patients fully resolve their macular edema with treatment.
"We believe the greatest opportunity for wet AMD, DME and RVO is using a multifunctional approach introduced early in the treatment regimen of patients."
Lanier's research has demonstrated that, among other things, increased serum levels of IL17 are found in patients with wet AMD, compared with healthy individuals; a retinal toxic effect of IL17 occurs in the pathogenesis of AMD; IL17A induces death of retinal pigment epithelium cells; and IL17A blocking restores retinal pigment epithelium cells and rescues photoreceptors in a certain process of apoptosis, Mr. White says.
The company's retinal development program includes scale up of GMP batches of LNR 653.1 in 2022, completing an IND-enabling program in 2023 in order to test LNR 653.1 in retinal patients in 2024.
"We think we have the potential for a successful treatment because IL17A and aflibercept are powerful elements for a combination therapy," Mr. White suggests.
In its Type 2 inflammation program with LNR 125.38, Lanier's development program is expected to follow the timelines in its retinal program.
Mr. White explains that blocking epithelial cytokines like IL25 rather than Type 2 cytokines, such as IL4, IL5 and IL13, which are commonly found in marketed products, is a new approach for treatment of exacerbation of symptoms in uncontrolled asthma patients caused by both allergens and rhinovirus.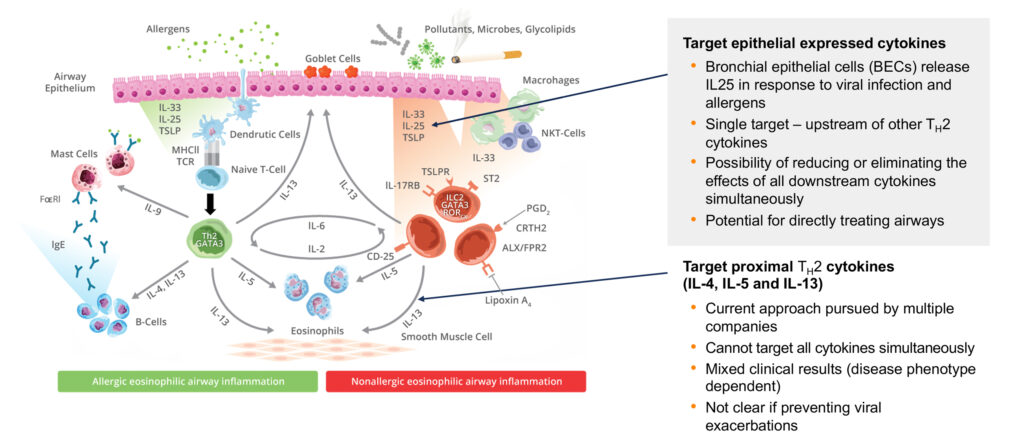 Mr. White points out that bronchial epithelial cells have been shown to release IL25 in response to viral infection and allergens, and a substantial body of research validates IL25 as a culprit in asthma. On the other hand, IL4, IL5 and IL13 cannot target all cytokines simultaneously; have mixed clinical results; and may not prevent viral exacerbations.
"We are the only company in the world that has been able to identify that going after circulating IL25, associated with basal cells in the lung, puts us at the forefront of a potential first-in-class treatment for Type 2 inflammatory diseases," he says.
Mr. White contends that with LNR 125.38, "we believe we can play a role in the management of Type 2 inflammation, initiated not only from allergic high eosinophil counts, but also caused by rhinovirus or pollutants in patients with either high or low eosinophil counts."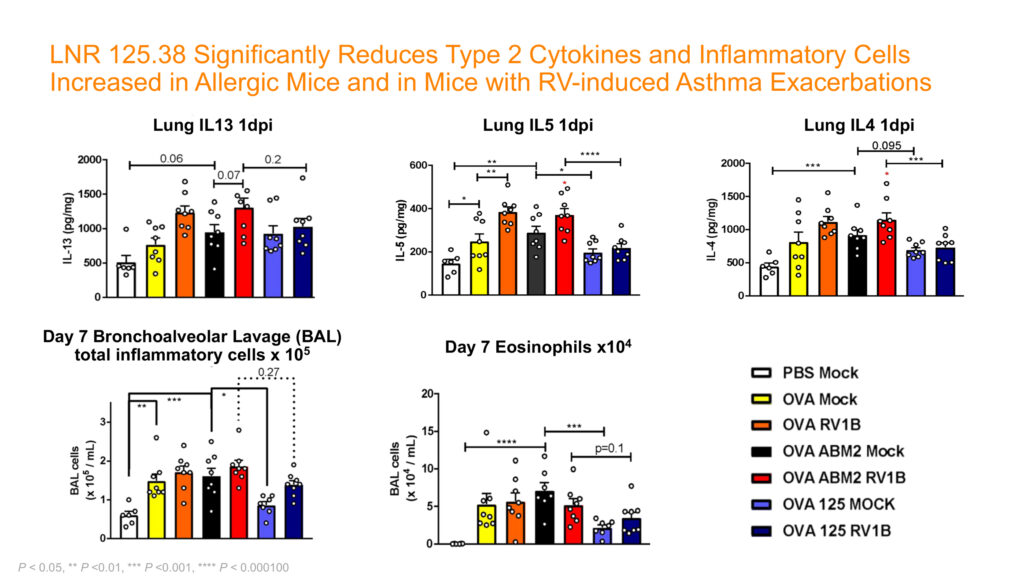 Citing the uniqueness of its proprietary antibody, LNR 125.38, Lanier believes that blocking IL25, which is a member of the IL17 family, as a single target upstream of certain cytokines has the potential to reduce or eliminate the effects of both allergic and antiviral cytokines simultaneously in a single medication.
In addition, Mr. White suggests that blocking IL25 also targets initiation of the exacerbation, "potentially treating a broader subset of patients than current biologics." In addition, non-clinical data of LNR 125.38 has demonstrated an improvement in lung fibrotic disease, he adds.
In its dermatology program, Lanier is pursuing an anti-IL17A/anti-VEGF multifunctional antibody against plaque psoriasis and LNR 125.38 for atopic dermatitis.
Mr. White says psoriatic skin is characterized by high expression of IL17A and IL17F, which act on immune and non-immune cell types and strongly contribute to tissue inflammation. "Functional testing of our proprietary anti-IL17A antibody demonstrates potency and best-in-class efficacy, similar to market leaders Cocentyx and Taltz."
In addition, IL25 is a key driver of inflammation in other Type 2-driven inflammatory disease, he points out.
According to a study in the Journal of Investigative Dermatology in 2013, IL25 expression is significantly increased in skin lesion biopsies from patients with atopic dermatitis and psoriasis, compared with normal skin, and mutations in filaggrin are associated with the development of impaired skin barrier in atopic dermatitis.
Filaggrin is a filament-associated protein that binds to keratin fibers in epithelial cells. The study also found that IL25 acts synergistically with IL4 and IL13 to inhibit filaggrin expression.
In its immuno-oncology program, Lanier plans to partner its extensive inventory of co-stimulating agents and checkpoint inhibitors. The furthest along collaboration is focused on Molecular Templates' engineered toxin bodies (ETBs) combined with a Lanier proprietary PD-L1 checkpoint inhibitor, Mr. White says. ETBs represent a new class of targeted therapy with unique biological properties.
Lanier has received an initial milestone payment from Molecular, Mr. White says, adding that Lanier expects to see some top-line data from a Molecular's Phase 1 study in relapsed/refractory patients with PD-L1 expressing tumors by the end of this year.
"Although we are a young company and just introducing our innovations to investors, we're building a biotech company that meaningfully provides solutions for complex diseases," Mr. White says. "The things we want to accomplish is how do you see better, breath better and live better."
Editor's Note: This article does not constitute an offer to sell or the solicitation of an offer to buy any securities of Lanier Biotherapeutics, and shall not constitute an offer, solicitation or sale of any security in any state or jurisdiction in which such offer, solicitation or sale would be unlawful prior to registration or qualification under the securities laws of any such state or jurisdiction.
• • • • •
To connect with Lanier or any of the other companies featured on BioTuesdays, send us an email at [email protected].