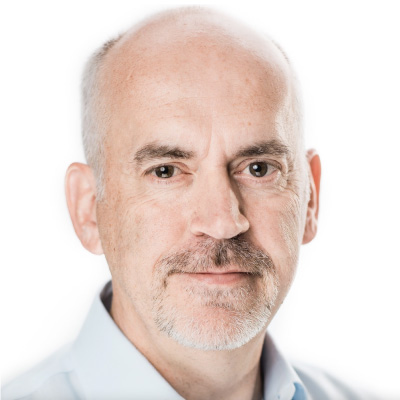 NervGen Pharma (TSX-V:NGEN; OTCQX:NGENF) is developing a new class of drugs that repairs damage to the nervous system and restores motor, sensory and cognitive function to diseases where there are currently no approved-neurorestorative drugs.
"Our platform technology has the potential to restore the function and therapeutic outcomes for all central nervous system damage, including multiple sclerosis, Alzheimer's disease, spinal cord injury, stroke and traumatic brain injury," Paul Brennan, president and CEO of NervGen, says in an interview with BioTuesdays.
"Most drugs in development today are attempting to stop progression of these diseases; our approach is neurorestorative, without using stem cells."
Mr. Brennan points out that another area of differentiation is that NervGen's platform technology consists of multiple mechanisms of action and modes of repair, including axonal regeneration, remyelination and enhanced plasticity.
"Published results from animal models of damage and disease are unprecedented, both in scope and magnitude of effect, including for spinal cord injury, MS, stroke, cardiac arrythmia and peripheral nerve injury," he contends.
According to Mr. Brennan, NervGen's lead product, NVG-291, is the only drug of its kind in clinical development, with the potential to redefine therapeutic outcomes for all central nervous system damage.
"The breath of activity sets NVG-291 apart from other CNS products in development," he adds.
NVG-291 is an modulator of protein tyrosine phosphatase (PTP)-sigma, which has been shown to impede repair following injury to the nervous system. "We have demonstrated proven functional recovery in six different disease models with benefits crossing multiple neurological functions, such as fine and gross motor control, sensory function, autonomic functions, visual acuity and cognition," Mr. Brennan contends.
In 2022, NervGen plans to study NVG-291 in a Phase 1b/2 study in Alzheimer's disease, with a data readout before the end of 2021 from Phase 1 healthy volunteers receiving single ascending doses of NVG-291, and in early 2022 for volunteers receiving multiple ascending doses. Phase 2 studies in spinal cord injury and MS also are slated to begin in 2022.
Earlier this month, NervGen presented Phase 1 interim blinded data from its Phase 1 program that demonstrated NVG-291 was well tolerated and had favorable pharmacokinetic properties, exceeding Mr. Brennan's expectations. Among other things, NVG-291's calculated half-life in humans was longer than in rodent studies and, notably, was detected up to 12 hours post-dose.
NervGen's composition of matter patents and method of use patents extend into the late 2030s. The company also has exclusive worldwide rights to the technology for all indications from Case Western Reserve University.
Mr. Brennan explains that NervGen's technology was invented by Jerry Silver, Ph.D., a professor at Case Western and a globally recognized researcher of spinal cord injury. While Dr. Silver's work focused on spinal cord injury, NervGen recognized the broad potential across all central nervous system indications and licensed the technology before it became widely valued by pharma companies and investors, he adds.
Dr. Silver was the first to identify a class of molecules in the CNS called, chondroitin sulfate proteoglycans (CSPGs), which provide negative guidance to neural growth in early development so that neurons don't grow in the wrong direction. He then turned his attention to the glial scar, which the body forms in response to injury and disease to contain damaged tissue and preserve remaining nerve function.
In 2009, Dr. Silver with colleagues at Harvard identified the locking mechanism underlying the failure of neural repair. Specifically, they found that a key receptor on neural cells called, PTP-sigma, binds and locks to the CSPG protein matrix on the glial scar and is involved in multiple mechanisms that inhibit neural repair, Mr. Brennan points out.
He suggests that both CSPGs and the PTP-sigma receptor inhibit regeneration and sprouting of neurons; induce an inflammatory response in microglial cells; and inhibit oligodendrocytes from remyelination around neurons.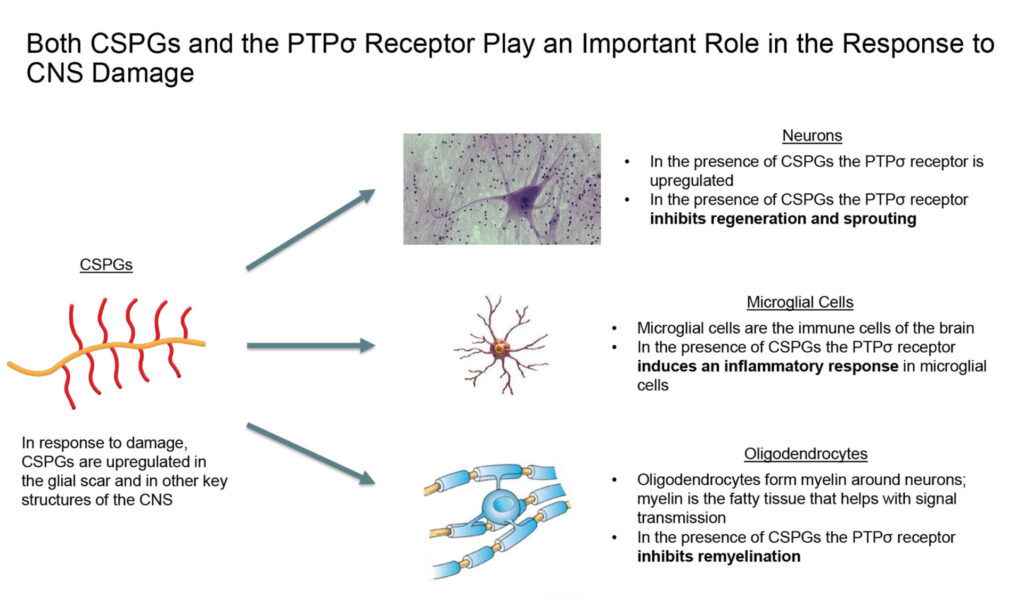 In 2012, Dr. Silver's graduate students identified a specific peptide that binds with the receptor and essentially prevents it from sticking to CSPGs, Mr. Brennan says. Among their findings was that axons are released from CSPGs when treated with NVG-291. In 2015, the compound and its potential to promote dramatic nerve repair in spinal cord injury were published in the peer-reviewed journal, Nature.
"What makes NVG-291 unique is that its pharmacological activity in animal models crosses multiple disease models and all major neurological functions," Mr. Brennan says, pointing to motor control in MS, acute spinal cord injury, stroke and peripheral nerve injury, among others.
He says CSPGs and the PTP-sigma receptor are conserved across species, both in structure and function, especially in the inhibition of repair following damage to the nervous system, and, "therefore, results in animal models should be relevant to humans."
That would be good news to MS patients, where there are no available treatments to improve function through remyelination, axonal regeneration or neuroplasticity.
According to a study published in 2017 in the peer-reviewed Multiple Sclerosis Journal, 58% of all MS patients are considered to have moderate disability, which would be NVG-291's initial target population of 474,000 in 2028.
In traumatic spinal cord injury, while some recovery may be possible following lengthy rehabilitation, Mr. Brennan points out that accumulation of CSPGs can limit the nervous system's ability to repair itself, heightening the need for treatments that promote repair and functional recovery after injury.
Last month, NervGen announced the formation of a spinal cord injury clinical advisory board comprised of five leading scientific and clinical researchers in the field that will work closely with the company as it prepares for its upcoming Phase 1b/2 clinical study.
Treatments for Alzheimer's disease also are limited and unsatisfactory, with no available therapies to improve cognitive deficits by enhancing synaptic function or neuroplasticity. The drug, Aduhelm, was approved in June 2021 as a disease-modifying treatment, although it remains uncertain whether it has meaningful effects on cognition, Mr. Brennan points out.
NVG-291's modes of action, including regeneration, remyelination and plasticity, all have the potential to benefit patients suffering from Alzheimer's disease, he adds.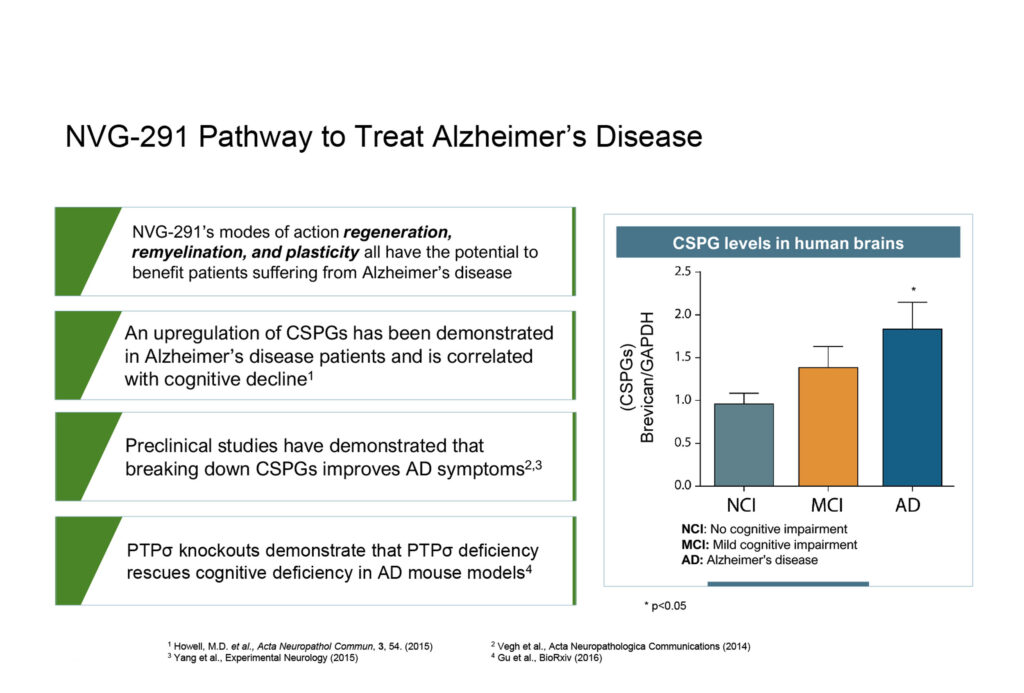 According to a study published in Acta Neuropathologica Communications in 2015, upregulation of CSPGs was demonstrated in Alzheimer's disease patients and is correlated with cognitive decline. And preclinical studies have demonstrated that breaking down CSPGs improves AD symptoms, according to studies published in 2014 and 2015.
"As we expect to be a Phase 2 company in 2022, one of our corporate goals is to uplist our shares to the Nasdaq exchange either in late 2021 or early 2022," he says.
"NVG-291 has the potential to be a disruptive technology, changing the way nerve damage is perceived and treated," Mr. Brennan says. "And our lead indications represent very attractive commercial opportunities, with a combination of specialty indications, such as spinal cord injury, and blockbuster indications, such as MS and Alzheimer's disease."
• • • • •
To connect with NervGen or any of the other companies featured on BioTuesdays, send us an email at editor@biotuesdays.com.