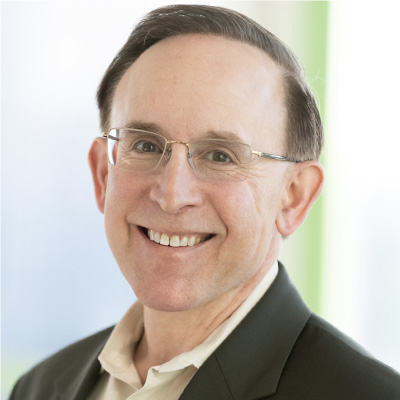 In a bid to counter the next great health crisis, ContraFect (NASDAQ:CFRX) is in late-stage development of a new modality to treat life-threatening and antibiotic-resistant infections, using direct lytic agents (DLAs).
"We are not an antibiotic company," Roger J. Pomerantz, M.D., says in an interview with BioTuesdays. "We use a very different approach with DLAs, which destroy bacteria from the outside-in rather than antibiotics that must bind to bacterial DNA, RNA or certain enzymes," he adds.
"As a new modality, we believe this is a paradigm shift in anti-microbials since there has been a 13-year void of new agents," he adds. "And going back more than 50 years for MRSA bacteremia, "nothing has moved the needle forward with a superior treatment."
Dr. Pomerantz explains that ContraFect has engineered lysins, a type of enzyme that digests bacterial cell walls and kills Gram-negative pathogens, including multi-drug resistant strains. The company also has discovered a new class of antimicrobial amurin peptides that have demonstrated potent activity across a broad range of resistant Gram-negative ESKAPE pathogens.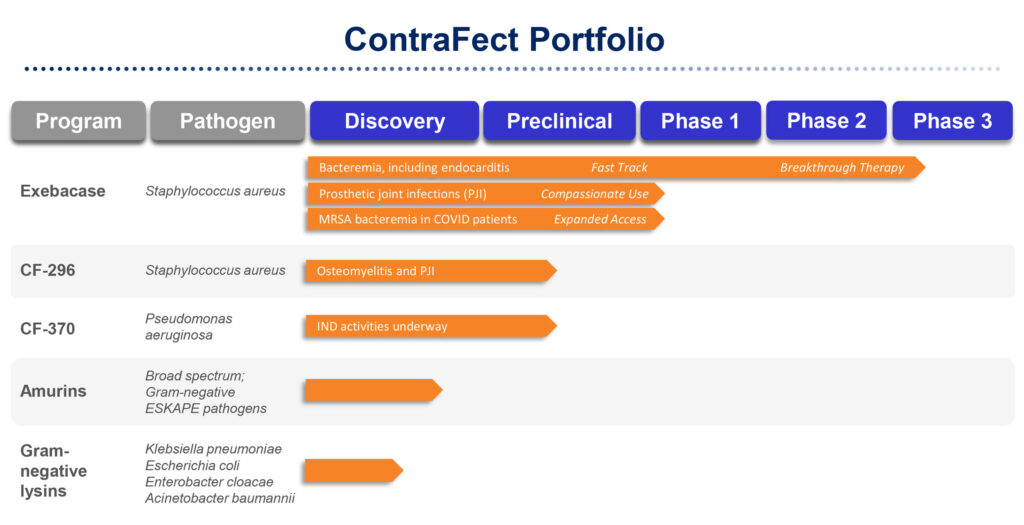 ContraFect's lead drug candidate, exebacase, is in an ongoing Phase 3 superiority study against standard-of-care antibiotics for the treatment of Staphylococcus aureus bacteremia, with the potential for an interim futility readout later this year and full data in 2022. Staph aureus is a bacterium found on people's skin, which can cause serious infections if it gets into the blood, and can lead to sepsis or death.
Standard of care is often antibiotic treatment with vancomycin or daptomycin for methicillin-resistant Staph aureus (MRSA) and semi-synthetic penicillin or first generation cephalosporins for methicillin-susceptible Staph aureus (MSSA). MRSA is often called a super bug.
According to Dr. Pomerantz, exebacase is the first investigational non-antibiotic anti-infective developed in the U.S. It has breakthrough therapy and fast track designations from the FDA. It also is being developed under a streamlined development pathway, making it eligible to file a biologics license application for regulatory approval on the basis of only one Phase 3 trial with compelling data.
In an earlier Phase 2 study, exebacase demonstrated a significant improvement in MRSA patient responder rates, with more than a 40% increase, compared with standard-of-care antibiotics alone.
In addition to favorable safety and tolerability in patients, exebacase reduced mortality, the median length of stay in hospital, and 30-day hospital readmission rate in MRSA patients in the Phase 2 study.
Exebacase also has a broad IP protection, with method claim patents for killing all Staph strains expiring in 2032 and method claims for treatment of Staph strain biofilms expiring in 2033.
Dr. Pomerantz points out that 35% to 40% of MRSA patients respond to standard of care and those that do not respond, have a 40% chance of never leaving a hospital. "The mortality in this disease is more like oncology than it is in infectious disease."
A 21-year research study of Staph aureus in the blood found increasing disease severity and increased rates of a highly virulent MRSA strain, known as USA300, which has led to increased metastatic infections and comorbidities. "We haven't discovered any superior treatment in decades, but the organism continues to evolve," he points out.
For its Phase 3 DISRUPT trial in the U.S., ContraFect hopes to enroll approximately 350 subjects randomized two-to-one with exebacase:placebo. The patient population includes subjects with Staph aureus in their blood, including right-sided endocarditis, a bacterial infection of the inner layer of the heart.
The primary efficacy endpoint will be clinical response at day 14 in patients with MRSA in their blood, including right-side endocarditis. An interim futility analysis at 60% of enrollment may occur before the end of 2021, or, if recent COVID impacts continue, in the first quarter of 2022.
The secondary and exploratory endpoints include a clinical response rate at day 14 in all Staph aureus patients, 30-day all-cause mortality in MRSA patients, clinical response rates at day 30 and day 60 and evaluations of the impact on healthcare, including length of time in the ICU and of hospital stay, and 30-day readmission rates.
ContraFect also is evaluating exebacase in Staph aureus prosthetic joint infection, which had an estimated cost of $1.6-billion to U.S. hospitals in 2020. The 2% to 3% infection rate after knee and hip procedures can soar to 50% in patients with a wide range or comorbidities.
In a collaboration with a leading hospital in Lyon, France, ContraFect has treated approximately 20 patients with chronic knee and hip infections in a compassionate use study, with intra-articular administration of exebacase.
"We had some remarkable outcomes and are now fast-tracking plans for a Phase 1b/2 trial in France with exebacase," Dr. Pomerantz says, adding that there has been no change in the standard of care for these patients "in my professional lifetime as an infectious disease physician-scientist."
ContraFect's next clinical candidate, CF-370, targeting the Pseudomonas aeruginosa pathogen is progressing through IND-enabling studies and "could be in front of the FDA before year end," Dr. Pomerantz suggests.
Also based on the company's lysin platform, CF-370 was engineered to improve the clinical response and cure rates for resistant Gram-negative infections. In vitro data demonstrated rapid, potent and targeted bactericidal activity; eradicated biofilms; and synergy with standard-of-care antibiotics. In vivo activity also was observed in animal studies.
In addition, CF-370 has shown potent activity against clinical isolates of Pseudomonas aeruginosa and Stenotrophomonas maltophilia from cystic fibrosis patients. The clinical isolates were obtained under a research agreement funded by the Cystic Fibrosis Foundation.
P. aeruginosa and S. maltophilia are present in more than 85% of cystic fibrosis patients with Gram-negative lung infection, the most prevalent pathogens other than S. aureus, according to a study in 2016. "We hope to initiate, and possibly complete, a Phase 1a/1b study, potentially in cystic fibrosis or other patient populations, in 2022." Mr. Pomerantz says.
"As we move towards a medical paradigm shift in treating antibiotic-resistant infections in the 21st century, I think the days of me-too drugs that are non-inferior to the standard of care are over," Dr. Pomerantz says. "Premium pricing for new drugs will be driven by three factors: superiority over standard of care; mortality benefits that save lives; and positive health economics.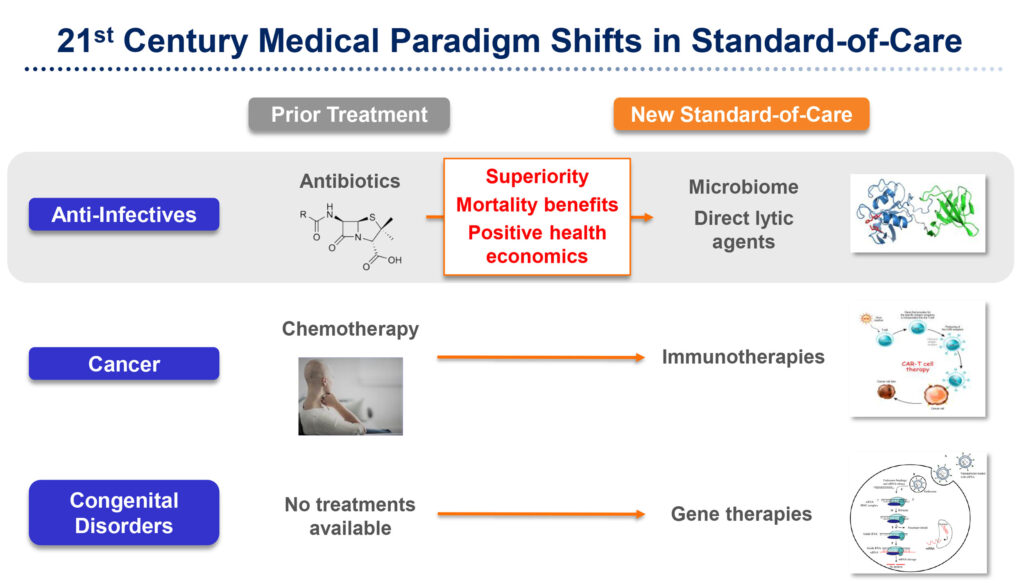 • • • • •
To connect with ContraFect or any of the other companies featured on BioTuesdays, send us an email at [email protected].