Aptevo Therapeutics (NASDAQ:APVO) has developed a broad portfolio of potential immuno-oncology therapies with multiple mechanisms of action from two differentiated bispecific and multi-specific antibody platform technologies: ADAPTIR and ADAPTIR-FLEX.
"We have multiple shots on goal starting with our lead candidate, APVO436, currently in a Phase 1b multi-part clinical trial for the treatment of acute myeloid leukemia (AML)," Marvin White, president and CEO, says in an interview with BioTuesdays.
"Behind APVO436, we have drug candidates designed for the treatment of solid tumors expressing tumor antigen 5T4; other solid tumors; and an affinity-optimized anti-CD3 for improved biodistribution to prostate tumors," he adds.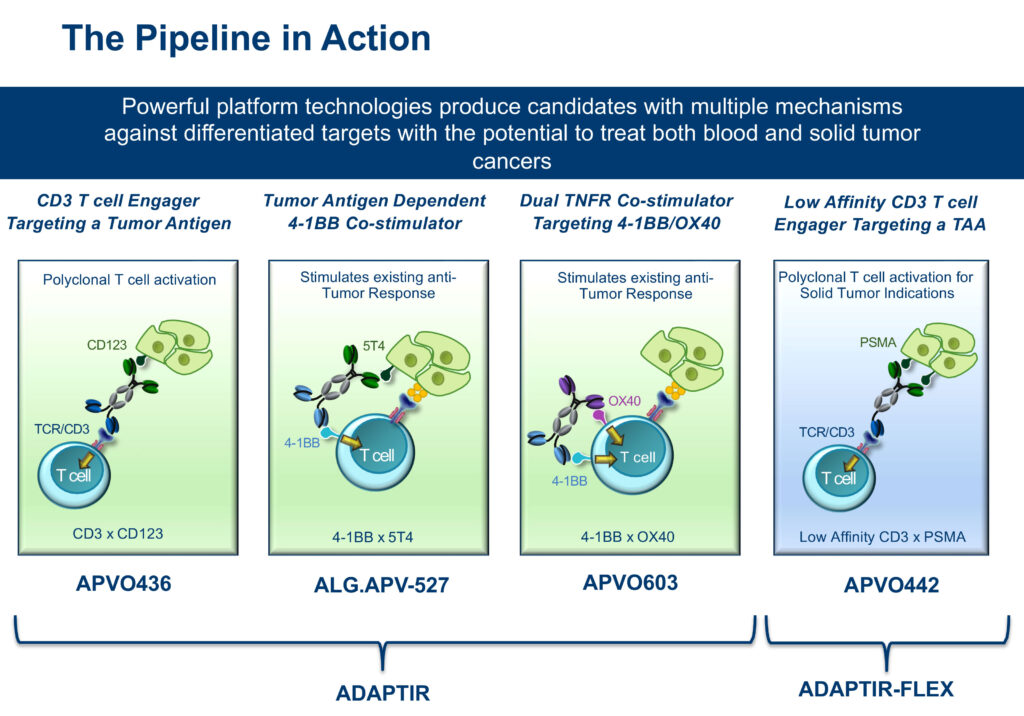 APVO436 is a recombinant protein engineered to redirect the host immune system to leukemic cells from patients with hematologic malignancies that express on their surface a protein known as the interleukin 3 receptor or CD123.
According to Mr. White, CD123 is a compelling target for AML because of its overexpression on leukemic stem cells and AML blasts. APVO436 has demonstrated an ability to engage T-cells via binding to CD3 to specifically kill tumor cells expressing CD123.
Mr. White explains that Aptevo's ADAPTIR technology platform is a differentiated homodimer bispecific technology, which is designed for multiple mechanisms of action. It has the potential to re-direct T-cell cytotoxicity; tumor directed co-stimulation of immune receptors to re-engage immune response; and dual receptor targeting that can stimulate or inhibit immune responses.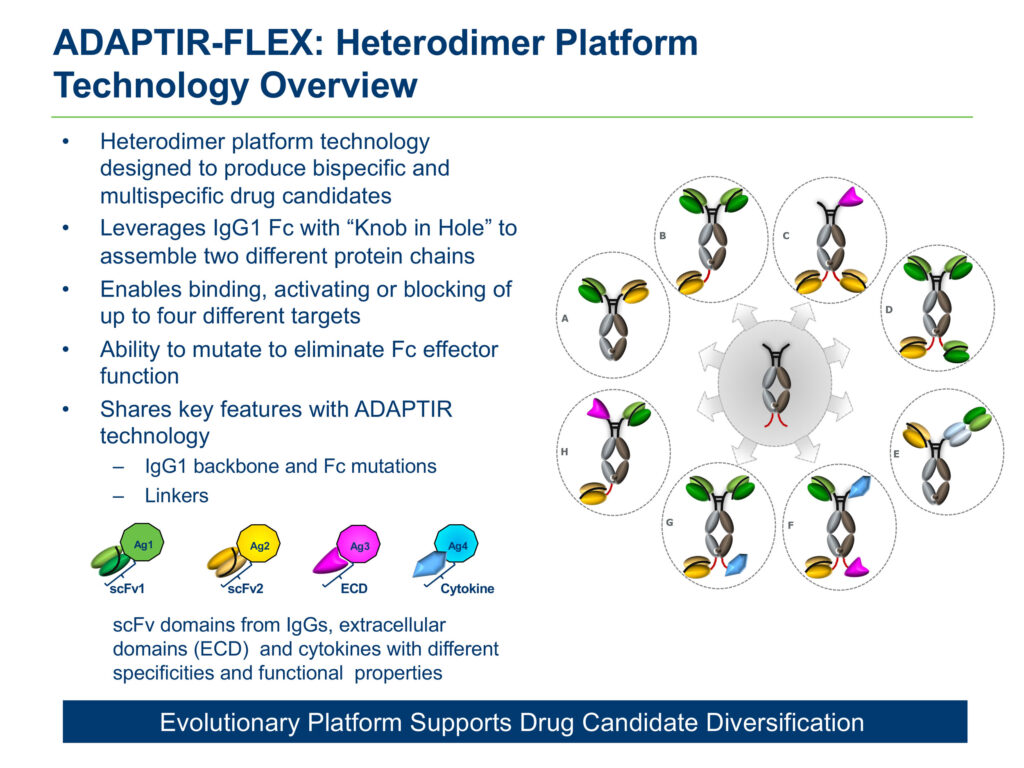 Aptevo also has developed a second platform technology, known as ADAPTIR-FLEX, which is designed to produce bispecific and multi-specific drug candidates, and enables binding, activating or blocking of up to four different targets.
In May, Aptevo unveiled positive results from its Phase 1a dose escalation trial evaluating its ADAPTIR drug candidate, APVO436, which has orphan drug designation from the FDA for AML. The Leukemia and Lymphoma Society has expressed interest in working with Aptevo on a future clinical trial that includes APVO436.
In the Phase 1a study, promising clinical activity was observed in 11 of 40 patients, or 27.5%, evaluable for efficacy. Eight of 34 relapsed AML patients showed favorable responses, including prolonged stable disease; more than 50% reduction of leukemic cell count in the bone marrow with clearance of leukemic cells from the blood; and partial and complete remissions. Seven of these eight patients with favorable responses had failed two-to-four prior lines of anti-AML therapy.
The study met its primary endpoint: identification of a recommended Phase 2 dose for further clinical development of APVO436. Mr. White says that of nine patients treated at the recommended dose level, four showed evidence of clinical activity, with two AML patients achieving a complete response.
"By advancing a lower dose of APVO436 that we know works, we may provide the foundation for a potentially more effective combination therapy and a new frontline regimen that is less likely to fail," he suggests.
In addition, APVO436 was generally well tolerated and demonstrated a favorable side effect profile, including the absence of severe or prolonged neutropenia, an often serious condition associated with CD123-targeting therapies.
Results of the Phase 1a study were published in August in the peer-reviewed journal, Cancers.
The Phase 1b study, currently enrolling, will have five concurrent expansion cohorts, with 18 patients in each cohort, including:
Cohort 1: Relapsed AML patients: Combination therapy in relapsed patients and those with primary, refractory AML with leukemia that failed to respond to frontline standard induction chemotherapy. Patients will be treated with the standard chemotherapy drug cytarabine or the standard chemotherapy triple drug combination MEC (mitoxantrone, etoposide, cytarabine) plus APVO436;
Cohort 2: AML patients in first relapse will receive a combination of APVO436 plus venetoclax plus azacitidine. Also included in this cohort will be newly diagnosed AML patients with a poor prognosis who will receive this novel combination as their frontline induction regimen
Cohort 3: AML patients with poor prognosis and with early first relapse (within one year of receiving frontline therapy) will receive frontline chemotherapy to induce a remission and APVO436 will be added if there is evidence of residual leukemia;
Cohort 4: Combination therapy in AML patients who are in first remission with residual leukemia (also known as minimal residual disease), will receive the standard drug oral azacytidine in combination with APVO436;
And Cohort 5: Monotherapy in AML patients who are in second remission with residual leukemia.
Patients will receive four weekly courses of APVO436 over four months. Results are expected in mid-2022.
According to the American Cancer Society, there are 21,000 new cases of AML a year in the U.S., with 10,500 deaths. New MDS cases each year are between 10,000 and 20,000, with one-in-three MDS patients progressing to AML.
The global AML market is expected to grow to $5.1-billion in 2029 from $1.4-billion in 2019 at a compound annual growth rate of 13.6%, according to a GlobalData survey in 2018. The U.S. accounts for 65% of total market share and is expected to continue to experience strong growth through 2029.
To fund its R&D in order to maximize non-dilutive funding opportunities, Aptevo has sold several non-core assets, including its RUXIENCE and IXINTY royalty streams and milestone payments. For example, Mr. White points to the sale of the RUXIENCE royalty stream to HealthCare Royalty Management for $35-million up front, plus additional milestones of up to $32.5-million.
Aptevo also is working to advance a second drug candidate, ALG.APV-527, into the clinic before the end of 2021. Aptevo and Alligator Bioscience of Sweden have a 50-50 ownership and co-development agreement for ALG.APV-527. It was formulated with Aptevo's ADAPTIR bispecific technology platform, combined with binding domains sourced from Alligator's library.
ALG.APV-527 is designed to simultaneously target the tumor antigen, 5T4, and the co-stimulatory receptor, 4-1BB, to promote potent, tumor-directed immune T-cell activation against solid tumors, including breast, non-small cell lung, prostate, renal, gastric, colorectal and bladder cancers. "The opportunity here is to treat multiple solid tumors expressing the 5T4 antigen," Mr. White says.
Aptevo also is developing two preclinical drug candidates: APVO603, for solid tumor indications, and APVO442, a novel immunotherapy designed for prostate cancer, which is the first compound based on Aptevo's ADAPTIR-FLEX platform technology.
Mr. White explains that APVO442 is designed to minimize binding to circulating T-cells and maximize distribution to prostate-specific membrane antigen (PSMA) solid tumors. PSMA is over-expressed on the membrane of aggressive forms of prostate cancer.
"While we have a lot of shots on goal, we are continuing partnering discussions with Big Pharma around our product candidates as well as our ADAPTIR and ADAPTIR-FLEX platforms," Mr. White says. "If the Phase 1b data for the five cohorts evaluating APVO436 is promising, I would expect those discussions to heat up."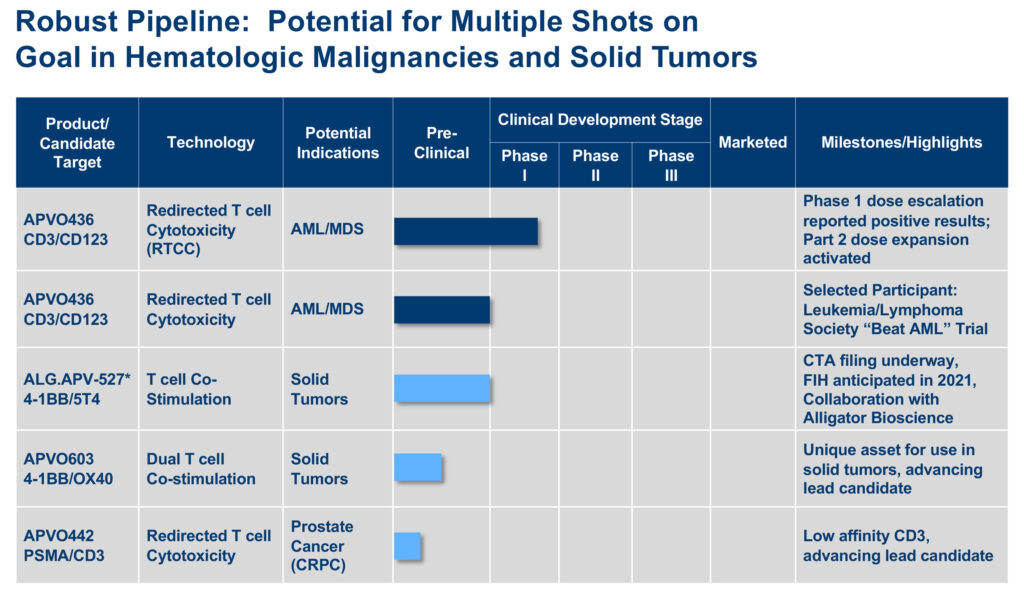 • • • • •
To connect with Aptevo or any of the other companies featured on BioTuesdays, send us an email at editor@biotuesdays.com.