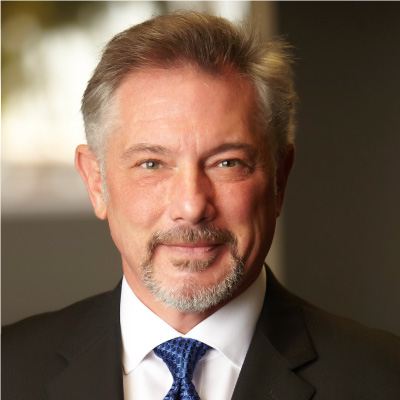 With an integrated portfolio of proven products and services that manage and treat obesity and metabolic disease, ReShape Lifesciences (NASDAQ:RSLS) is reshaping patients minds, bodies and lives.
"We have all the ingredients in place to deliver safe, effective and sustainable therapies that address a growing global health crisis associated with increased prevalence of obesity, associated COVID-19 risk factors and metabolic diseases, including diabetes, cancer and hypertension," Bart Bandy, CEO of ReShape, says in an interview with BioTuesdays.
Mr. Bandy points to the company's:
Established leadership with more than 150 years of collective, relevant experience;
Large addressable patient population, including 100% of the largest market segment of individuals with a body mass index of 27 (suggesting you are overweight) to 40 (suggesting morbid obesity);
FDA approved, reimbursed technologies and services;
Proprietary ecosystem that provides more patient options, with multiple revenue producing pathways that keep patients in the company's sales channel;
Digital therapeutics through reimbursed telehealth counseling from live engagement with certified health coaches
And their strategy for driving demand via enhanced Patient Direct Marketing to bolster existing revenue.
The plan seems to be working in spite of the pandemic overhang. Revenue for the second quarter this year doubled to $3.5-million from $1.7-million a year earlier, with the increase primarily due to greater U.S. sales. Sequentially, second quarter revenue climbed 10%, compared with the first quarter of 2021.
ReShape also addressed operational efficiencies by shifting manufacturing of its Lap-Band to a U.S.-based organization. Mr. Bandy says domestic gross profit margins are above 70% and are expected to improve with the manufacturing transfer.
The company's lead product, Lap-Band, which was FDA cleared in 2001, provides minimally invasive, long-term treatment of obesity and is an alternative to more invasive surgical stapling procedures, such as the gastric bypass or sleeve gastrectomy.
The Lap-Band is backed by more than 25 years of clinical evidence with more than one million procedures performed around the world. Outside the U.S., the device is currently distributed in Australia, the Middle East and the G5 countries, consisting of the UK, France, Spain, Italy, and Germany.
"Endorsed by many leading surgeons, the Lap-Band has unique advantages of being a FDA-approved laparoscopic weight-loss device, covered by most insurance plans and commercially available in the U.S. in hospitals and same day outpatient surgery centers," Mr. Bandy contends.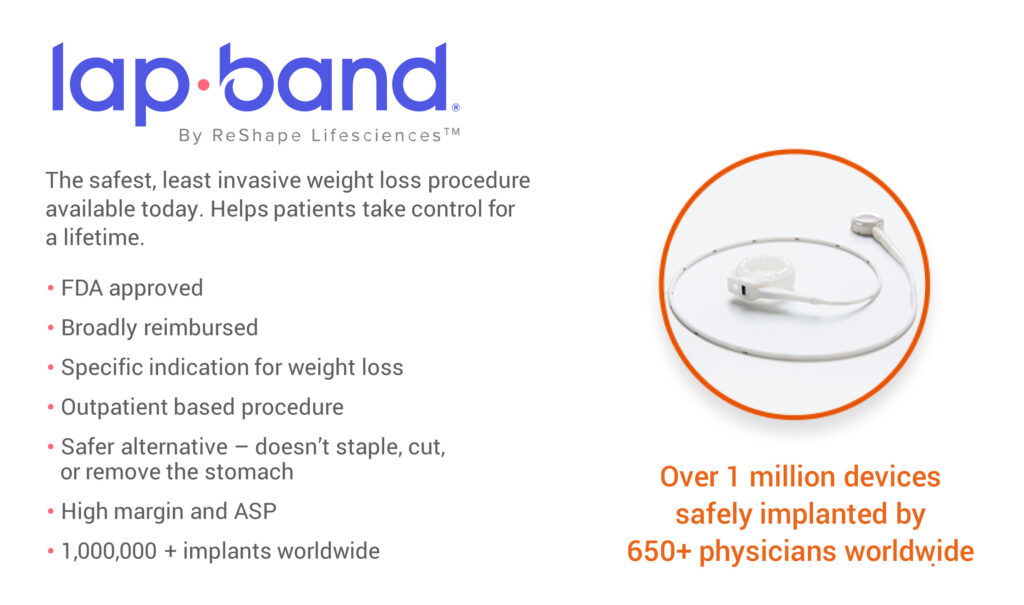 Mr. Bandy explains that Lap-Band is a minimally invasive, adjustable and reversible procedure that is placed around the upper stomach to limit food intake and promote a feeling of fullness. The device can be tightened or loosened, to optimize a patient's weight loss, customize their journey with individual life requirements (pregnancy, etc.) and sustain weight loss for the long term.
On the other hand, surgical stapling procedures are permanent, higher risk and include partial amputation of the stomach. Nutritional deficiencies are commonly associated with these procedures as well.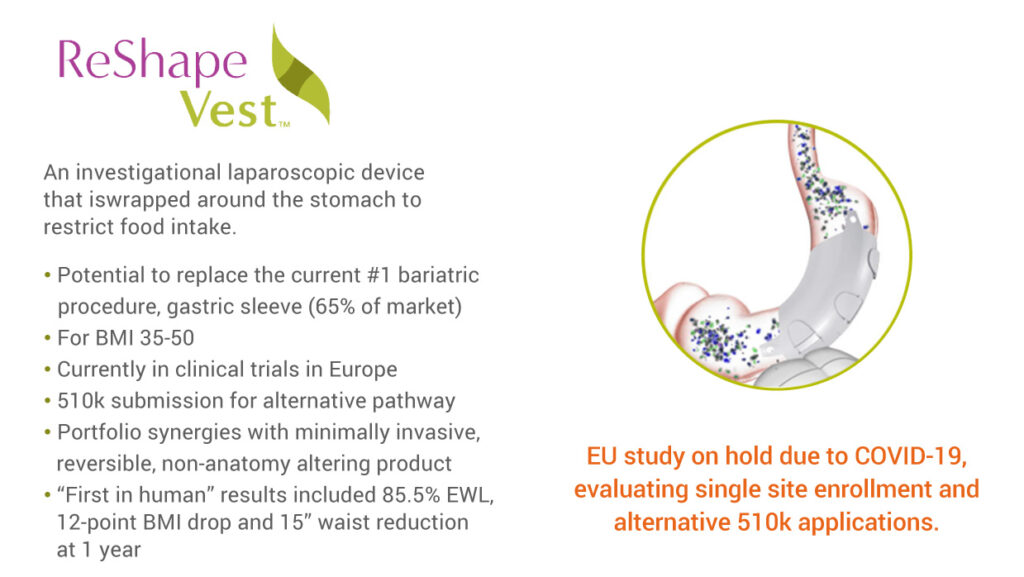 ReShape also has developed the ReShape Vest System, which is in a clinical trial in Europe. It is an investigational, minimally invasive implanted medical device that wraps around the stomach, emulating the gastric volume reduction effect of more aggressive weight-loss surgeries such as the gastric sleeve. Early clinical studies indicate that the device has similar weight loss outcomes as those procedures for patients without permanently changing patient anatomy, Mr. Bandy points out.
The company's portfolio also includes reshapecare, a virtual health coaching program that uses video-based counselling with live board certified health coaches focused on nutrition, exercise, sleep, and stress. The company's newest addition to its proprietary ecosystems is ReShape Marketplace, an online collection of quality weight loss and wellness products curated for consumers to help them achieve their health goals.
"We provide solutions and patient engagement across the full physician-led weight-loss continuum, differentiating ourselves from competitors who are focused on a single vertical," Mr. Bandy contends.
"Our physician-led ecosystem, which includes cash pay and reimbursed services, runs from diet and exercise, diet foods and supplements, digital apps, endoscopic weight loss procedures, minimally invasive surgery and more extreme surgery."
Approximately 2.5 billion people, or more than 30% of the global population, are considered overweight or obese, with forecasts of a 50% increase by 2030. The global weight loss and obesity management market is expected to rise to an estimated value of $300-billion, with a compound annual growth rate of 6.7% from 2019 to 2026.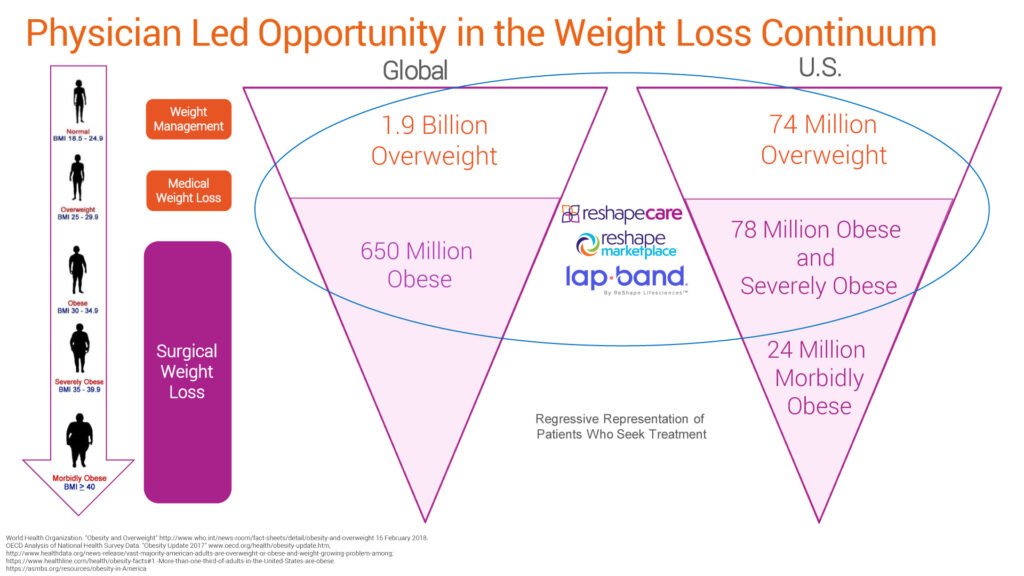 In the U.S., some 74 million people are considered to be overweight, with an additional 78 million obese and severely obese. And while 50% of adults in the U.S. try to lose weight every year, Mr. Bandy also cited a recent CDC study that that reported 78% of all COVID-19 hospitalizations and deaths have been attributed to overweight and obese people.
In June 2021, ReShape completed a reverse merger with Obalon Therapeutics, a medical technology company with the first and only FDA-approved swallowable gas-filled intragastric balloon system for the treatment of obesity.
Among other things, Mr. Bandy disclosed that the major objective of the merger was to gain Obalon's NASDAQ listing, with the option of adding Obalon's technology to ReShape's portfolio in six-to-12 months. Obalon had previously closed its sales and manufacturing operation in March 2020 due to the pandemic.
"We're doing a lot of work in our evaluation and efforts for bringing Obalon back online," Mr. Bandy says. In addition, Obalon shares synergies with ReShape including, FDA approval; safety, non-hospital focused procedures; shared customers; use of a digital telehealth patient support platform; and a patient centric weight loss and metabolic health company mission.
Besides Obalon and the ReShape Vest, the company's internal pipeline also includes a novel investigational device using neuromodulation to treat Type 2 diabetes. The ReShape Diabetes Bloc-Stim Neuromodulation device has successfully completed NIH Phase 1 research.
The company's product portfolio – Lap-Band, ReShape Vest, Obalon and the Bloc-Stim – are protected by 226 issued patents globally. "We have a very promising future and strong defensive moat for our portfolio and weight loss ecosystem."
• • • • •
To connect with ReShape or any of the other companies featured on BioTuesdays, send us an email at editor@biotuesdays.com.