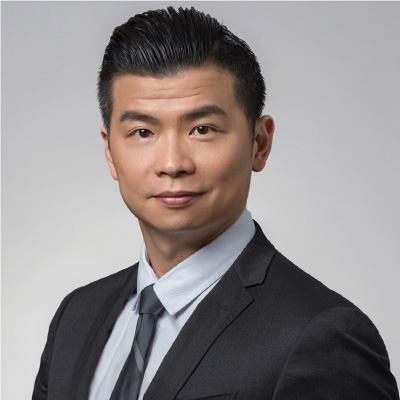 After closing four licensing deals for five assets in 2020 and so far in 2021, including its latest deal in early June, closely-held Arctic Vision, a leading player in China's ophthalmology market, has no plans to slow down.
In an interview with BioTuesdays, Dr. Eddy Wu, founder and CEO, reveals that Arctic Vision anticipates boosting its portfolio to as many as 10 assets by the end of 2021, up from five currently, which include one commercial-stage device, three late-stage products and one early-stage cell therapy.
On June 7, the company licensed an FDA-cleared external neurostimulation device for the treatment of dry eye disease, iTEAR 100, from Olympic Ophthalmics, a U.S.-based medical technology company. The latest deal expanded Arctic Vision's portfolio to both developing- and commercial-stage therapies.
"Innovation is at the very core of Arctic Vision," Dr. Wu says. "Our vision is to lead the ophthalmology markets in China, Asia and the world through the discovery and development of innovative solutions for ophthalmic diseases, whether by leveraging global breakthrough technologies or in-house R&D capabilities."
Although the Chinese market has a higher prevalence of many ophthalmic diseases, compared with other regions of the world, he claims that Chinese patients still lack access to truly innovative therapies.
For example, no first-line ophthalmic treatments have been approved in China for uveitis, myopia and presbyopia – three indications that make up Arctic Vision's current lineup of late-stage assets. In addition, most domestical R&D resources have been directed to generics and biosimilars, instead of truly innovative therapies, due to lack of talent, capital or a strong commercial capability, he adds.
Against this backdrop Arctic Vision has set its goal to become a leading pan-ocular company with a comprehensive and differentiated pipeline of innovative therapies, navigated by a strong leadership team of industry veterans, an extensive network of key opinion leaders, and sustained support of top-tier life sciences investors.
Dr. Wu says he was inspired by nature to adopt the name, Arctic Vision. In the Arctic, animals are faced with severe challenges of sight because of extreme darkness in winter. Some animals, like reindeer, have developed an ability to alter their intraocular pressure to improve their vision during the dark polar winters.
"This phenomenon inspired me, as in our society patients with ophthalmic diseases can face equally severe or even harder challenges of vision but are unable to find help. By naming the company, Arctic Vision, I wanted to draw people's attention to ophthalmic diseases and bring innovative solutions to help restore vision to patients."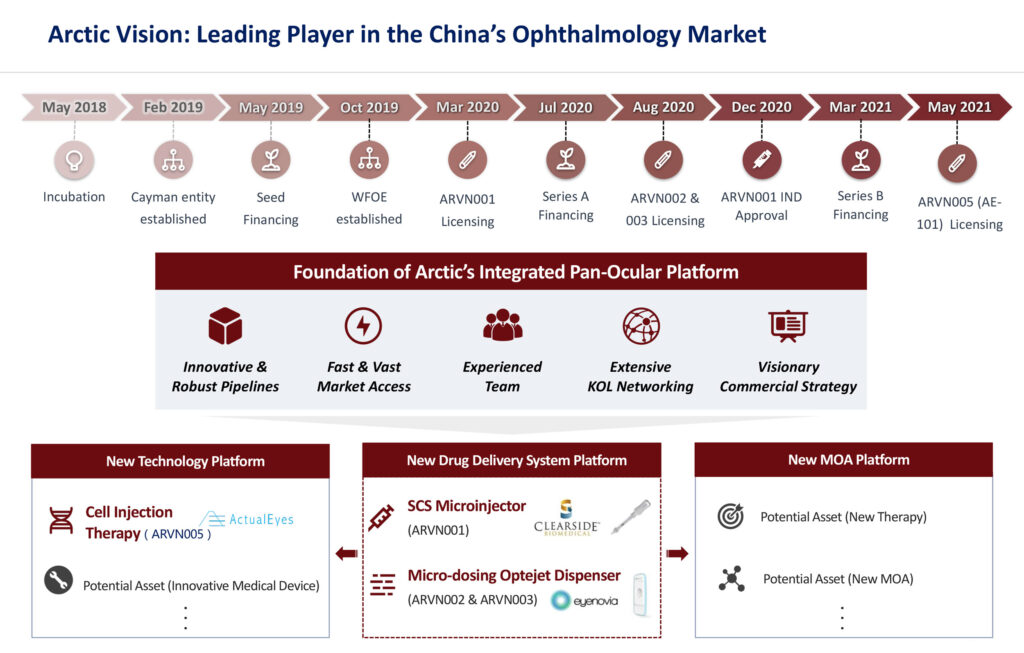 In March 2020, Arctic Vision signed its first licensing deal with Clearside Biomedical (NASDAQ:CLSD), a U.S. biotech company, for exclusive rights to develop and commercialize XIPERE (Arctic Vision's project code, ARVN001) in Greater China and South Korea.
Clearside resubmitted its NDA in the U.S. in May 2021, which was accepted with an assigned PDUFA action date of October 30, 2021. XIPERE is being developed and commercialized in the U.S. and Canada by Bausch Health.
XIPERE is a suspension of triamcinolone acetonide formulated for suprachoroidal injection via Clearside's proprietary SCS Microinjector, an innovative drug delivery system. The device is designed to enable rapid dispersion of medicine, potentially resulting in longer-lasting therapeutic effect while minimizing any side effects to the surrounding healthy parts of the eye. It is currently being investigated for the treatment of macular edema associated with uveitis (UME) as well as diabetic macular edema.
There are an estimated three-to-five million patients in China suffering from uveitis, which is one of the leading causes of visual impairment among the working-age population, and macular edema, which is one of the most common structural complications of uveitis.
"We received China IND clearance in December 2020 for a Phase 3 trial of ARVN001 for UME. It took us just nine months, fully demonstrating the 'China speed'," Dr. Wu says, adding that the company plans to begin the trial in the second half of 2021. It will be the first trial in China for the treatment of UME, as well as the first to utilize suprachoroidal injection.
Arctic Vision scored its second development and commercialization agreement three months later in August 2020 with Eyenovia (NASDAQ:EYEN) for two of its flagship products: MicroPine for the treatment of progressive myopia, or nearsightedness, and MicroLine for the treatment of presbyopia, an age-related hardening of the lens that causes blurred near vision, in Greater China and South Korea. Artic Vision's project code for MicroPine is ARVN002 and MicroLine ARVN003.
In some regions of Asia, up to 50% of children are myopic and the figure is increasing. On the other end of the age spectrum, a large proportion of people over the age of 40 – an estimated 370 million – suffer from age-related presbyopia. However, available treatments for both diseases are restricted mainly to medical devices or surgery now.
"We believe MicroPine and MicroLine have the potential to address huge unmet needs for hundreds of millions of people suffering from myopia or presbyopia, through a safer, more efficient and convenient drug delivery system," Dr. Wu contends.
Both products were developed based on Eyenovia's patented micro-dosing Optejet dispenser with a proprietary Microdose Array Print technology. It allows a micro-dose of eight microliters of medication to be misted horizontally with each application on the ocular surface in approximately 80 milliseconds, beating the ocular blink reflex. The technology provides patients with a much quicker and reliable method of self-administration with a simple push of a button, compared with conventional eye drops. In addition, the medication used in two products, Atropine and Pilocarpine, have been extensively validated through investigator and clinical studies.
Eyenovia is currently conducting Phase 3 clinical trials with MicroLine and MicroPine, with completion expected in 2022 and 2024, respectively. Last month, Eyenovia's first Phase 3 registrational trial of MicroLine achieved its primary endpoint.
With two novel devices under its belt, Arctic Vision ushered in the next stage of its pipeline development in May 2021 through the exclusive agreement with ActualEyes of Japan, for the development and commercialization of its lead candidate, AE-101, an early-stage novel cell therapy targeting the treatment of corneal endothelial dysfunction, in Greater China and South Korea.
More than one million patients suffer from corneal endothelial dysfunction in China. In severe cases, the most effective treatment is corneal keratoplasty, or a transplant. "However, due to shortage of donor corneas, less than 10% of these patients in China may ultimately receive a keratoplasty treatment," Dr. Wu points out.
AE-101 (Arctic Vision's project code, ARVN901) is an early-stage novel cell-injection therapy developed with cultured human corneal endothelial cells, combined with a Rho-associated kinase inhibitor.
Research published in the New England Journal of Medicine and Ophthalmology by ActualEyes' scientific founders demonstrated that AE-101 can effectively restore corneal endothelial function as well as vision, with no major treatment-relevant adverse reactions, for up to five years post-treatment, which represents "a potential paradigm shift in corneal regenerative medicine," Dr. Wu says.
"We are extremely committed to delivering novel therapeutic options to patients, and we are proud to be working on what may be the first cell therapy for an ophthalmic indication in China," he adds.
The company's fourth deal for its fifth asset is a commercial-stage external neurostimulation device for dry eye disease, iTEAR 100 (Arctic Vision's project code, ARVN701). Arctic Vision obtained the exclusive rights for the development and commercialization of the product in Greater China (mainland China, Hong Kong, Macau and Taiwan), South Korea and ASEAN countries (Brunei, Cambodia, Indonesia, Laos, Malaysia, Myanmar, the Philippines, Singapore, Thailand and Vietnam).
As an external drug-free neurostimulation device, iTEAR 100 works by stimulating tear secretion through non-invasive stimulation of the external nasal nerve, increasing natural tear production and offering immediate relief to dry eye syndromes, as well as increasing the level of basal tear secretion.
Dry eye is one of the most common ophthalmic diseases in Asia, with an estimated 960 million patients in 2020 aged 15 and older. With rights to the quick-to-market, consumer-oriented product, Arctic Vision is planning to start commercialization efforts very soon, Dr. Wu says.
Arctic Vision's meteoric rise reflects not only its executive management team, including industry veterans from the likes of Allergan, Novartis, Alcon, among others, but also its support of a slate of top-tier biotech VCs and investors. They include Nan Fung Life Sciences, Pivotal bioVenture Partners China, Morningside Ventures, Loyal Valley Capital, Tencent, Octagon Capital, and Dr. Adrian Cheng, renowned entrepreneur from New World Development Group.
"Their deep knowledge of the sector, extensive network across the Chinese, U.S. and European ophthalmic markets and impressive track records with biotech start-ups in China were instrumental to the success of our fundraising rounds," Dr. Wu says.
Arctic Vision raised $32-million (U.S.) in a Series A round in July 2020 and $108-million (U.S.) in a Series B round in March 2021. The funds will continue to help Arctic Vision advance its pipeline strategy, build in-house R&D capabilities and support corporate development.
"We will continue to work hard to expand our portfolio of innovative therapies to serve the needs of patients suffering from ophthalmic conditions," Dr. Wu says. "With the support of our investors and global partners, Arctic Vision strives to be the leading pan-ocular therapeutics company in not only China but the region at large."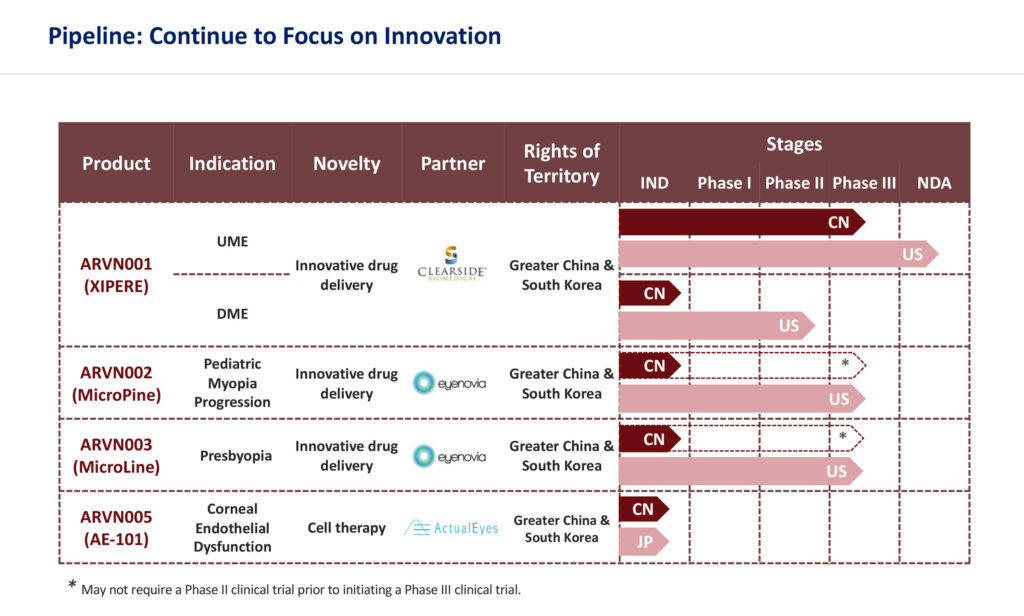 • • • • •
To connect with Arctic Vision or any of the other companies featured on BioTuesdays, send us an email at editor@biotuesdays.com.