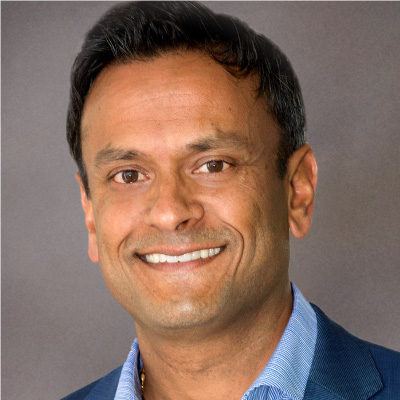 After resolving a delay in its biliary cholangitis (PBC) program, CymaBay Therapeutics (NASDAQ:CBAY) is activating clinical sites in North America and Europe, and recruiting patients in its global RESPONSE registration study to evaluate seladelpar in patients with PBC.
CymaBay is also conducting enrollment activities for ASSURE, an open-label, long-term study of seladelpar in patients with PBC intended to collect additional safety data to support registration.
"After obtaining compelling data in an earlier, shortened Phase 3 study of seladelpar in PBC, we are laser focused on the RESPONSE clinical study," Sujal Shah, CEO and president of CymaBay, says in an interview with BioTuesdays.
RESPONSE is a 52-week registration study evaluating the safety and efficacy of seladelpar for participants already diagnosed with PBC who have been taking ursodeoxycholic acid (UDCA), which is also known as ursodiol, but have not achieved the recommended treatment goal or cannot tolerate UDCA.
Mr. Shah, who joined CymaBay in 2012 after a career on Wall Street, explains that PBC is an autoimmune disease characterized by impaired bile flow and the accumulation of toxic bile acids in the liver, leading to inflammation and destruction of bile ducts within the liver that can eventually lead to fibrosis, cirrhosis and the need for liver transplant. Patients with PBC have increased levels of alkaline phosphatase (ALP) and total bilirubin.
Seladelpar, an investigational drug, has received breakthrough therapy and orphan drug designations in the U.S. and Europe for the treatment of PBC.
In November 2019, CymaBay halted its clinical studies of seladelpar after atypical histologic findings, with no clinical or laboratory correlation, were identified at the planned end-of treatment biopsy review of a 52-week Phase 2 study in patients with non-alcoholic steatohepatitis (NASH).
"Out of an abundance of caution, we also stopped our ENHANCE Phase 3 study of seladelpar in PBC because we couldn't be certain that the same potential safety signal wasn't present in the PBC setting," Mr. Shah recalls.
An expert panel reviewed all of the safety data in the study in a blinded fashion, including histology, and found there was no clinical, biochemical or histological evidence of seladelpar-related liver injury in the Phase 2 NASH study and unanimously supported re-initiating clinical development of seladelpar. The FDA reviewed the panel's findings and lifted all clinical holds on seladelpar in July 2020.
"We believe our ongoing RESPONSE Phase 3 study of seladelpar is highly de-risked in PBC," Mr. Shah says. "Although our prior ENHANCE Phase 3 study was terminated early from what was found to be a false safety concern, seladelpar at 10 mg met the primary and both key secondary endpoints with statistical significance at just three months. These data, in many ways, could be viewed as an interim analysis of what RESPONSE data could look like because we are studying the same patient population, same 10 mg dose and same primary and key secondary endpoints."
CymaBay hopes to complete enrollment of 180 PBC patients in the RESPONSE trial by the end of 2021, subject to the headwinds of the pandemic, with top-line data expected to be available at the end of 2022 or early 2023, leading to a potential NDA filing in mid-2023. The study intends to enroll patients in approximately 20 countries at more than 100 clinical sites.
Seladelpar is the first potent and selective PPAR-delta agonist in late-stage development for inflammatory liver diseases, given orally and once-daily with data supporting clinical activity at 10 mg.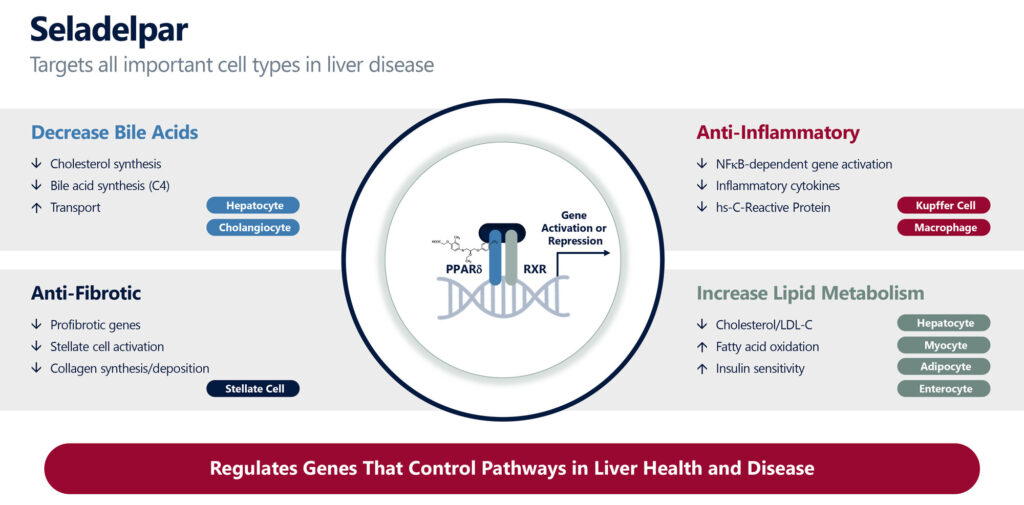 Mr. Shah explains that seladelpar targets all four important cell types in the liver, including hepatocytes, Kupffer cells, stellate cells and cholangiocytes, which have roles in decreasing bile acids, inflammatory cytokines and profibrotic genes. PPAR-delta has been found to cause an increase in lipid metabolism, including lowering LDL-cholesterol and triglycerides.
PBC affects approximately one-in-1,000 women over the age of 40, or about 130,000 patients in the U.S., with a similar prevalence in five major EU countries. The two key clinical symptoms of PBC include fatigue and pruritus, or intense itching.
According to Mr. Shah, PBC can be detected from elevated liver enzymes and serum markers, including ALP, gamma-glutamyl transferase (GGT) and bilirubin and confirmed with a positive anti-mitochondrial antibody test.
According to research, he says the goal of treating PBC is to lower ALP below 1.67 times the upper limit of normal and have total bilirubin normal in order to slow disease progression, which can otherwise lead to fibrosis, cirrhosis and the need for liver transplant.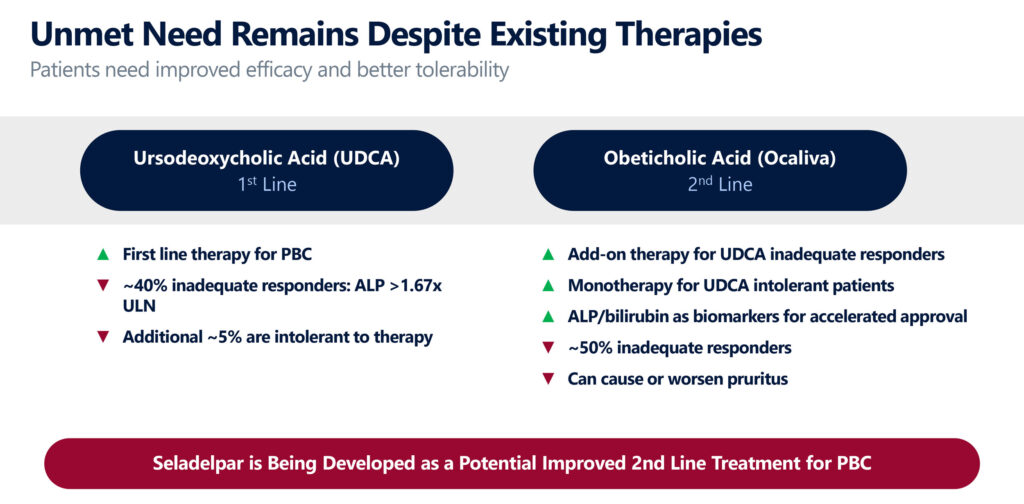 UDCA is a first line therapy for PBC, but Mr. Shah says some 40% of patients can be incomplete responders, putting them at a higher risk for disease progression, and an additional 5% are intolerant to treatment.
An add-on therapy to UDCA in certain patients is Intercept Pharmaceuticals' Ocaliva, which can also be used as a monotherapy for UDCA intolerant patients. However, about 50% of patients taking Ocaliva in a Phase 3 study remained incomplete responders, and many experienced worsening pruritus, he adds.
"Seladelpar is being developed as a potential improved second-line treatment for PBC with a potential to also expand the addressable patient population, given that data to date has demonstrated robust efficacy and better tolerability," Mr. Shah contends.
In an earlier Phase 2 study with approximately 100 PBC patients, Mr. Shah says the vast majority of the response to seladelpar was observed after three months and then the response was maintained out to 12 months.
In the shortened Phase 3 ENHANCE study, 78% of patients on 10 mg of seladelpar achieved the primary composite endpoint, with a high statistical significance after three months, compared with 12.5% on placebo.
Although no head-to-head data has been collected, by comparison, Intercept Pharmaceuticals achieved just under a 50% response in the same endpoint in its Phase 3 study in effectively the same patient population, Mr. Shah says. In addition, he says seladelpar was generally safe and well tolerated.
On a key secondary endpoint of ALP normalization in the ENHANCE study, 27% of patients on 10 mg of seladelpar achieved normalized ALP, compared with zero on placebo, after three months. "This is highly differentiated from what has been seen in studies for Ocaliva," Mr. Shah contends.
Also, on the secondary endpoint of improvement in pruritus, patients with moderate-to-severe pruritus had a significant improvement with 10 mg of seladelpar, compared with placebo. "This is incredibly important because Intercept's drug can cause or worsen pruritus and first line treatment with UDCA has not been shown to reduce itch," he adds.
"We're excited to be back in development after what proved to be a false alarm with respect to seladelpar's safety and have a lot of momentum going for us in 2021 as we look to provide patients a treatment alternative that may significantly improve their lives," Mr. Shah says.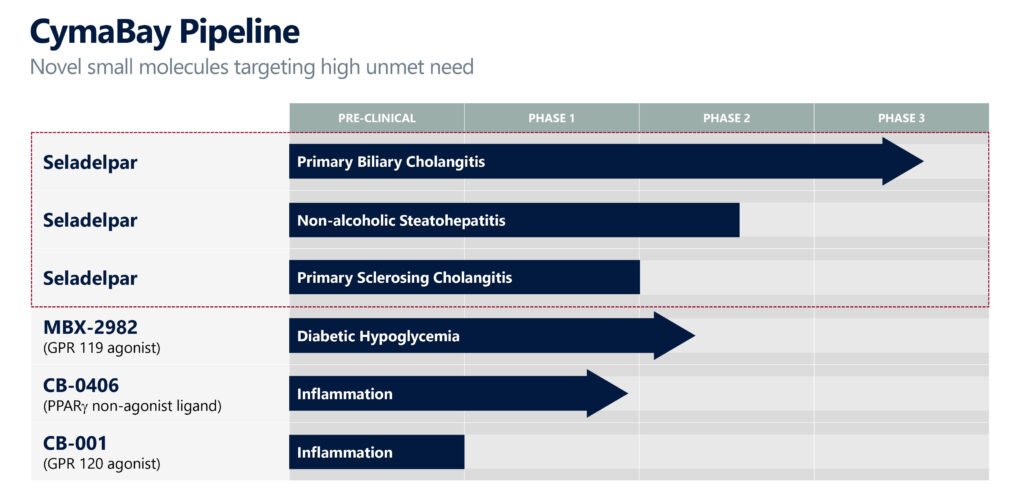 • • • • •
To connect with CymaBay or any of the other companies featured on BioTuesdays, send us an email at editor@biotuesdays.com.