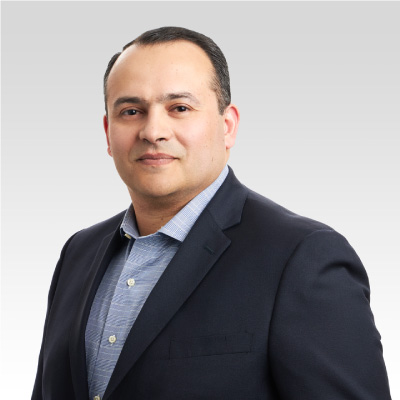 TransMedics Group (NASDAQ:TMDX) is transforming the standard of care in solid organ transplants in order to increase the number of organ transplants and improve clinical outcomes.
"We are addressing the unmet need for more and better organs for transplantation," Waleed Hassanein, M.D., President and CEO, says in an interview with BioTuesdays.
"We have developed technologies to preserve organ quality, assess organ viability prior to transplant, and potentially increase the utilization of donor organs for the treatment of end-stage heart, lung, and liver failure."
Last month, an FDA advisory committee reviewed clinical evidence from the company's Organ Care System (OCS) Heart pivotal trial and voted in favor of approval of OCS Heart for commercial use in the U.S.
This latest premarket approval application under review by FDA pertains specifically to DBD organs, or donation after brain death, which represent the current gold standard for heart transplantation. DBD organs are those retrieved from patients after brain death, where the heart can continue beating for several days. That's because the heart has the ability to beat independently of the brain as long as it has oxygen.
"The committee's favorable vote represents an important milestone for the company and patients," Dr. Hassanein says. "In our latest clinical trial, we created a potential new therapy – donation after cardiac death (DCD) heart transplant."
DCD refers to retrieval of a heart for transplant after death where there has been no heartbeat for 30-to-40 minutes. "The vast majority of these hearts were not utilized for many years but OCS is now allowing these organs to be used routinely," he adds.
Dr. Hassanein explains that the OCS technology consists of three modes of action, driven by "perfusing the organ in warm oxygenated blood so that the organ believes it is still in the body, has never left the body and is still in a human environment."
By perfusing the organ in warm oxygenated blood, "we replicate a physiological environment in a medical technology, so the organ is never ischemic. For example, the heart is beating, the lung is breathing, the liver is producing bile and the kidney is making urine."
Because the organ is metabolically active, he says the second mode of action involves replenishing the organ with depleted nutrients and adding pharmacological enhancers to improve the organ's condition now that it is outside the human body.
"As the organ is now metabolically active and physiologically functioning, we can now access organ viability, such as cardiac function, oxygenation index of a lung, glucose utilization, bile production and liver enzymes," he adds.
TransMedics had about 200 issued and pending patents at the end of 2020 that protect its multi-organ platform through the late 2030s.
Dr. Hassanein contends that existing cold storage limits utilization of donor organs and has been shown to negatively impact post-transplant outcomes. "Cold storage was helpful in the early days of transplantation but has its limitations."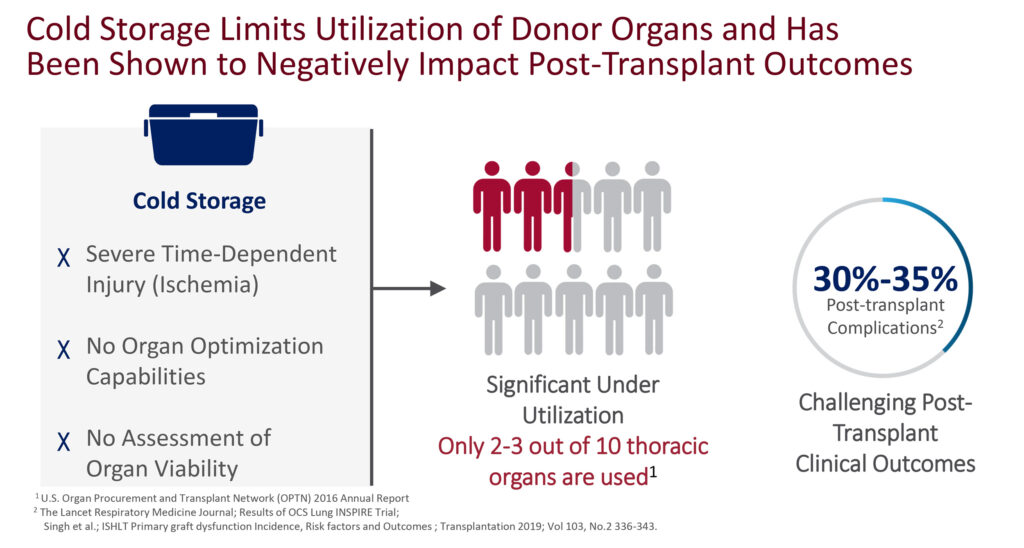 He cites severe time-dependent injury, so that the longer the organ remains on ice, the greater the chances of its inability to be used in a successful transplant; there are no capabilities with cold storage to optimize the condition of the organ after brain death; and no method to assess organ viability.
According to the U.S. Organ Procurement and Transplant Network 2016 annual report, less than three-in-10 available hearts and lungs from cold storage were being used in transplantation. And a study published in The Lancet found that cold storage resulted in 30% to 35% post-transplant complications.
Dr. Hassanein says TransMedics' OCS overcomes the limitations of cold storage, resulting in a potential organ utilization rate of almost nine-in-ten, with post-transplant complications declining to 10% to 14%, according to its clinical studies.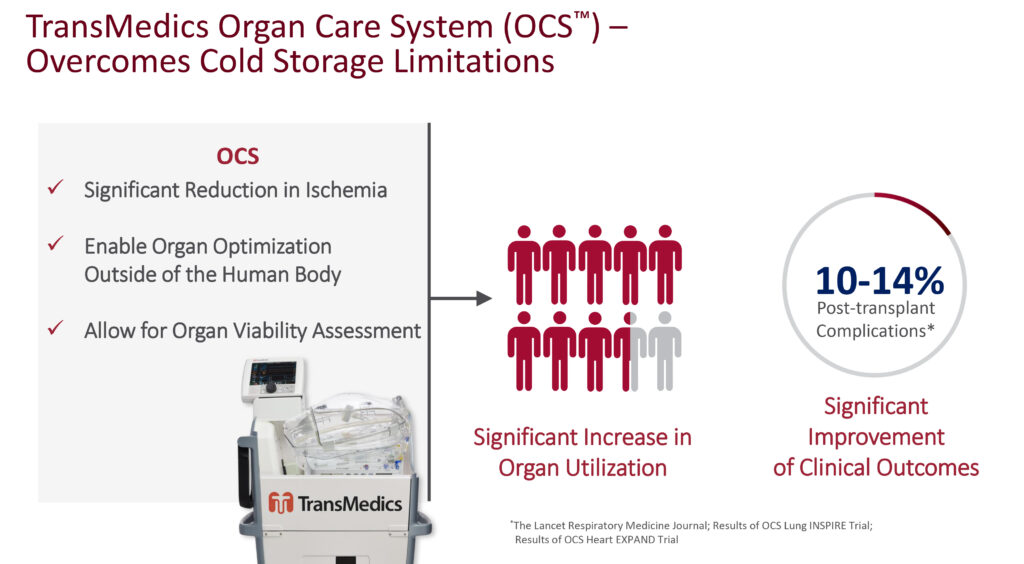 The company's OCS Lung, often referred to as a "lung-in-a-box," has been approved in the U.S. and outside the U.S. TransMedics is preparing to submit its OCS Liver DBD and DCD clinical data to an FDA advisory committee later this year and hopes to initiate a clinical program for kidney perfusion down the road, Dr. Hassanein adds.
TransMedics also plans to publish OCS Liver data from the PROTECT trial and read out data from its DCD OCS Heart trial results in the second half of 2021, which would represent an additional indication for its "heart-in-a-box" program. The company also hopes to obtain FDA approval this year for its OCS Heart DBD indication.
Dr. Hassanein points out the OCS had a significant impact on donor utilization and clinical outcomes in clinical testing. "We were able to report that OCS had the highest rate of organ utilization ever reported in the history of organ transplantation."
Specifically, TransMedics reported that OCS Lung utilized in the EXPAND trial rose to 87% from 23% for cold storage, while in the EXPAND OCS Heart trial, hearts utilized for transplant rose to 84% from 32% for cold storage. In addition, severe post-transplant complications in OCS Lung were reduced by 50%; OCS Heart reduced by 65% and OCS Liver reduced by 43% and by 84% for long-term biliary complications.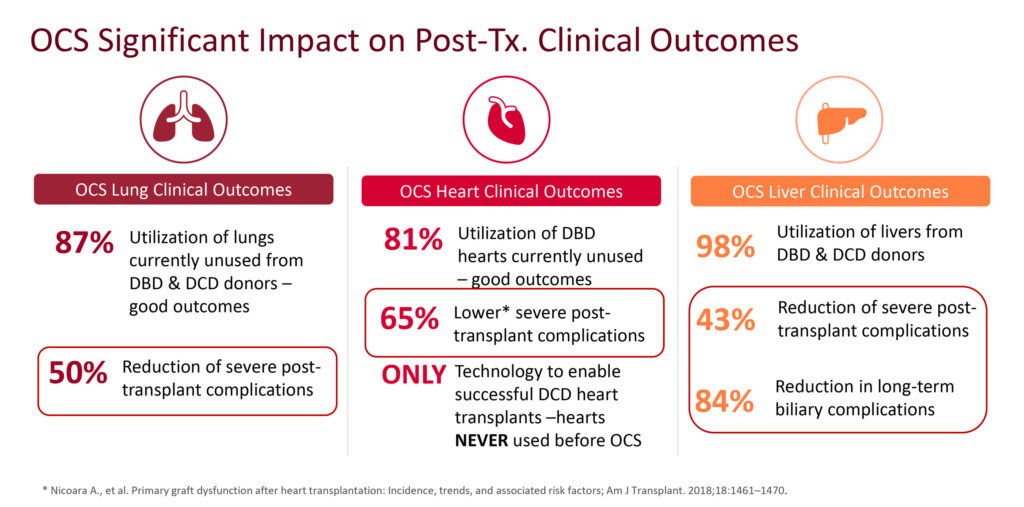 According to Dr. Hassanein, donor retrieval and organ transplant is an ultra-concentrated industry, with 55-to-60 hospitals in the U.S. driving some 70% of lung, heart and liver transplants. "There is now a national mandate by CMS and HHS to increase organ transplantation in the U.S., which is a major dynamic for the field."
While TransMedics has established a presence at leading lung, heart and liver transplant centers in the U.S. through its commercial and clinical trial activities, Dr. Hassanein points out that transplant centers manage all aspects of patient care as well as the organ retrieval process and the actual transplant procedure.
"Organ procurement organizations, which manage and screen the donation process, and allocate donor organs to matching recipients at transplant centers, are under significant pressure to increase the number of organ transplants," he adds.
To facilitate and make this process more efficient, TransMedics has launched, and is in the process of expanding, its National OCS Program in the U.S. The national service program enables the company to act not just a supplier of the technology but as a partner in the transplant process.
"We want to establish our company as a key player in the field, including donor screening, surgical retrieval, transportation and management of the OCS technology in order to deliver a turnkey solution to transplant surgeons," Dr. Hassanein explains.
"We are uniquely positioned to unlock transplant growth using OCS technology to increase donor yield, train clinical expertise to maximize clinical outcomes and minimize the logistical burden on transplant centers in order to increase transplant numbers."
As of the first quarter of 2021, TransMedics had teamed up with six organ procurement organizations in the U.S. to fully deploy its national OCS network and drive growth of commercial revenue. "Nobody can do this in the market today without TransMedics," Dr. Hassanein says.
• • • • •
To connect with TransMedics or any of the other companies featured on BioTuesdays, send us an email at [email protected].