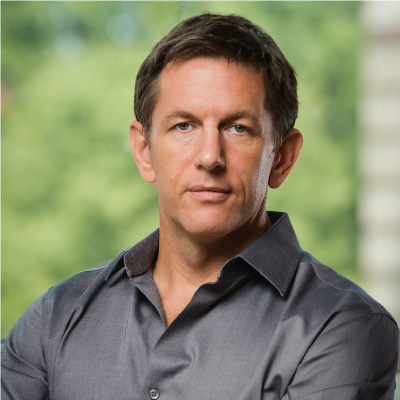 As CEO of InfoBionic, a closely-held digital health company with an initial focus on cardiac arrhythmia detection and monitoring, Stuart Long knows his way around achieving commercial growth in the medical device market. Prior to joining InfoBionic in 2017, he was CEO at Monarch Medical Systems, an artificial intelligence clinical decision support software provider for insulin dosing calculations, where he oversaw the organizational restructuring of the company. Prior to Monarch, Mr. Long served as the global chief marketing and sales officer for Capsule Tech, a medical device integration and clinical data management system for hospitals and healthcare institutions, where he developed and executed a strategic business and product plan that ultimately led to the company's acquisition by Qualcomm in 2015. Mr. Stuart also worked in executive leadership at Philips Healthcare, overseeing global product management and marketing for their healthcare imaging and informatics group, as well as emerging markets in the company's cardiac monitoring division. In this interview with BioTuesdays, Mr. Stuart discusses how InfoBionic's MoMe Kardia device is disrupting the independent diagnostic testing facility (IDTF) third-party outsourced monitoring model.
Let's begin with a brief history of InfoBionic.
We were founded in 2012 by co-founder, Dr. Jeremy Ruskin, M.D., a leading cardiologist and electrophysiologist for cardiac monitoring, Nancy Briefs, and Ravi Kapur. The MoMe Kardia, which stands for Monitor Me, was FDA-cleared in 2015 and we began our commercial launch in the fourth quarter of 2016. In my experience, when you empower the hands-on healthcare provider, you have the opportunity to derive the best possible outcome for a patient. InfoBionic's founding was predicated around improving patient care by implementing disruptive solutions in today's modern healthcare market.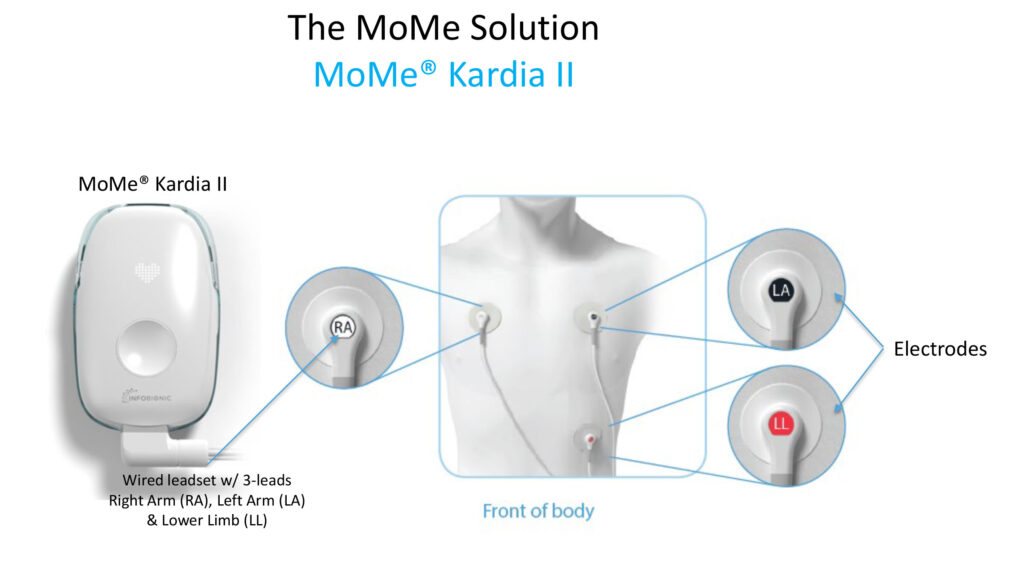 How does MoMe work?
Physicians can fit a patient with MoMe and get near real-time and current full-disclosure data over a secure internet connection. If a patient remotely presses a button on the device, the cardiologist can quickly see the patient's up-to-date data on a cell phone, tablet, or PC and make a critical cardiac arrhythmia diagnosis on-demand. This is a dramatic alternative to having a patient return the legacy cardiac monitor to a third-party IDTF provider and wait on the results.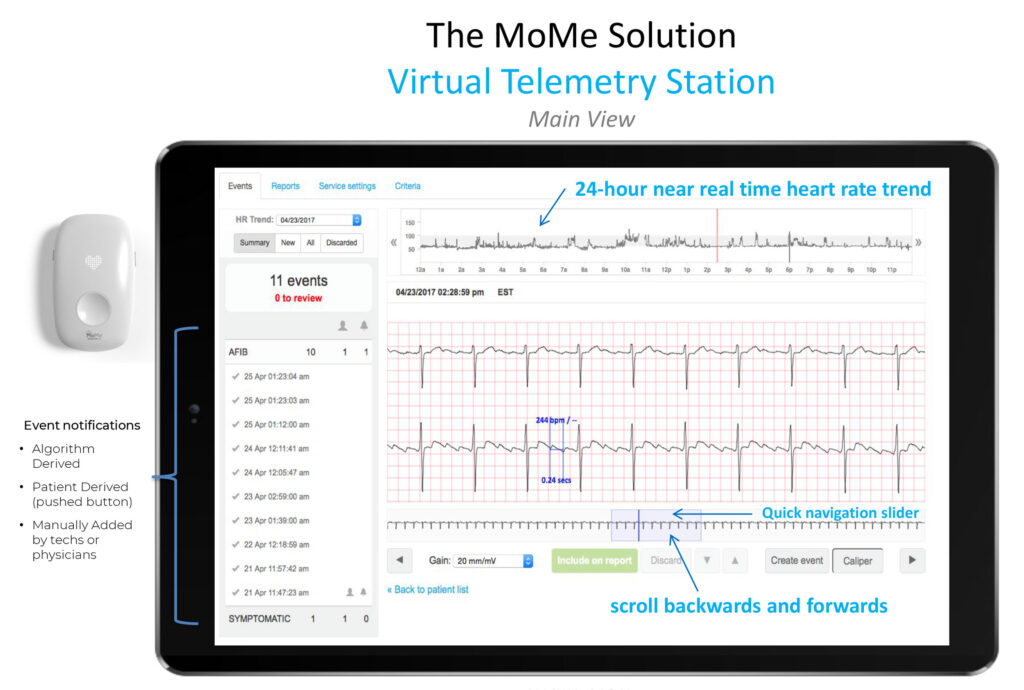 How does MoMe benefit a patient?
We are the first and only FDA-approved deep learning software-as-a-service remote cardiac monitoring platform for the home that replicates in-hospital style monitoring to capture and stream beat-to-beat full disclosure cardiac data for 24/7 on-demand review while allowing for global billing. We like to say that we see 100% of the heartbeats, 100% of the time. Our mobile cardiac monitoring system shortens the distance between physicians and their patients, giving them new levels of control and deeper insight to make more efficient and effective decisions and diagnoses—all while optimizing the patient experience and the practice's workflows.
How does MoMe benefit a physician?
InfoBionic's MoMe Kardia system empowers physicians with control to transform the efficiency with which they manage cardiac arrhythmia detection and monitoring processes for their patients. Leveraging a comprehensive, Cloud-based remote patient monitoring platform – the first of its kind – we deliver on-demand, actionable monitoring data and analytics directly to physicians themselves.
How does MoMe differentiate itself from the competition?
For years, cardiologists have relied on traditional remote cardiac monitors. A legacy monitor either requires the patient to return the monitor to the physician's office or mail it back to a third-party service provider after a period of days and wait for results—sometimes delayed by weeks—while the third-party performs the diagnostic analysis. In a scenario where the monitor diagnosis eventually shows evidence that an arrhythmia has occurred, the delay puts the patient at risk. The delay also eliminates cardiologist control over the data review, timing, diagnosis, and care of the patient.
How does reimbursement favor MoMe?
In the IDTF outsourcing model, where a third party contacts a patient to arrange delivery of a heart monitor, the professional component for a physician ranges from $20-to-$25 a test, while the IDTF can bill $80-to-$700 for the technical component. In our disruptive model, a physician owns MoMe, puts it on a patient and bills for 100% of the professional and technical components.
What's the clinical benefit of MoMe?
On average, it can take five-to-six days for a third party IDTF to get a heart monitor on a patient and up to another four weeks before a physician receives and sees patient data, while MoMe can be installed in a physician's office. Our Cloud-based device communicates data to the physician or the hospital in near real time, which leads to a faster time to diagnosis and time to intervention, as well as taking costs out of the healthcare system.
How large is the cardiac monitoring market?
There are about 5.5 million cardiac monitoring cases a year in the U.S. that are covered by four CPT codes that receive $1.4-billion in reimbursement. Our customers make money on reimbursement, while we receive a fee for each use of the platform, which is our software-as-a-service fee.
How was InfoBionic impacted by the pandemic?
Treatments early in the pandemic were causing arrhythmia changes so it was necessary to monitor patients. Our high-quality signals and the ability to measure changes in arrhythmia and medications relative to COVID-19 treatments was a high priority and we received a boost from that.
From a bricks and mortar perspective, people generally stopped going to cardiologist offices during the pandemic. Because MoMe is designed to be in the home setting, we changed our model and mailed devices directly to patients at their homes on behalf of our customers. Ultimately, physicians were able to treat existing patients and bring on new patients coming out of hospital and cardiology patient volumes returned to normal. COVID exacerbated a lot of cardiac conditions and we saw a dip in our patient volumes in the spring last year. But by summer, patient volumes rose, and we resumed our growth.
Telehealth also took off during the pandemic, with physicians providing care management by video. Having a diagnostic device like ours along-side them proved to be a valuable resource. What it taught us is there is a strong need for cardiac monitoring in homes above and beyond what your Apple Watch is going to tell you. During the pandemic, we contracted with two major providers for the MoMe Kardia service with one of the largest health care systems in the U.S. and the largest independent cardiology practice.
Where do you see InfoBionic in a couple of years?
Our core competency is taking care of hospital level patients in the home. So in the next 24 months, I see us having an integral role in adding diagnostic cardiology and cardiac-pulmonary care into virtual care in addition to telehealth and remote patient monitoring. If we want to cover the gamut, I could see us looking to connect consumers directly to physicians on a device that can deliver a potential diagnosis.
• • • • •
To connect with InfoBionic or any of the other companies featured on BioTuesdays, send us an email at [email protected].