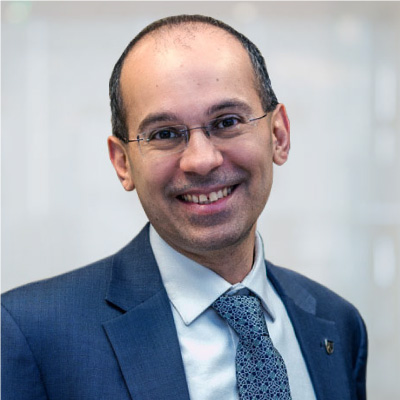 X-ray manufacturer, KA Imaging, is reinventing dual energy X-rays with its Reveal 35C device, which can produce three images from a single exposure, overcoming clinical and technical issues that exist with traditional X-ray and dual energy images.
"Dual energy X-ray has been around for more than 40 years, but just never caught on," Karim Karim, Ph.D., chief technology officer, says in an interview with BioTuesdays. "With Reveal, we are finally making dual energy X-ray mainstream. This is a game changer because we have fixed the technical and clinical issues with dual energy X-rays."
According to Dr. Karim, Reveal has resolved the biggest issue with traditional and dual energy X-rays: it has zero motion artifact, which causes blurring or double images if a patient moves during X-ray exposure.
"Our system requires only giving a patient one X-ray exposure, reducing potential radiation exposure; is portable and can be administered at the bedside, which is ideal for patients with contagious viral infections, rather than moving them to a fixed treatment room; and we can generate cost savings for hospitals."
Among other things, hospitals and radiologists continue to be reimbursed under existing Medicare codes. Hospitals also are able to identify diseases early and begin treatment, and reduce readmissions and legal liability, while radiologists are able to review images faster along with increased confidence. "Our detector is easy to integrate so there is no interruption to clinical workflow."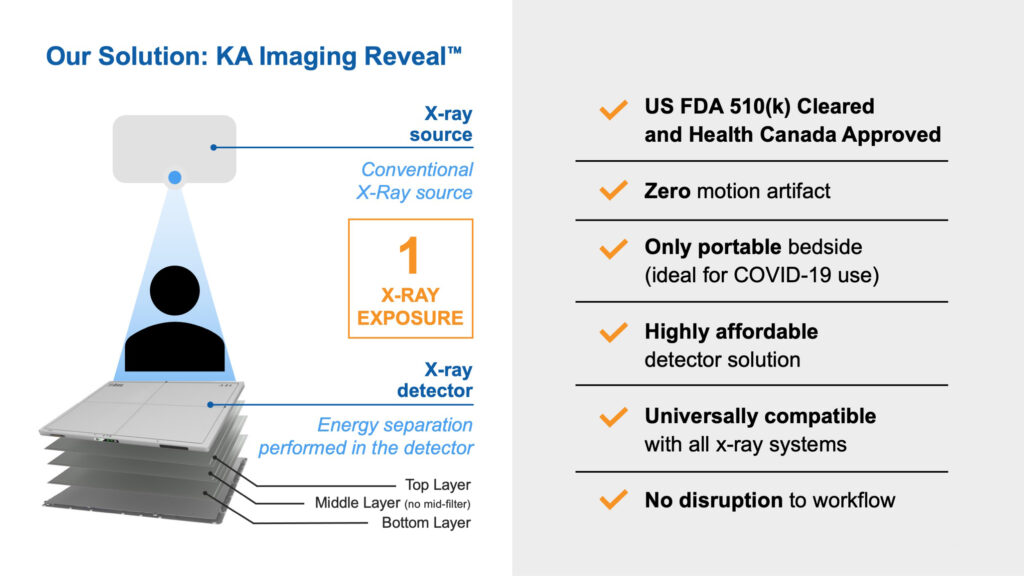 Closely-held KA Imaging was spun off from the University of Waterloo in Ontario, Canada in 2015. To date, the company has attracted $10-million in equity investment and $15-million in non-dilutive funding. It has developed a line of innovative X-ray imaging products in the areas of phase contrast micro-computed tomography, ultra-high spatial resolution X-ray detectors and large area digital, dual-energy X-ray material separation detectors.
KA Imaging's Reveal dual-energy X-ray detector received 510(k) clearance from the FDA and Health Canada approval in September 2020.
"We believe Reveal represents disruptive technology because our dual energy solution is contained within the Reveal detector, which is the same size as existing X-ray detectors," Dr. Karim contends. "So, hospitals and clinics only have to replace their existing detector with ours, rather than install an entirely new and expensive X-ray room."
Dr. Karim explains that traditional X-ray is unable to clearly differentiate bones and soft tissue, which effectively "lie on top of each other" in an image. "Our energy separation is performed in the detector, which takes an X-ray beam and simultaneously generates three types of images from the one exposure: traditional digital radiography, bone and soft tissue, all with zero motion artifact."
Dual energy also enables earlier detection of cancer and cardiovascular disease, for example, which leads to cost savings in hospitals, as well as improved patient outcomes, Dr. Karim suggests.
He says the Reveal X-ray detector is universally compatible with all X-ray systems already installed in clinics and hospitals. Reveal can replace existing X-ray detectors and provide radiologists with unobstructed front and lateral views of the lungs and bones, which can aid in the visualization of pneumonia, coronary calcium, fractures, catheters and masses with high sensitivity.
"The soft tissue and bone images are sharp and free of motion artifacts, which increases diagnostic sensitivity and patient outcomes," Dr. Karim adds.
Unlike CT scans, which are typically used only for high-risk patients because of radiation concerns, Dr. Karim points out that retrofitted X-ray machines can provide high image quality at a lower dose of radiation using equipment that is a fraction of the cost of CT scan.
The company has established a strong "picket fence" around its core technology, with 54 global patents filed, including 17 patents issued in the U.S.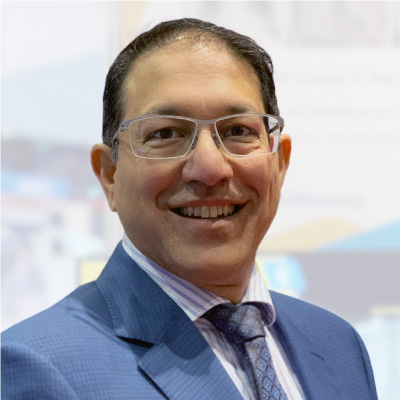 According to Amol Karnick, president, CEO and a co-founder of KA Imaging, there are about 500,000 X-ray systems installed globally, representing a total addressable market of $50-billion based on the end customer sales price of Reveal of $100,000. However, he says the company is initially targeting some 10,000 existing dual energy systems and 10,000 early adopters, representing a $2-billion market.
"Our flexible business model includes hardware-as-a-service to remove financial barriers for hospitals or capital purchases with an annual service fee," he says. "The nice thing about recurring revenue for us is that it gives us the opportunity to upgrade customers' software with improved algorithms, including artificial intelligence."
KA Imaging, which launched Reveal in the fourth quarter of 2020, is eying a steep revenue growth curve for the technology. It has already generated sales of $1.5-million to date and Mr. Karnick estimates a strong sales pipeline in the next 12-to-18 months.
"Our commercialization strategy is focused on early validation with U.S. and Canadian hospitals, and installed base sales with distributors in the U.S., Canada, Latin America, and Asia. We also are in advanced discussions with seven original equipment manufacturers to integrate our X-ray detector into their products."
In addition to a focus on commercialization, Mr. Karnick says KA Imaging's strategy going forward also includes potential M&A opportunities, as well as a possible go-public transaction on Nasdaq or the Toronto Stock Exchange.
Dr. Karim says KA Imaging is currently conducting two adoption studies with Reveal: a lung cancer study at Grand River Hospital in Kitchener, Ontario and a study with pneumonia and COVID-19 pneumonia patients at Princess Margaret Hospital in Toronto.
The lung cancer study is expected to scan up to 30 patients and 24 patients were scanned before COVID-19 hit, prompting a pause in the study. "We are very happy with the results we've seen so far."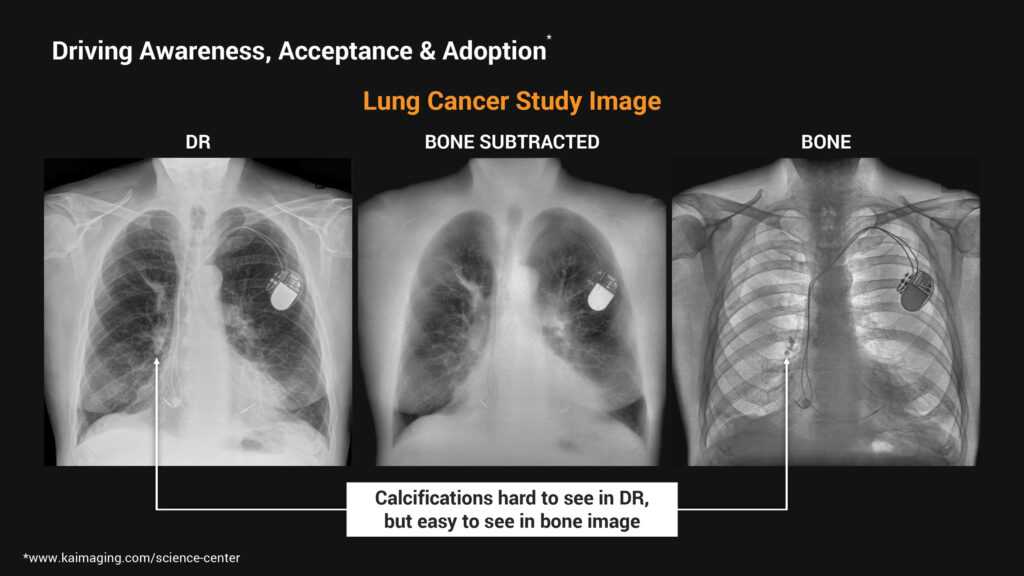 The pneumonia study, which began in September 2020, has scanned almost 60 patients, he adds, noting that the Toronto clinical site presented first study data that supports early detection of pneumonia at the 2021 European Congress of Radiology annual meeting in March. KA Imaging also presented its own abstract at the meeting to highlight the lateral dual energy X-ray images captured by Reveal.
Dr. Karim says dual energy has been shown to be effective in the early detection of lung cancer, the number one cancer killer worldwide; pneumonia, where a third of patients are misdiagnosed; pneumothoraxes, or collapsed lung, with more than 40,000 misdiagnoses in the U.S.; and cardiac disease, the number one killer worldwide. "The cost of hospitalizations and malpractice lawsuits from late detection or missed diagnoses are enormous," he adds.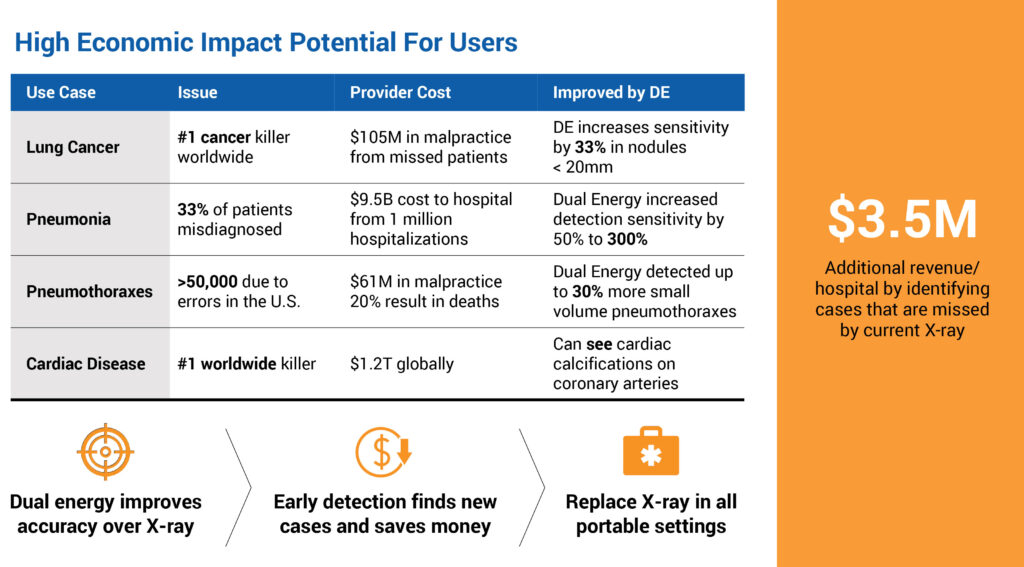 In lung cancer, he says published clinical evidence on dual energy has demonstrated the potential to increase sensitivity by 33% in nodules less than 20 mm in size, and "our trial is confirming this trend." Dual energy X-ray also has been clinically demonstrated to potentially increase detection sensitivity of pneumonia by up to 300%, compared with conventional X-ray. And in the past two years, he points out that dual energy has improved visualization of cardiac calcifications on coronary arteries and can detect up to 30% more small volume pneumothoraxes.
Dr. Karim says KA Imaging also plans to conduct an adoption study with up to 300 pneumothorax patients in the intensive care unit at a large hospital in Hamilton, Ontario.
"Right now, there is a clinical use case in literally every hospital for these modalities," he contends. "We believe that replacing an existing X-ray detector with Reveal could represent $3.5-million in both savings and revenue for a hospital over five years by identifying cases that are missed on current X-rays. This is a paradigm shift for early detection."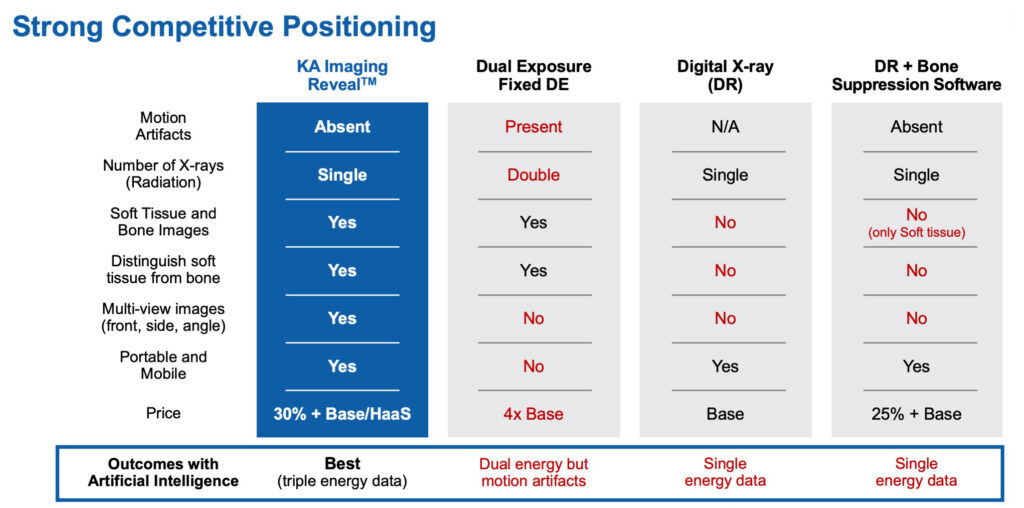 Reveal is proof that our commitment to provide our employees with an environment of creative freedom to make innovation happen is working, "We are very proud to be leading this important step in revolutionizing diagnostic X-Ray medical imaging," Mr. Karnick says.
• • • • •
To connect with KA Imaging or any of the other companies featured on BioTuesdays, send us an email at [email protected].