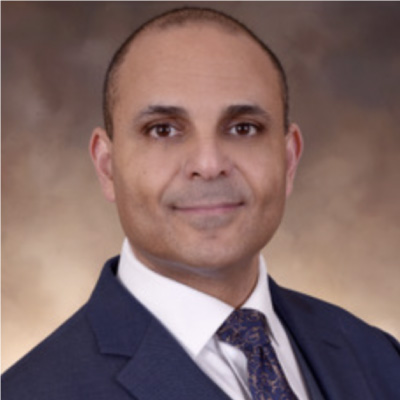 Petros Pharmaceuticals (NASDAQ:PTPI) has set up a steering committee with the aim of applying to the FDA to make its prescription erectile dysfunction (ED) therapy, Stendra, available as an over-the-counter product in a strategic alliance with Foundation Consumer Healthcare, which has a proven track record switching prescription products to OTC and acquiring OTC assets.
"We aspire to apply to FDA for OTC approval for Stendra, our cornerstone product, allowing millions of men silently suffering from ED to experience unhindered access at their pharmacy or online marketplace for direct purchase of our product," Fady Boctor, president and chief commercial officer of Petros, says in an interview with BioTuesdays.
"The process requires drafting a consumer friendly label, conducting consumer label comprehension studies, which are underway, establishing a safety profile and working with FDA for the possible switch," he adds.
As part of Petros' plan to pursue OTC status for Stendra, Mr. Boctor says the company has obtained input from key opinion leaders and completed a feasibility analysis and market forecast, including market size, patient volume and pricing.
Foundation Consumer Healthcare, which is led by CEO, Greg Bradley, who is also a Petros board member, has built an industry leading portfolio of OTC products, including the number one OB-GYN recommended Plan B One-Step emergency contraception, its flagship product; St. Joseph low-dose aspirin; and Bronkaid; the number one brand for mild, intermittent asthma relief.
"Working with the team from Foundation Consumer Healthcare differentiates us from other companies in the sector that may be considering pursuing a switch to OTC status," he adds.
In addition to Stendra, which was FDA cleared in 2012 and launched in 2014, Petros is in early development for the first topical therapeutic for Peyronie's disease, a fibrous scar tissue condition that develops on the penis and causes curved, painful erections.
And Petros' wholly-owned unit, Timm Medical Technologies, has commercialized two leading vacuum erection devices – Osbon ErecAid and Pos-T-Vac – for patients that require at-home penile therapy for oxygenated blood flow and erectile maintenance for intimacy.
Petros was created in 2020 through the merger of Neurotrope and Metuchen Pharmaceuticals, which relaunched Stendra in 2019. The transaction generated about $20-million in funding for Petros.
According to Mr. Boctor, ED represents a large market opportunity with near-term growth potential. "ED is among the most common urologic condition that men report to their doctor, impacting an estimated 30 million men in the U.S.," he says. However, it is estimated that 75% of these men currently do not seek a prescription to treat ED because of the social stigma in seeking medical advice.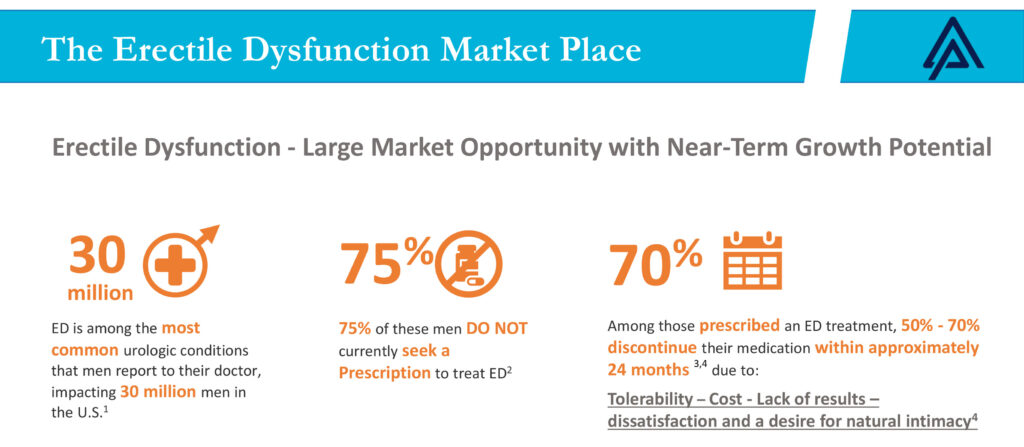 While ED prevalence historically has affected men between the ages of 40 and 59, Mr. Boctor points out that ED rates have gone up recently among younger men. According to a 2013 study in the Journal of Sexual Medicine, it is estimated that one-in-four newly diagnosed ED patients is under 40 years of age.
As a result, he says studies suggest the ED market is estimated to reach $4.7-billion in 2026, up from $3.8-billion in 2020, a 3.6% compound annual growth rate. And the Peyronie's disease market opportunity is expected to approach $1-billion in the next couple of years, he adds.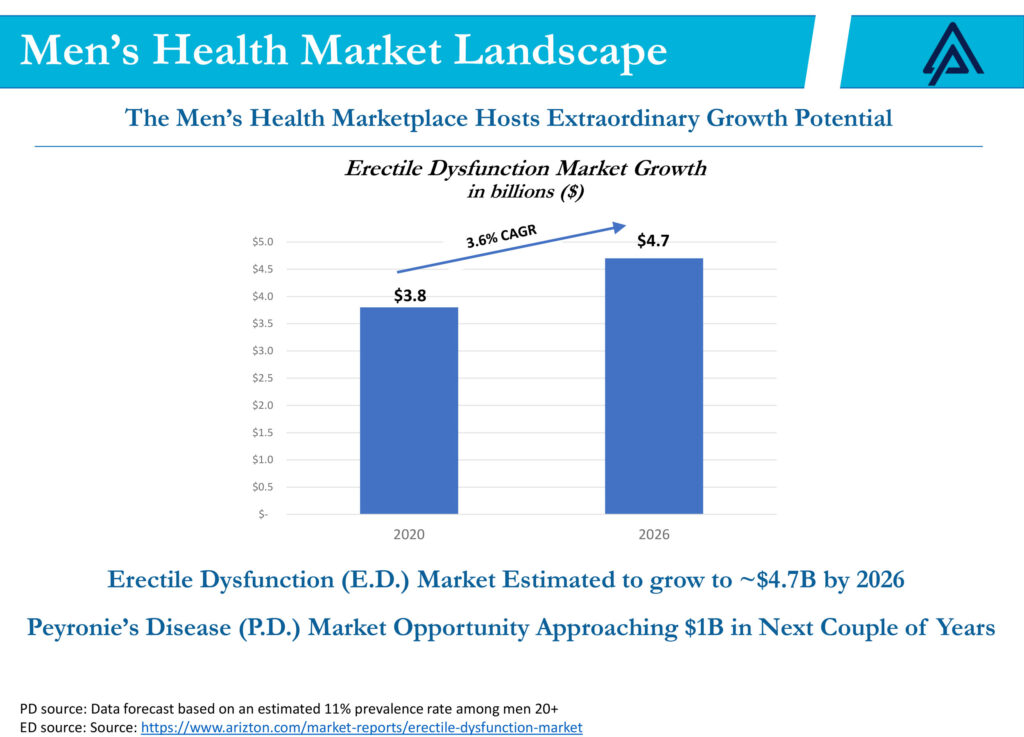 The lion's share of the ED market is held by Viagra, Cialis and Levitra. Sildenafil, the active pharmaceutical ingredient in Viagra, was originally studied in the 1990s as a cardiovascular drug. It was later discovered to have a side effect of promoting erections.
Mr. Boctor says Stendra consists of a distinct molecular structure that is available in strengths of 50 mg, 100 mg and 200 mg as an FDA-approved ED medication labeled to be taken as early as approximately 15 minutes before sex for the 100 mg and 200 mg only, with or without food, which he notes, has a "significant appeal for men."
Stendra also has a clinically proven safety record and its rate of discontinuance was similar to placebo in clinical studies.
While Stendra's clinical studies made no claims of superiority over Viagra and Cialis, nearly 90% of Stendra's early prescriptions came from patients switching from the two market leaders. Mr. Boctor attributes the therapeutic switch data to prescription behavior. "Not only does this estimate an enduring demand in the oral ED market, but also suggests that consumers seem to continue to look for new options," he adds.
However, Mr. Boctor admits there were disruptions in Stendra's commercial rollout, which went through two marketing partners in the 2010s before Metuchen in 2018 acquired the rights to license and commercialize Stendra in the U.S., Canada and South America. Metuchen relaunched Stendra in 2019, driving quarter-over-quarter prescription growth, even as generic versions of Viagra, Cialis and Levitra hit the market.
Mr. Boctor says Peyronie's disease represents a significant impairment for men. An estimated 11 million men in the U.S. may have Peyronie's disease, yet may be unaware of the condition and its prevalence remains unaddressed, he adds. Treatment options are limited and invasive, consisting of surgery and penile injections of an FDA-approved biologic.
According to a market research study of approximately 8,000 men, 11% presented with undiagnosed symptoms of Peyronie's disease and were unfamiliar with the condition.
In a placebo-controlled, double-blind small pilot study with 22 patients, Petros' H-100 topical treatment for Peyronie's disease achieved a mean stretched penile length increase of 22%, mean curvature reduction of 40.8% and significantly, Mr. Boctor says, a mean pain level reduction of 85.7%. The placebo group showed no significant improvement, with the exception of a mean stretched penile length increase of 6.8%.
Petros would like to find partners like the NIH and academic institutions to continue development of H-100 and meet with the FDA to discuss a clinical path forward, he adds.
Mr. Boctor says Petros' Timm Medical Technologies unit provides additional ED therapies to address the men's health market with its at-home vacuum erection devices.
The global ED device market is expected to reach $7.9-billion by 2026, up from $5.2-billion in 2020, representing a 6.5% compound annual growth rate.
"Erectile devices are emerging as mainstream practice for chronic ED as an at-home solution. Preliminary results in early clinical trials indicate possible potential for development of these devices in combination therapy with oral ED therapy, especially with men undergoing rehabilitation after radical prostatectomy surgery," he contends. "Petros is equipped to provide potential development options within this bio-mechanic combination therapy to address a broader spectrum of erectile pathologies underlying erectile dysfunction."
The "beauty of this market" is its extensive direct-to-consumer distribution network through retailers, such as Walgreens and eBay, Mr. Boctor points out. Petros also sells Timm devices to physicians and urologists using distributors, such as Vitality Medical and Nextra Health, and also has a sales distribution organization in the U.K.
"ED is a highly underserved and unmet marketplace and our leadership team contains some incredible minds in healthcare and direct-to-consumer value brands," Mr. Boctor says.
• • • • •
To connect with Petros or any of the other companies featured on BioTuesdays, send us an email at [email protected].