Kezar Life Sciences (NASDAQ:KZR) is advancing two drug development programs that have the potential to address a number of indications by harnessing different "master regulators" of cellular function: protein degradation, which is regulated by the immunoproteasome in cells of the immune system, and protein secretion, which is regulated by the Sec61 translocon.
"Targeting these fundamental regulators of intracellular function offers an attractive approach to treating many autoimmune diseases and cancers," John Fowler, a co-founder of Kezar and CEO, says in an interview with BioTuesdays.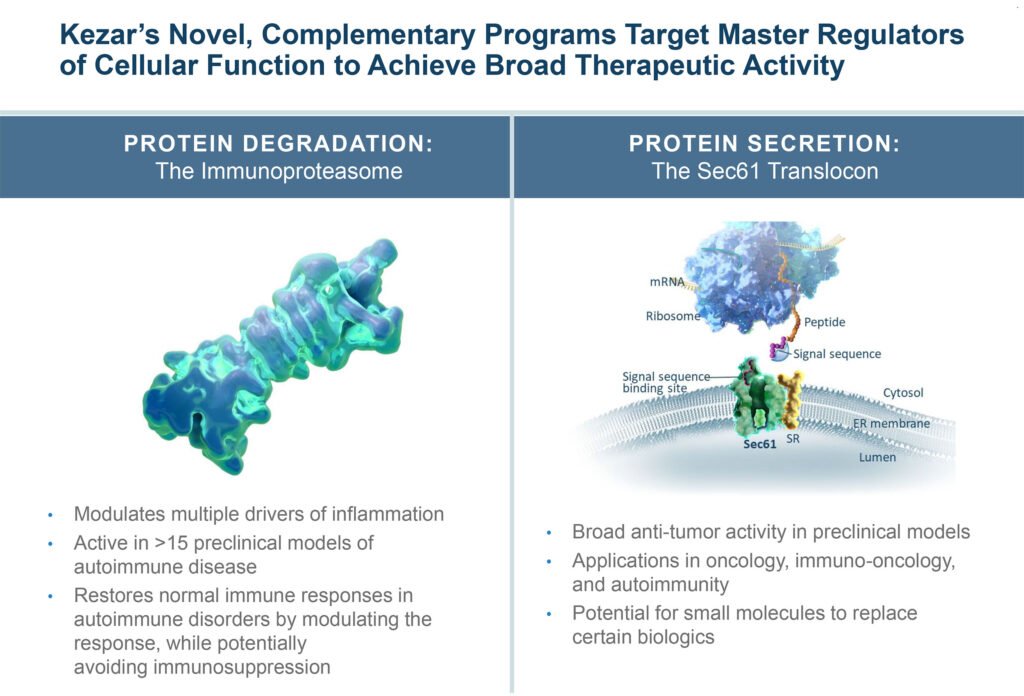 "Our lead asset, KZR-616, which is in Phase 2 clinical trials, is a first-in-class immunoproteasome inhibitor that – because of it's novel, broad mechanism of action, has the potential to be a true pipeline in a drug, with the ability to treat a wide variety of immune-mediated disorders."
He also explains that KZR-616 modulates multiple drivers of inflammation and is active in more than 15 preclinical models of autoimmune disease.
KZR-616 traces its roots to 2005 when Kezar's co-founder, CSO and president, Chris Kirk, Ph.D., initiated a program developing dual proteasome and selective immunoproteasome inhibitors at Proteolix, a biotech company in the Bay area. Proteolix was later acquired by Onyx Pharmaceuticals in 2009, and after Amgen acquired Onyx for $10.4-billion in 2013, Dr. Kirk and Mr. Fowler worked with Amgen to license the immunoproteasome technology. By 2015, they had started Kezar.
Mr. Fowler contends that unlike dual-targeting proteasome inhibitors, selective immunoproteasome inhibition is not cytotoxic and results in broad immunomodulatory activity across the adaptive and innate immune system.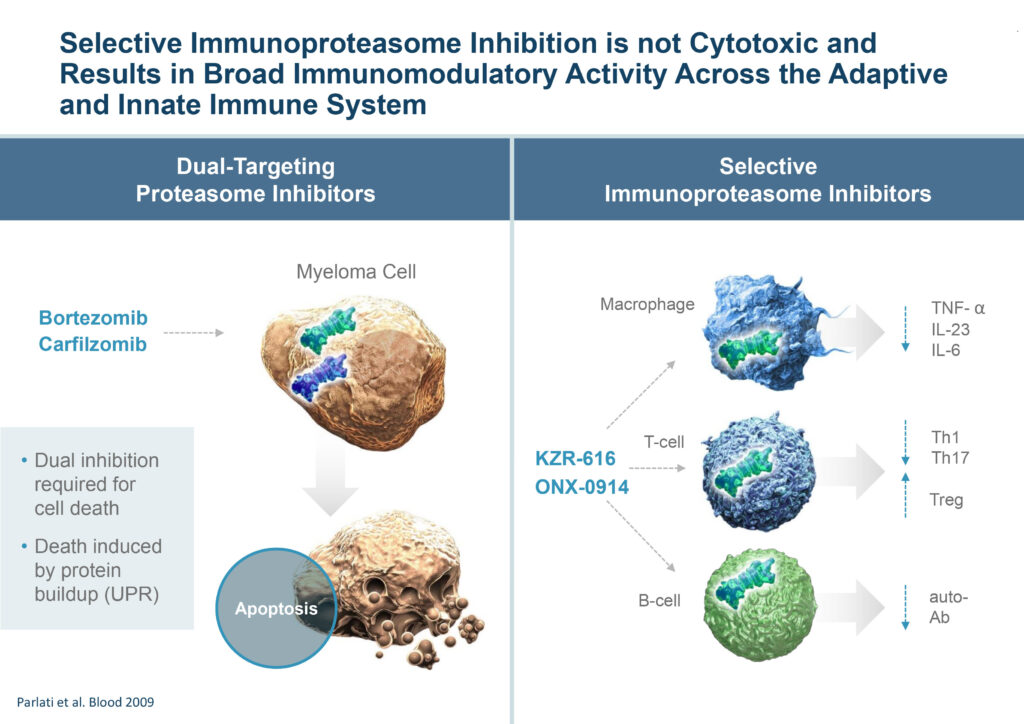 "Inflammatory disorders are currently treated one cytokine or immune cell type at a time, but the immunoproteasome covers them all," he adds. "Our broad expression pattern will be especially important to autoimmune patients that have multiple co-morbidities, which is pretty common. Targeted therapies may not address the needs of all patients with diseases characterized by defects in multiple arms of the immune system."
Mr. Fowler suggests that current treatments for immune-mediated and autoimmune diseases can be inadequate and ineffective in many patients, who are often treated with a cocktail of immunosuppressive drugs, including high doses of steroids. This kind of prolonged standard immunosuppressive treatment can result in significant complications, such as osteoporosis, muscle weakness, infections, bone marrow suppression and hepatoxicity, he adds.
"KZR-616 has the potential to restore normal immune response in patients struggling with autoimmune disorders while potentially avoiding immunosuppression," Mr. Fowler contends. "Furthermore, the ability to reduce the overall steroid burden for these patients can significantly improve their quality of life."
As a first-in-class selective immunoproteasome inhibitor, he says KZR-616 is well-positioned to be used as a chronic therapy and has the potential to meaningfully change the treatment paradigm for multiple immune-mediated diseases. Among other things, he points to once-weekly dosing that's amenable to patient self-administration and no off-target effects or hypersensitivity. "The drug has the potential to be a steroid-sparing treatment and has a low risk of interaction with other drugs."
Kezar is currently focusing its development efforts with KZR-616, which has IP coverage until 2034 and beyond, on medium-rare, immune-mediated diseases of high unmet need and U.S. patient populations of 10,000-to-150,000.
Mr. Fowler points to the myriad autoimmune and immune-mediated indications that have been responsive to immunoproteasome inhibitors in preclinical models, and the many patients with diverse severe autoimmune disorders that have responded well to proteasome inhibitors used off-label. Some example indications include antibody-mediated transplant rejection, pemphigus vulgaris, rheumatoid arthritis, multiple sclerosis, graft-versus-host disease and myasthenia gravis.
Based on the data generated to date with KZR-616 in two healthy volunteer studies and a Phase 1b study in systemic lupus erythematosus, Kezar is now enrolling two Phase 2 clinical trials: MISSION and PRESIDIO.
Phase 1 studies indicate that after 13 weeks of treatment, KZR-616 appeared to be well tolerated and reduced key biomarkers of disease activity. It also showed consistent pharmacokinetics and pharmacodynamics across subjects, with repeat dosing.
MISSION is evaluating KZR-616 for the treatment of lupus nephritis, which is a rare disease involving inflammation of the kidneys, leading to dialysis and even kidney failure, and represents a serious complication of systemic lupus erythematosus.
The 20-patient open-label MISSION study, where subjects receive six months of treatment with KZR-616, is designed to demonstrate the number of patients who achieve a greater than 50% reduction in their urine protein-to-creatinine ratio. Mr. Fowler indicates that patients achieving this kind of response would represent a meaningful reduction in disease activity and he hopes these data can serve as the basis for a registration quality study.
"KZR-616 has the potential to be a fast-acting and broad immunomodulatory treatment for patients with lupus nephritis," he adds, noting that the U.S. prevalence is about 150,000 patients.
Kezar launched its Phase 2 PRESIDIO study with KZR-616 for the treatment of dermatomyositis (DM) and polymyositis (PM) in late 2019. DM and PM are two of the five types of idiopathic inflammatory myopathies. Both diseases are rare, chronic, debilitating, progressive inflammatory autoimmune myopathies that are distinguished by inflammation of the muscles, as well as the skin in DM.
The prevalence of both conditions is estimated to be up to about 120,000 patients in the U.S. "Our drug is the first to be granted orphan drug designation for both DM and PM," Mr. Fowler points out, "We are excited to see what KZR-616 can do in these indications of such high unmet medical need."
The unique crossover design of PRESIDIO will enable all 24 patients in the trial to receive 16 weeks of treatment with the drug over the 32-week study. Mr. Fowler says the first patients have now moved into a 12-month open-label extension study. The primary endpoint is the Total Improvement Score, and key secondary endpoints include safety and patient reported outcomes. Top-line data are expected in the first half of 2022.
"If the study is positive, we will be in a strong position to move into a registration-enabling study," he adds.
Kezar's second drug discovery platform of protein secretion inhibitors has the potential to address a wide variety of diseases. The company's lead candidate in the program, KZR-261, targets the Sec61 translocon, which has a role across many of the established hallmarks of cancer. "It is a unique and previously undrugged target. By selectively inhibiting the protein secretion pathway, we have the opportunity to hit multiple cancer drivers that lie downstream of Sec61 translocon activity," Mr. Fowler suggests.
Kezar plans to submit an IND with the FDA in the first half of 2021 to conduct a Phase 1b trial with its KZR-261 in multiple solid tumor types.
"Our protein secretion inhibitors have demonstrated broad anti-tumor activity in preclinical models, and the platform has broad potential in oncology, immuno-oncology, and autoimmunity," he notes. "We believe we have the potential to hit many targets of traditional biologic therapies with single small molecule drugs, effectively acting like combination therapy in a single drug."
Mr. Fowler says a plethora of validated targets utilize the Sec61 translocon. "Kezar's novel protein secretion program holds the potential to produce multiple small molecule drugs that are superior to biologic therapies across the oncology and immunology landscape."
While developing new medicines with truly novel science is never a linear path, Mr. Fowler has his eye on the prize. "With each step forward, our conviction deepens that Kezar's novel small molecule approaches in autoimmunity and oncology could have profound impacts on a wide array of diseases with high unmet need."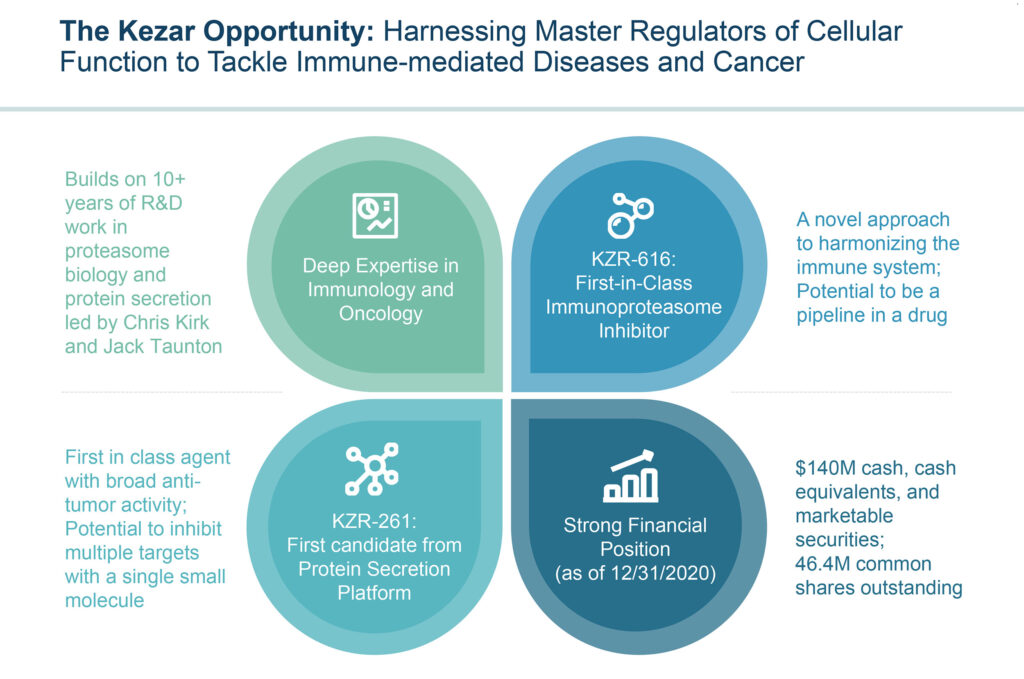 • • • • •
To connect with Kezar or any of the other companies featured on BioTuesdays, send us an email at editor@biotuesdays.com.