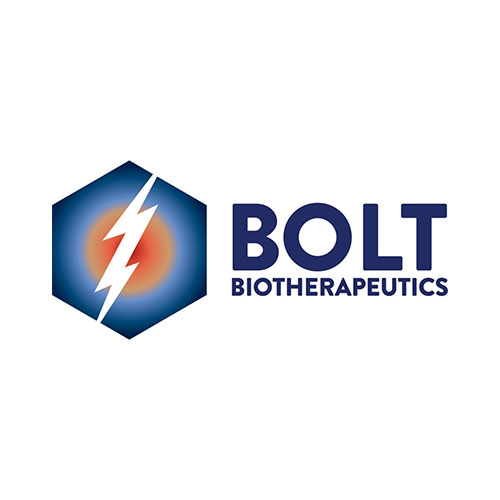 Analysts for SVB Leerink and Stifel launched coverage of Bolt Biotherapeutics (NASDAQ:BOLT) with "outperform" and "buy" ratings, respectively, and price targets of $36 and $40, respectively. The stock closed at $30 on March 1.
Bolt is a leader in the immune stimulating antibody conjugate (ISAC) field with a pipeline of Boltbody-conjugated TLR7/8 agonists for oncology.
TLR7/8 agonism is clinically validated when given topically, and "we are encouraged by the preclinical evidence supporting systemic delivery using a monoclonal-antibody to target activity to the tumor," writes Leerink analyst Daina Graybosch Ph.D.
"In 2021, clinical data from the dose escalation trial of BDC-1001 (HER2 targeted) could provide proof-of-principle for Bolt's Boltbody platform," she added.
Stifel analyst Stephen Willey writes that preliminary single-agent BDC-1001 dose-escalation data "reinforces preclinical validation of the company's Boltbody ISAC technology and improves visibility into the longer-term probability of success associated with future clinical development plans and the ability to potentially establish clear commercial differentiation within an admittedly-crowded landscape of next-generation HER2-targeting therapies."
Dr. Graybosch said Bolt's second program, BDC-2034, targets the same TLR7/8 agonist to CEA-expressing tumors, including colorectal and pancreatic – indications that have yet to benefit from immunotherapies. "While this sets a high bar, we believe TLR7/8 agonism holds potential to kickstart an immune response."
Mr. Willey agreed. "BDC-2034 further extends the applicability of Boltbody's ISAC technology to a highly-differentiated target antigen (CEA) over-expressed in multiple tumor types characterized by significant unmet medical need," he said.
Bolt's third program targets TLR7/8 to PD-L1-expressing tumors and immune cells, an approach that will "open up more traditionally immuno-oncology sensitive tumors," Dr. Graybosch said.
"It will also test a different scientific hypothesis: PD-L1 will target agonism to tumors and tumor-draining lymph nodes, which also may be important in stimulating productive anti-tumor immunity," she added.