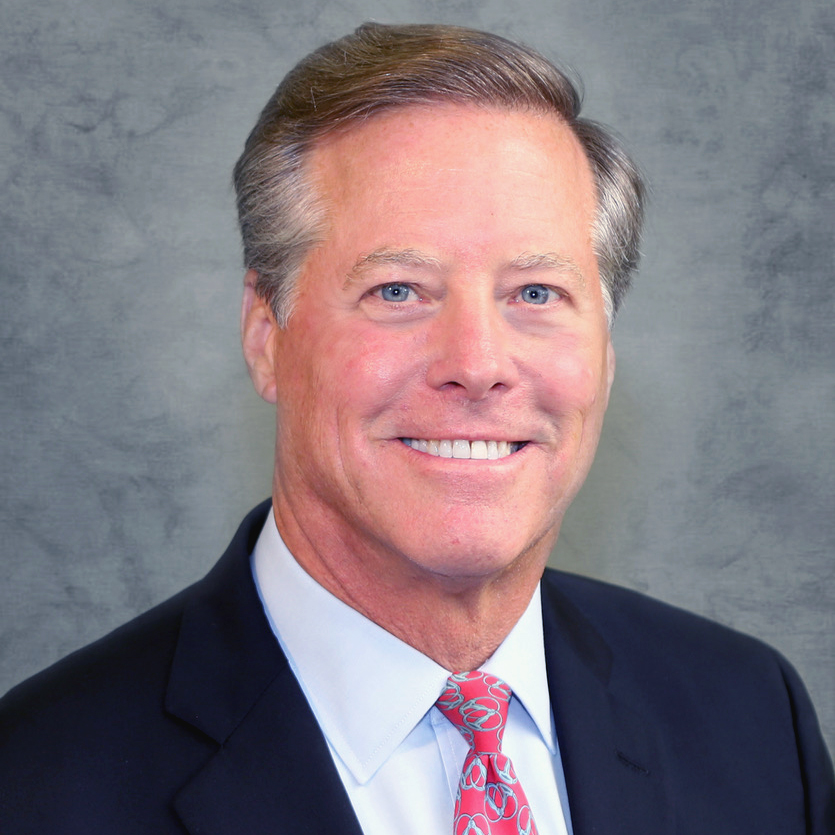 As the recently installed president and CEO of Neuronetics (NASDAQ:STIM), a commercial-stage medical device company focused on designing, developing and marketing products that improve the quality of life for patients who suffer from psychiatric disorders, Keith Sullivan has more than 30 years of senior leadership in the medical device industry. Most recently, he served as chief commercial officer and president (North America) of ZELTIQ Aesthetics, a medical technology company focused on its proprietary controlled-cooling technology platform under the Coolsculpting brand until the acquisition of ZELTIQ by Allergan in April 2017. He has also held leadership positions with Medicis Pharmaceuticals, Reliant Technologies, Medtronic, Vision Quest Laser Center and Coherent Medical. In this interview with BioTuesdays.com, Mr. Sullivan discusses his plan for Neuronetics and its focus on transforming lives with the NeuroStar Advanced Therapy system, a non-drug, non-invasive transcranial magnetic stimulation (TMS) treatment for major depressive disorder (MDD) – particularly now as the pandemic continues to exacerbate symptoms of depression and the need for mental health treatment continues to rise.
What is TMS and how does it work?
TMS uses a pulsed, MRI-strength magnetic field to induce electrical currents to stimulate specific areas of the brain associated with mood, triggering a cascading electro-chemical effect that changes connections in brain structures to improve neural circuit activity and mood. Specifically, NeuroStar stimulates neurons in the prefrontal cortex region of the brain, which release neurotransmitters, such as serotonin, dopamine and epinephrine, to positively affect mood. NeuroStar TMS therapy relies on precise and targeted stimulation with proprietary contact sensing technology that is consistent and repeatable over treatment sessions.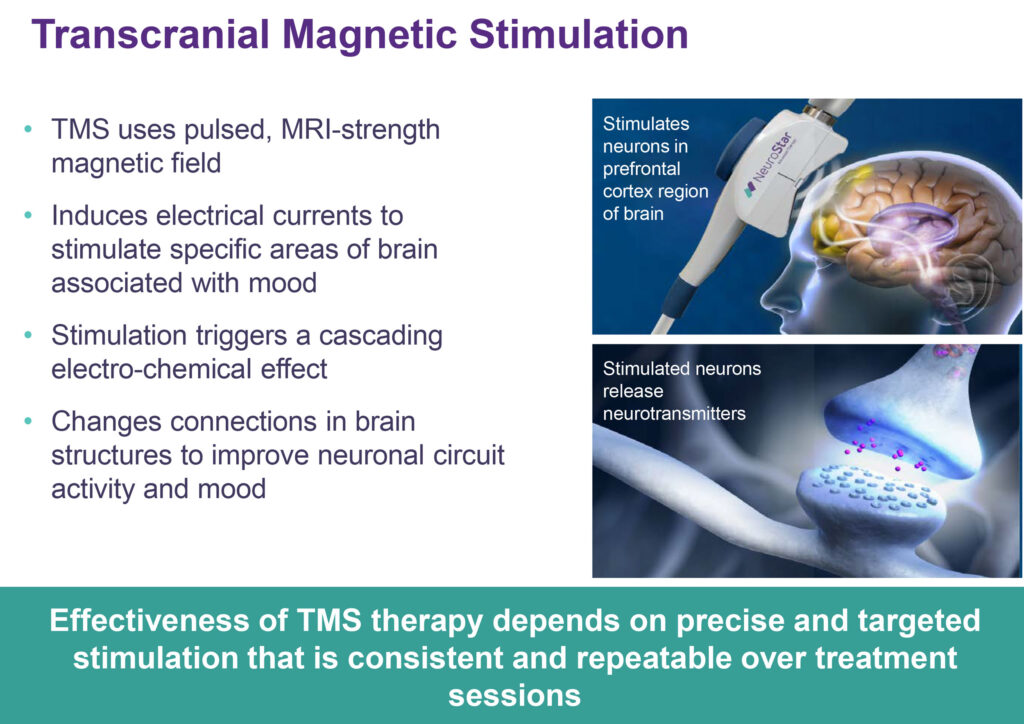 Where is NeuroStar approved and what is the target indication?
NeuroStar was the first TMS device to receive FDA clearance in 2008 and our commercial sales began in 2010. NeuroStar was CE marked in 2012 for European distribution and is commercially available in many countries around the world. The system was approved in Japan in September 2017 and reimbursement was received in June 2019.
NeuroStar's current indication is MDD in adults who have failed to receive satisfactory improvement from prior antidepressant medication in the current episode. We are currently pursuing approval for bipolar depression, after having received breakthrough device designation last year. Clinical data from our Outcomes Registry – the largest outcomes registry in the world for MDD, which collects and analyzes data from treatment in real-world clinical settings with NeuroStar Advanced Therapy – is helping to lay the groundwork for future advancements and indications. There is an opportunity in the future for NeuroStar to play a role in treating obsessive-compulsive disorder, generalized anxiety disorder, as well as other central nervous system conditions.
How do you see NeuroStar's market?
NeuroStar currently is administered by psychiatrists and neurologists, of which there are 56,000 and 16,000, respectively, in the U.S. – so the market is large. NeuroStar has widespread coverage, including Medicare and Medicaid, with coverage from more than 95% of U.S. private insurers, of which about half require patients to have failed two antidepressants to be eligible for NeuroStar treatment and the other half require patients to have failed four drugs. During the pandemic, insurance providers recognized the need for mental health care and several major insurance companies have updated their policies to make TMS accessible to more people by reducing the number of medication attempts needed. As prescriptions for antidepressants have tripled in the last year, we expect to see a rise in NeuroStar treatments among patients with treatment-resistant depression who don't see success with these courses of drugs.
What attracted you to join Neuronetics?
I was familiar with Neuronetics before joining as CEO as I had done some consulting with the company between 2010 and 2012 on its go-to-market strategy. I believe in the company's mission to transform lives and have seen its positive impact firsthand on loved ones struggling with depression. Soon after leadership shifted, in July 2020, I was brought into the executive suite and am excited at the opportunity to lead the future growth of the company.
How did you initiate the turnaround at Neuronetics?
The first thing we did was commission extensive market research to ensure we are effectively communicating to our core audiences and approach them with very clear messages in the ways that will resonate best. The market research findings are already informing key marketing shifts.
What other changes have you made at the company?
Even though NeuroStar has been on the market for 10 years and reimbursed by insurers for the last five years, there is still a need to educate on TMS as a treatment for depression – both among consumers and clinicians, which is a primary focus of ours.
Does your new corporate plan extend to your sales organization?
When COVID hit, the company cut its sales reps in the field to 16 from 59 because most physician offices were closed. At the beginning of this year, we brought the total number of our business development managers up to 22 and our NeuroStar practice consultants up to a total of 27. We also added personnel to our sales management, reimbursement, clinical training and marketing functions to help support the future growth of the company.
Are there any other challenges you face?
We know patients are looking for alternatives to drugs, and our biggest opportunity lies in ensuring psychiatrists understand they will be successful and helping patients if they make the investment.
How do you differentiate yourself from the competition?
In addition to our technology, which is second to none, we provide our physicians with the critical resources they need, such as trainings, marketing support, patient education programs and more, to maximize patient care and optimize their practice success. In fact, the NeuroStar system with its advanced technology offers three treatment protocols to help physicians work with their patients to achieve the best outcomes:
Standard, which offers treatments at 37.5 minutes per session;
DASH, which offers treatments as little as 19 minutes per session;
and TouchStar, which offers treatments at three minutes per session.
Patients receive NeuroStar Advanced Therapy during their prescribed session, five days a week for up to seven weeks in a psychiatrist's office without the need for general anesthesia or sedation. Each treatment protocol offers NeuroStar's patented contact sensing technology as the precise treatment location on the brain is essential for maximum results. The three-dimensional, laser-guided, six-point coordinate system and contoured coil, which is locked in by the system, provides continuous real-time feedback about the coil's angle and contact with the head, allowing a physician to know exactly where the device needs to be placed. The system can sense if a patient moves and additional pulses are administered to achieve a complete treatment.
What are the limitations of antidepressants?
Patients taking antidepressants often say they feel better, but they don't feel great. It's as though there's a cloud hanging over them because drugs can take away the lows as well as the highs. In addition, the success rate with antidepressants is low, with the chance of remission under 30%. As a patient moves through a second, third or fourth medication, the chance of remission goes down even more dramatically. By the fourth drug, their chance of remission is under 7%. Our clinical data, which has been published in 25 peer-reviewed journals, supports NeuroStar as a safe and effective treatment. In our clinical studies, one-in-two patients responded to treatment and one-in-three achieved remission – and the long-term durability of NeuroStar has been demonstrated with response and remission rates among users as well.
What's the installed base of NeuroStar?
We have 1,400 systems in the field and our nearest competitor doesn't come close to that. Plus, we have systems installed in Japan, Korea, Hong Kong and the Middle East.
How do you view international markets?
Japan represents a major growth opportunity because the country's spending on healthcare is the third largest globally. We teamed up with a distributor in Japan in 2017, but it's not a big part of our business today. We'll turn our attention to Asia and Europe in the future.
Do you have a five-year plan?
In five years, we want to be the leader in all treatments associated with mental health. To get there, we need to build awareness with all patients suffering from depression today and we need to receive regulatory clearance for bipolar depression, obsessive-compulsive disorder, post-traumatic stress disorder and generalized anxiety disorder. Our plan envisions growing revenue by a minimum of 35% a year so that by the end of five years, we will have treated 166,000 patients. There's a statistic in this business that some 2% of patients with depression take their lives each year. If we can treat 166,000 patients during the next five years, we could prevent 3,325 suicides and that is a remarkable goal to me.
• • • • •
To connect with Neuronetics or any of the other companies featured on BioTuesdays, send us an email at editor@biotuesdays.com.