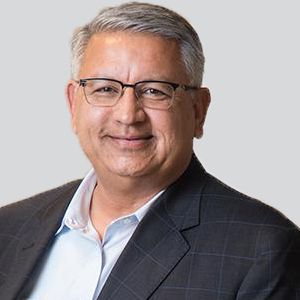 VistaGen Therapeutics (NASDAQ:VTGN) plans to begin a Phase 3 clinical trial in the second quarter with PH94B, a neuroactive nasal spray designed to provide rapid onset of action for the acute treatment of anxiety in adults with social anxiety disorder (SAD), one of the most prevalent mental health conditions in the U.S., affecting as many as 20 million people.
The company also is developing another neuroactive nasal spray, PH10, designed for potential rapid onset treatment of depression disorders, such as major depressive disorder (MDD), and an oral treatment, AV-101, for MDD and other neurological conditions.
"We are committed to developing and commercializing new generation medicines that go beyond the current standard of care for anxiety, depression and other CNS disorders," Shawn Singh, CEO, says in an interview with BioTuesdays.
"The COVID-19 pandemic is causing a mental health crisis the likes of which we have never seen before, with alarming increases in anxiety, stress, depression and suicide," he adds. "Stress-provoking episodes are soaring, especially as routines are being disrupted, and we've seen skyrocketing prescriptions of benzodiazepines, which carry with them the potential for misuse, abuse and addiction, even when taken at recommended dosages."
Benzodiazepines are some of the most commonly prescribed medications in the U.S. VistaGen hopes its PH94B can displace benzodiazepines for acute treatment of SAD.
SAD is more than just shyness. It is a fear and anxiety about everyday social and performance situations, such as meeting new people, giving a speech, making a work presentation, interviewing for a job and interacting in front of other people, even in this virtual environment that has become the "new normal" for many.
There is no FDA-approved, fast-acting, as needed treatment for SAD and the current standard of care – FDA-approved antidepressants and off-label use of benzodiazepines – have significant potential side effects and safety concerns.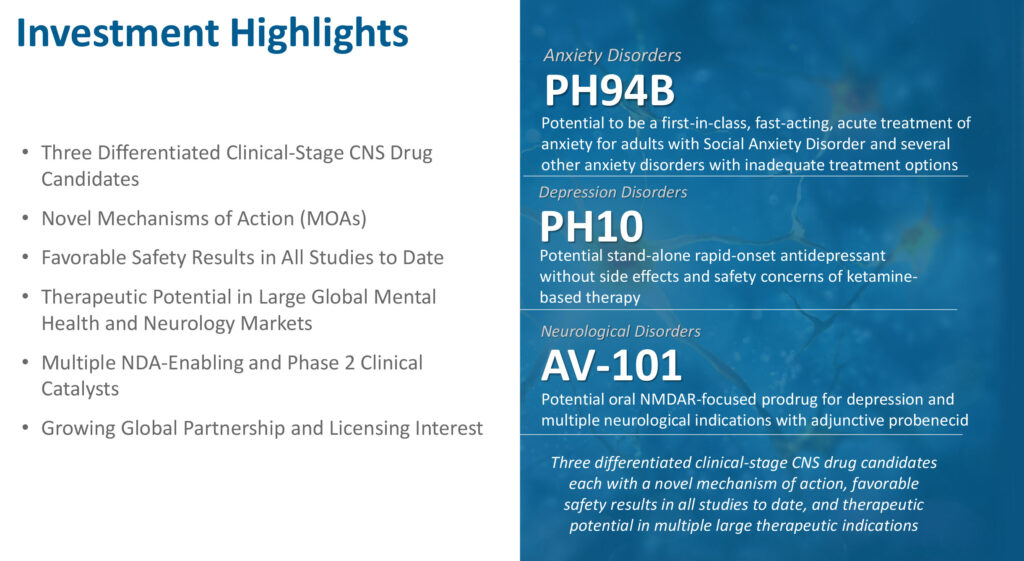 VistaGen's clinical programs received a shot in the arm in December when the company closed a $100-million public offering. Participants in the offering included numerous large healthcare-focused institutional investors, such as New Enterprise Associates, OrbiMed, Acuta Capital, and Venrock Healthcare Capital Partners, among others.
According to Mr. Singh, PH94B, which has received fast track designation from the FDA for development as a potential acute treatment for SAD, is an innovative odorless investigational synthetic neuroactive nasal spray that acts within 10-to-15 minutes as needed before an anxiety-provoking trigger or stressor, much like a rescue inhaler used before an asthma attack or a migraine drug before onset of a migraine episode. In prior studies, its effect lasted about 60-to-120 minutes. It is dosed in microgram levels, cannot be detected in the blood stream and has demonstrated a favorable safety record in all clinical studies to date.
"After completion of a statistically significant Phase 2 clinical study, with a p value of 0.002, we reached consensus with the FDA on a Phase 3 study design that mirrors the key aspects of that Phase 2 study," Mr. Singh adds.
The Phase 3 principal investigator, Dr. Michael Liebowitz of Columbia University in New York, is an internationally recognized researcher of anxiety and affective disorders, and creator of the Liebowitz Social Anxiety Scale, a widely used measure in clinical research of SAD. He is also a member of VistaGen's CNS clinical and regulatory advisory board.
Mr. Singh explains that microgram intranasal levels of PH94B engage specific nasal chemosensory neurons, which in turn activate olfactory bulb neurons on the base of the brain. These neurons send neural connections specifically to neurons in the central limbic amygdala, the brain center where fear and anxiety are regulated. "Neurons in the limbic amygdala modulate inhibitory neurotransmitters, resulting in rapid anti-anxiety effects," without requiring any systemic uptake and distribution," he adds.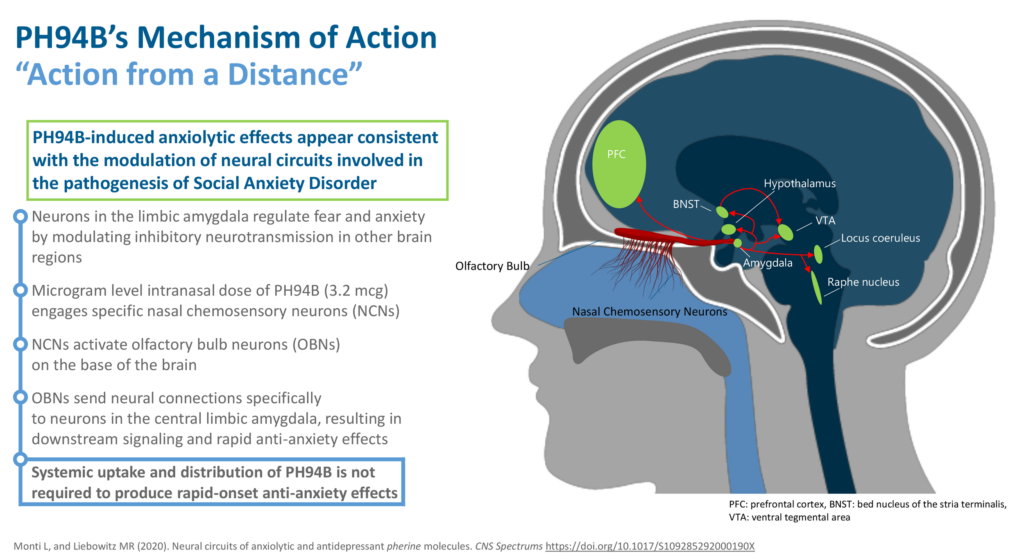 In the earlier Phase 2 study, 46 placebo and 45 PH94B patients were told they would have two minutes to prepare to give a five-minute speech without notes to an audience of three role players. "PH94B rapidly reduced anxiety in response to the public speaking challenge," Mr. Singh says.
In its upcoming double-blind, placebo-controlled Phase 3 clinical trial in SAD, VistaGen plans to enroll approximately 208 subjects across 15 clinical sites in the U.S. The trial is scheduled to begin in mid-2021 and read out in mid-2022.
"If approved, we intend to commercialize PH94B as a primary care product in the U.S. ourselves and negotiate regional partnerships elsewhere," Mr. Singh says.
In June 2020, VistaGen inked a strategic licensing and collaboration agreement with AffaMed Therapeutics (formerly EverInsight Therapeutics) for the Phase 3 clinical development, regulatory submissions and commercialization of PH94B in Greater China, South Korea and Southeast Asia. In exchange, VistaGen received a $5-million upfront payment from AffaMed and is eligible for potential milestones of up to $172-million, on top of royalties on sales.
A planned global pivotal study will involve 240 completed subjects to begin in the fourth quarter of 2021 and finish at the end of 2022. "Our plan is to file NDA's in two of the world's biggest pharma markets – the U.S. and China – as concurrently as possible," Mr. Singh says.
To tap PH94B's potential beyond SAD, he says VistaGen plans to begin Phase 2 testing in 2021 in several additional anxiety-related conditions including, adjustment disorder, postpartum anxiety, post-traumatic stress disorder, and preprocedural (pre-MRI) anxiety.
VistaGen's second rapid-onset neuroactive nasal spray, PH10, successfully completed an exploratory Phase 2a study for the treatment of MDD. The company is preparing for a Phase 2b clinical trial of PH10 as a potential stand-alone treatment for MDD at the beginning of 2022.
More than 17 million adults in the U.S. have had at least one major depressive episode, while globally, some 264 million people of all ages suffer from depression. The pandemic is believed to have exacerbated pre-pandemic levels of depression.
Current standard-of-care oral antidepressants may help only one-in-three patients, take four-to-six weeks to achieve a therapeutic effect and are associated with potential side-effects, such as anxiety, sexual dysfunction, insomnia and nausea.
"Depression is clearly another aspect of the mental health sector where a faster and safer next generation treatment option is required," Mr. Singh contends.
VistaGen's PH10 is an odorless, non-systemic synthetic neuroactive nasal spray, designed to achieve a potential rapid-onset of antidepressant effects and has demonstrated favorable safety in all clinical studies to date.
While PH94B is designed to generate an inhibitory effect, resulting in a rapid anti-anxiety effects, PH10 is designed to stimulate release of excitatory neurotransmitters, resulting in rapid-onset of antidepressant effects, according to Mr. Singh.
The company's Phase 2b study expects to enrol 150 MDD patients. The primary endpoint will be a change in HAM-D-17 score from baseline, compared with placebo.
Mr. Singh suggests that PH10's potential beyond MDD could include postpartum depression, suicidal ideation and treatment-resistant depression.
VistaGen currently is assessing multiple go-forward plans with its new generation oral AV-101, which has fast track designations for MDD and pain.
Mr. Singh explains that AV-101 targets the N-methyl-D-aspartate receptor (NMDAR), an ionotropic glutamate receptor in the brain. Abnormal NMDAR function is associated with numerous CNS diseases and disorders. AV-101 is an oral prodrug of 7-Cl-KYNA, which is a potent and selective full antagonist that inhibits the function of the NMDAR glycine site.
In all clinical studies to date, AV-101 has exhibited no dissociative or hallucinogenic psychological side effects or safety concerns similar to those that may be caused by ketamine, he points out.
As a result, Mr. Singh says AV-101, which is expected to be developed in combination with FDA-approved probenecid, has the potential to be a new generation oral treatment for multiple large-market CNS indications, where current treatments are inadequate to meet high unmet patient needs.
"Overcoming anxiety and depression disorders are the growing needs that people have today, and we're excited to not only have the expert teams, ideas and opportunities, but also the capital to execute our clinical development plans across our pipeline," Mr. Singh says.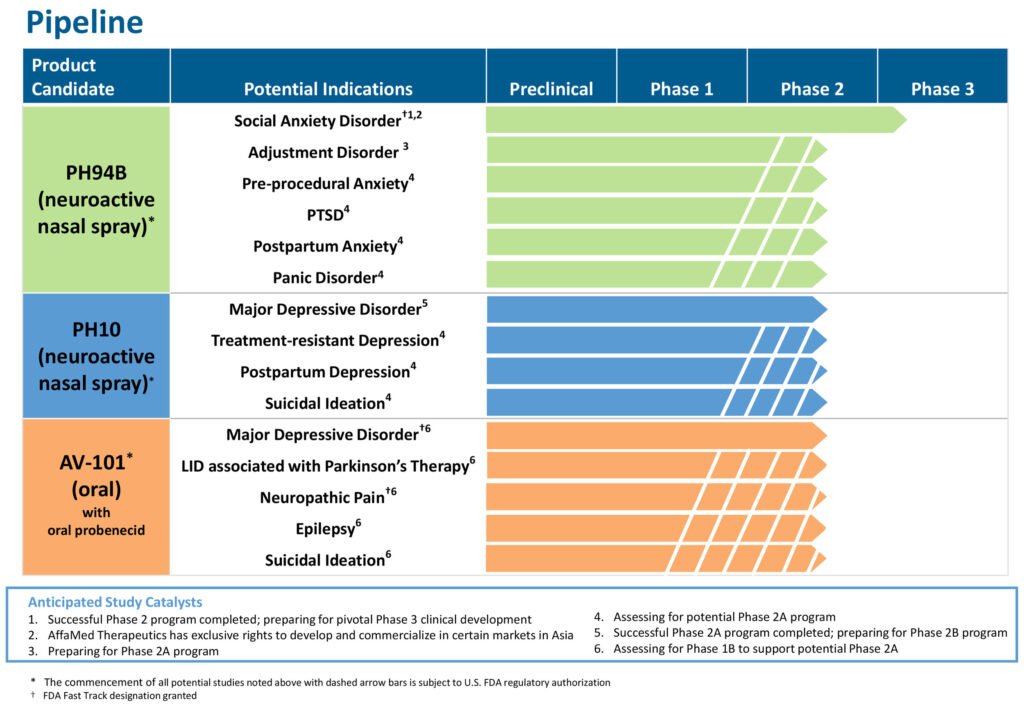 • • • • •
To connect with VistaGen or any of the other companies featured on BioTuesdays, send us an email at [email protected].