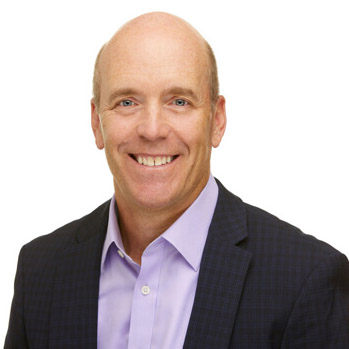 Closely-held Ripple Therapeutics inked a transformative strategic investment and licensing deal for its lead product candidate, IBE-814 IVT, an intravitreal implant being developed for the treatment of diabetic macular edema (DME) and retinal vein occlusion (RVO).
Ripple's new partner, France's Théa Open Innovation (TOI), is a wholly-owned subsidiary of Laboratoires Théa, the leading independent ophthalmology company in Europe with a presence in 75 countries.
"Laboratoires Théa is an ideal partner for Ripple given their extensive experience in ophthalmology and successful track record in bringing innovative products to market," Tom Reeves, president and CEO, says in an interview with BioTuesdays.
TOI acquired an exclusive license to Ripple's IBE-814 IVT in North America and Europe for an upfront payment; clinical and regulatory milestone payments; and double-digit royalties on product sales. In addition, Laboratoires Théa agreed to pay for IBE-814 IVT's Phase 3 clinical development.
"We view this as a win because we would otherwise have to conduct a $50-million to $75-million Series B financing in two-to-three years to fund the Phase 3 trials," Mr. Reeves points out.
Laboratoires Théa's president, Jean-Frédéric Chibret, says that being an independent, family-owned and -run company with a 100% dedication to ophthalmology "enables us to have a faster decision-making process and reinvest profits into our two main growth drivers, innovation and geographic expansion, while working toward a long-term vision."
Two years ago, Laboratories Théa established TOI to support partnerships with companies, universities, biotechs or ophthalmologists developing innovative eye care products.
"We offer innovative products across a wide range of ophthalmology indications, and until recently, did not have a presence in retinal disease," Mr. Chibret says. "That is why this partnership with Ripple is an important, and strategic one for Laboratories Théa – it aligns with our strategy to enter into new ophthalmology markets and gain a presence in North America."
In connection with the license agreement, Laboratories Théa was the lead investor in Ripple's $14.8-million Series A financing that closed on Dec. 10. "These funds will support IBE-814 IVT's development through Phase 2 clinical trials, and potentially to IND approval for a Phase 3 trial," Mr. Reeves adds.
IBE-814 IVT is a dexamethasone prodrug implant based on Ripple's Epidel technology. "It's a fundamental discovery on how to deliver drugs in a completely different way," says Wendy Naimark, Ph.D., Ripple's VP research and development. She explains that the conventional approach to controlled drug delivery is to mix a drug with a polymer to create implants or coatings.
"We discovered we could take the polymer out of the equation by covalently linking two dexamethasone molecules with triethylene glycol to create what I like to call a 'dexamethasone dumbbell,'" she says. Unexpectedly, the small 1,000 molecular weight-molecule formed a solid 3D structure that dissolved into its original components, resulting in a mechanism for precise and sustained controlled drug delivery.
Ripple has received four patent allowances related to composition of matter and steroid drug delivery. Two of these allowances were fast tracked and granted within a year. "We're building a very strong portfolio to patent the technology as broadly as possible," says Dr. Naimark.
For the past twelve months, the company has been working on IBE-814 IVT's chemistry, manufacturing and controls program to advance the drug candidate to Phase 2 trials. "The process of making and extruding the material; designing our own injector and finally releasing the clinical batch was very challenging," Dr. Naimark recalls. Ripple is conducting a Phase 2 trial of IBE-814 IVT in Australia and New Zealand, with the first patient expected to be treated in early 2021.
In addition to the 10 approved clinical trial sites in Australia, Ripple has two clinical sites approved in New Zealand. "We are fortunate for having chosen to start in Australia, as COVID-19 has had a lower impact in that country compared to others," Mr. Reeves points out.
The company has started site initiation activities as well as screening DME and RVO patients. The Phase 2 trial will enroll 50 patients, with seven patients starting on low-dose IBE-814 IVT before placing additional patients on a higher dose. The trial's key endpoints are best-corrected visual acuity and central subfield thickness of the macula at six months. Patients will be followed for 18 months.
"This is exploratory work that will inform the design of the Phase 3 trial," Dr. Naimark explains. "We plan to enroll the last patient in the fall of 2021 and expect six-month primary endpoint data in the first quarter of 2022.
Mr. Reeves points out that Ripple has focused on developing the Epidel platform for ophthalmic indications. In addition to IBE-814 IVT for DME and RVO, the company is developing candidates for glaucoma, wet age-related macular degeneration (AMD), post-cataract surgery, and dry AMD. "We have been evaluating Epidel's feasibility with other drug classes and found the platform can be applied to a variety of molecules."
Earlier this year, Ripple demonstrated that it could chemically engineer prostaglandins, which are oils, to create solids that can be extruded into implants. These prostaglandin-based implants exhibited similar sustained drug release as Ripple's steroid-based implant.
The finding led to the selection of the company's second drug candidate, RTC-1119, a prostaglandin-based intracameral implant for the treatment of glaucoma. Mr. Reeves says that Ripple's recently completed financing also will fund planned acute and chronic preclinical work on RTC-1119, which "could represent a bigger opportunity than our lead program because there are few sustained-release therapeutic alternatives in the glaucoma space."
"Putting implants into the intracameral space is a challenge. Because our technology eliminates the need for a polymer, we can provide controlled drug release with a smaller implant, and eliminate implant swelling, which we believe will be associated with fewer safety concerns, compared with other implants being developed for glaucoma," she contends.
Mr. Reeves points out that the Epidel technology has many potential applications beyond ophthalmology, and that Ripple is currently in talks with several companies that are developing continuous glucose monitors. "By coating our dexamethasone prodrugs onto an implantable sensor, you can reduce fibrosis associated with the body's foreign body response and therefore extend the life of the sensor from five-to-seven days to two-to-three weeks."
Other potential applications of the technology include the controlled delivery of an opioid antagonist for the treatment of opioid use disorder; and extended-release medication for the treatment of pain in post-surgical and osteoarthritis patients.
Mr. Reeves adds that Ripple plans to raise an additional $7-million in early 2021 to continue to develop its Epidel technology platform and accelerate its product pipeline initiatives. "We'll also evaluate opportunities to license or acquire unique ophthalmology drug candidates from early-stage companies where the Epidel platform could provide an effective delivery vehicle."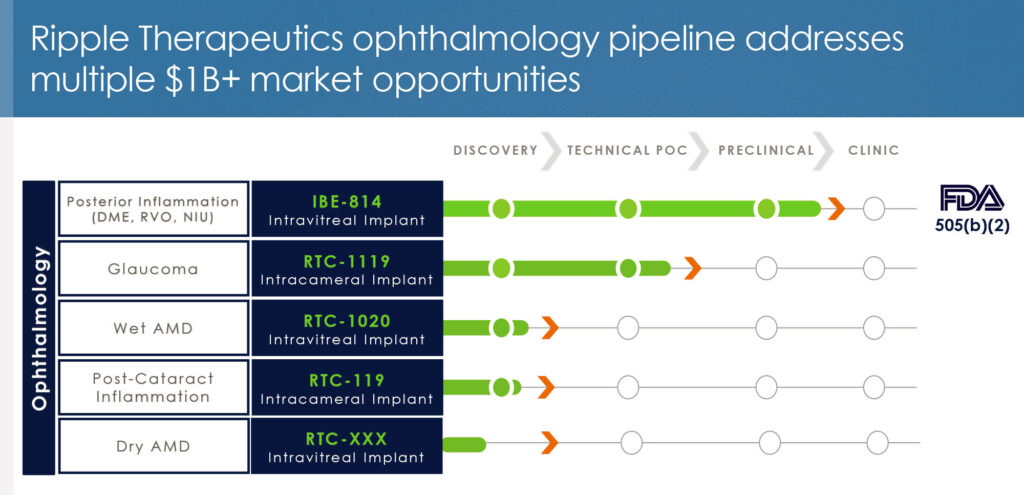 • • • • •
To connect with Ripple or any of the other companies featured on BioTuesdays, send us an email at editor@biotuesdays.com.