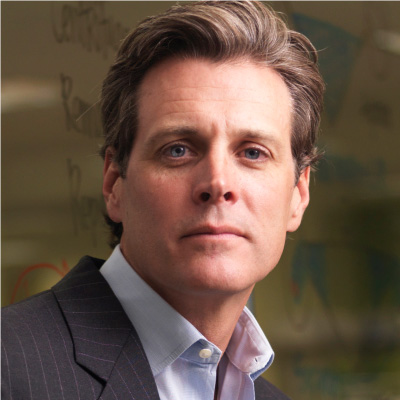 Plus Therapeutics (NASDAQ:PSTV) is developing its lead asset, rhenium nanoliposome (RNL), a targeted and potentially more potent radionucleotide therapy, for the treatment of recurrent glioblastoma and several other rare cancers.
"We believe in the critical importance of discovering, developing, and delivering complex and innovative treatments for patients battling rare cancers," Marc Hedrick, M.D., says in an interview with BioTuesdays.
Earlier this year, Plus licensed a rare cancer drug portfolio, including RNL, from closely-held NanoTx Therapeutics for cash, stock, development and sales milestones, and tiered royalties.
Dr. Hedrick explains that the portfolio is anchored around nanoliposome-encapsulated radionuclides. RNL is infused directly into the brain tumor via a catheter and precision brain mapping to deliver very high therapeutic doses of radiation to patients whose cancer has recurred following initial surgical resection and treatment with chemotherapy and radiation.
"Liposomal encapsulation fundamentally changes both retention within the tumor and dispersion of the drug product," he adds. "The rhenium nucleotide emits two types of radiation: a cancer killing beta particle, which is effectively a high energy electron, and gamma energy for use in traditional imaging."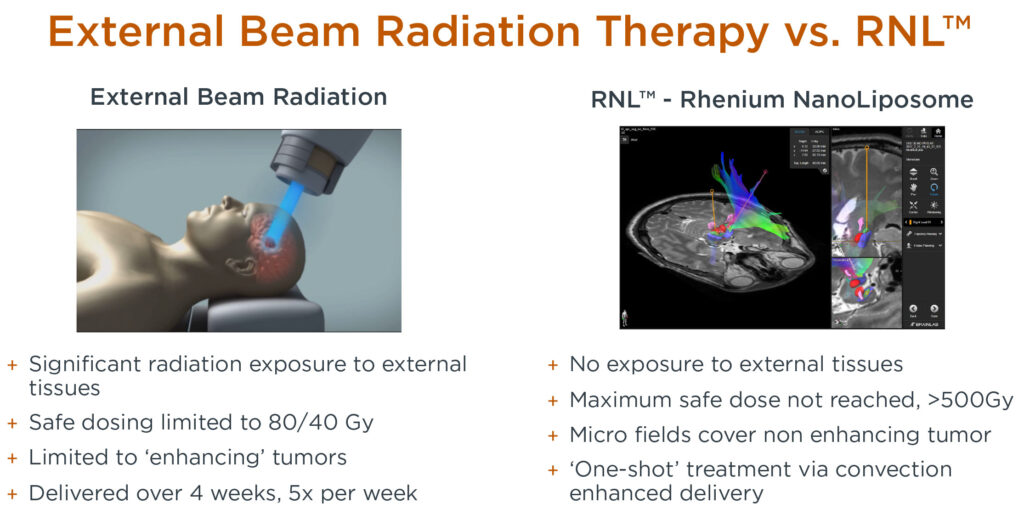 Rhenium, which is produced in a nuclear reactor, is approved in Europe for the treatment of bone metastases. The global market for radiotherapeutics is expected to reach $1.1-billion in 2023 from $678-million in 2018, according to a European survey in 2018.
RNL has fast track and orphan drug designations from the FDA for recurrent glioblastoma, a deadly form of brain cancer, which affects some 12,000 people in the U.S. a year and currently has no effective treatments. Nearly all glioblastoma patients suffer disease recurrence after standard-of-care treatment, which is usually external beam radiation, with overall survival averaging six-to-nine months.
At the Society for Neuro-Oncology annual meeting in November 2020, Plus presented new positive interim data from the first five cohorts of 15 patients in its ongoing ReSPECT Phase 1 clinical trial evaluating RNL in patients with recurrent glioblastoma. The interim data set showed that intratumoral RNL can successfully deliver up to fifteen times the absorbed dose of radiation administered by standard external beam radiation therapy without significant toxicity.
"The results we have seen thus far from ReSPECT are encouraging and support the continued development of RNL as a potential new option for recurrent glioblastoma patients," Andrew Brenner, M.D., Ph.D., principal investigator of the Phase 1 study, said in a statement. Dr. Brenner is an associate Prof. of medicine, neurology and neurosurgery at The University of Texas, Health Services Center at San Antonio.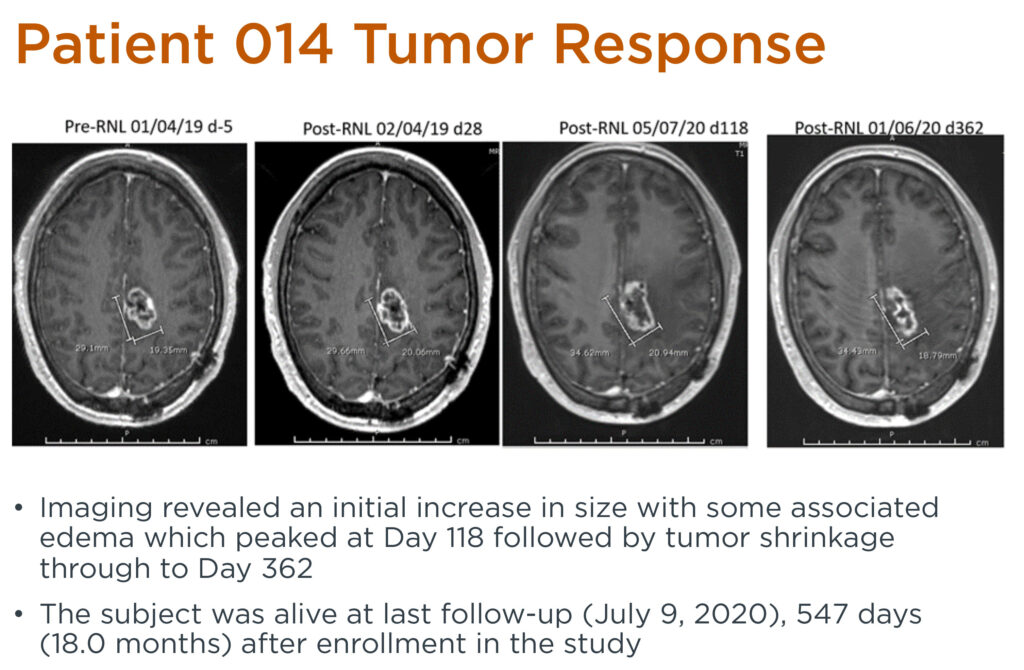 Dr. Hedrick points out that as part of the trial, the company found there was a difference in its ability to push RNL into the tumors treated with bevacizumab, or Avastin, a widely used treatment for ovarian cancer, compared with those patients that had never received bevacizumab. "This makes sense as bevacizumab changes the extravascular pressure and flow dynamics," he adds.
The sixth dose escalation cohort of the ReSPECT trial is underway and one patient has been treated thus far. The sixth cohort is expected to fully enroll by the end of 2020.
Compared with external beam radiation, which is delivered over four or more weeks, five times a week, RNL is a single treatment delivered directly to the tumor. In addition, there appears to be no external tissue damage with RNL, compared with the significant radiation exposure of external beam radiation. "We have not yet reached a maximum safety dose, even though we are delivering 15 times more radiation to the tumor than external beam radiation."
Plus also has developed late-stage preclinical data with RNL in leptomeningeal carcinomatosis, where cancer spreads to the membranes surrounding the brain and spinal cord; peritoneal carcinomatosis, a type of cancer that occurs in the peritoneum, the thin membrane that covers most abdominal organs and lines the abdominal cavity; and head and neck squamous cell carcinoma.
"We have a strong foundation of published preclinical studies and expect to move one of these programs into the clinic in 2021," Dr. Hedrick suggests.
The technology from NanoTx is currently funded by the National Institutes of Health/National Cancer Institute, which is supporting RNL through Phase 2 testing, and previously the Cancer Prevention and Research Institute of Texas (CPRIT).
Dr. Hedrick says Plus moved its head office to Austin from California, in part to take full advantage of the scientific and clinical environment created by the CPRIT program. The company also has its principal R&D and manufacturing site in San Antonio.
Dr. Hedrick says the company is in partnering discussions for its chemotherapeutic program, which includes DocePlus, a Phase 2-ready next-generation formulation of docetaxel; and DoxoPlus, an oncology drug featuring doxorubicin, which has completed a bioequivalence clinical study versus CAELYX in accordance with European Medicines Agency guidelines.
"We're currently not investing in these programs because as a small company, our efforts towards advancing RNL must remain our focus," he adds.
• • • • •
To connect with Plus or any of the other companies featured on BioTuesdays, send us an email at editor@biotuesdays.com.