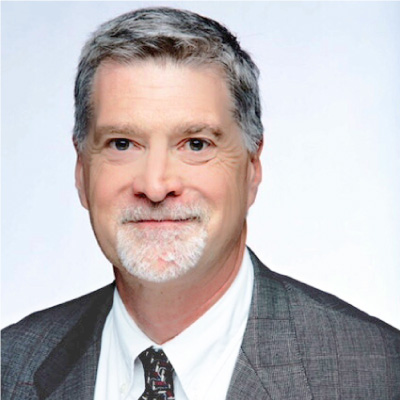 Closely-held Genelux expects to arrange an end-of-Phase 2 meeting with the FDA in the first quarter of 2021 and then launch a Phase 3 trial in mid-year with its Olvi-Vec vaccinia virus in combination with chemotherapy for the treatment of platinum-resistant/refractory ovarian cancer.
"We presented our Phase 2 data at the digital global meeting of the International Gynecologic Cancer Society in September and we were one of the top 18 abstracts of 165 awarded an oral plenary session," Thomas Zindrick, JD, president and CEO of Genelux, says in an interview with BioTuesdays.
Data from the Phase 2 trial also was accepted for a poster session at the European Society for Medical Oncology in September.
Genelux plans to conduct a Phase 3 study in the U.S. and is currently preparing the protocol for the randomized, controlled pivotal trial. Mr. Zindrick anticipates enrollment will probably take 18-to-24 months and be conducted at more than 25 clinical sites. In the pivotal ovarian cancer trial, Olvi-Vec will be delivered through a catheter into the abdomen, which is a standard procedure to treat ovarian cancer.
Mr. Zindrick explains that Olvi-Vec (olvimulogene nanivacirepvec) is a proprietary, non-pathogenic oncolytic vaccinia virus, genetically-modified to increase safety, tumor selectivity and anti-tumor activity through a triple mode of action.
Olvi-Vec enters a tumor cell and then replicates to produce progenies, he adds. Then the virus kills the tumor cells through a process known as oncolysis by breaking down the cell membrane. The viral progenies then infect other tumor cells.
Mr. Zindrick also points out that the virus-mediated immune response educates the immune system, enabling killer cells to attack other tumor cells with their unique antigen signature.
In addition, Olvi-Vec's mode of action is designed to turn "cold" tumors "hot" by driving immune cells into otherwise immune-deserted or immune-excluded tumor tissues, which would enable the use of combination therapy to further enhance therapeutic outcomes. "The virus has demonstrated efficacy against more than 20 major tumor types tested preclinically," he adds.
Mr. Zindrick moved into the executive suite at Genelux in 2014 after a 16-year career with Amgen, where he was a VP, associate general counsel and chief compliance officer.
Genelux's single-arm Phase 2 study evaluated 27 late-stage heavily-pretreated patients with platinum-resistant/refractory ovarian cancer with a median of four prior lines of therapy. Mr. Zindrick says 54% of patients had an objective response rate, or greater than a 30% reduction of tumor diameters, compared with less than 20% objective response observed in historical data. In addition, these patients achieved 11 months of progression-free survival, compared with less than five months historically.
"What caught the eye of gynecologic oncologists was Phase 2 data from a subgroup of platinum-refractory patients, where similar to the platinum-resistant patients, the therapeutic outcome were much improved as compared with historical standards," Mr. Zindrick points out. "These platinum-refractory patients had 0% of objective response rate from their last previous platinum-based therapy, and yet in Genelux's Phase 2 study, they achieved a remarkable 50% objective response rate."
The data also confirmed Olvi-Vec-induced immune activation, generating tumor-specific T-cells in peripheral blood, suggesting long-term anti-tumor immune memory, he adds. In addition, there was large intraepithelial infiltration of CD4 and CD8 T-cells into tumor tissue; and favorable immune-related genetic signatures, making the tumor more susceptible to combination therapy.
At its two conference presentations in September, Genelux reported that median overall survival was 15.7 months for all patients. Nine of the 27 patients had survival of greater than 18 months, with four of these patients still alive beyond three-to-four years, even in a platinum-refractory patient with heavy tumor burden, Mr. Zindrick says. In patients with platinum-refractory disease, median overall survival was 15.2 months.
In addition, 86% of evaluable patients achieved tumor shrinkage while 96% of evaluable patients demonstrated a decrease of CA-125, the most useful ovarian cancer biomarker. Among these patients, four achieved 100% reduction of target tumor lesions, even in two platinum-refractory patients, and 85% achieved CA-125 response (i.e., at least a 50% reduction in CA-125 levels from a pre-treatment value.)
All of the Phase 2 data was based on a single cycle of treatment with the virus prior to chemotherapy, he points out. "Virus-induced changes in the tumor microenvironment may explain the apparent reversal of platinum resistance."
Mr. Zindrick says Genelux has worldwide freedom to operate, with no third-party blocking patents and no royalties owed, with respect to Olvi-Vec. Genelux has more than 50 patents issued in all major markets, including composition of matter, use and manufacturing.
Genelux used a German contract manufacturer for its Phase 2 batch of Olvi-Vec but now has established a manufacturing facility in San Diego. "We completed a GMP product run in the third quarter of 2020 and we will submit this data to the FDA ahead of our Phase 3 ovarian trial," he adds.
"What gives us confidence moving forward is that other oncolytic virus programs by-and-large use intratumoral delivery of therapy and while we could also use this method, we are pursuing clinically-preferred routes of administration, such as an intraperitoneal delivery in ovarian cancer," he says.
Genelux hopes to begin a Phase 2 study in mid-2021 to target difficult-to-treat metastatic diseases using IV delivery. "We think IV administration will be a game changer for our company and the field generally, because it can cover a wide range of advanced diseases with no effective treatment options."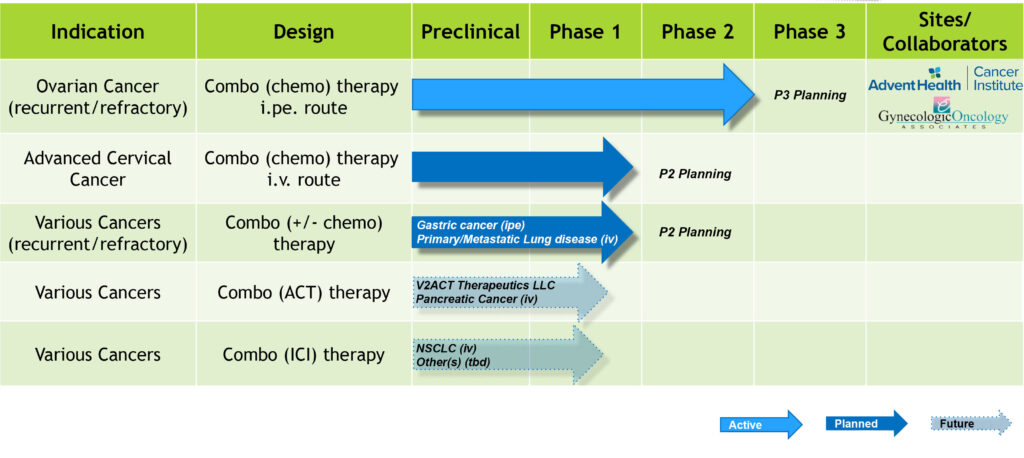 Pipeline
• • • • •
To connect with Genelux or any of the other companies featured on BioTuesdays, send us an email at editor@biotuesdays.com.