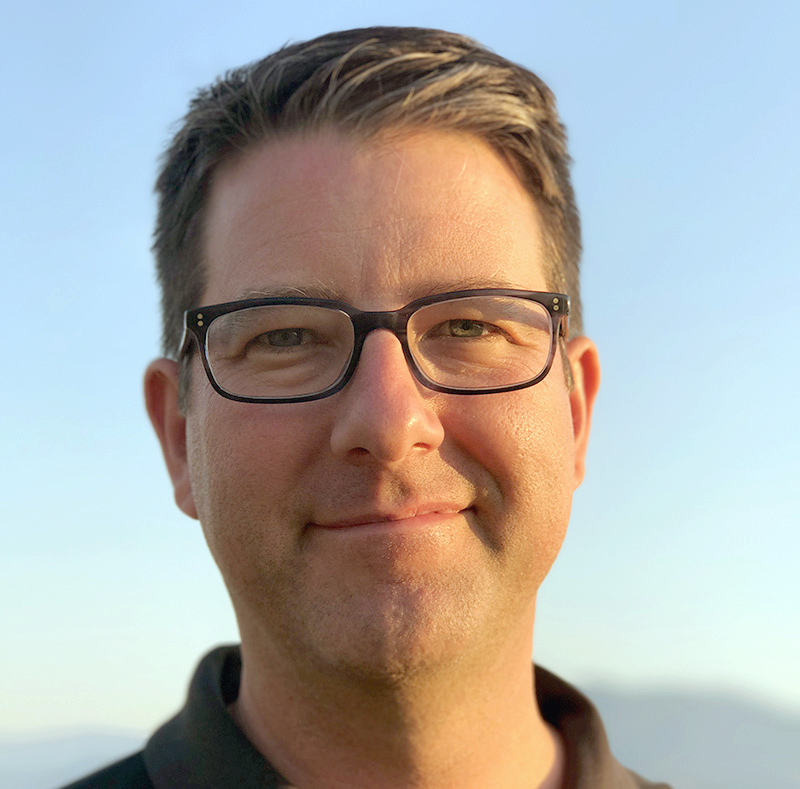 Izotropic (CSE:IZO; OTC:IZOZF; FSE:1R3) is developing a dedicated breast imaging system aimed at the better detection – and potentially earlier diagnosis and treatment – of breast cancer.
"The challenge with breast imaging is that existing systems have largely been designed by men that don't appreciate the discomfort and lack of dignity associated with currently used systems," John McGraw, Ph.D., EVP of commercial operations, says in an interview with BioTuesdays.
"Images captured using current modalities aren't ideal, and a significant unmet need remains for a breast imaging system that is efficient and provides true 3D images," he adds.
Izotropic's Breast CT Imaging System was developed by John Boone, Ph.D., the company's principal founder and director. Dr. Boone has been the principal investigator of the Breast Tomography Project of the University of California, Davis for the past 20 years and is a commissioner of the International Commission on Radiation Units. His lab has designed, fabricated and tested four successive prototypes, which have performed more than 1,000 breast scans since 2004. Izotropic signed an exclusive global license agreement with UC Davis in 2017 to commercialize the system.
The Breast CT Imaging System is contained within a table, upon which the woman lies on her stomach, inserting her breast into a hole in the table. The imaging hardware rotates around the breast and captures a series of images all around the breast. The images are then used to reconstruct 3D images of the entire breast using proprietary computer software. The result is a high-resolution 3D view of the entire breast, comparable to images obtained by MRI, but with better resolution.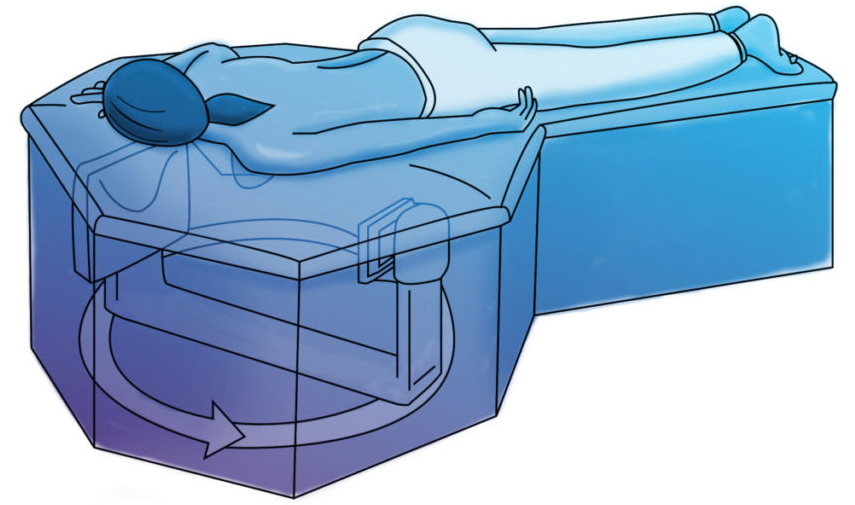 The Izotropic Breast CT Imaging System
"The system captures up to 500 high-resolution projection images in 10 seconds per breast, with no discomfort," Dr. McGraw contends, adding that Izotropic is targeting a radiation dose, that is similar to two-view mammography.
"Our Breast CT Imaging System has the potential to detect breast cancer at an earlier stage than mammography. The average size of an abnormality detected using standard-of-care mammography is 11 millimetres, whereas our system can detect abnormalities that are three-to-five millimetres in size," he says, suggesting that the system could enable breast cancer detection a year sooner than mammography.
Dr. McGraw explains that older breast imaging technologies, such as mammography and tomosynthesis, use 2D imaging. Mammography is the most commonly used breast imaging modality, but misses some three out of 10 cancers due to false-negative results. Mammography also is an uncomfortable, and even painful procedure. If poor images are obtained, the procedure often has to be repeated.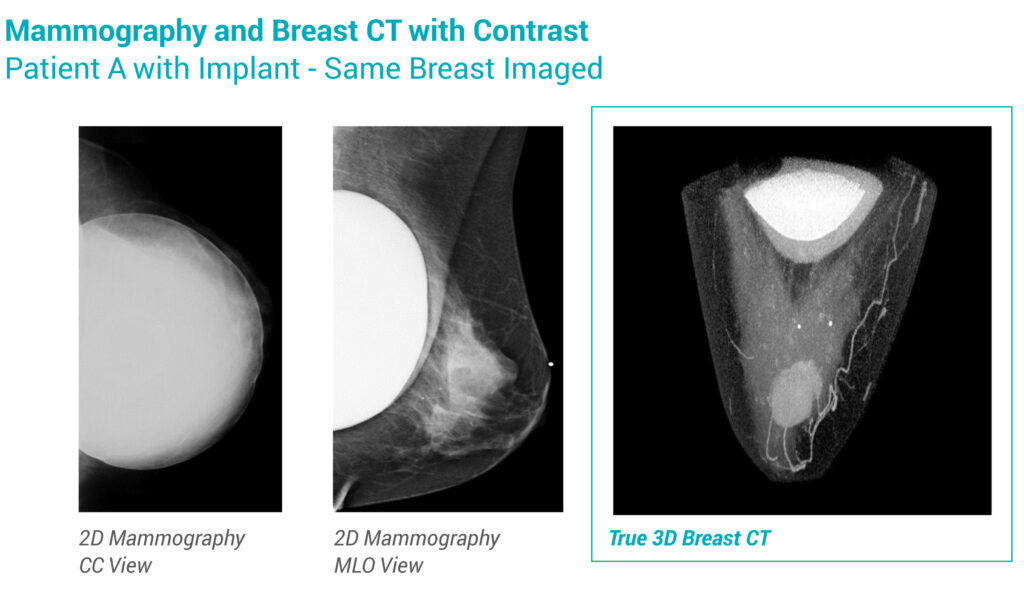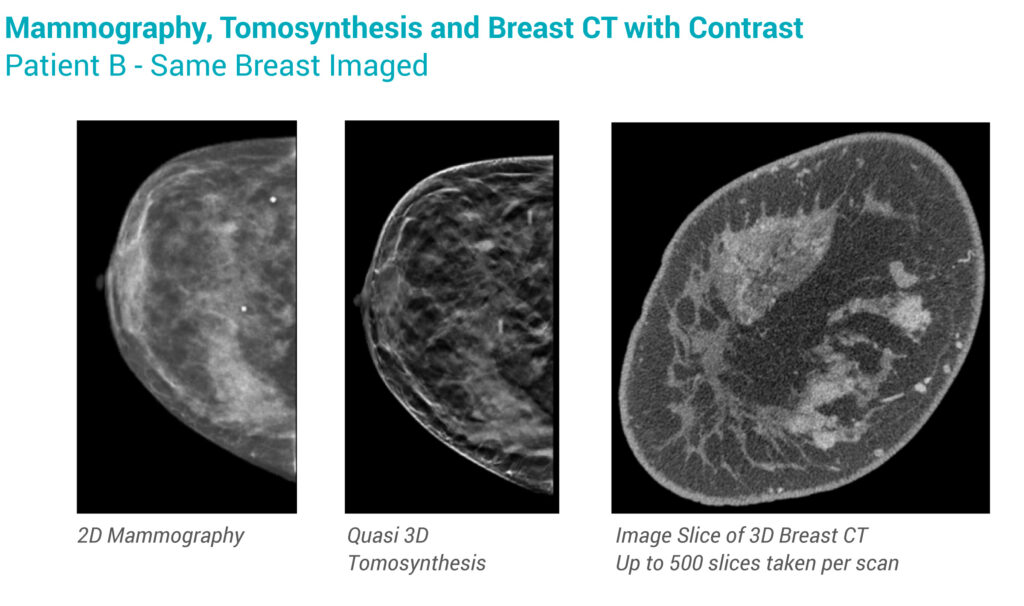 In addition, over a period of 10 years, some 50% of women who get annual mammograms will receive at least one false-positive result, some of which are due to poor images.
Tomosynthesis improves on mammography by providing a 15-to-50-degree view of the breast, but "it is not truly 3D and uses the same compression system as mammography," Dr. McGraw adds.
3D imaging methods are usually used to further diagnose abnormalities discovered by mammography or tomosynthesis. Ultrasound can help determine if the abnormality is a solid structure, which could be cancerous, or a fluid-filled structure, which could be a benign cyst.
MRI is most often used for screening women who are high-risk; as a supplemental tool to mammography or ultrasound; or for further investigation following a breast cancer diagnosis. "MRI is expensive, cannot be used in patients with metal implants and is an issue for patients who are claustrophobic," he points out.
Clinical trials have shown that the company's Breast CT Imaging System can more quickly and efficiently identify early-stage disease; and more accurately determine tumor size, shape, and location than existing imaging modalities. Izotropic also has evaluated the use of an approved imaging agent in combination with the system to better characterize lesions.
The company has collected data from the UC Davis prototypes, as well as from ongoing NIH-funded trials that will inform the future clinical trial design and final device design for an FDA submission. Izotropic recently engaged StarFish Medical to design and manufacture the commercial Breast CT Imaging System for the clinical trials required as part of the FDA approval process.
"The majority of the team at Starfish that are working on the system are women: we want to ensure that women are involved in all aspects of the system's design and development," he points out.
The company recently held a pre-submission meeting with the FDA to discuss clinical trial design, the system's indications of use and possible FDA approval pathways. Dr. McGraw says Izotropic expects to initiate a clinical trial in 12-to-18 months.
"We're being proactive and getting as much input from insurance payers, advocacy groups and the FDA as early as possible," he adds, noting that the company has already reached out to hospitals that have the potential to become clinical trial sites, and to CROs who could help conduct the trials.
Initially, Dr. McGraw sees the system being used as a diagnostic device and in the future, as a screening device that also performs breast density assessment, as some 40% of women in the U.S. are at increased risk of breast cancer due to dense breast tissue. In the longer-term, he envisions the addition of a robotic-guided device that can obtain a biopsy during the same exam.
"The single most important thing is diagnosing breast cancer as early as possible. We want to ensure that the diagnostic procedure is a positive experience, so women are more willing to be imaged, while offering a superior technology with the potential to improve outcomes."
• • • • •
To connect with Izotropic or any of the other companies featured on BioTuesdays, send us an email at editor@biotuesdays.com.