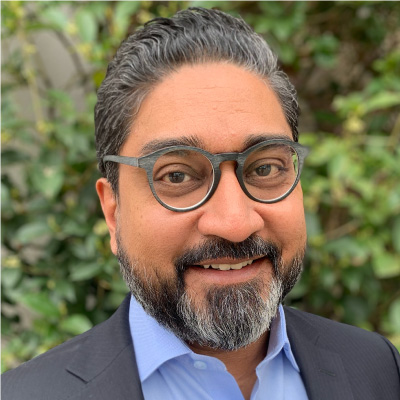 Lantern Pharma (NASDAQ:LTRN) is using its RADR AI platform to identify abandoned drug candidates and develop new drugs that may prove effective in treating certain cancers.
"Our vision is to bring cancer therapies to market faster, and with reduced cost and risk, to ultimately improve patient outcomes," Panna Sharma, Lantern's president and CEO, says in an interview with BioTuesdays.com. "We are employing a dual approach, developing both de novo biomarker-guided drug candidates and rescuing historical drug candidates by leveraging the datasets and machine learning algorithms in our RADR AI platform."
RADR was developed to predict drug responses and outcomes using interrelated biomarker and clinical data. The platform has curated and analyzed more than 500-million data points, including more than 140 cancer drug-tumor interactions. Mr. Sharma says that Lantern aims for RADR to become the largest AI-enabled oncology drug development platform. The company plans to capture more than one-billion data points by early 2021 and five-billion data points during 2022.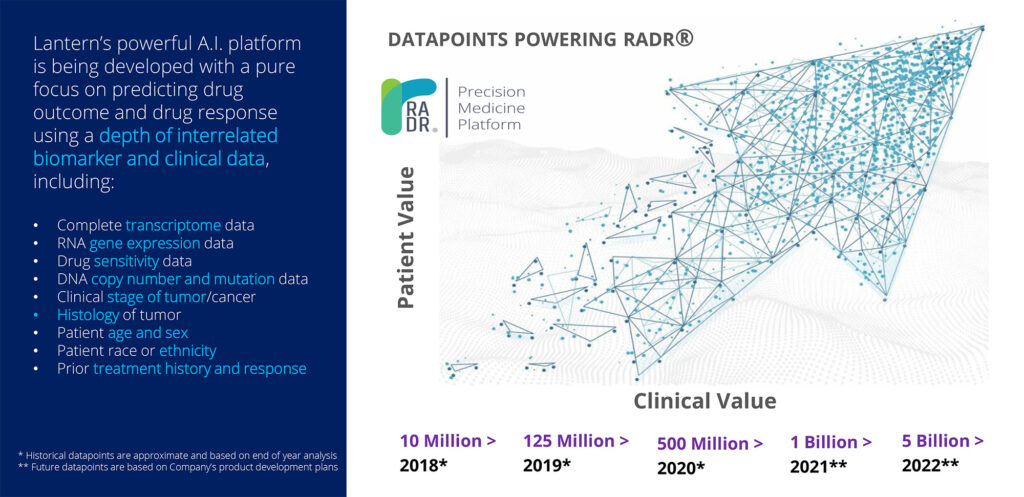 "The increasing availability of large-scale biomarker, genomic and patient data – and rapidly maturing technologies like AI and machine learning – means that the field of oncology is undergoing a monumental shift in the way cancer drugs are discovered, developed, studied, targeted, and commercialized. Lantern is at the forefront of this transformation," he contends.
The company's pipeline, which was developed using RADR, consists of three oncology drugs that are being developed for four indications. Two of Lantern's drug candidates are in Phase 2 of development, with the third currently in preclinical development. "Our three compounds are in active development and are aimed at therapeutic areas potentially worth several billion dollars in global sales, many of which do not have therapeutic options today."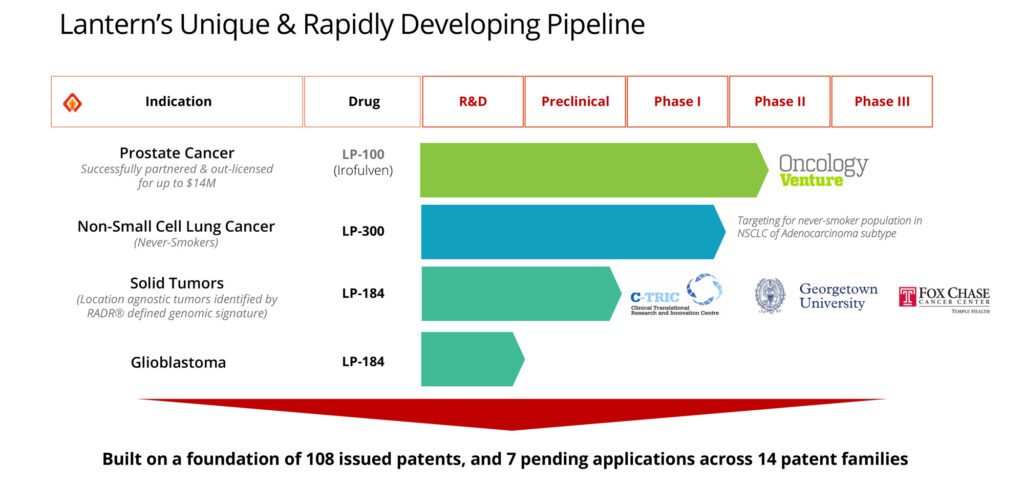 Lantern's first candidate, LP-100, or irofulven, is a DNA damaging agent originally developed at the University of California San Diego. The drug candidate was licensed to MGI Pharma, which was subsequently acquired by Eisai (TYO:4523), but its development was discontinued after endpoints in a Phase 3 trial for the treatment of metastatic pancreatic cancer did not exceed the survival benefits seen with the comparator agent, fluorouracil.
When Lantern acquired LP-100, it had been evaluated in more than 40 clinical trials across 13 different solid tumor types and demonstrated efficacy and strong anti-tumor benefit in subsets of patients.
"We acquired the small molecule with the goal of using biomarkers to predict which patients would best respond to the treatment," Mr. Sharma recalls, adding that early versions of RADR guided the development of an RNA-based genomic signature to determine patients' response and sensitivity to LP-100.
In 2016, Lantern out-licensed LP-100 to Oncology Venture, which is now conducting a Phase 2 trial in patients with hormone refractory prostate cancer. Oncology Venture is using Lantern's biomarker technology to identify and monitor patients, and expects to report data from the trial in 2021.
Lantern acquired its second drug candidate, LP-300, from BioNumerik Pharmaceuticals, in 2018. Also known as Dimesna, LP-300 is a chemosensitizer for use in combination therapies, with properties that reduce the toxicity associated with chemotherapy. LP-300 had been evaluated in five early- and five late-stage clinical trials for the treatment of lung and breast cancers.
Specifically, BioNumerik's Phase 3 trial of LP-300, in combination with paclitaxel and cisplatin, did not meet clinical efficacy endpoints but demonstrated survival benefits in specific patient subgroups. Retrospective analyses showed that among 66 female non-smokers, those in the LP-300 study arm demonstrated a 125% relative two-year survival increase, compared with those who received only paclitaxel and cisplatin.
Lantern is using its RADR platform to develop a biomarker signature that can be used to predict which non-small cell lung cancer patients are most likely to respond to a combination therapy of taxanes, platin-based chemotherapy and LP-300. The company plans to initiate a Phase 2 clinical trial of LP-300 in the second half of 2021, in patients with non-small cell lung cancer, who have a history of no smoking, or have never smoked.
"The core RADR engine can generate a very robust biomarker or genomic signature that can eventually be used to both accelerate and guide preclinical development, and as a companion diagnostic to help enroll, stratify, and select patients that have the greatest potential to benefit from our therapy," Mr. Sharma points out.
Lantern's third drug candidate, LP-184, is an acylfulvene-based compound with broad anti-tumor activity. LP-184 is currently in preclinical development for the treatment of genomically-defined solid tumors that can occur at any location in the body. Using RADR and cancer cell line gene expression profiles from the NCI-60 – a group of 60 human cancer cell lines used by the National Cancer Institute to screen compounds for potential anticancer activity – Lantern has derived a panel of 16 genetic biomarkers that are predictive of a response to LP-184.
In collaboration with Georgetown University, the company has done extensive wet-lab work in organoids, patient-derived xenograft models and genomically-edited cell lines where the signature continues to be refined across a range of solid tumors and CNS cancers. Lantern and Georgetown are entering the second phase of their ongoing development partnership, which will focus on a larger set of patient-derived xenograft models to further characterize LP-184's mechanism of action, and on validating the role genetic biomarkers play in the drug candidate's potency.
The company recently partnered with Philadelphia-based Fox Chase Cancer Center for the further development of LP-184 for the treatment of pancreatic cancer. The collaboration aims to create a more biologically relevant and robust gene signature in preparation for future clinical trials.
Lantern also is developing LP-184 for the treatment of glioblastoma multiforme, an aggressive form of brain cancer, as the compound has demonstrated high nanomolar potency in cell lines and an ability to penetrate the blood-brain-barrier. The company is currently conducting IND-enabling studies and plans to enter the clinic with LP-184 in late 2021 or early 2022.
"We are generating many meaningful and targeted insights using our RADR AI engine, in combination with targeted 3D and organoid studies, and are confident that we can accelerate the development efforts with certain abandoned or stalled compounds. Our goal is to add at least one additional oncology development program each year through a partnership, collaboration, or in-licensing agreement," he says.
• • • • •
To connect with Lantern Pharma or any of the other companies featured on BioTuesdays, send us an email at editor@biotuesdays.com.