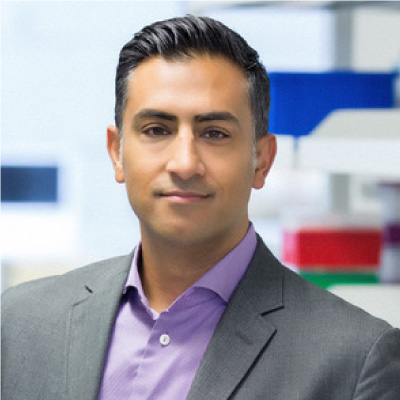 aTyr Pharma (NASDAQ:LIFE) expects to report before the end of 2020 results of a Phase 2 study with its ATYR1923 drug candidate in COVID-19-related severe respiratory complications. It also has a data readout planned in 2021 with ATYR1923 in a Phase 1b/2a study in pulmonary sarcoidosis, a major form of interstitial lung disease (ILD).
"We are developing a new class of immunomodulators that the body uses to control a local immune response," Dr. Sanjay Shukla, president and CEO, says in an interview with BioTuesdays.
Dr. Shukla explains that from this new biology, aTyr has engineered a potential fusion protein therapeutic, ATYR1923, which, in preclinical models, binds selectively to neuropilin-2, a cell surface receptor that is up-regulated in inflamed lung tissue.
ATYR1923's mechanism of action is designed to "down-regulate inflammatory and pro-fibrotic cytokine and chemokine production as well as inflammation and fibrosis," he adds.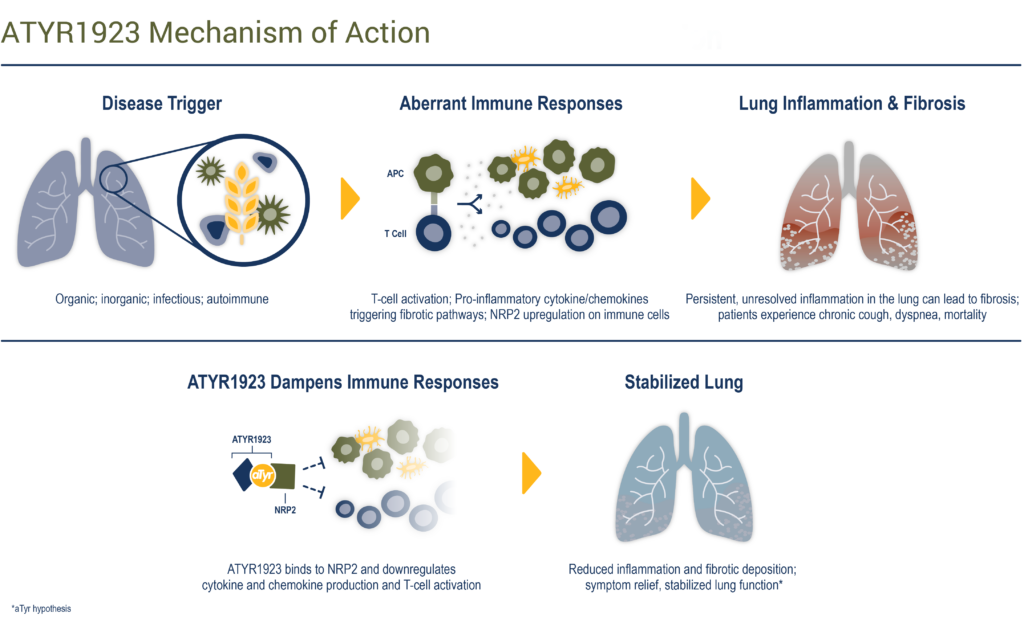 Around a decade ago, aTyr's founder and board member, Prof. Paul Schimmel, a leading researcher at the Scripps Research Institute, discovered that compounds known as transfer-RNA synthetases, well known for their role in building proteins, also are secreted in the blood and tissue as fragments, where they play a different role in regulating disease pathways, including inflammation.
"We noticed that one of these fragments, which became ATYR1923, seemed to congregate in the lungs and in the presence of immune cells began to control immune-mediated disease in the lungs," he adds.
"What gives us a lot of confidence is that we invested heavily in animal studies and we consistently saw down-regulation of immune cells. That suggested we had a potent anti-inflammatory that could have broad utility in a number of diseases."
At the American Thoracic Society annual meeting in 2018, aTyr presented histology showing immune cell infiltration in a rat model of bleomycin-induced lung fibrosis treated with ATYR1923. "We believe this presentation put aTyr on the map," Dr. Shukla suggests.
Dr. Shukla points out that aTyr also has generated promising preclinical and translational data with ATYR1923 in other ILD diseases, which share a common immune pathology leading to fibrosis, a key driver of morbidity and mortality. "By targeting an aberrant immune response driving fibrosis, ATYR1923 has potential to improve outcomes in multiple ILDs," he contends.
There are more than 200 types of ILD, with four major types comprising 80% of patients. aTyr is focused on three of the most inflammatory ILDs: sarcoidosis, connective tissue disease-associated interstitial lung disease and chronic hypersensitivity pneumonitis, which affect 500,000-to-600,000 patients in the U.S. and three million globally.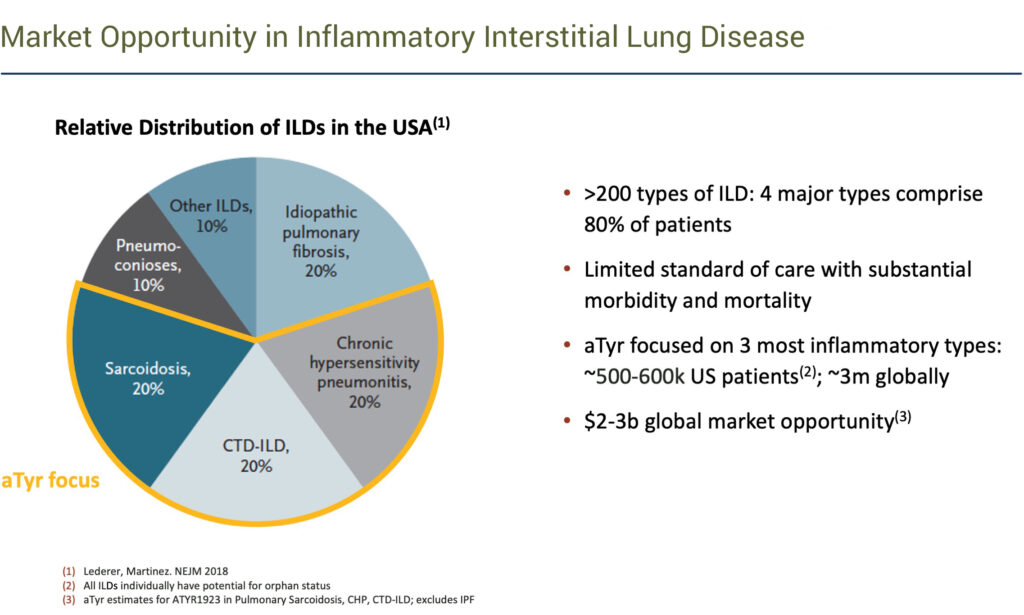 aTyr's lead indication with ATYR1923 is pulmonary sarcoidosis, which is characterized by clumps of immune cells, or granulomas, in the lungs. "What you see in these clumps is CD4 cells, the same cells that our drug interacts with," he adds.
Pulmonary sarcoidosis occurs in about 90% of all sarcoidosis patients. It affects some 200,000 patients in the U.S., of which 50% require systemic therapy and 30% have chronic progressive disease leading to fibrosis, despite available treatment with corticosteroids and immunosuppressants.
The etiology of the disease is unknown with one group of medical experts pointing to a bacterial agent as the cause of the disease and another group suggesting an environmental agent.
aTyr is in the final stages of enrolling 36 confirmed pulmonary sarcoidosis patients in its Phase 1b/2a placebo-controlled study with ATYR1923. The study had been delayed by the pandemic because some hospitals had to shift focus on treating COVID-19 patients and were only permitting patients requiring immediate medical treatments to come into the hospital, but Dr. Shukla says the majority of clinical sites have resumed enrollment.
Patients in the Phase 1b/2a trial are being randomized two-to-one into three treatment cohorts of 12 patients each and a placebo group. Patients in the treatment group are receiving monthly IV doses of 1 mg/kg, 3 mg/kg and 5 mg/kg of ATYR1923 over 24 weeks. The primary endpoint is safety and tolerability of multiple ascending doses of ATYR1923.
To be enrolled, patients in the study previously had to be taking 10-to-25 mg of steroids a day. One of the key endpoints is reducing their steroid usage to 5 mg a day in the first eight weeks of the trial. "If we can replace steroids and control day-to-day symptoms, we believe we have an approvable drug because we also have the potential to control downstream fibrosis based on our preclinical models," Dr. Shukla contends.
A data readout, pending final enrollment, is likely to occur in 2021. If the trial is successful, aTyr expects to move ATYR1923 into a potential global registration trial, with up to 200 pulmonary sarcoidosis patients.
Last January, aTyr and Japan's Kyorin Pharmaceutical agreed to collaborate on the development and commercialization of ATYR1923 for ILDs in Japan. aTyr received an upfront payment of $8-million and is in line for an additional $167-million in development, regulatory and commercial milestones, plus double-digit tiered royalties on sales of ATYR1923 in Japan.
Kyorin, which is funding all activities in Japan, is advancing ATYR1923 in a Phase 1 study to evaluate safety, pharmacokinetics and immunogenicity in Japanese healthy volunteers. "Kyorin's goal is to join our global registration trial and potentially expand into other ILDs that are of higher incidence in Japan," Dr. Shukla says.
Turning to COVID-19, Dr. Shukla points out that a subset of patients experience significant lung inflammation driven by some of the same cytokines that ATYR1923 seems to regulate. In addition, he says lung tissue from patients who have died from COVID-19 respiratory failure have higher expression of the neuropilin-2 cell surface receptor, which is the receptor that ATYR1923 binds to.
"The message we took to the FDA is that in a subset of COVID-19 patients, there is strong scientific rationale for the hypothesis that ATYR1923 may help regulate an aberrant immune and inflammatory response in the lungs, primarily driven by T-cells," Dr. Shukla contends.
In June, aTyr dosed the first patient in a Phase 2 study evaluating ATYR1923 in COVID-19 patients with severe respiratory complications but not requiring mechanical ventilation. The study is expected to enroll 30 adult patients in three cohorts, receiving a single dose of 1 mg/kg or 3 mg/kg of ATYR1923 or placebo at up to 10 centers in the U.S. Patients will be followed for 60 days post treatment.
Dr. Shukla says the study, which is one of the few placebo-controlled studies for potential therapeutic treatments that has been implemented, will evaluate safety and efficacy of ATYR1923, compared with placebo, as well as secondary endpoints, such as fever, hypoxia, hospital and ICU metrics, and inflammatory biomarkers. A data safety monitoring board already has examined data from the first five patients and determined that the trial can continue as planned. A data readout is expected in the fourth quarter this year.
Earlier this month, aTyr agreed to a common stock purchase agreement with Aspire Capital Fund, an institutional investor and shareholder of aTyr, to sell up to $20-million of its common stock to Aspire over a period of up to 30 months. Proceeds will be used to advance aTyr's clinical and preclinical programs.
In addition of ATYR1923, aTyr is developing a pipeline of antibodies to selectively target neuropilin-2 involved in cancer and inflammation.
"Neuropilin-2 expression is linked to worse outcomes in many cancers," Dr. Shukla says, adding that aTyr's aNRP210 antibody has demonstrated a tumor inhibitory effect in preclinical models of triple-negative breast cancer, increasing sensitivity to chemotherapy. "Our data suggest that aNRP210 could potentially be effective in certain types of solid tumors, including aggressive tumors."
aTyr expects to declare an IND candidate from this NRP2 program by the end of the year.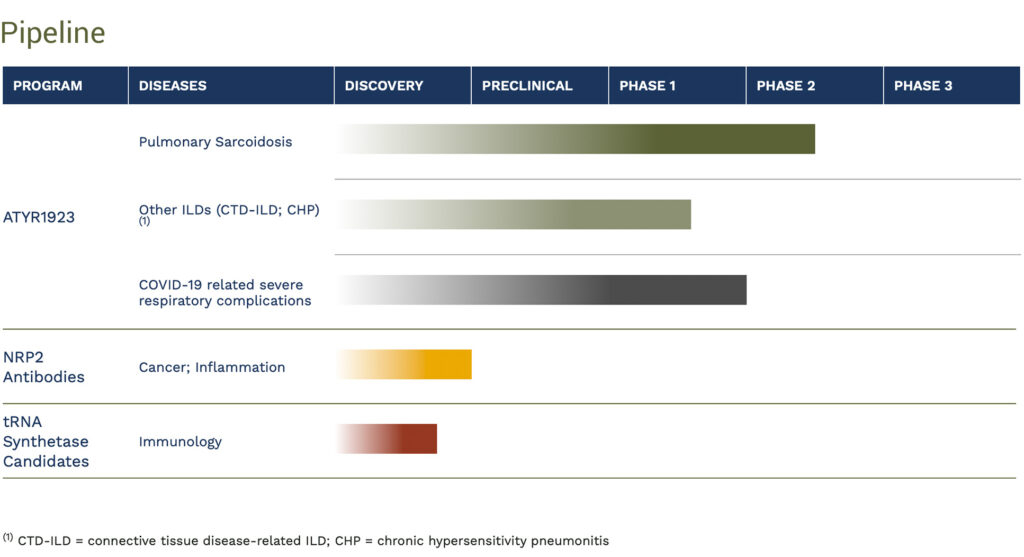 • • • • •
To connect with aTyr or any of the other companies featured on BioTuesdays, send us an email at [email protected].