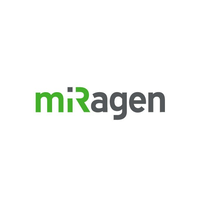 Brookline Capital Markets initiated coverage of MiRagen Therapeutics (NASDAQ:MGEN) with a "buy" rating and 12-to-18 month price target of $6. The stock closed at $1.02 on July 20.
MiRagen is working in hematologic cancers and fibrotic diseases, developing RNA-targeted therapeutics with a focus on microRNAs and their role in diseases,
Analyst Leah Cann writes that the company's pipeline consists of three clinical-stage candidates, MRG-106, MRG-201, and MRG-110, and a preclinical candidate.
MiRagen's lead program, MRG-106, is an inhibitor of microRNA-155 and is being evaluated for the treatment of mycosis fungicides form of cutaneous T-cell lymphoma and other hematologic cancers, including adult T-cell lymphoma.
Ms. Cann figures MiRagen will have first product revenue of $300-million in 2024, potentially growing to $943.5-million in 2026, if both compounds, MRG-106 and MRG- 201, are successful in currently planned indications.
In a go-it-alone strategy, she said MiRagen has sufficient cash to fund the development of its programs through mid-2021. "We estimate MiRagen will need approximately $215-million of additional cash during 2020-2023."