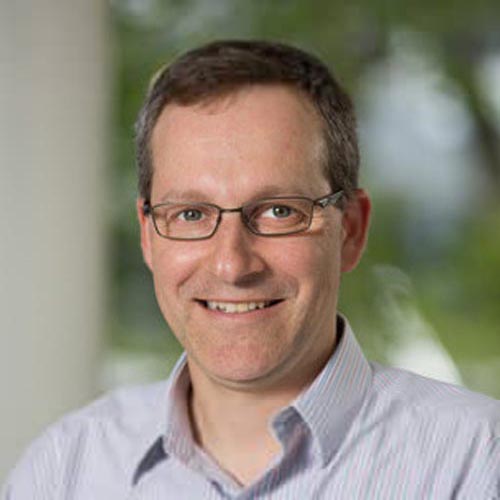 Passage Bio (NASDAQ:PASG) is focused on developing transformative, differentiated therapies for rare, life-threatening monogenic CNS disorders, with the goal of mitigating development risk.
"We believe that our rigorous product candidate selection process, combined with our strategic relationships, increase the probability of development and regulatory success," Bruce Goldsmith, CEO, says in an interview with BioTuesdays. "Rather than focusing on diseases that may be treated with other modalities just as effectively, we really want to go after transformative therapeutics driven by patient need."
The company has three drug candidates targeting lysosomal storage disorders. These inherited metabolic diseases are caused by enzyme deficiencies that result in the abnormal build-up of various toxins in the body's cells.
Passage Bio's current drug candidates are targeting infantile GM1 gangliosidosis and a similar infantile lysosomal storage disorder called Krabbe disease, as well as frontotemporal dementia caused by progranulin deficiency, or FTD-GRN. All three are currently in the IND preparation stage and are expected to enter the clinic by mid-2021.
Passage Bio was founded by Dr. James Wilson, director of the University of Pennsylvania's Gene Therapy Program (GTP), who is also the company's chief scientific advisor; Dr. Tachi Yamada, former head of R&D at GlaxoSmithKline and Takeda, and current Passage Bio board chairman; and Dr. Stephen Squinto, the company's founding CEO and acting head of R&D. Drs. Wilson and Yamada have a long history of collaborating on gene therapy, while Dr. Squinto offers the experience of leading companies that focus on rare disease, such as Alexion Pharmaceuticals.
The three founders wanted to develop a pipeline of transformative genetic medicines. "It came out of a collaboration with UPenn's GTP and Orphan Disease Center. The idea was to apply Dr. Wilson's research capabilities and insights to achieve a higher probability of technical and regulatory success," Dr. Goldsmith says.
He adds that the GTP has some 300 individuals working on various aspects of gene therapy discovery and development, with a goal of mitigating pre-IND development risk. The collaboration enables selection of clinical indications that have been validated by extensive preclinical models.
This relationship also allows Passage Bio to access technologies developed at GTP, such as novel capsids, methods to reduce drug toxicity and drug delivery, and formulation optimization. In addition to the six programs already licensed, Passage Bio's agreement with UPenn includes the collaborative development of up to 11 additional programs over the next five years.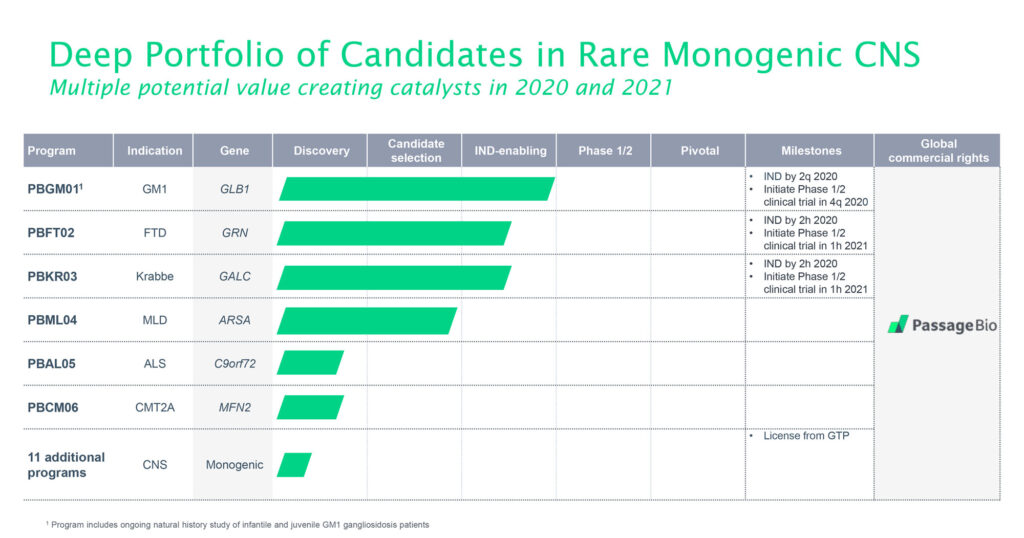 The GTP's manufacturing group performs process development work to ensure that the capsids, transgenes and promoters Passage Bio selects are able to be manufactured and scaled-up. The organization also has regulatory and clinical groups that partner with Passage Bio on IND filing.
Dr. Goldsmith points out that Passage Bio has a strategic relationship with Catalent's (NYSE:CTLT) Paragon Bioservices, who will conduct GMP production. Dr. Goldsmith says that by the end of this year, the company will have a dedicated GMP suite that will be capable of meeting production requirements for its lead candidates through early commercialization.
"As a complement to our relationship with the GTP, the Orphan Disease Center connects Passage Bio with advocacy groups, and can assist with patient identification and retention approaches," Dr. Goldsmith says, adding that the center is currently conducting an ongoing natural history study of patients with GM1 gangliosidosis.
GM1 gangliosidosis occurs in up to one in 100,000 live births and is caused by a mutation in the GLB1 gene. The mutation reduces or eliminates the activity of beta-galactosidase, an enzyme that is required to break down certain molecules that are no longer needed in brain cells. Without sufficient functional beta-galactosidase, these molecules accumulate to toxic levels in lysosomes, causing progressive nerve cell damage.
The infantile form of the disease progresses rapidly, resulting in a life expectancy of two-to-four years. There are no disease-modifying therapies for GM1 gangliosidosis; only supportive treatment options are available.
"Unfortunately, GM1 gangliosidosis patients start to lose progression of developmental milestones, such as the ability to sit up and gain language, and even regress to earlier stages of development," Dr. Goldsmith says.
Passage Bio's PBGM01 is designed to deliver a functional GLB1 gene – which encodes for beta-galactosidase – to the brain, as well as peripheral tissues. "We chose to deliver GLB1 with a specific next-generation capsid that, while administered to the CNS, results in meaningful transduction of both the CNS system and critical peripheral organs," he explains.
PBGM01 has received both orphan drug and rare pediatric disease designations for the treatment of GM1 gangliosidosis.
Passage Bio has demonstrated increased beta-galactosidase activity in the cerebrospinal fluid (CSF) and peripheral organs of treated mice, as well as dose-dependent increases in beta-galactosidase expression. This positive biomarker data was confirmed by a dose-dependent reduction in brain lysosomal storage lesions. In addition, the company observed dose-related improvements in neurological function and increased survival at all doses tested.
Passage Bio is planning to initiate a clinical trial for PBGM01 in the fourth quarter of 2020. The two-year trial will enroll pre-symptomatic and symptomatic patients, who will receive a single intra-cisterna magna (ICM) injection of PBGM01, which is administered to a region containing a pool of CSF located in the hindbrain. The trial is designed to evaluate the safety and tolerability of two doses of PBGM01, and to gather early efficacy data at a higher dose level.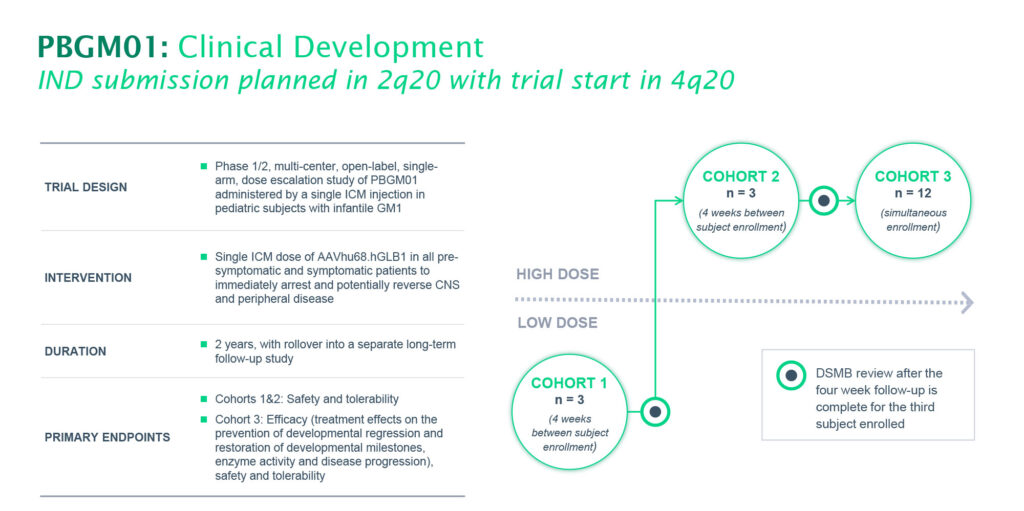 "We expect to have 30-day biomarker and safety data from the low-dose cohort by the end of the first half of 2021," he suggests, adding that later in the study, Passage Bio hopes to demonstrate efficacy endpoints of treatment effects on the prevention of developmental regression, restoration of developmental milestones and overall disease progression impacts.
The company's second program, PBFT02, is designed to treat FTD-GRN, one of the more common causes of early-onset dementia. As with GM1 gangliosidosis, there are currently no disease-modifying therapies for FTD-GRN, which affects some 3,000 to 6,000 individuals in the U.S.
"FTD is an early-onset dementia with a very severe progression to immobility, behavioral changes and loss of speech and expression, with an average survival of only eight years after the onset of symptoms, so it's very devastating," Dr. Goldsmith points out.
Some 5% to 10% of FTD is caused by a mutation in the GRN gene, which results in the deficiency of progranulin, a protein that plays an important role in the survival of nerve cells.
Passage Bio has designed PBFT02 to deliver a functional GRN gene encoding for progranulin to the brain. The company has demonstrated meaningful transduction of ependymal cells that line the brain ventricles, as well as more than 50-fold increases in CSF progranulin concentrations, in a non-human primate model.
Passage Bio's planned Phase 1/2 trial is designed to evaluate the safety and tolerability of a single ICM dose of PBFT02. The study will assess two dose levels, and will gather early efficacy data at the higher dose level, based on CSF progranulin concentrations, disease progression biomarkers and brain imaging, among others.
Krabbe disease, which occurs in 2.6-of-100,000 births, is characterized by apnea, peripheral neuropathy, blindness, deafness and mortality within two years. "It's similar to GM1 gangliosidosis, in that it's a very severe disease that results in patients not achieving developmental milestones," Dr. Goldsmith says.
The disease is caused by a mutation in the GALC gene, which causes a deficiency in galactosylceramidase, resulting in lipid accumulation that damages nerve cells' protective myelin sheath. With no currently approved disease-modifying therapies for Krabbe, Passage Bio is targeting this disease with its third drug candidate, PBKR03.
PBKR03 is designed to deliver a functional GALC gene to the brain and peripheral tissues. Meaningful transduction of both the CNS and peripheral nerves were observed in preclinical models, as well as improvements in myelination, reduced neuroinflammation and increased survival rates.
Similar to Passage Bio's other planned trials, this study will assess safety and tolerability of a single ICM dose at two dose levels, and will gather early efficacy data at the higher dose level.
"With plans to initiate three clinical programs within the next year, we have multiple near-term, value-creating clinical catalysts. We've also established dedicated manufacturing capabilities, recognizing these go hand-in-hand in supporting successful development," Dr. Goldsmith says.
• • • • •
To connect with Passage Bio or any of the other companies featured on BioTuesdays, send us an email at editor@biotuesdays.com.