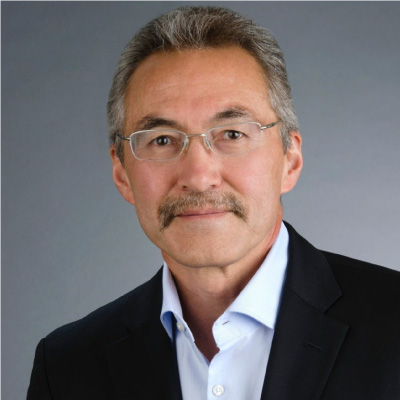 Cidara Therapeutics (NASDAQ:CDTX) is developing what may be the first antifungal to be approved in 15 years for both the treatment and prevention of invasive fungal disease.
"Antifungals generate significant worldwide sales every year, yet there are far fewer antifungals in development than antibacterials," Jeffrey Stein, president and CEO, says in an interview with BioTuesdays. "There are at least 17 classes of antibacterial drugs, whereas there are only three classes of antifungals in broad use today, all of which have significant limitations."
Fungal infections are responsible for as many as two-million deaths per year globally. They are of particular concern for immunocompromised individuals, and occur at high rates in hospitals and long-term care facilities. Fungal infections on the skin may cause itching and irritation, and while they may become severe, they are usually not life threatening. However, if a fungus is inhaled or enters the body via an alternate route, such as a catheter, and is not resolved by a patient's immune system, the risk and seriousness of infection, sepsis and death significantly increases.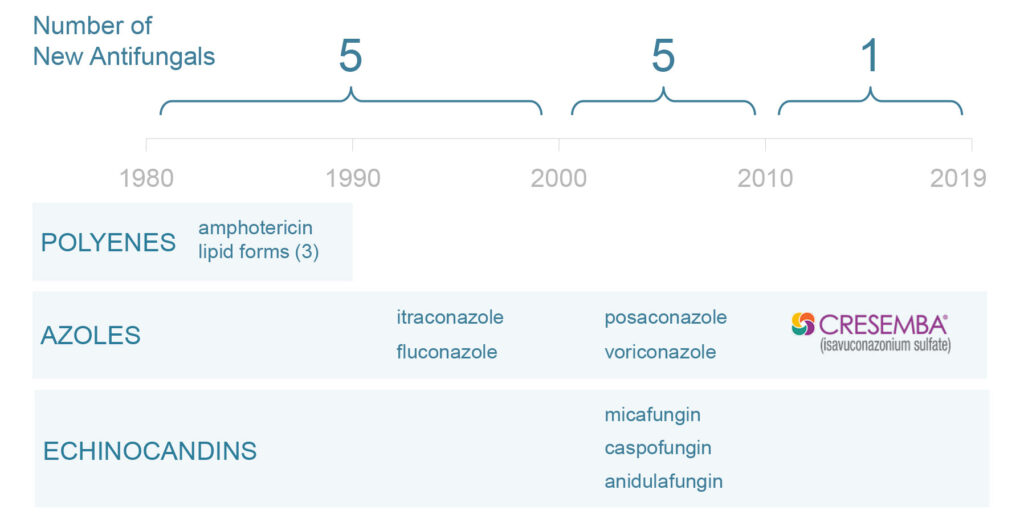 Antifungal drug development has dwindled
Polyenes, such as amphotericin, are the oldest class of antifungal and are associated with high levels of toxicity. Due to their oral availability, antifungals in the azole class are the most commonly used, however they have substantial drug-drug interactions and tolerability issues. The most recently developed and best-tolerated class of antifungals is echinocandins, which represent some $1.1-billion of the total $4.2-billion annual antifungal market.
Dr. Stein explains that, while well-tolerated, currently marketed echinocandins are administered as once-daily infusions, limiting their use to the inpatient treatment market.
"There is limited opportunity to use these drugs to treat invasive fungal infections outside of a hospital setting, and very little opportunity to use these drugs as prophylactics, because it is just not practical for patients to come in for an hour-long infusion every day over a period of three months. If echinocandins could be used in an outpatient setting, they could dominate the market," he contends.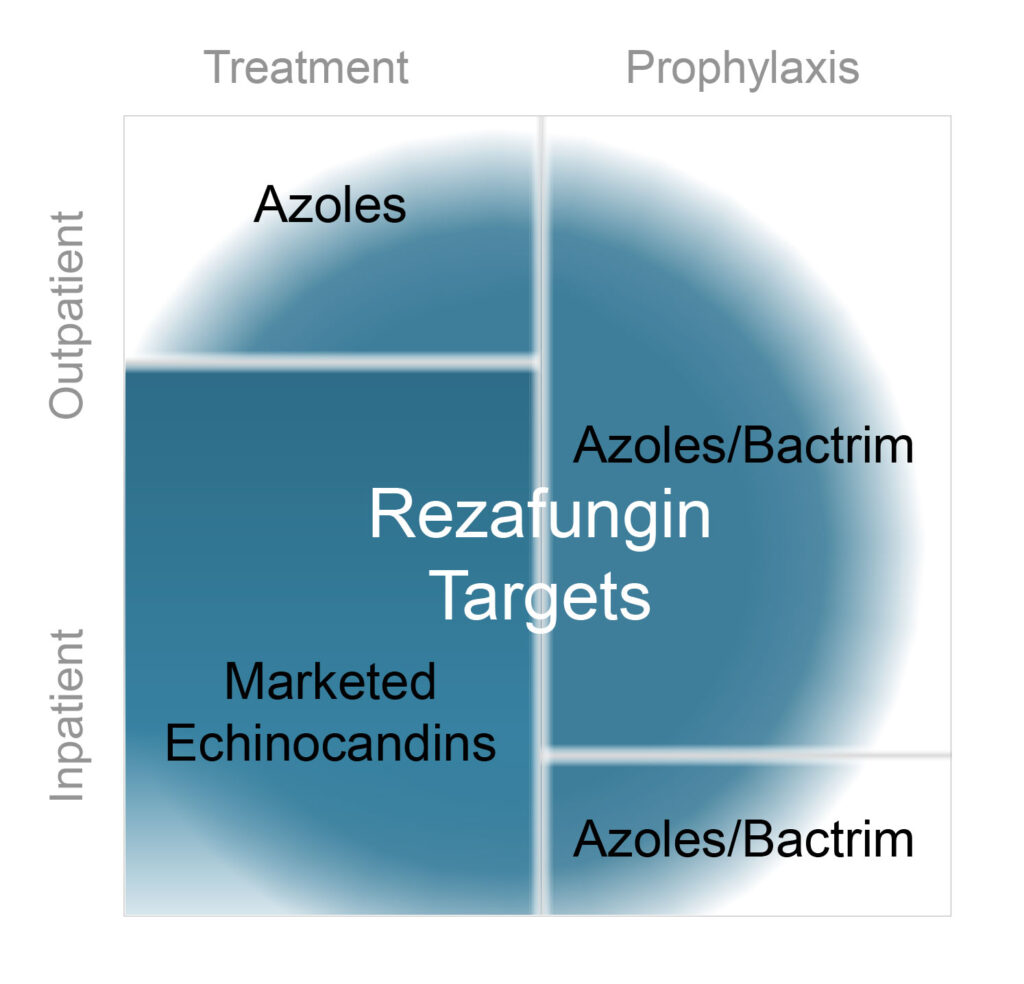 Accordingly, Cidara is developing a novel antifungal, rezafungin, to address the limitations of currently marketed echinocandins. Rezafungin is based on Pfizer's anidulafungin, but contains a minor structural modification that prolongs the small molecule's pharmacokinetic profile, enabling once-weekly IV dosing.
Dr. Stein points out that this regimen allows rezafungin to be dosed at higher concentrations, which increases drug exposure and could translate into improved efficacy and outcomes.
"Rezafungin's profile should enable expanded utility beyond inpatient to outpatient treatment, where it can compete with antifungals, such as azoles, that have significant side effects," he says.
In July 2019, Cidara announced results from its Phase 2 trial, called STRIVE, evaluating rezafungin as a treatment for candidemia and invasive candidiasis, which represents nearly 75% of fungal infections.
The STRIVE trial demonstrated that IV rezafungin, dosed at 400 mg for the first week and at 200 mg per week thereafter, for up to four weeks, reduced the time to a negative blood culture, compared with once-daily IV caspofungin. The trial was not powered to show statistically significant differences, nor non-inferiority between treatment arms. However, patients treated with rezafungin demonstrated improved outcomes in post hoc analyses of 30-day all-cause mortality and 14-day clinical response, compared with caspofungin.
These data resulted in Cidara's strategic partnership with closely-held, UK-based Mundipharma, for rights to rezafungin outside of the U.S. and Japan. Dr. Stein says that while the deal was based on the Phase 2 STRIVE data, Mundipharma, with an increasing focus on oncology supportive care, also expressed interest in rezafungin's potential as a prophylactic.
Rezafungin is currently being evaluated in a Phase 3 trial, called ReSTORE, whose design mirrors that of the Phase 2 STRIVE trial. The trial will enroll 184 patients and has an FDA-assigned non-inferiority margin of 20%. The study's overall objective is to enable early discharge of patients on a weekly echinocandin, with 30-day all-cause mortality and 14-day clinical response as primary endpoints.
"With an identical population and a similar number of patients, we think the results of the Phase 2 STRIVE trial should be predictive of the Phase 3 study results," Dr. Stein contends, adding that the STRIVE trial did not report any concerning trends in adverse events.
Cidara recently initiated an additional Phase 3 trial, called ReSPECT, to assess rezafungin for the prevention of invasive fungal infections in blood and marrow transplant patients. The study will enroll 462 patients and has an FDA-assigned non-inferiority margin of 12.5% measuring fungal-free survival.
The current standard-of-care for the prevention of infectious fungal disease in blood and marrow transplant patients is a cocktail of up to three antifungals – targeting Aspergillus, Candida and Pneumocystis infections – administered daily for a period of three months.
These antifungals are associated with high toxicity, low tolerability and drug-drug interactions, resulting in a patient discontinuation rate of about 35%, putting patients at increased risk of infection. Some 60% of patients who ultimately get a fungal infection will die. Dr. Stein points out that these grim statistics indicate a large unmet need for a better-tolerated antifungal for outpatients.
The ReSPECT trial will evaluate once-weekly rezafungin, compared with a once-daily azole and Bactrim, with a primary endpoint of fungal-free survival at day 90.
Cidara's second technology platform, called Cloudbreak Antiviral Conjugates (AVCs), is targeting "true universal protection and treatment of viral infections, which is something traditional vaccines have been unable to accomplish," Dr. Stein says. He points out that conventional flu vaccines, for example, are on average about 40% effective and require a two-week period to achieve full protection.
Inspired by bispecific oncology therapeutics, Cidara is using its Cloudbreak AVC technology to develop therapeutics and prophylactics comprised of potent antivirals bound to the fragment crystallizable, or Fc, region of an antibody. The antivirals directly inhibit viral proliferation, while the Fc portion engages the immune system to clear infected cells. The Fc moiety also extends the AVC's pharmacokinetic profile, enabling dosing every three-to-six months.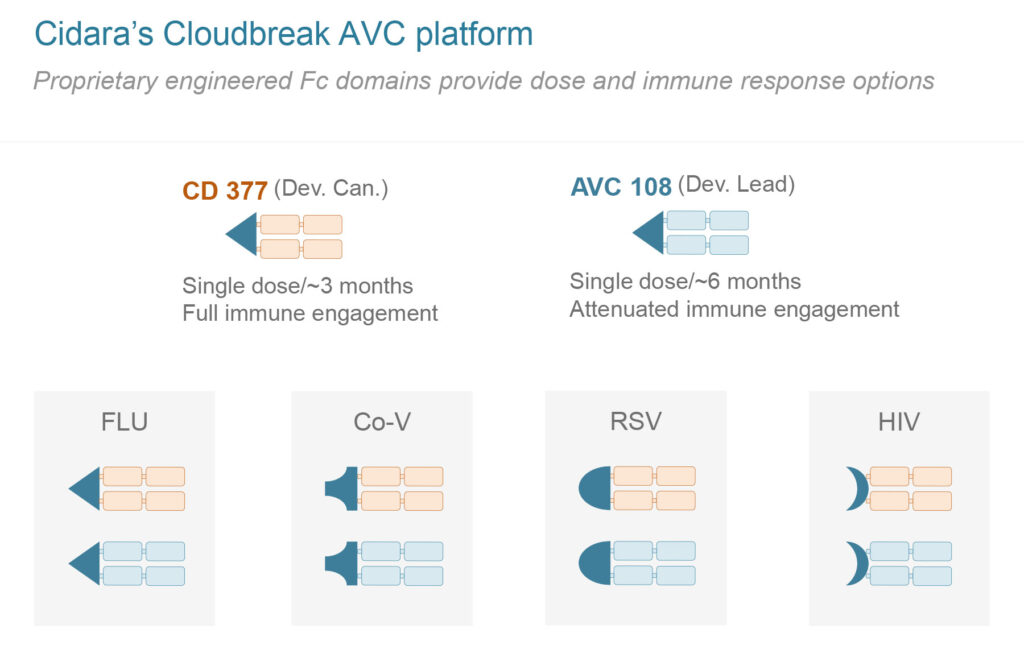 Cidara's most advanced Cloudbreak AVC program is CD377, which is in IND-enabling studies for the treatment and prevention of influenza. The Company is currently manufacturing a clinical supply, with plans to have CD377 enter the clinic in 2021.
"We are currently in discussions with BARDA regarding the potential of CD377 in preventing and treating influenza, and we are excited to expand this platform to other viral diseases, including SARS-CoV-2," Dr. Stein says.
• • • • •
To connect with Cidara or any of the other companies featured on BioTuesdays, send us an email at [email protected].