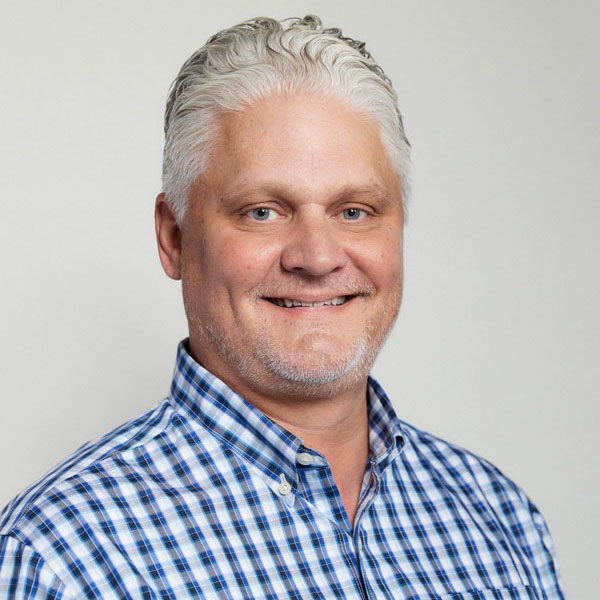 Closely-held Clarigent is developing a tool to support the early detection of mental health issues, with a goal of preventing suicide in at-risk children and adolescents.
"The suicide rate, especially among school-aged children, is nothing short of horrifying," president and CEO, Don Wright, says in an interview with BioTuesdays. "Over the last nine years, the rate of suicide among children aged five-to-12 has tripled in the U.S., and those numbers are underreported."
Among all age groups, suicide claims the lives of some 50,000 Americans annually, with 1.4 million attempting suicide every year. Suicide is the second leading cause of death in the U.S. among those aged 10-to-34.
"Our vision is to use our technology to identify individuals at increased risk of suicidality, so they can be treated before they end up in the hospital, or worse," Mr. Wright says. "Since half of all lifetime cases of mental illness begin by age 14, and 75% of cases begin by age 24, it makes sense to identify mental health issues as early as possible."
Clarigent developed its behavioral health vitals app based on the work of natural language processing specialist John Pestian, director of Cincinnati Children's Hospital's Computational Medicine Center, who studied suicide notes and voice recordings taken from suicidal individuals in the ER.
Mr. Wright explains that the technology is based on linguistics, including word selection and sentence construction. Clarigent used machine learning to identify vocal biomarkers in at-risk youth and discovered a correlation with the use of absolutist words and certain pronouns, as well as the pace, breathiness and inflection of speech.
The technology has been validated in four clinical trials since 2010, with the first three focusing on the use of natural language processing and machine learning to identify vocal biomarkers. The most recent study evaluated the use of these biomarkers to predict crises in at-risk children, based on 267 interviews.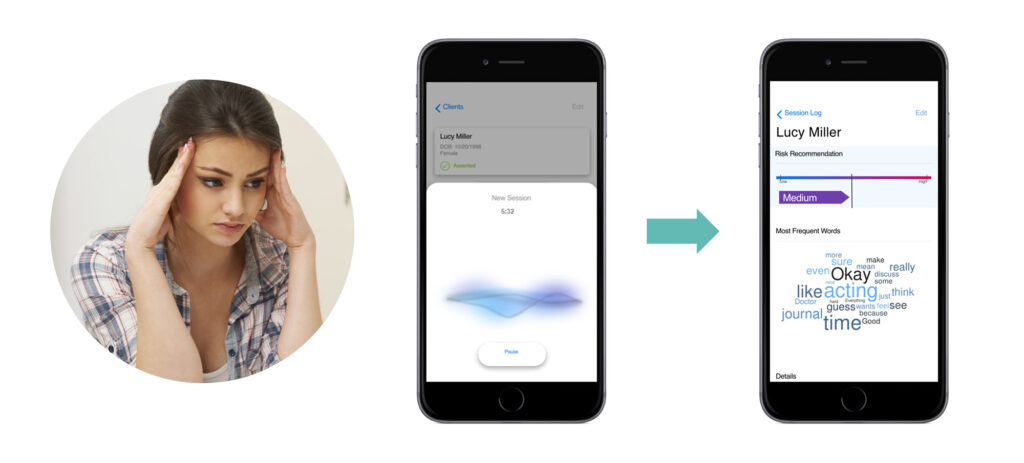 Crisis Assessment
"We are primarily applying the technology to students in at-risk populations, to monitor for suicide ideation, aggression and violence, so those students can get the help they need," Mr. Wright says.
In February 2020, Clarigent initiated a study in which approximately 2,000 students, aged eight-to-23, will be recruited by some 150 therapists across 30 U.S. schools, universities and mental health centers. Therapists will meet with students regularly and record their sessions to determine if the app's algorithm accurately detects suicidality. Once the sessions are completed, the therapists will provide feedback on the usability of the app in real-world settings, which will inform app optimization. More recently, COVID-19 pandemic-related school closures have the company looking to use telemedicine to continue the project.
Clarigent also has plans to start an ER-based study in a North Carolina hospital, which would include both inpatients and outpatients, once concerns related to COVID-19 resolve.
Clarigent sees its technology extending beyond schools, with applications in hospital, primary care and outpatient settings. Mr. Wright points out that mental health assessments are conducted during ER admissions and are used as part of the patient triage process. The app could be used to identify which patients are experiencing suicide ideation and have the potential to be aggressive or violent. It may also be used as part of discharge planning.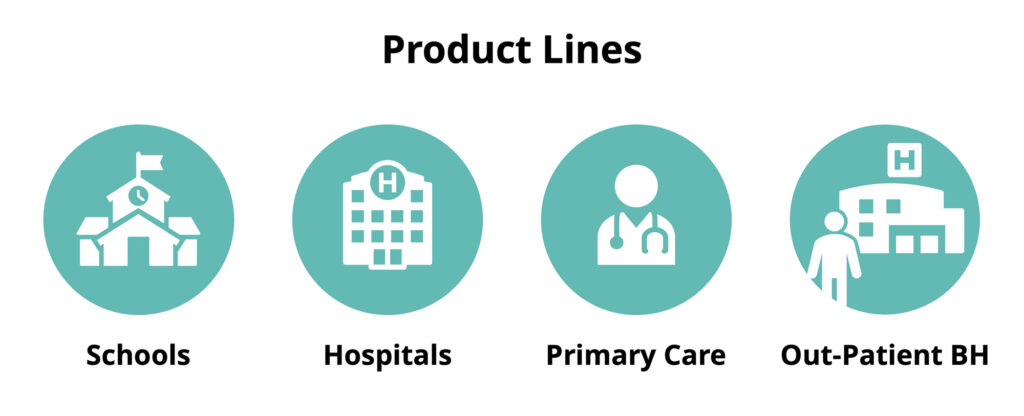 "Suicidal patients who are admitted to a hospital are most likely to commit suicide within 30 days following their release, so outpatient monitoring is extremely important," Mr. Wright emphasizes, adding that the technology can also be used for longer-term outpatient monitoring.
"Once patients have stabilized, it may make more sense for them to supplement some of their psychologist visits with group meetings, so other individuals facing mental health challenges can access professional help," he says. "Our app could monitor stabilized patients, as well as inform their medical management plans."
Clarigent is looking to partner with other companies to integrate chatbots into its app, which would provide personalized coping skills between therapist visits.
While the company is focused on using its technology to prevent suicide, violence and other mental health crises, it sees the app as a tool to help monitor other behavioral health concerns, such as anxiety and depression. The app could be used in a primary care setting to perform mental health screenings, as well as to monitor changes in mental health over time.
"Ideally, this technology would identify distressed individuals so they can get the help they need long before they are admitted to a hospital, which would greatly improve patient outcomes, while potentially decreasing the burden on the health care system," Mr. Wright adds.
• • • • •
To connect with Clarigent Health or any of the other companies featured on BioTuesdays, send us an email at [email protected].