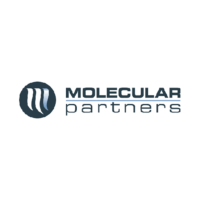 H.C. Wainwright initiated coverage of Swiss-based Molecular Partners (SWX:MOLN) with a "buy" rating and price target of CHF29. The stock closed at CHF17.54 on April 1.
Molecular Partners is developing targeted therapies that leverage its proprietary designed ankyrin repeat proteins (DARPins) technology, which offers modularity, flexibility, tunable half-life, high-affinity binding, and has demonstrated therapeutic relevance.
Abicipar, its Allergan-partnered wet age-related macular degeneration (AMD) intervention has a mid-2020 PDUFA date.
"With its differentiated injection every 12 weeks (Q12W) dosing schedule, [Abicipar] has the makings of a blockbuster," writes analyst Debjit Chattopadhyay. Existing wet AMD are based mostly on injections every four weeks. "Hence, the move towards newer options, which reduces treatment burden by increasing the intervals between procedures," he added.
Mr. Chattopadhyay figures abicipar's U.S. adoption to approach approximately 54,000 patients by 2025, representing between 6% to 7.5% of the wet-AMD market, which translates into peak U.S. sales of about $850-million. Globally, he anticipates abicipar to exceed $1.2-billion by 2026, which could be conservative if historic trends favoring frequency-dependent adoption hold.
However, he said going forward, the company's primary focus is likely to be in oncology, where DARPins are being geared towards known biological pathways to modulate the tumor microenvironment, direct tumor cell killing and enhance localized immune activation.
While the DARPins have preliminary proof of concept in direct tumor cell killing, he said the hurdle in these indications remains exceptionally high. "However, we believe the ability to positively modulate the tumor microenvironment is likely to remain the key focus in oncology for the foreseeable future and that is where the promise of the platform resides with its engineered site specificity," he added.