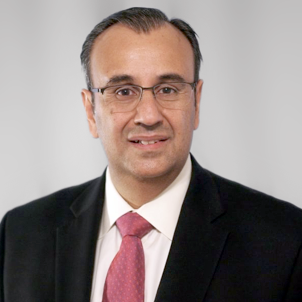 Using the natural pollination process of commercially-reared bees and biological products and controls, Bee Vectoring Technology International (TSXV, CVE:BEE; OTCQB:BEVVF) has developed a pest and disease solution for crops that improves yields and is safe for bees, people and the environment.
"We are a major disruptor in the crop protection and fertilizer market worldwide," Ashish Malik, CEO, says in an interview with BioTuesdays. "Last year, we transitioned from an R&D company to a commercial enterprise, with our EPA registration making that evolution possible."
Bee Vectoring's 2020 focus is on building out the company as a global agri-tech business with a unique product that is designed to make an important impact on sustainable food production, he adds. "We'll continue to accelerate our commercial operations in the U.S., plan to launch in Mexico, and progress our EU submission for regulatory approval, hopefully in 2022."
Mr. Malik points out that as the world's population continues to grow, society must double crop yields by 2040, with less arable land, less water and less chemicals. Biological products, genomics, Big Data and precision agriculture will become the standard tools in delivering higher yields as part of a new green revolution, he adds.
Bee Vectoring's technology is at the leading edge of this revolution, he contends. "We work with natural biologics, not synthetic chemicals, precisely delivered in grams instead of kilograms, and in a sustainable natural process without a heavy mechanical reliance on water and fuels. We are the only player in the market with this uniquely positioned natural precision agriculture system."
Mr. Malik explains that the company's treatment agent to protect flowering crops is a proprietary microbe, Clonostachys rosea (CR-7), that it isolated and developed as a fungicidal biologic. Commercially reared bumble and honeybees walk through CR-7 powder and the company's proprietary carrier, VECTORITE, which sticks to their hairy legs, before the bees leave dispensing hives at a farmer's field.
"Bees by nature are lazy insects and when they see a food source in front of them, that's where they go, so placement of a hive is important to avoid pollinating a neighbor's field," he adds.
Bumble bees are larger insects, can carry more CR-7 and are more efficient pollinators than honeybees, which have much larger hives and provide greater coverage per hive for large outdoor crops, such as sunflowers and almonds.
"We have proven our technology during five years of successful trials," Mr. Malik says, pointing out that the technology is protected by more than 65 granted patents, including the use of CR-7, its formulation and the dispensing system, and more than 35 pending patents.
"Owning the IP gives us a path to grow the business through licensing," he contends. Among other things, Bee Vectoring is looking at partnering with third-party bioagents, other than CR-7, for use of its delivery system. The company also is developing seed and foliar formulations of CR-7 for traditional applications to protect non-flowering crops.
EPA approval of CR-7 in August 2019 was the first registration in the U.S. for any product delivered by bees for use on all relevant crops. "The registration gives Bee Vectoring a significant asset, industry and grower credibility and a license to operate," Mr. Malik says.
The company in October 2019 also received a "residue tolerance exemption" from the EPA, which confirms that products with CR-7 are safe for human consumption. Unlike many chemical pesticides, Mr. Malik says there is no requirement to test crops for residual CR-7, eliminating the risk of crops being rejected, especially in export markets.
"The EPA exemption also applies to any registered current or future product containing CR-7, whether it is applied using bees, as a foliar spray, a soil drench or as a seed coating," he adds. "This is a significant competitive advantage for growers using CR-7 products."
Bee Vectoring is initially targeting its business model to strawberry and blueberry growers. "Our goal is to help growers improve their bottom lines by using less chemicals, water and machinery to get higher yields with a system that is safe for the environment," Mr. Malik contends.
Field studies have demonstrated that a strawberry farmer could earn $3,400 more per acre of land with Bee Vectoring, or greater than a 10 times return on investment, thanks to a reduction in fungicides and 6% to 29% higher yields.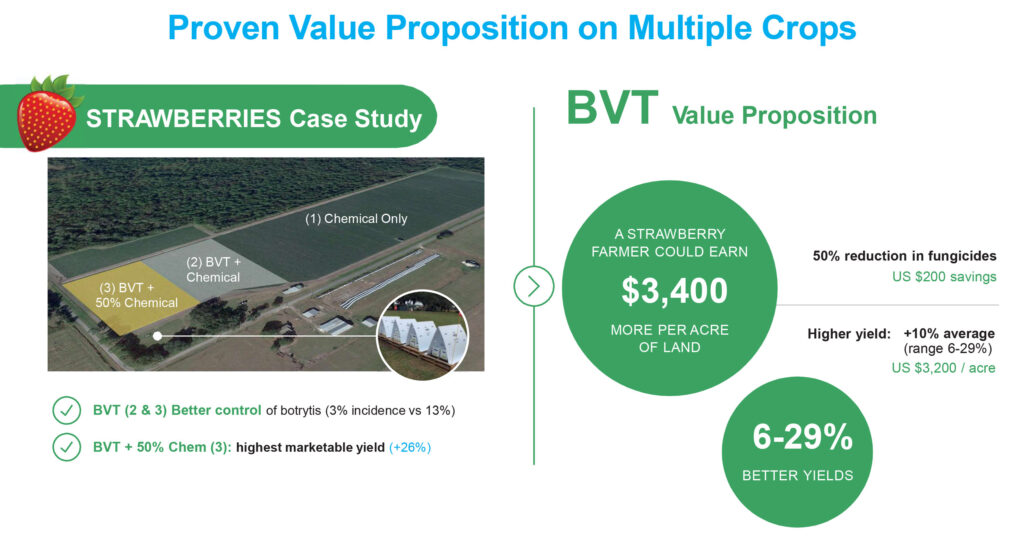 "We have commercial deals with multiple Florida strawberry growers and progressive adoption on acreages, season over season," he adds.
Mr. Malik points to a study by Major League Blueberries of Nicholls, GA that evaluated Bee Vectoring on five acres of land in 2018 and recorded higher yields and a better crop. In 2019, the grower committed 45 acres to Bee Vectoring and generated 28% higher yields and in 2020, it committed 100%, or 150 acres, to Bee Vectoring. "This is pretty typical of a farmer kicking tires for a couple years before going all in on some new technology."
Growers in the U.S. commit about 90,000 acres to blueberries, representing one-third of the market opportunity globally, most notably Canada, Peru, Australia, Mexico, Chile and Spain. Mr. Malik says Bee Vectoring expects to generate revenue in 2020 from blueberry farms in Georgia, Florida and North Carolina, and is pursuing commitments in the California and New Jersey.
Earlier this month, the company extended its commercial reach to the U.S. west coast, signing three new grower deals with berry producers in Oregon and Washington.
"Our sales strategy is to find influential growers who are early adopters of new technology and are well regarded in their communities, and leverage that prominence with new customers to grow market share," he adds.
Mr. Malik estimates the market opportunity for bee-vectored CR-7 to replace traditional fungicides and insecticides in flowering crops is $2.5-billion in the U.S. and $2.5-billlion outside the U.S. Foliar, soil drench and seed applied CR-7 represents a $17-billion market opportunity globally, he adds.
"We are currently in discussions with some 15 potential go-to-market partners to license commercial rights to CR-7 in selected markets, deliver third party bioagents using our technology and market extensions for CR-7 formulations applied to foliar and seed treatments."
In 2019, lab trials were completed on six third-party products using the Bee Vectoring delivery system, Mr. Malik points out. Field studies on three products will begin soon.
"We have built significant assets in the past five years, launching and expanding a de-risked technology," he contends. "Over the next five years, we plan to build a disruptive global agri-business, unlike unsustainable short-term fads. Food is a real business."
• • • • •
To connect with BVT or any of the other companies featured on BioTuesdays, send us an email at [email protected].