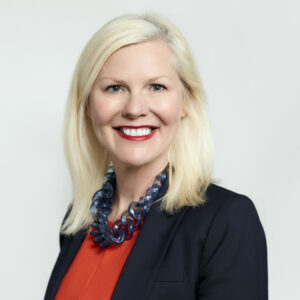 Closely-held pharmacogenetics company, Inagene Diagnostics, aims to replace the "trial-and-error" approach to pain management with a comprehensive genetic test that helps physicians provide personalized pain management therapy.
"Pain management is an underserved therapeutic area with high unmet need, and as awful as the opioid crisis is, I think it's fueled a sense of urgency to develop grassroots solutions for people suffering from chronic pain," Inagene's CEO, Nancy White, says in an interview with BioTuesdays.
Ms. White explains that understanding a patient's genetic profile can provide clinicians with additional knowledge to prescribe the right pain medication at the right dose.
While pharmacogenetic testing is nothing new, Ms. White points out that it is often misunderstood, with the average consumer citing products like Ancestry or 23andMe. "Inagene doesn't do this type of curiosity-driven genetic testing. What we do is help patients understand how they process certain medications. Although we're not there yet, I truly believe that in less than 10 years these kinds of tests will be commonplace within our healthcare system."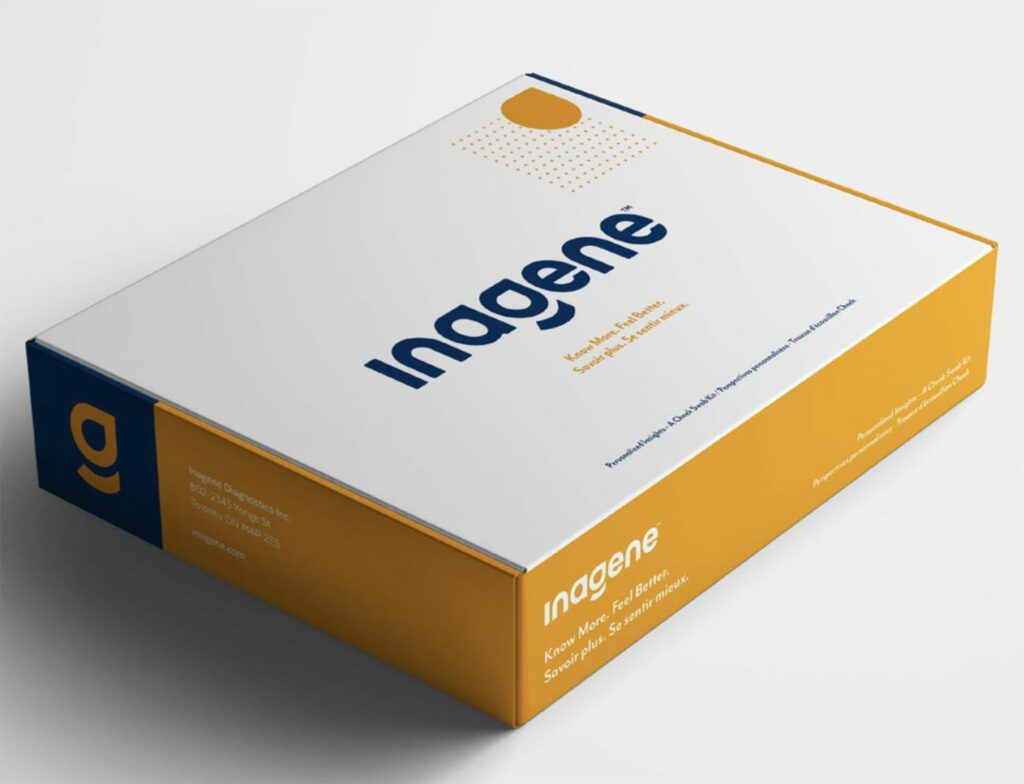 Inagene chose to focus on pain management because it is complex, difficult to manage and highly individual. "Patients often cycle through a variety of medications to find relief. There is also a shocking comorbidity of mental health and mood disorders, some which may be due to medication side effects or just the inability to find relief," Ms. White says.
In North America, some 1-in-5 individuals suffer from chronic pain. The global pain market is estimated at $100-billion, and is expected to grow to more than $140-billion by 2024. While opioids represent the largest segment and are expected to continue to dominate the market, patients are starting to turn to alternatives like cannabis to manage their pain.
Inagene's genetic test provides patients and their physicians with a comprehensive review of both over-the-counter and prescription pain medications, as well as those for mental health and mood disorders. In addition, the test offers an in-depth panel for the "cannabis curious," which has nine different recommendation profiles based on a patient's cannabis metabolism.
Inagene's cannabis panel looks at 25 genes and 68 variants, while its pain panel looks at 45 genes. The complete test evaluates 55 genes and 116 variants, which Ms. White says makes it the most comprehensive pharmacogenetic pain test available.
Both patients and physicians can order the test online, which is sent to the patient's home for collection of a cheek swab sample, which is then mailed directly to Inagene's lab.
"We own and operate our own lab, which is a key differentiator from other pharmacogenetics companies who typically outsource their testing to reduce costs. We're committed to adding additional layers of scrutiny to how we report and provide our results, including performing all of our tests in duplicate to ensure accuracy," Ms. White says.
Patients can expect a turnaround time of one-to-10 days. Reports are available for download in a variety of formats and patients are encouraged to discuss the results with their health care practitioner.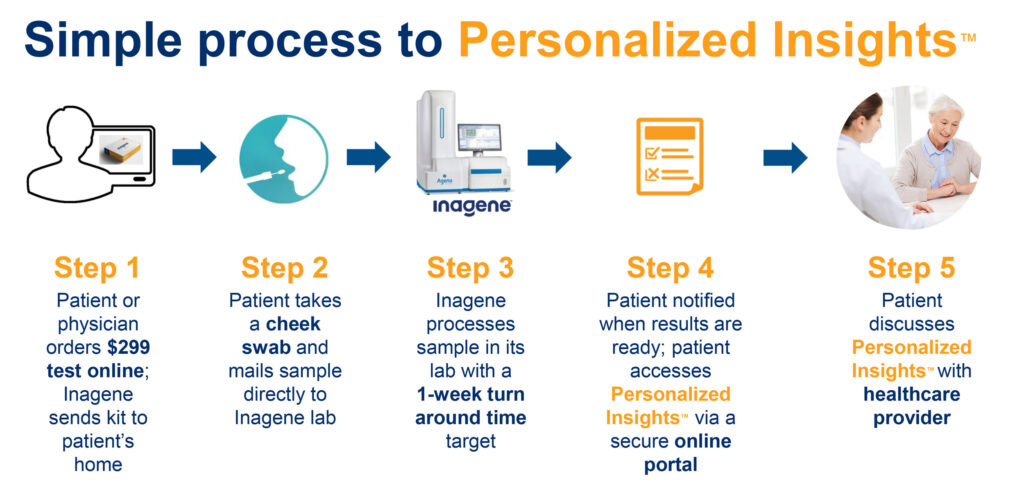 Providing an example of the test's value when it comes to prescribing antidepressants, Ms. White says that patients diagnosed with depression are currently prescribed antidepressants on a trial-and-error basis, and when they don't respond to a medication, the dose is often adjusted before another medication is trialed. This can result in a series of medication trials and additional months of suffering, which may not result in relief.
"The fact is, that for some individuals, certain antidepressants just won't work because of a genetic variant. Our test provides a personalized physician support tool to help eliminate a lot of the trial-and-error that exists when trying to find the right medication, as well as the right dose."
Ms. White points out that while the regulatory approval process for diagnostics is far laxer than that for drugs, Inagene has made a point of obtaining all certifications required to market its test in the U.S. in the future. Inagene is the only pharmacogenetics lab in Canada to obtain a Clinical Laboratory Improvement Amendments certification and a Health Canada Medical Device Establishment License.
"These are key differentiators that may not mean much to the average physician or patient, but I strongly believe these achievements will become a significant competitive advantage for Inagene in the next few years," she contends.
While Inagene's test is covered by most health spending accounts (HSAs) offered by third party insurance plans, a lot of long-term chronic pain sufferers are unable to work because of their pain and don't have access to HSAs.
"We recently completed a survey where we provided our test to chronic pain patients with socioeconomic challenges. The most common reaction from these patients upon receiving their results was, 'had I known I'd receive this level of information, I would have found a way to pay to get this test done,'" Ms. White recalls.
She adds that Inagene is always looking to further enhance its test by identifying new gene-drug relationships. And, because Inagene operates its own lab, it can translate these new findings into new panel offerings on an "add-on" basis. She envisions a service whereby patients can subscribe for updates as new tests become available. In the next couple of months, for example, the company plans on offering a drug-drug interaction service.
Inagene has partnered with Ehm & Co, a digital marketing company that specializes in connecting brands with some six-million Canadian women. "In the vast majority of households, women are responsible for making the disposable income spending decisions, and are often the primary caregiver." Inagene plans to launch a 12-to-18-month campaign to educate individuals on the benefits its test provides.
Ms. White says that while Inagene is currently pursuing several marketing partnerships, its long-term goal is to provide the test to every child born in the hospital before they leave. "Newborns are given a battery of tests before they leave the hospital, why wouldn't a parent want this to be one them?"
• • • • •
To connect with Inagene or any of the other companies featured on BioTuesdays, send us an email at editor@biotuesdays.com.