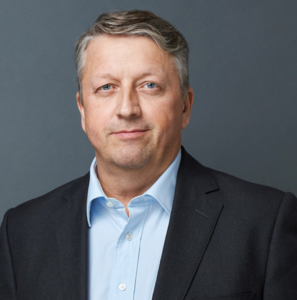 Liminal BioSciences (NASDAQ, TSX:LMNL) is undergoing a significant strategic transformation to simplify its operations, achieve financial stability and focus R&D on small molecule therapeutics.
"This is a refresh of ProMetic Life Sciences, which was around for 25 years, but stumbled after a series of setbacks and was left with a crushing debt burden and interest payments," CEO, Kenneth Galbraith, says in an interview with BioTuesdays.
New and existing investors arranged a major equity financing in the second quarter of 2019, strengthened the executive team and board, changed Prometic's name and achieved a NASDAQ listing in November.
Liminal also sold its chromatography and bioprocessing business to investment giant, KKR, for some $80-millon in 2019, with $50-million in proceeds on closing. "The sale of the division will advance our transition to a new focus on small molecule therapeutics and strengthen our financial position," he adds.
Mr. Galbraith explains that Liminal's current R&D focus is a small molecule therapeutics group for the treatment of serious fibrosis in respiratory, liver and kidney disease, with expected expansion of the R&D portfolio through collaboration, in-licensing and acquisition.
In addition, the company plans to file an amended biologics license application for priority review with the FDA in the first half of 2020 for approval of Ryplazim for the treatment of congenital plasminogen deficiency, a rare disorder that results in inflamed growths on the mucous membranes that line body openings, such as the eyelids and the inside of the mouth. A European filing for Ryplazim is planned after potential approval and launch in the U.S.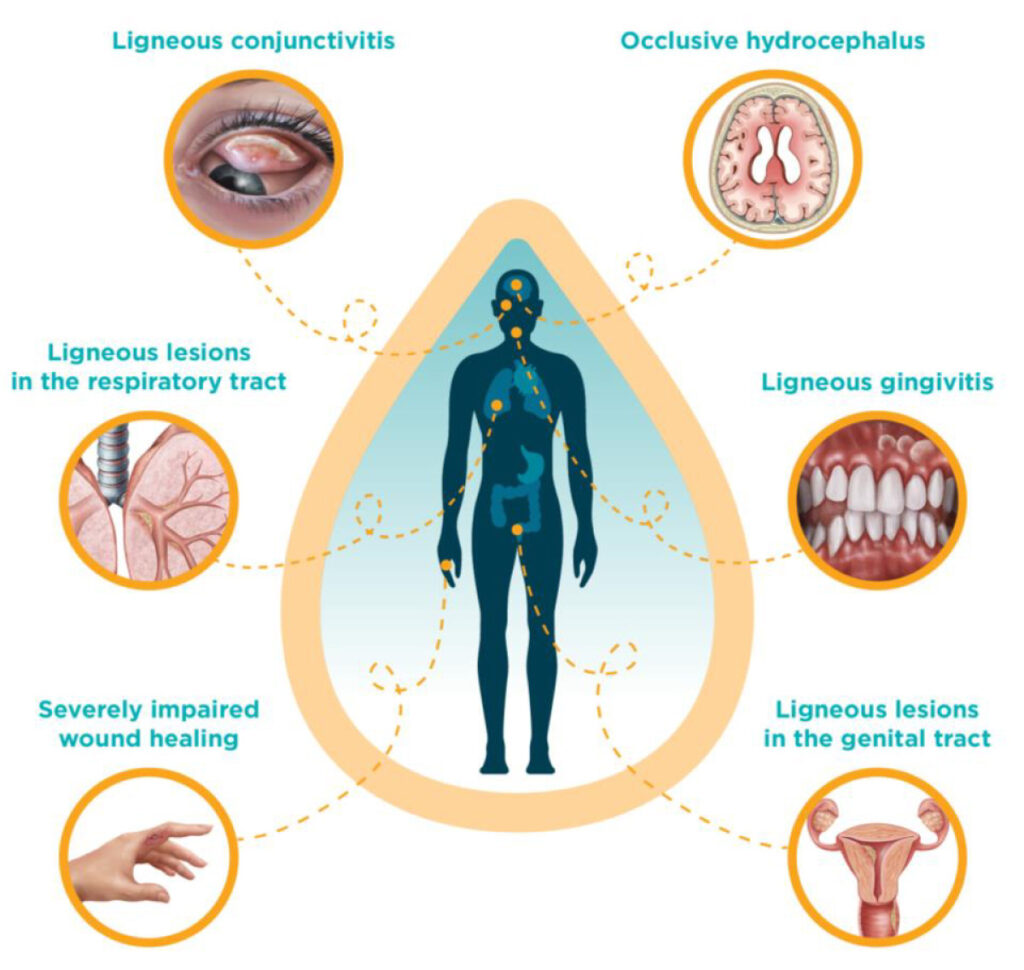 Type 1 plasminogen deficiency (PLGD) is an ultra-rare genetic disease
Liminal is in talks to sign a global marketing partnership for Ryplazim to further strengthen its financial position. Under the accord, Liminal expects to continue manufacturing Ryplazim to supply its commercial partner. Additional indications for Ryplazim provide market expansion opportunities, such as acute wound healing.
Mr. Galbraith points out that as part of its strategy to build a portfolio of antifibrotics, Liminal's research has focused on mechanisms of G-protein coupled receptors and compounds with multi-targeting effects and roles in inflammation, metabolic disease and fibrosis.
"Our discovery engine has generated more than 3,000 proprietary compounds with a multi-target effect against free fatty acids and other receptors," he added. "And robust activity in a broad panel of in vivo disease models has been confirmed in more than 30 compounds."
According to Mr. Galbraith, Liminal's lead anti-inflammatory and anti-fibrotic agent, Fezagepras (formerly PBI-4050), is designed to reduce fibrosis via regulation of macrophages, fibroblasts or myofibroblasts, and epithelial cells. In preclinical studies, Fezagepras has demonstrated activity in models of chronic and diabetic kidney disease; lung, liver and heart fibrosis; Crohn's disease; scleroderma; and osteoporosis.
Fezagepras has been evaluated in more than 250 subjects, dosed up to 1,200 mg daily, in eight clinical trials. Most adverse events were mild.
"Our lead indication for Fezagepras going forward is Alström syndrome, a rare condition that affects many body systems. Mr. Galbraith notes that fibroblasts with mutations in the ALMS1 gene are resistant to apoptosis and secrete high levels of extracellular matrix.
Many of the signs and symptoms of the disorder begin in infancy or early childhood. Alström syndrome is characterized by progressive and severe fibrosis, affecting the heart, kidneys, lungs and liver. Childhood onset involves visual dysfunction, hearing loss, obesity and diabetes. Patient life expectancy rarely exceeds 50 years of age.
Industry estimates suggest 1,200 individuals with Alström syndrome have been identified worldwide and there is no FDA or European Medicines Agency (EMA) approved treatment for these patients. Fezagepras has both orphan drug designation and rare paediatric disease designation from the FDA; orphan drug status from the EMA; and promising innovative medicine status in the UK for Alström syndrome.
In an earlier Phase 2 trial with 12 patients, which was the largest study ever conducted in this patient population, Fezagepras had a dramatic impact on fibrosis in multiple organ systems. "Some of these patients have been studied for almost two years and we're getting a pretty good data set on long-term use of the drug," Mr. Galbraith says.
Liminal has met with regulators about a Phase 3 trial of Fezagepras, with final meetings scheduled for 2020 with the FDA and EMA to set the protocol and primary endpoints for a pivotal trial.
The company hopes to start the trial in the second half of 2020 at three clinical sites in the U.S., UK and Italy. Patient identification for study is underway, with a projected goal to enroll about 45 Alström syndrome subjects – 30 adults and 15 paediatric patients – treated with 1,200 mg of Fezagepras dosed once daily.
Patients will come to the central sites for screening and imaging, go home with their medication and return to a central site every six months for imaging and scanning.
"Our goal is to reduce fibrosis in organ systems to allow these patients to live longer, without the need for organ transplants and other requirements to manage their disease," Mr. Galbraith says. "We are also working with well-established international Alström patient advocacy organizations to assist in conducting the study."
Given the small size of the market, Mr. Galbraith figures the company would build a small regional sales and marketing infrastructure, if Fezagepras is approved.
Liminal also has developed a second drug candidate, PBI-4547, as an analogue of Fezagepras, with a differentiated mechanism for treating liver fibrosis.
In preclinical studies, with a high-fat diet mouse, PBI-4547 improved glucose metabolism and insulin resistance, and reduced liver damage. In an obese mouse model, PBI-4547 reversed diabetes and metabolic syndrome through regulation of lipid/ glucose metabolism, beta-oxidation and fibrosis in liver and white adipose tissue. And in a carbon tetrachloride liver fibrosis mouse model, PBI-4547 reduced the collagen content and level of liver fibrosis, Mr. Galbraith points out.
"We think PBI-4547 can be beneficial treating patients with non-alcoholic steatohepatitis (NASH) and, in NASH, we're interested in treating not only fibrosis in the liver that has developed over time from having NASH, but also fatty liver disease, which is a precursor of fibrosis. We're also interested in regulating certain metabolic conditions, such has improving insulin sensitivity and triglyceride levels, for example. We see PBI-4547 as an anti-fibrotic, anti-inflammatory, with an impact on metabolic disorders," he adds.
Liminal hopes to complete its Canadian Phase 1 study with PBI-4547 in 2020 and then, depending on the results, move into a global Phase 2 trial.
"We have a lot on the drawing board both short- and long-term, including putting something in the clinic for kidney disease, studying novel targets and pathways beyond free fatty acid receptor biology and expanding our current drug discovery engine with novel technologies, such as AI and machine learning."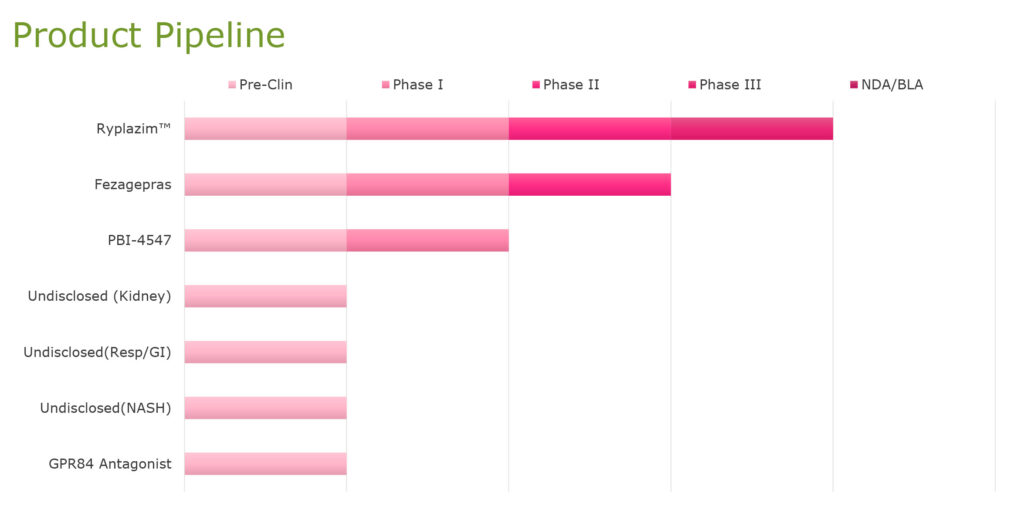 • • • • •
To connect with Liminal, or any of the other companies featured on BioTuesdays, send us an email at editor@biotuesdays.com.