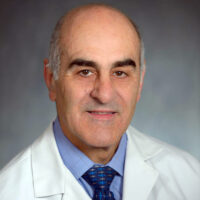 BriaCell Therapeutics (OTCQB:BCTXD; TSXV:BCT) believes its Phase 2 clinical program in advanced breast cancer, which includes an ongoing combination study of its Bria-IMT with immune checkpoint inhibitors such as Keytruda from Merck (NYSE:MRK) and immune-oncology drugs from Incyte (NASDAQ:INCY), is ready for partnering.
"Incyte obviously has an inside track because we have a collaboration agreement with them, but there are so many companies that want to get into the immuno-oncology area, that we are in talks with other companies as well," Dr. Bill Williams, president and CEO of BriaCell, says in an interview with BioTuesdays.
Dr. Williams, who has been involved in 11 drug approvals in a career that includes stints at Incyte and GlaxoSmithKline, explains that BriaCell's approach uses targeted immunotherapies, which directly stimulate the body's own cancer-fighting cells to attack and destroy breast cancer tumors.
"We believe our Phase 1/2a safety and efficacy data show similar or superior results to those of other advanced or approved drugs for breast cancer when they were at a similar clinical stage of development," he adds.
According to Dr. Williams, the company believes its lead immunotherapy, Bria-IMT, produces antigens, or proteins made by breast cancer cells, which are "presented" to CD4+ and CD8+ T-cells, known for tumor destruction and further boosting the immune response. "The bottom line is specific immune activation to directly stimulate cancer-fighting cells in advanced breast cancer."

BriaCell's Patented Immunotherapy: Bria-IMT™
In December 2018, Bria-Cell stablished Bria-IMT's mechanism of action and proof of concept in a Phase 1/2a study. "We believe tumor regression is most pronounced in patients who match Bria-IMT at specific human leukocyte antigen (HLA)-types and develop an immune response," Dr. Williams contends. HLA matching between the patient and Bria-IMT appears to play a role in the development of anti-cancer activity.

Bria-IMT™ – Phase I/IIa Efficacy
One patient treated with the Bria-IMT regimen, with two HLA matches, in the Phase 1/2a study had substantial tumor regression in 20 lung metastases that all either disappeared or shrunk to tiny scars. Overall, 40% of patients with two or more HLA matches had tumor shrinkage, while 20% of patients with one or more HLA matches had tumor shrinkage.
At the San Antonio Breast Cancer conference last month, BriaCell disclosed it had identified a subset of patients with a very high response rate, and that "this increases our odds of success in getting our therapy approved," Dr. Williams suggests.
In the first study of the Bria-IMT regimen alone, the company had six patients with grade I (well differentiated) or grade II (moderately differentiated) tumors. Two of these patients had notable tumor shrinkage. Both of them matched the Bria-IM cell line at two or more HLA types. "This suggests that we can have a very high clinical benefit rate in patients with grade I/II tumors with the Bria-IMT regimen alone, if they have HLA matching.
In the second study of the Bria-IMT regimen combined with Keytruda, there were three patients with grade I/II tumors and two of the three had notable tumor shrinkage and clear clinical benefit. "In combination with Keytruda, and likely with related checkpoint inhibitors, we are seeing clinical benefit in a very high proportion of patients even without HLA matching," he adds.
The top responder in the combination study experienced a highly remarkable reduction in breast cancer tumors in the adrenal gland and the outer lining of the brain, tumors that had metastasized to areas outside of her breasts. Prior to the combination study, she had failed regimens with 13 chemotherapy and three hormonal agents. The patient has now transitioned to a combination study with Incyte's INCMGA00012, another immune checkpoint inhibitor.
Dr. Williams points that checkpoint inhibitors, such as Keytruda, are designed to neutralize immune suppression in cancer patients caused by PD-L1 molecules, which block immune cells from attacking cancer cells. PD-L1 has been linked to cancer cells in more than 90% of BriaCell's patients.
"We believe Bria-IMT has the potential to increase an immune response while Keytruda decreases immune suppression," he adds. "While Keytruda acts by awakening a component of the immune system, Bria-IMT puts the foot on the gas of the immune system, which we believe may lead to more powerful anti-tumor activity."
BriaCell is hoping for a similar tumor-reducing effect in advanced breast cancer patients with Bria-IMT in combination with compounds supplied under a collaboration with Incyte. These include Incyte's anti-PD-1 monoclonal antibody, INCMGA00012, which works the same way as Keytruda, and an IDO1 inhibitor, epacadostat.
"This is a very exciting collaboration for us because Incyte has a rich immuno-oncology portfolio and we may end up combining Bria-IMT with other Incyte compounds," Dr. Williams says. In addition, Incyte currently does not have a breast cancer program and "we are very hopeful that Incyte may co-fund a pivotal program with us."
In October 2019, BriaCell dosed the first patient in a Phase 1/2a study of Bria-IMT in combination with Incyte's INCMGA00012 and epacadostat. Patients in the study have advanced breast cancer whose disease has progressed following standard-of-care therapies.
At the recent San Antonio conference, Bria-Cell reported that the first patient treated with the combination regimen had no serious adverse events and indications of preliminary clinical benefit. Recruitment is ongoing, with additional efficacy data to be released in 2020.
According to Dr. Williams, both INCMGA00012 and epacadostat have been shown to reverse cancer-induced suppression of immune cells, "making them a rational performance booster for Bria-IMT in the clinical study."
BriaCell hopes to file an IND in the second half of 2020 for its off-the-shelf personalized immunotherapy, Bria-OTS, which involves a simple saliva test to determine the HLA-type of each patient. Dr. Williams says each breast cancer patient would then be treated with an appropriate matching pre-manufactured Bria-OTS formulation. BriaCell is engineering 15 unique HLA molecules, allowing for what "we believe will match more than 99% of cancer patients," he adds.
The Bria-OTS concept also is being used to develop a platform technology to expand into prostate cancer, non-small cell lung cancer and melanoma, with IND filings in the works for 2020 to 2022. The company also has an early-stage small molecule program, targeting the Ras-induced transformation and signaling pathway, which plays a role in 30% of all cancers.
"We have a very robust pipeline in what we perceive are multiple regulatory advantages for fast track and accelerated review," he adds.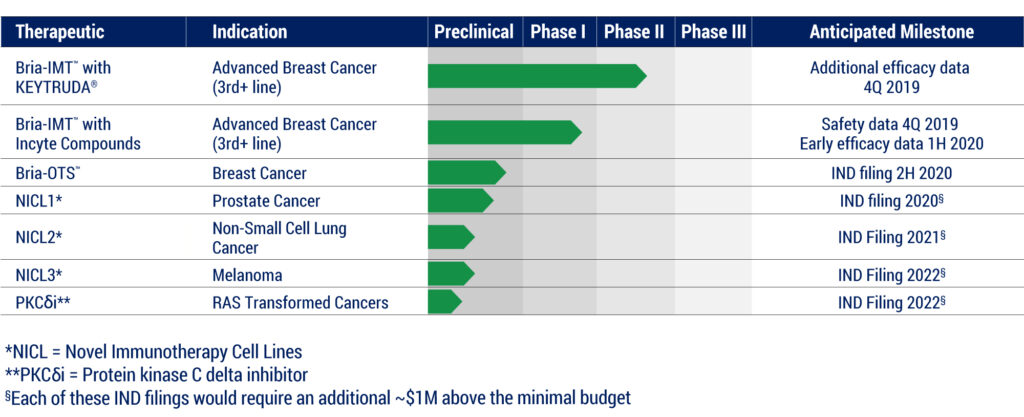 BriaCell Pipline
• • • • •
To connect with BriaCell, or any of the other companies featured on BioTuesdays, send us an email at editor@biotuesdays.com.