Artelo Biosciences (NASDAQ:ARTL) is gearing up to begin a UK-based Phase 1b/2a study of its cannabinoid agonist drug candidate, ART 27.13, which has the potential to stimulate cancer patients' appetite and promote weight gain.
"Sixty percent of late-stage cancer patients have profound anorexia that results in wasting, a significantly reduced quality of life, and a lack of energy that keeps them from participating in normal activities," president and CEO, Gregory Gorgas, says in an interview with BioTuesdays.
"Significantly low body weight can negatively impact patients' immune system, and potentially, their ability to fight their disease. Despite evidence that cancer patients who maintain a healthy weight have better outcomes, there are currently no FDA-approved drugs for cancer-related anorexia – it's a high unmet need," Mr. Gorgas points out.
Artelo's pipeline is based on drugs that are designed to modulate the endocannabinoid system (ECS). The ECS is a neuromodulatory system consisting of neurotransmitters that act on cannabinoid receptors throughout the body. There are two main types of cannabinoid receptors: CB1 and CB2. CB1 receptors are mainly located in the central nervous system (CNS), while CB2 receptors are found throughout the body, particularly on immune cells, and are involved in processes like inflammation and digestion, among others.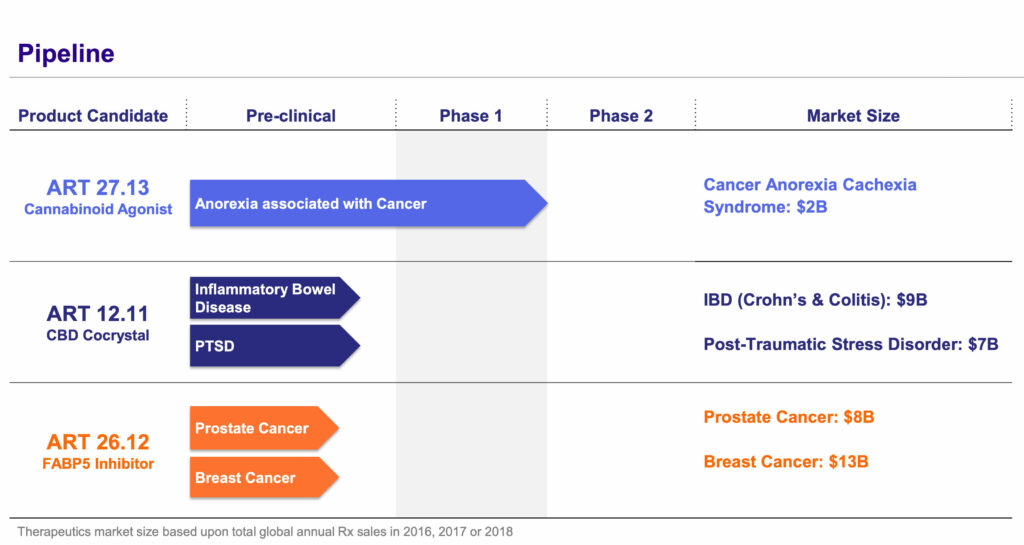 "What initially struck me about the ECS is that modulating the system holds the potential to treat a broad range of diseases," Mr. Gorgas recalls. "While the body produces its own cannabinoids, it just so happens that cannabis contains chemicals that also target receptors in the ECS. Now, relaxed cannabis laws are encouraging the development of new drugs that take advantage of the ECS's vast potential, and this is just the tip off the iceberg," he contends.
ART 27.13 is a dual CB1/CB2 agonist with a proven mechanism of action. Licensed from AstraZeneca UK, ART 27.13 acts peripherally on the part of the ECS that stimulates hunger, without CNS-mediated psychoactive effects.
In a Phase 1 multiple ascending dose study conducted by AstraZeneca, five doses of ART 27.13 were assessed in 50 subjects. The drug candidate stimulated appetite in a dose-dependent manner, and over a period of 12 days, 25% of subjects gained 3% or greater of their baseline body weight.
Artelo plans to enroll up to 49 subjects in a Phase 1b/2a trial of ART 27.13 at six clinical sites in the UK. The company is currently manufacturing its clinical supply and expects to initiate the study in the first half of 2020. Initial results are anticipated in the second half of 2020, with full data expected within 12-to-18 months.
In addition to ART 27.13 for cancer-related anorexia, Artelo is developing ART 12.11 for the treatment of inflammatory bowel disease (IBD) and post-traumatic stress disorder (PTSD); and ART 26.12 for the treatment of prostate and breast cancers.
While ART 12.11 was developed internally, Artelo has an exclusive worldwide license to ART 26.12 from New York's Stony Brook University. "Not many companies have a portfolio of assets from three different sources that are at various stages of development, have different risk profiles and all target the endocannabinoid space. It's a key differentiator for Artelo," he contends.
Mr. Gorgas points out that Artelo has a robust patent estate for their in-licensed compounds, with both issued and pending patents. The company expects to receive a composition of matter patent for ART 12.11 within the next six months.
Artelo developed ART 12.11 to address cannabidiol's (CBD) inconsistencies, which can make it difficult to develop as a pharmaceutical. "The challenge with CBD is that is associated with solid polymorphism, so there is a meaningful opportunity to improve the consistency of its exposure and uptake profile. We wanted to make CBD even better by optimizing the molecule for drug development," Mr. Gorgas explains.
ART 12.11 consists of a crystalline scaffold that keeps the CBD molecule in a certain configuration, which creates a more consistent pharmaceutics profile. The process, called co-crystallization, has been used to develop several blockbuster drugs, including Novartis' heart failure drug, Entresto; and Forest Labs' antidepressant, Lexapro. "In addition to potential market exclusivity, ART 12.11 enables an easier, solid-state manufacturing process and offers the potential for a superior therapeutic profile," he adds.
While CBD is generally safe, contraindications do exist. In some individuals, CBD can decrease the metabolism of certain drugs, which can cause a problematic drug accumulation. "A consistently-acting molecule will also allow physicians to better manage adverse events in their patients," Mr. Gorgas notes.
Like ART 27.13, ART 12.11 is targeting multi-billion dollar markets. More than 1% of the U.S. population suffers from IBD, which includes ulcerative colitis and Crohn's disease, while nearly 7% suffer from PTSD. In Phase 1 studies, CBD demonstrated a reduction in intestinal permeability secondary to inflammation, while ART 12.11's co-former as a single agent has demonstrated efficacy in a preclinical PTSD model.
Artelo is currently conducting investigational application studies of ART 12.11 with plans to study the compound as a treatment for IBD and PTSD-related anxiety and insomnia. Mr. Gorgas expects this program to enter the clinic in early 2021, along with Artelo's third drug candidate, ART 26.12, which is being developed as a cancer treatment and is also undergoing investigational application studies.
ART 26.12 inhibits a particular fatty acid binding protein (FABP) called FABP5. FABPs play a role in the intracellular transport of certain endocannabinoids and fatty acids. As a lipid-signaling molecule, FABP5 is a critical mediator of vascular epidermal growth factor receptor-induced cancer cell growth and migration.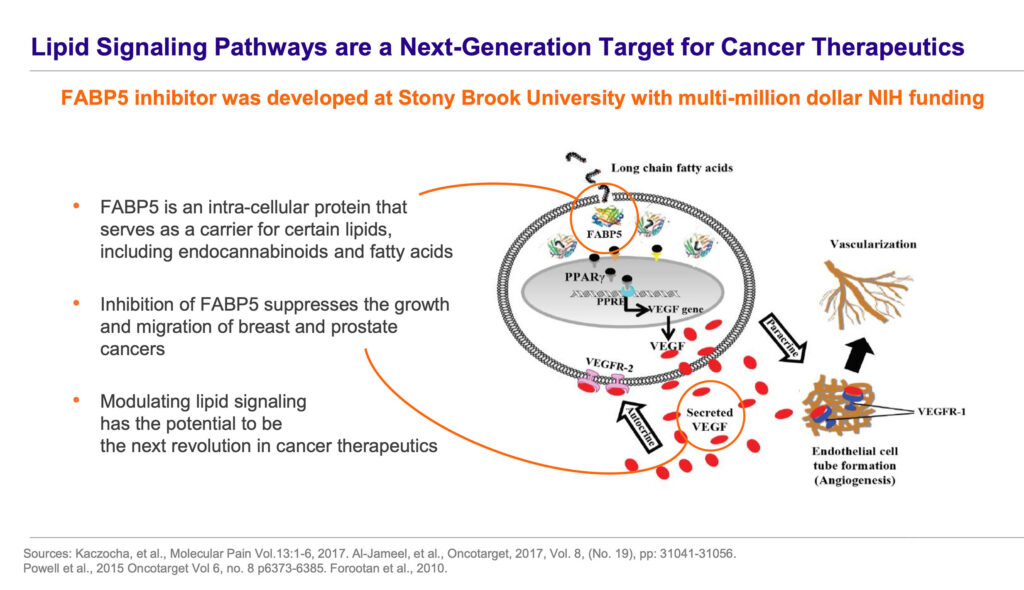 Mr. Gorgas refers to a mouse model of castration-resistant prostate cancer in which Artelo's FABP5 inhibitor decreased tumor growth during a one-month treatment period. "FABP5 is a validated target in breast, prostate and cervical cancers," he says, citing several studies where FABP5 correlated with high tumor grade and poor prognoses. FABP5 is also upregulated in the particularly difficult-to-treat triple-negative breast cancer.
"In the span of approximately two years, we have progressed from an idea for a company to a NASDAQ-listed biopharmaceutical company with an international footprint," Mr. Gorgas points out. "The team at Artelo now plans to rapidly advance all three programs and be in a position to begin 2021 with three drug candidates in the clinic. With a pipeline that represents a unique full-spectrum approach to treating disease by modulating the ECS, we believe we are well-positioned for rapid and sustained growth compared to our peers."
• • • • •
To connect with Artelo or any of the other companies featured on BioTuesdays, send us an email at editor@biotuesdays.com.