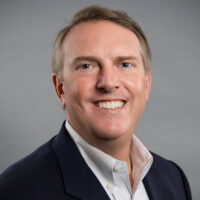 Salarius Pharmaceuticals (NASDAQ:SLRX) is poised to ride the growing epigenetic wave with a differentiated lead drug candidate, seclidemstat, in early clinical development for the treatment of Ewing sarcoma and advanced solid tumors.
"Seclidemstat is an oral tablet with a targeted, disease-specific mechanism of action, unlike toxic chemotherapy," David Arthur, president and CEO, says in an interview with BioTuesdays. "Our technology targets the epigenetic causes of cancer, which is the study of the regulatory system that controls how genes are turned on or off."
Mr. Arthur explains that in certain cancers, the proteins that regulate gene expression become dysregulated and incorrectly turn genes "on" or "off," which in some cases, leads to cancer progression. Drugs that are able to safely modify the activity of these epigenetic regulators may correct the gene changes that are driving the disease, he suggests.
According to Mr. Arthur, epigenetics is a hot space right now, and within that space is a class of drugs called lysine-specific demethylase 1 (LSD1) inhibitors, including Salarius' seclidemstat.
"We inhibit the LSD1 enzyme from playing a role in the communication pathway of cancer growth, making the enzyme an attractive target for cancer therapy," he contends. According to published studies, LSD1 is associated with more than 60 gene regulatory proteins and its overexpression is often correlated with poor cancer prognosis.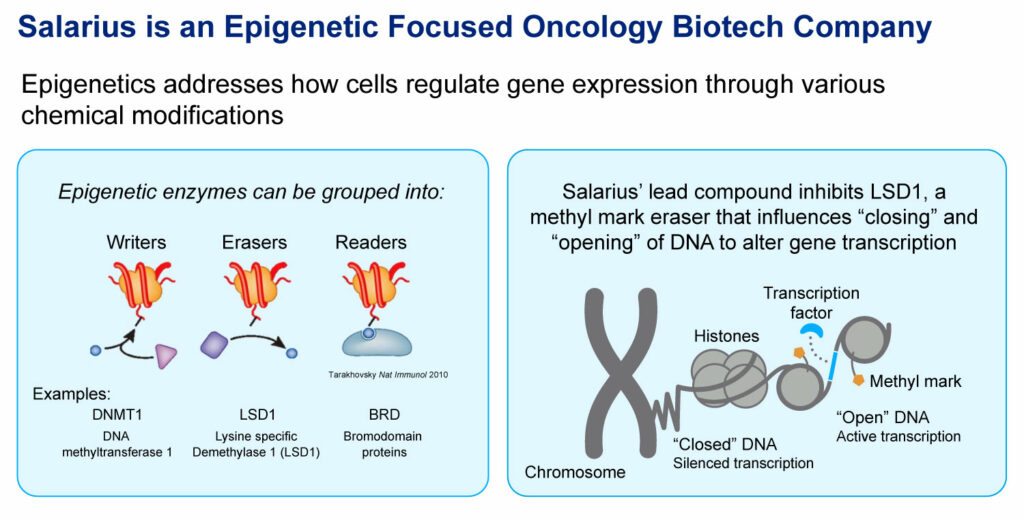 "Our technology has the potential to not only inhibit the enzyme, but also impact a tumor's scaffolding properties," he suggests. "So, not only can we inhibit LSD1, but one of our differentiating features is the ability to destabilize LSD1 and lower LSD1 levels."
Mr. Arthur says Salarius believes that seclidemstat is one of only two reversible inhibitors of the epigenetic modulator LSD1 currently in human trials, and that it could have potential for improved safety and efficacy, compared with other LSD1-targeted irreversible therapies.
In 2016, Salarius received an $18.7-million award from the Cancer Prevention and Research Institute of Texas to advance its clinical programs. In addition, the National Pediatric Cancer Foundation is providing financial support for the company's Ewing sarcoma study.
With human data expected in 2020, we have the potential to become a leader in this exciting area of cancer research.

David Arthur
Founded in 2011, Salarius went public earlier this year through a reverse merger with Flex Pharma. Mr. Arthur says Flex Pharma selected Salarius after completing a highly comprehensive process – one that involved performing substantial due diligence on multiple candidates, which "we believe provides substantial third-party validation for our business."
Salarius' development strategy is focused on speed to market by delivering a new therapeutic option for patients with Ewing sarcoma and then market expansion into solid tumors, hormonal cancers and other sarcomas. U.S. composition-of-matter patents run until 2032, exclusive of possible extensions.
Ewing sarcoma is a rare and devastating bone and soft-tissue cancer that mostly afflicts children and young adults. Some 500 cases are diagnosed annually in the U.S. There are no approved targeted therapies for the disorder and the standard of care treatment is adult chemotherapy, radiation and often disfiguring surgeries. Some 70% of patients with relapsed/metastatic disease do not survive.
The FDA has granted seclidemstat both orphan drug and rare pediatric disease designations, clearing the way for a pediatric priority review voucher, if seclidemstat is ultimately approved to treat Ewing sarcoma. These vouchers can be sold to other qualifying companies and based on recent selling prices, a voucher can command a value ranging between $80-million and $120-million.
Salarius is enrolling up to 50 refractory and relapsed Ewing sarcoma patients in a Phase 1/2 dose escalation and expansion study. The company expects to establish a maximum tolerable dose in early 2020 and then begin dose expansion, with the potential for reporting early cohort data later in the same year.
Mr. Arthur suggests that if the ongoing study is successful, Salarius could begin a potential Phase 2 registration study in 2021, with the FDA's approval.
Earlier this month, Salarius added Memorial Sloan Kettering Cancer Center and Nationwide Children's Hospital as clinical trial sites in its ongoing Ewing sarcoma study, increasing the number of active clinical trial sites in the study to eight.
Salarius also is advancing seclidemstat for adults with advanced solid tumors in a Phase 1 study that is enrolling up to 50 patients with breast, ovarian, prostate and other cancers. Early cohort safety and efficacy data are expected in 2020.
Mr. Arthur points out that LSD1 expression levels are correlated with poor patient prognosis across several cancer types, such as castration-resistant prostate cancer and triple negative breast cancer. "Low levels of LSD1 are associated with high survival rates and high levels of LSD1 with low survival," he adds.
Salarius also has inked a pre-clinical and clinical partnership with the Ivy Brain Tumor Center. Ivy will begin in vivo studies with seclidemstat as a possible treatment for glioblastoma, an aggressive type of brain cancer. If successful, the partnership will advance into clinical trials.
"Our ongoing clinical and preclinical work will further clarify the best options for different patients," Mr. Arthur says. "For example, we are excited by the opportunity to combine seclidemstat with checkpoint inhibitors and develop treatments for patients who need them most."