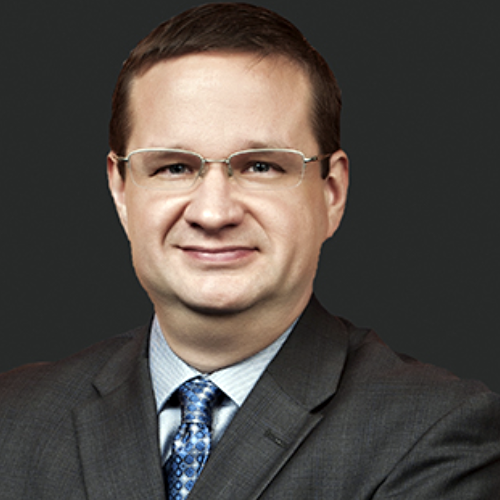 KemPharm (NASDAQ:KMPH) hit a home run last month when it inked a transformative licensing deal of up to $493-million with an affiliate of Gurnet Point Capital, a private equity firm focused on the life science sector, for its two co-lead prodrug candidates for attention deficit and hyperactivity disorder (ADHD), KP415 and KP484, and an option for two additional synergistic products.
"This is a huge deal for a company [like us] with a market cap of around $20-million," Travis Mickle, president and CEO of KemPharm, says in an interview with BioTuesdays.
By partnering with Gurnet, we are aligned with an organization that shares our excitement for the large and growing ADHD market; agrees with the value that KP415 can potentially bring to patients and physicians; and has the experience, resources and long-term commitment to maximize the commercial potential of both KP415 and KP484.
Under the accord, KemPharm has received $10-million in upfront cash and is eligible for $63-million in certain regulatory milestones. It also could receive up to $420-million if the drug candidates achieve certain annual U.S. net sales. The company also is in line for tiered product-by-product royalties from the high single digits to the mid-20% range of U.S. net sales, as well as the low- to mid-single digits for net sales outside the U.S.
Along with the licensing arrangement, KemPharm signed a debt exchange agreement and other amendments to its senior debt with Deerfield Management that could reduce its outstanding debt by up to $22-million over a seven-month span and up to $30-million in total.
Dr. Mickle says that taken together, the licensing agreement and the debt exchange agreement have transformed KemPharm's financial position. Not only has the company signed a commercial partnership for its two co-lead ADHD candidates, it also has reduced external development spending, reduced interest expense and cash interest payments, and created the possibility of significant balance sheet improvement through potential debt reduction.
"This partnership is a unique opportunity to bring innovative products to ADHD patients and their families," he adds.
Founded in 2006, KemPharm focuses on the discovery and development of prodrugs to treat serious illnesses. Using its Ligand Activated Therapy (LAT) technology, the company generates improved prodrug versions of FDA-approved medications as well as prodrug versions of existing compounds that may offer new disease indications.
The LAT technology works across multiple therapeutic areas to identify and attach an inactive compound, or ligand, to the parent drug, creating a new molecular entity that may be eligible for patent protection as novel compositions of matter.
Once the drug is administered, the body's metabolic processes cleave the ligand and release the active drug. Patients receive the benefit of the improved design of the parent drug, such as duration of effect, potency or even abuse-resistance, while still maintaining the therapeutic intent of the original drug.

Co-lead candidates, KP415 and KP484, are prodrug versions of methylphenidate (MPH), one of two main classes of stimulants used to treat ADHD. Both compounds include serdexmethylphenidate (SDX), KemPharm's prodrug of d-methylphenidate (d-MPH).
Dr. Mickle says KP415 has extended-release properties and is co-formulated with immediate-release d-MPH, while KP484 has extended-release properties.
KP415's safety and efficacy were assessed in a pivotal study of 150 children, aged six-to-12, with a diagnosis of ADHD. Results met the primary endpoints for efficacy, with data suggesting an onset of action at 30 minutes and duration of effect of 13 hours.
KemPharm plans to file an NDA for KP415 by the end of 2019. Dr. Mickle points out that KP415 has the potential to be the first MPH product approved for pre-school children and has no generic equivalent.
Under the collaboration and license agreement with Gurnet, KemPharm manages all development activities for KP415 and KP484, while Gurnet is responsible for development, commercialization and manufacturing costs. Dr. Mickle points out that Gurnet intends to build a "best-in-class central nervous system sales and managed markets team," with KP415 as its leading product candidate.
In addition, Dr. Mickle says KP415 is designed to address unmet needs of currently marketed MPH ADHD treatments. Among its potential benefits, he points to once-daily dosing, earlier onset, long duration of therapy, lower abuse potential and a patient-friendly dosage form.
"Based on these attributes, we believe KP415 has the potential to be one of the first truly differentiated MPH products launched in the ADHD market in the past several years," he contends.
KemPharm hopes to have pivotal efficacy data for its other ADHD drug candidate, KP484, in 2020. Dr. Mickle says preclinical and clinical studies of KP484 have demonstrated that the prodrug may produce a longer duration of d-MPH release, compared with the most prescribed MPH products.
Based on its release profile, "we believe KP484 could enable KemPharm to target the large and growing adult population of ADHD patients, which we believe remains largely underserved," he adds.
Citing the $62-billion acquisition of Shire and its ADHD portfolio by Takeda Pharmaceutical at the beginning of 2019 and Takeda's apparent lack of interest to reinvest in the ADHD space, Dr. Mickle suggests, "We and Gurnet believe we have the potential to build the next Shire. Gurnet are Big Pharma folks; they go in big to win big."
Shire's blockbuster ADHD drugs include Adderall, Vyvanse and recently approved Mydayis.
ADHD is a $12.5-billion annual market, with prescriptions growing more than 4% year-over-year. The branded portion of the ADHD market totaled $6.2-billion in 2018 and more than 95% of branded prescriptions were for extended-release products.
Adults account for the largest segment of the ADHD market. More than 4% of U.S. adults, roughly 10.5 million individuals, suffer from ADHD and account for 53% of total prescriptions, according to published reports.
KemPharm recently enhanced its pipeline with the addition of KP922, a prodrug of amphetamine for the treatment of ADHD. Dr. Mickle says KP922 offers the potential to address several prescriber and patient needs with amphetamine-based ADHD medications, including changing the overall pharmacokinetic profile and the ability to lower the abuse potential of the drug.
Also developed using KemPharm's LAT technology, KP922 is considered a new molecular entity. It is eligible for patent protection as a novel composition of matter and may also be eligible to use the 505(b)(2) NDA pathway, Dr. Mickle adds.
Amphetamine remains the most widely prescribed treatment regimen for ADHD, with more than 46 million prescriptions written in 2018, representing some 64% of the ADHD market.
In 2018, KemPharm received FDA approval for APADAZ, an immediate-release combination product containing benzhydrocodone, a prodrug of hydrocodone, and acetaminophen (APAP), for the short-term treatment of pain. APADAZ also was developed from the company's LAT platform. The FDA cleared two additional doses of APADAZ in 2019.
KemPharm's commercial license partner, KVK-Tech, a manufacturer of controlled substances, is aiming for a national launch of AG-APADAZ, an authorized generic, later in 2019. The launch would trigger a $2-million milestone payment from KVK.
"Our strategy of offering an authorized generic of APADAZ at prices comparable to generic hydrocodone/APAP may be an attractive proposition," Dr. Mickle says.
According to Managed Markets Insights and Technology, AG-APADAZ has 70% unrestricted access to commercial prescription drug plans in the U.S. and is listed as the preferred generic for 52% of commercial plans.
"We believe broad formulary adoption with preferred generic status represents a key milestone to begin market conversion," he adds. "State Medicaid plans have also started to list AG-APADAZ at preferred generic status, including Alabama and Utah."
Based on current formulary access and 2018 utilization data, Dr. Mickle figures AG-APADAZ has a potential addressable market of more than two billion tablets a year.
"We've worked hard to get to this point, achieving several transformative events," Dr. Mickle says. "There's lots of upside as our ongoing discovery and research efforts take us to additional pipeline opportunities in multiple therapeutic areas."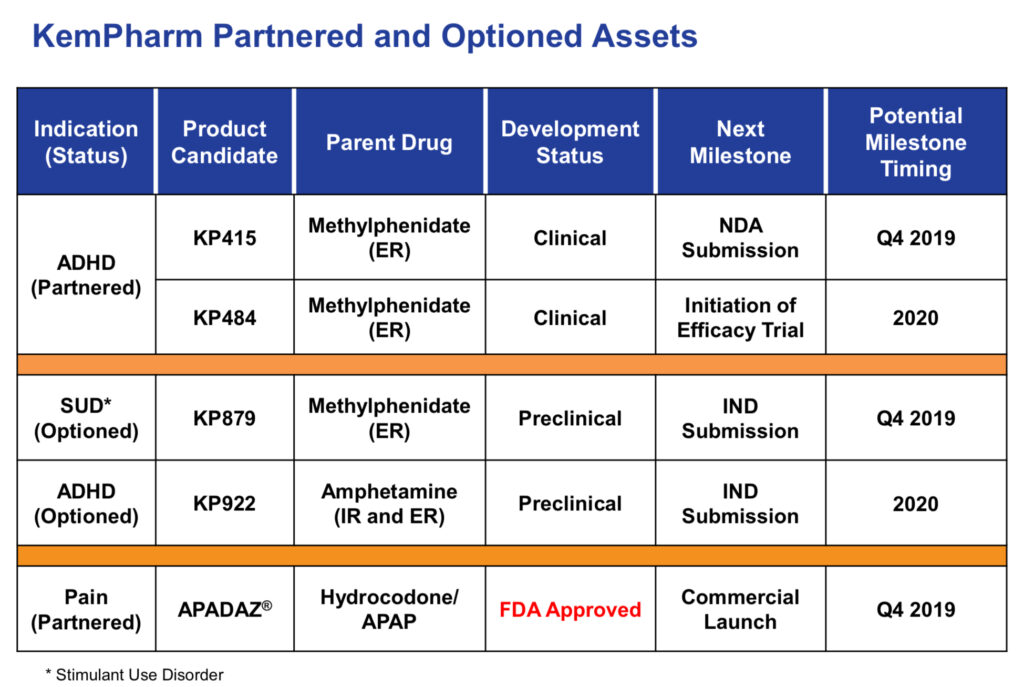 • • • • •
To connect with KemPharm, or any of the other companies featured on BioTuesdays, send us an email at [email protected].