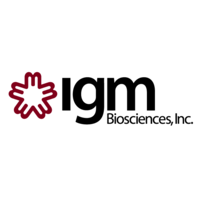 Stifel launched coverage of IGM Biosciences (NASDAQ:IGMS) with a "buy" rating and $32 price target. The stock closed at $17.25 on Oct. 11.
"We believe the company's first/only-in-class, IgM-based antibody platform represents a potentially significant paradigm shift from the industry-wide convergence on IgG-based antibodies, which, despite their commercial success, have proven to be suboptimal tools for specific therapeutic applications," writes analyst Stephen Willey.
"We expect IGM-2323 (the centerpiece of our estimates/valuation) to emerge from an admittedly crowded development landscape of CD20-targeting, IgG-based competitors struggling to navigate narrow therapeutic windows as a best-in-class option for T-cell engagement in B-cell malignancy patients," he added.
Mr. Willey said the DR5 agonist program, with an IND filing estimated in 2020, leverages well-validated biology and the receptor cross-linking capability of a multivalent IgM-based antibody to drive cancer cell apoptosis.
"We believe establishing clinical proof-of-concept with either/both of these lead programs will create a pipeline of additional opportunity, leveraging the same biological applications to different, well-established target antigens across various solid/liquid tumors," he said.
In addition, he said management's business development philosophy of maintaining/preserving this technological exclusivity "sets the stage for significant longer-term value creation."