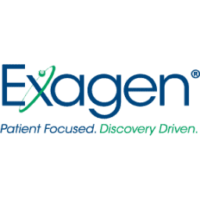 William Blair initiated coverage of Exagen (NASDAQ:XGN) with an "outperform" rating based on an outlook for business trends, potential upside to revenue estimates, and its relative valuation to comparable diagnostic peer companies. The stock closed at $13.02 on Oct. 10.
After Exagen's NASDAQ listing on Sept. 10 at $14, the stock has traded down 7%, represents an enterprise value-to-revenue multiple of about 2.3 times, based on a 2020 revenue forecast of $54.6-million, writes analyst Brian Weinstein.
The multiple puts Exagen's valuation below WB's small-cap diagnostic peer group, which trades at a mean of 4.7 times and a median of 4.8 times 2020 revenue, he added.
Exagen is focused on improving the lives of patients with difficult to diagnose autoimmune conditions, many of whom require multiyear diagnostic testing, affecting quality of life and pushing up healthcare costs.
Mr. Weinstein says the company estimates seven million patients are candidates for referral to the rheumatology community, where Exagen's AVISE CTD test has a potential market of about $3.7-billion, and when "adding in other testing options the company has for prognosis and monitoring, the market jumps to $5-billion."
Exagen's technology, called CB-CAPs, looks for activation of the complement system, which comes into play with autoimmune disease. By incorporating CB-CAPs along with existing basic markers used by clinicians already, Exagen "provides the opportunity for a differential diagnosis of a variety of conditions that is faster and more accurate than what is available elsewhere," he added.
In December 2018, Exagen entered an agreement with Janssen Pharmaceuticals to exclusively promote the antitumor necrosis factor (anti-TNF) biologic SIMPONI in the U.S.
Mr. Weinstein says Exagen estimates the market for SIMPONI is $28-billion for all indications and notes each incremental 1% market share it is able to gain for SIMPONI could result in revenue of $84-million to Exagen.