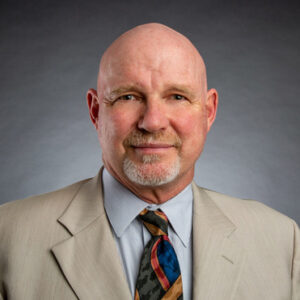 INmune Bio (NASDAQ:INMB) is developing new therapies that modulate the innate immune system, the body's first line of defense against pathogens, to treat cancer and neuroinflammation that lead to neurodegenerative diseases, such as Alzheimer's disease (AD).
"Our vision is to reprogram the innate immune system, or return it to normal, for the treatment of diseases," Dr. RJ Tesi, CEO and CMO, says in an interview with BioTuesdays. "Our three clinical programs target three cell types of the innate immune system and represent product platforms for potential therapeutic expansion," he adds.
Innate immune dysregulation, also called chronic inflammation, is a low-grade inflammatory state that, over time, has detrimental effects on organs, including the liver and brain.
INmune's pipeline includes INB03, a selective tumor necrosis factor (TNF) inhibitor, targeting immunosuppression caused by myeloid-derived suppressor cells and other immunosuppressive cytokines to overcome resistance to checkpoint inhibitors; INKmune, a cell therapy that primes natural killer cells to target tumors; and XPro1595, which has a unique mechanism of action aimed at decreasing neuroinflammation, could potentially prevent synaptic dysfunction and nerve cell death in the brain, stopping cognitive decline in AD patients.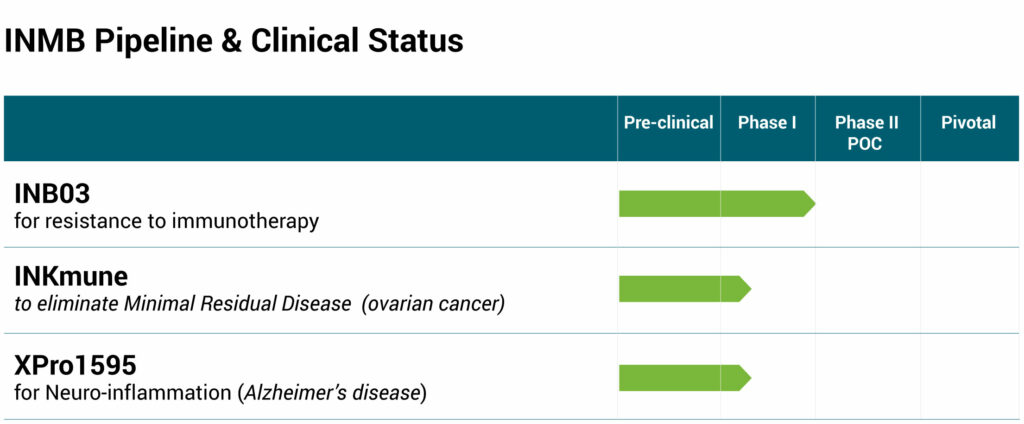 In August, the company reported positive preliminary data from a Phase 1 dose escalation trial with INB03 in patients with advanced solid tumors and elevated biomarkers of inflammation. Complete data are scheduled for release later in 2019.
Analyst Swayampakula Ramakanth of H.C. Wainwright, who initiated coverage of INmune in August 2019, writes that taken together, "we believe that INmune Bio, with multiple candidates each targeting a large market opportunity, could become a leader in developing immunotherapies by harnessing innate immunity of the patient."
In the study, the drug candidate was found to be safe and well tolerated, and "pharmacologically active, doing what it is supposed to be doing, at a dose of 1 mg/kg that we hope to take into a Phase 2 study in the first half of 2020," Dr. Tesi suggests.
In one possible Phase 2 study, up to 100 patients with moderate-to-high-risk renal cell carcinoma could be enrolled, with one arm treated with standard of care checkpoint inhibitors and a second combination arm treated with INB03 and standard of care. Enrollment is expected to take one year to compete.
Dr. Tesi explains that almost 50% of cancer patients in the U.S. were eligible to receive checkpoint inhibitors, a type of immunotherapy, in 2018. But according to a recently published study in the peer-reviewed, Journal of the American Medical Association, only one-in-four cancer patients benefited because of resistance to checkpoint inhibitors. "We would like to see two-in-four patients benefit," he adds.
INmune also plans to soon begin a Phase 1 study of XPro1595, a soluble TNF inhibitor, in patients with neuroinflammation and mild-to-moderate AD. The Alzheimer's Association is backing the study with a $1-million grant.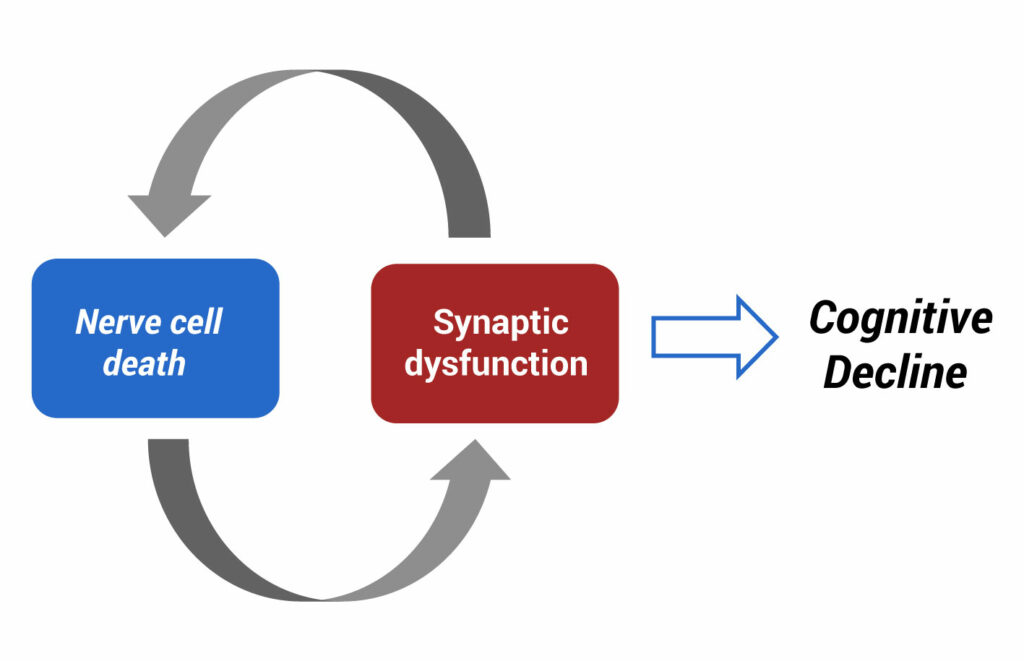 "We believe cognitive decline is a function of nerve cell death and synaptic dysfunction, rather than amyloid accumulation," Dr. Tesi contends. "Almost all drug candidates based on the amyloid hypothesis have failed."
To emphasize the importance of chronic inflammation in the development of AD, Dr. Tesi points to recent research that shows the risk of AD in rheumatoid arthritis (RA) patients is eight times greater than patients without RA. However, "the risk of AD in RA patients treated with anti-TNF therapy can be reduced by over 800% to a risk lower than you and me! This is a stunning example of how you can influence a disease by precise targeting of the inflammatory cascade," he adds.
But first generation non-selective TNF inhibitors, such as Enbrel, Humira and Remicade, are associated with a higher risk of cancer, infection and multiple sclerosis, he points out. "So, the solution is to treat patients with a safer TNF inhibitor, which is exactly what we believe XPro1595 is."
Dr. Tesi points out that the company's Phase 1 study of 18 biomarker-directed AD patients in three cohorts is not designed to change the clinical course of AD because patients will be treated with XPro1595 for only three months.
"The purpose of the study is to measure biomarkers of AD to see if we can reduce neuro-inflammation," he says. The study will measure free water content of white matter in the brain with MRI, inflammation and neurodegeneration in blood and cerebrospinal fluid, organic compounds that come out of the breath, as well as behavior.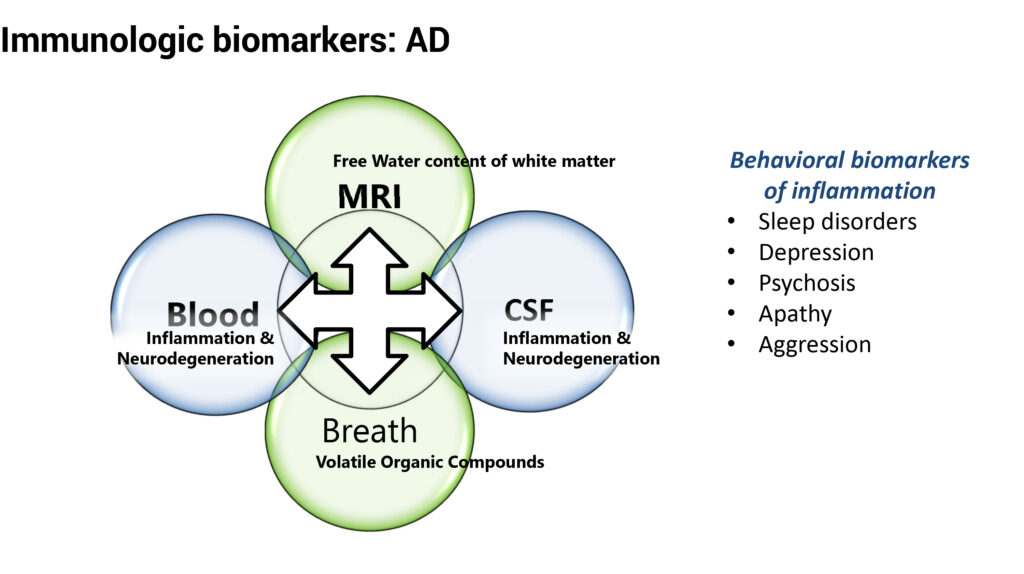 For example, behavioral biomarkers of inflammation include sleep disorders, depression, psychosis, apathy and aggression. "These symptoms can cause more problems than cognitive decline because they make a patient more difficult to handle," he suggests.
The company hopes to complete enrollment within 12 months in order to prepare for a possible Phase 2 trial by the end of 2020. Dr. Tesi says a future Phase 2 study would answer the question that "if we can get rid of neuro-inflammation for 18 months, can we change the clinical course of AD?"
At the H.C. Wainwright annual global investment conference on Sept. 4, 2019, INmune introduced its NeuLiv program for the treatment of non-alcoholic steatohepatitis (NASH). NASH is a progressive disease caused by excessive fat accumulation in the liver that induces chronic inflammation, resulting in fibrosis that can lead to cirrhosis, liver failure, cancer and death.
NeuLiv, which is the third drug development program originating from INmune's DN-TNF platform, is a next generation TNF inhibitor that neutralizes soluble TNF without affecting trans-membrane TNF or TNF receptors. By targeting soluble TNF, NeuLiv may alter the complex immunobiology that causes the development and progression of NASH, Dr. Tesi suggests.
"We believe NeuLiv may enable us to target the underlying cause of NASH, to help stop the disease and allow the liver to heal," he adds. "Unlike treatments focused on addressing fibrosis directly, we believe NeuLiv targets peripheral, regional and local causes of innate immune dysfunction that lead to chronic inflammation in patients with NASH. We hope this strategy will prevent progression of the disease and allow hepatic repair mechanisms to function."
• • • • •
To connect with INmune Bio, or any of the other companies featured on BioTuesdays, send us an email at [email protected].